7th May 2020
There were great celebrations after Wolves lifted the FA Cup trophy for a fourth time back on 7th May 1960 – 60 years ago to this day.
Norman Deeley's second-half double after Blackburn Rovers' Michael McGrath had inadvertently put the ball into the back of his own net just before half-time, saw the club win the historic English football cup – the most recent time a Wolves side have tasted FA Cup success.
Speaking on the 50th anniversary of the 1960 FA Cup final win, the late Bill Slater, said he would never forget the feeling of captaining the club to cup glory.
On lifting the trophy with Wolves
"It feels like yesterday, in a way. In particularly when you come back to the club and look at some of the pictures from those days, the 50s and 60s, it all just comes flooding back and it feels like yesterday.
"I remember walking out, there were obviously lots of cheers, but you can't help but remembering that they lost a player [Dave Whelan to injury], and it might have been what spoilt the game.
"They were always going to struggle when it was 10 against 11, but I still think we would have won, even if they had 11, but it still took the edge off the game, I thought."
On the bond between players
"It was a friendly final, and we had a couple of Blackburn players at this match today [50th anniversary game at Molineux], so there were good friendships made. Even after the game we were in each other's dressing rooms.
"It was a great delight for both teams to be at Wembley for a cup final, and it was just a pity that we couldn't play out 11 versus 11 – it changed my view about substitutions, I have to say it. After that game, I favoured substitutions, and that came in during later years."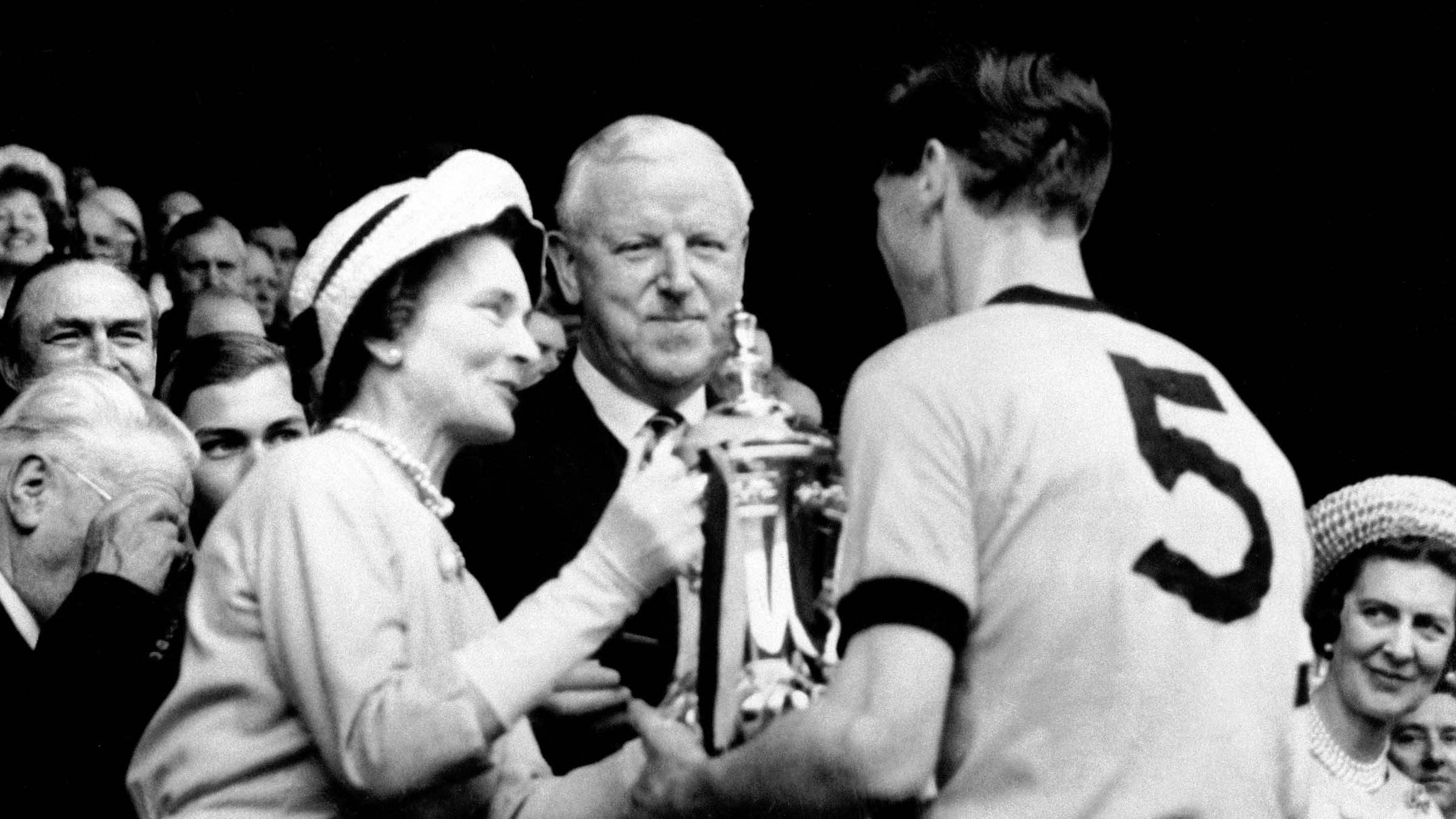 Full back Gerry Harris, one of just two members of the Wolves team from the 1960 final – the other being legendary defender Ron Flowers – who are still alive today, remembers being a spectator for much of the match, especially after Dave Whelan was taken off through injury.
On the turning point of the match
"Blackburn going down to 10 men made a big difference to my game actually, because with Whelan going off, they had to reorganise the team, so my winger, [Louis] Bimpson, was put over somewhere else, so I hardly had a kick.
"It was very hot that day, and very windy, but I hardly had a kick, so I was watching it mostly, but we won in the end.
"They were all cramming themselves back in their goal as we were pushing forward and there was just no way through. We were lucky to score three goals in the end."
On Norman Deeley's two goals
"He had a heart as big as a bucket, little Norman had. But credit to him for the two goals because he deserved them.
"He played well, and the whole team played well, all through the tournament, and the season really. It was a tough competition. We had plenty of away games. We always seemed to be playing away.
"Villa in the semi-final was a tough one because they upped their game that day. They were in the second division at the time – got promoted that season – but they were hard to beat.
"I remember Nigel Sims was in goal for Villa that day, and he had a bet with Norman, he said to him before the game 'you'll never score against me', and Norman said 'I bet you, I'll score', and of course he popped the only goal in. It was lovely."
On missing out on league and cup double
"We were just disappointed that we didn't get the double. A little bit of thought in some of our home games – we dropped a couple of points at home during the season, which we never should have done.
"Wembley has changed dramatically from that time, but the elation when that final whistle goes, and when you're queuing to walk up those steps, you don't know if you're feeling well or you're feeling happy, it's just a tremendous pressure on you, even though the pressure of the game is gone."