30th June 2022
We hear once again from Trevor Fletcher, a participant on our Head 4 Health programme, on the last months.
You can read his previous entries here and here.
***
Is it really three months since I last prepared a diary entry? It seems much longer and for only positive reasons!
My last entry dwelt on my struggle over the Christmas period and that seems such a long time ago although just six months.
So, where am I now? My last counselling session was in May, and I am so proud of the progress I have made. The opportunity for counselling with Serenity (courtesy of Head 4 Health) has had and will continue to have a major impact on my day-to-day life. The ability to identify and reflect on issues, and develop and implement strategies to cope with them, will be some of the key factors that will support with my ongoing mental health rehabilitation. If I said thank you every day of the rest of my life to my counsellor Gemma and Wolves Foundation team, it wouldn't be enough!
I am getting more involved at work with championing mental health support for those in need and this provides me with challenges. The highest priority for me is ensuring colleagues acknowledge their need for support when necessary and are signposted to appropriate support. I know from personal experience that this is not easy, but the longest journey starts with the smallest step. My employer is a stakeholder of Head 4 Health and is very supportive, so I am optimistic for the future for myself and my colleagues.
It has been said that I have 'a face more suited to the back end of a bus', and so this came to be! One of the images used for Wolves Foundation's Head 4 Health media campaign featured me on bus advertising and billboards. I was honoured to be included and hope that our community realise the opportunity and support that Head 4 Health can deliver should they need it.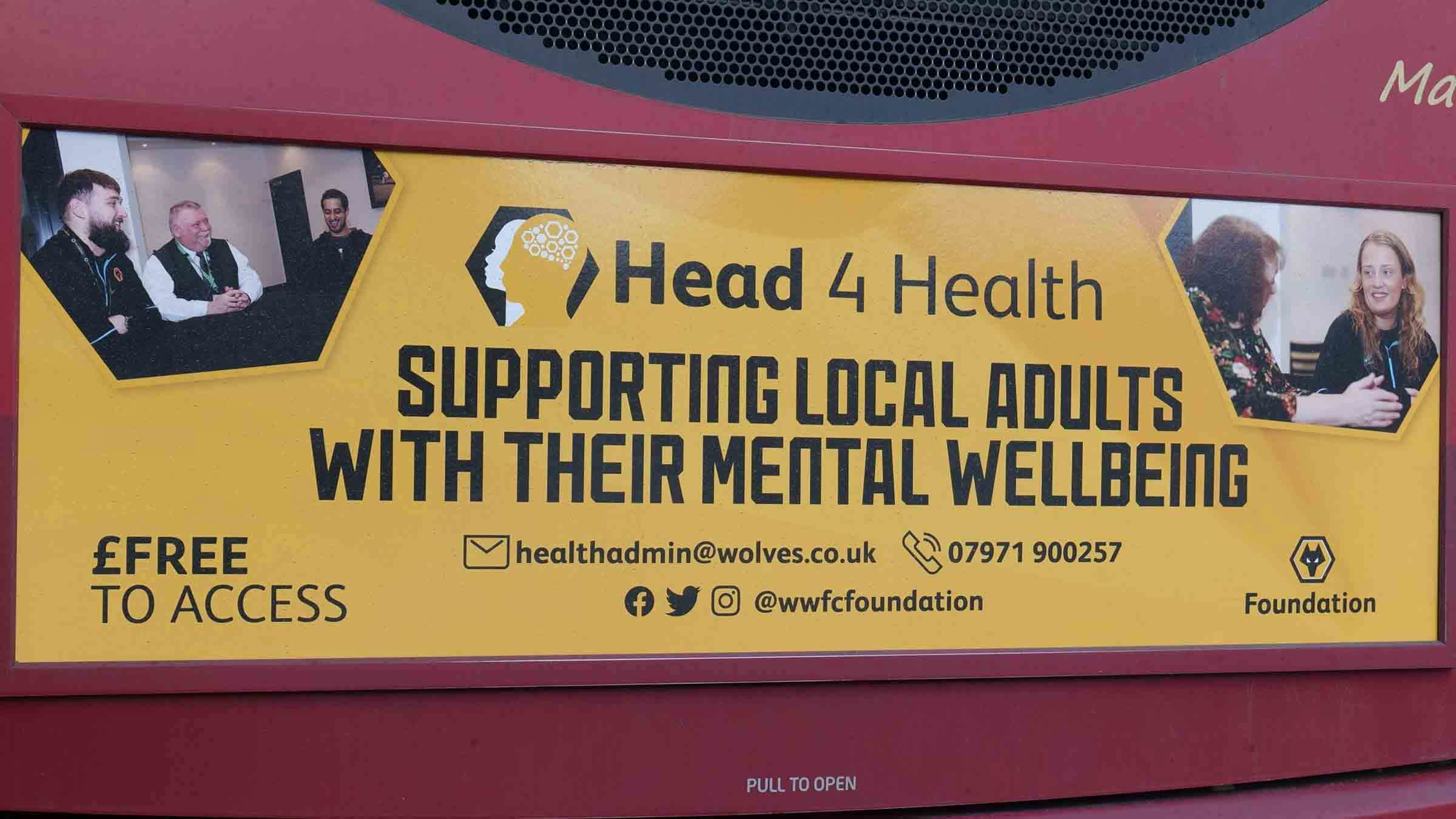 I haven't been able to attend as many events as I would have liked to as work has been very busy, and colleagues have been on leave. But I did manage to attend several very interesting extra time opportunities that were a little different to regular meetings.
Meeting John Ruddy on a walk and talk event during April around Molineux was a privilege. Firstly he's the size of King Kong – but a true gentleman. As a West Brom fan (you know I had to mention that!) I was surprised at his humility; he was happy to chat with us all and about varying subjects.
I spoke with him about work/life balance, he still lives in Norwich so stayed over in Wolverhampton but travels back to have as normal life a with his family as possible. He told me that supporters who meet him are not as always polite or respectful as they could be, and they forget that he has a personal life away from the football limelight and this can cause difficulties. Sadly, I couldn't persuade him to sign for West Brom though!
It was another combined event with our female colleagues from Head 4 Health and I believe that they also enjoyed this event. The event finished with a Q&A session in the home team changing room and a photo opportunity. I am aware that John has now left Wolves, and hope it had nothing to do with this session!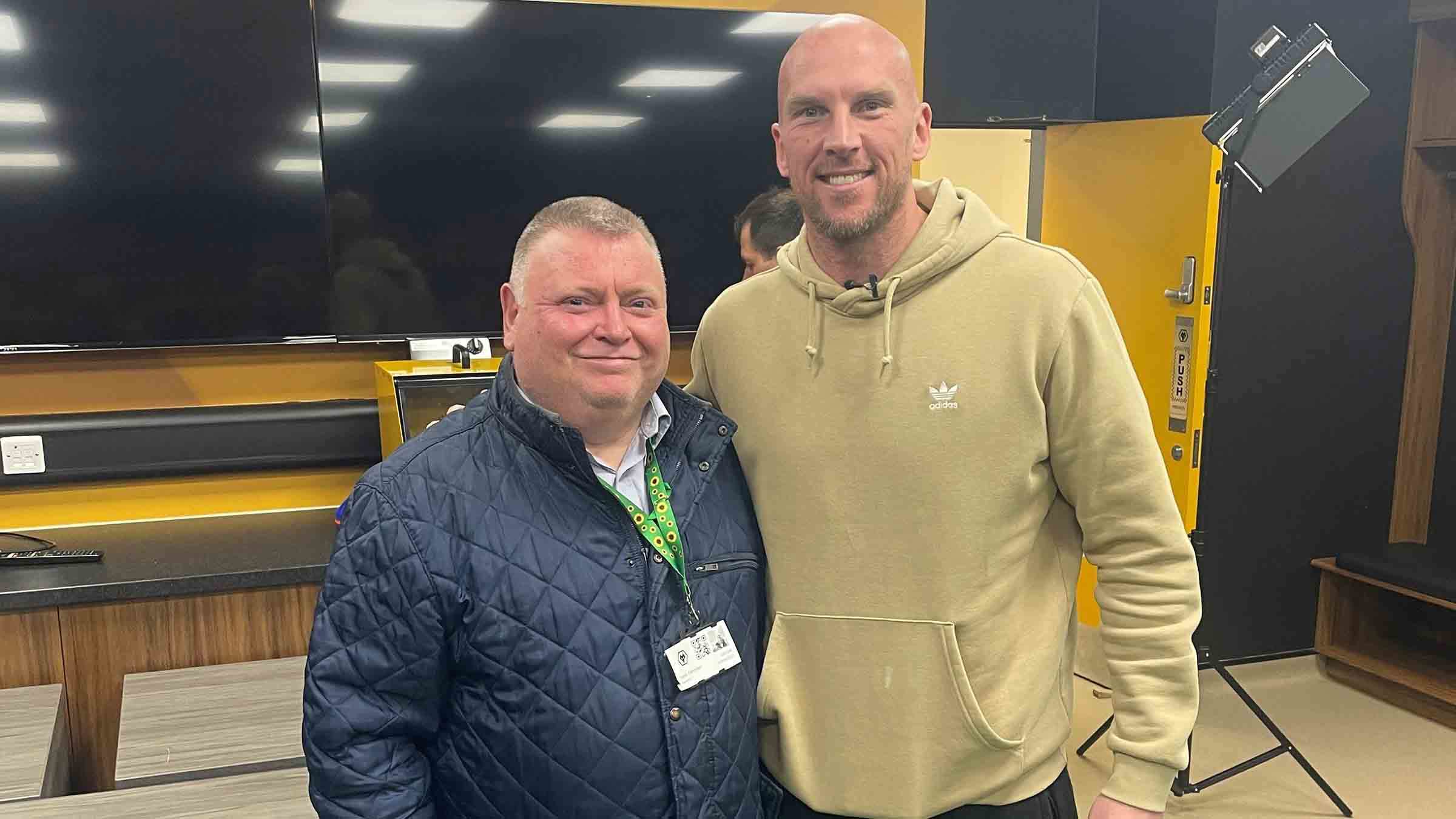 During May, I had the opportunity to attend a meeting with City of Wolverhampton Council benefits specialists at Molineux. It was one of several extra time meetings that they attend to support cohort members, explaining benefits available and offering practical advice for claiming. I found it very informative and helpful, being able to ask questions face to face with friendly helpful people who want to support claimants.
In June, I was invited with fellow Head 4 Health cohort members to attend an event to commemorate Queen Elizabeth II's Platinum Jubilee.  Several roses developed by David Austin for the occasion were planted outside Molineux, with Wolves Head Groundsman Wayne Lumbard and cohort members in attendance. He also gave us a great insight into the maintenance of the pitch and the standards expected by the Premier League. It was great until the heavy rain started!
Well, the end of another diary entry. Where have those three months gone? And what a rollercoaster ride since Christmas! I feel optimistic for the future, the continuing support of the Head 4 Health team and cohort members gives me real hope for my continued mental health improvement.
Thank you all!
Fletch