9th August 2020
For comedian, podcaster and Wolves supporter Tom Parry, it was a magical FA Cup tie under the Molineux lights in the mid-90s which captured his imagination more than any other game as a youngster.
The latest guest on Wolves' Old Gold Club My Golden Game podcast, Parry joins Mikey Burrows to discuss the 1995 fourth round FA Cup replay win over Sheffield Wednesday, which has left a lasting impression on him.
Having brought the top flight Owls back to their own patch for the replay, Wolves and Molineux were bang up for it and enjoyed a special night, out of keeping of the era, as the hosts progressed with a dose of pure Wolverhampton passion.
On why this game meant so much
"There are obviously much more important Wolves matches that I've been at – games that have meant more, the big Baggies derbies, the Play-Off final, but I genuinely struggle to remember a game that felt so magical. I was 15, it was a freezing cold February evening and when people talk about the magic of the cup, it was this – a sensational evening.
"Every so often football brings along a game that you're at, or you're watching, that just reminds you how magical of a sport it can be. I'd been a season ticket holder for a few seasons, and I'd followed England through Italia 90 and the Euros, and my overall experience of football had been heartbreak and disappointment.
"This game came along and showed me that things can be different – it was like an epiphany."
On the cup tie plot
"It was back in the day where the FA Cup still really mattered. A good cup run was season-defining, especially when you're, as we were in the '90s, mired in the First Division and struggling to make the Play-Offs. A magic cup run brought a bit of life into the gloom. This had some ingredients to set it up to be a special night.
"It was a replay and Sheffield Wednesday were in the Premier League, and main stayers in the mid-90s, they belonged in the Premier League, where Wolves could never get to. They had two finals against Arsenal. You look at players like Des Walker, Chris Waddle, Mark Bright – proper '90s icons.
"We'd gone to Hillsborough and held our own, but in the last minute they got a penalty, so it looked like it was curtains, but Paul Jones saved it. Already that was a bit of a miracle – we'd got out of jail and earned a replay."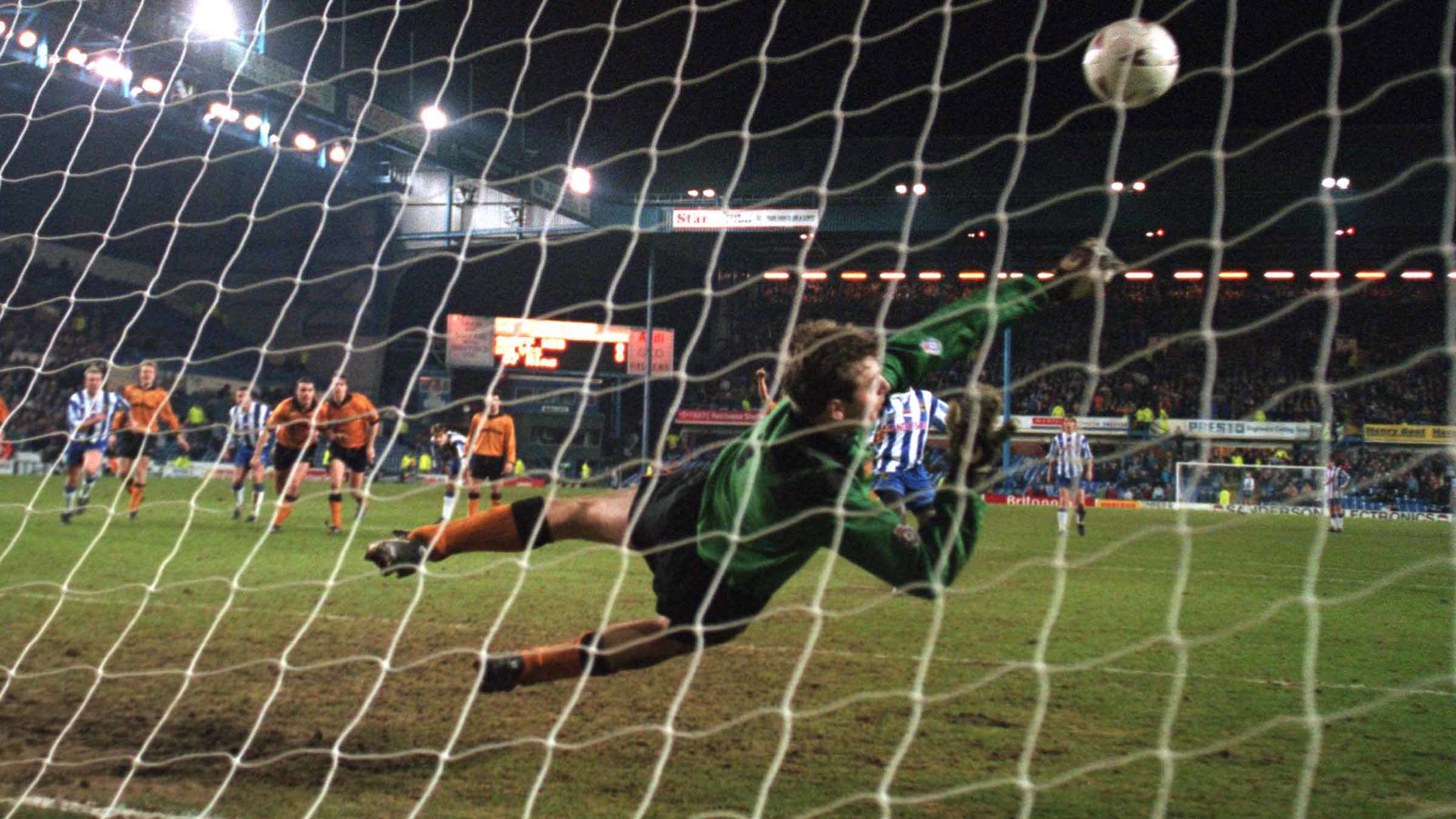 On a special Molineux night
"I don't know if it was because of that save but I just remember the atmosphere for this tie being absolutely electric. Molineux was really up for it. Having Chris Waddle in town, nobody had forgotten about his penalty miss in Italia 90, and we were jeering him every time he got the ball. He was a pantomime character and it was the first time we'd seen him at Molineux since.
"We really got at them. They came out the gates and I remember the first-half was really lively. Dave Kelly was on a hot streak – he scored, and we were in the lead. It looked like there could be a surprise. They equalised with a scrappy goal and this is where the magic kicked in. Mark Bright missed a sitter, Chris Waddle was probably Man of the Match and he set up Bright with a minute to go, and he blazed it over the bar.
"It was penalties and the first I'd seen at Molineux, and it was so exciting. We didn't get that kind of excitement very often. I've heard a lot of people say the same, it's got to go down as one of the most dramatic penalty shootouts in any competition."
On what followed in the shootout
"I was a game that seemed to have, for a fourth round cup tie, so many stories going on. Paul Jones getting his chance in the first-team, saving a penalty and saving two more in the shootout – that's such a great narrative. Chris Bart-Williams missed two and Waddle stepped up, trying to rid the monkey off his back, and Jones picked the right way and saved.
"Also, Thommo was our taker and he hit the bar and he never did that. It was a spectacular shootout, nine of them were blasted into the net.
"Molineux was on such good form. Thommo missed his penalty and Robbie Dennison, but immediately everyone's singing their names. It felt like there was a brilliant energy around Molineux that got us over the line.
"The emotions of the evening were very positive and very joyful. We'd taken a Premier League team to a replay, everyone was delighted with that, and we gave such a good account of ourselves."