14th April 2022
Wolves Women head coach Dan McNamara believes he is leaving the Wolves Women group in a "stable condition" after it was confirmed he'd miss the season run-in, including the County Cup and play-off finals.
RAF aircraft technician McNamara, who as well as managing Wolves is head coach of the UKAF (United Kingdom Armed Forces) women's team, is set for an 'out of area' mission from which he will not return until late summer.
It means Wolves Women's first competitive match at Molineux in 20 years on Wednesday night, in front of 2,477 supporters, provided a fitting end to McNamara's season, days after celebrating yet another title success last weekend.
"That's me closing out now," McNamara explained. "It's amazing how life works, I was due to go away last weekend, but I managed to celebrate with the girls on Sunday and at Molineux on Wednesday, and now I'm on my travels with the RAF.
"I've known about it since January but wanted to keep it away from the girls so we could focus on the league. It's disappointing for me, but I've got a lot to thank the air force for over the last few years and, ultimately, it's my primary job, so I'll go away and serve my country proudly, as I always do.
"Hopefully we've left the group in a stable condition, ready to kick-on in the play-offs, and hopefully I'm returning to something bigger and better when I return in August, but I want to thank everyone for making this job what it has been over the past three-and-a-half years and sign off temporarily for four months."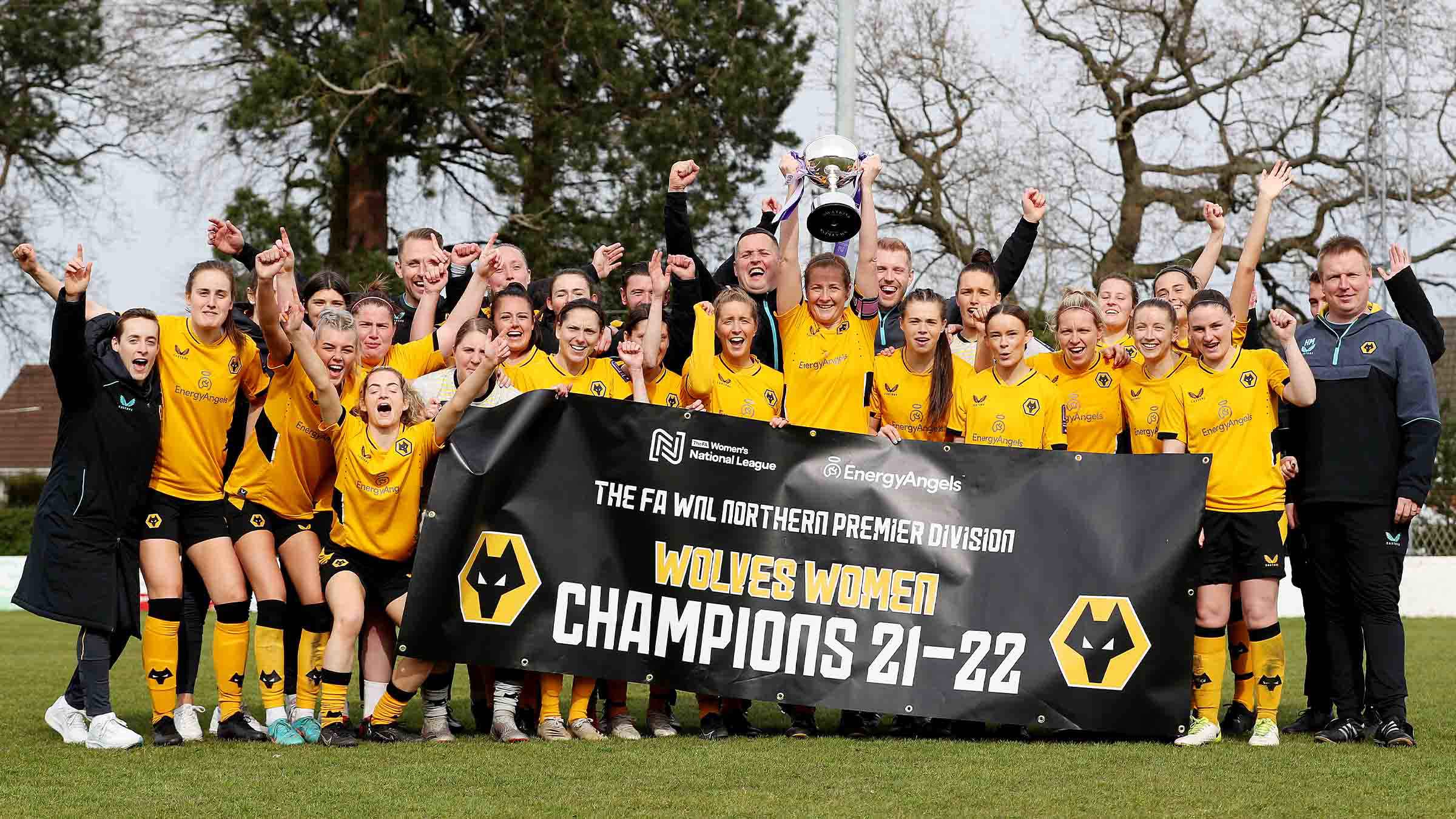 Wolves have already been high achievers in the time that McNamara has been in charge, totally dominating Division 1 Midlands in the last two pandemic-affected seasons and then – following promotion – riding high in the Northern Premier Division from the start of the current campaign.
Victory over Sheffield FC on Sunday secured the title, but also a place in the promotion play-off next month, when Wolves will meet with the winner of the southern section in a bid to earn a historic promotion to the second tier, and McNamara will be giving his full support from afar.
"It's hard to take. The club's been my life for three-and-a-half years, the players are my friends, they mean a lot to me, so to not be there on a historic day for the women's team is tough to take, and not just that but the County Cup final as well.
"However, it's beyond me, it's not about me, it's about a group of players pulling together with a common goal of trying to break into the elite game and I've got full faith in the girls to do that.
"We're in a situation that none of us expected to be in at the start of the season, but the girls have been brilliant throughout the entire campaign and there's no question that we've got to where we are absolutely on merit.
"Whether it's Southampton, Ipswich or Oxford, I'm sure they'll give a good account of themselves. We'll be massive underdogs in that fixture, the money that's going into those clubs is phenomenal, but if any girls will find a way, it's this group, and I'll be there supporting from afar."
In McNamara's absence his UKAF coaching colleague Karl Milgate, manager of the Armed Forces women's team and whose cv includes Women's Championship experience, will be in charge of Wolves for the final few games of the campaign.
McNamara says: "Karl is a great coach, a good friend of mine and someone I trust implicitly. He's been at our training sessions for a couple of weeks now, he's fitted in seamlessly with the group and coaching staff, and I'm confident that he'll keep us on track to complete the season in the way we're all striving for.
"I've worked with Karl for a long time, he's got a lot of experience. He's going to step in and steer the ship, not that it's required, the girls know what we're about, the staff know what we're about.
"Karl will come in and replace what I offer and give another set of eyes. It's upsetting for me, but I'm just delighted to have had those moments with the players recently."