11th April 2022
Wolves Women 2 (Darby 13, George 36) Sheffield FC Women 0
Wolves Women were crowned champions of the FAWNL Northern Premier Division following a memorable 2-0 victory over Sheffield FC.
Kelly Darby and Tammi George struck in the first-half to secure the win at the CKW Stadium, and once the final whistle was blown, the celebrations could begin, with Wolves assured of their place in the promotion play-off come the end of the season.
Despite a lively start from the visitors, it wasn't long before Wolves started to take control of the game and get the ball into the final third. Jade Cross had a lot of success down the right-hand side in the first half, with her incredible pace allowing her to get round the Sheffield defenders with ease. An early chance saw her cross the ball into the box, but unfortunately no one was there to capitalise on it.
However, defender Darby got her name on the score sheet just after the 30-minute mark, from an in-swinging Anna Morphet free kick just outside the box. She found herself in the right position to head the ball home from close range and give the old gold the lead.
From then on, despite the determination from Sheffield to get themselves level, they lacked creativity when in possession and Wolves were able to counteract that and every time they got hold of the ball, the ball would find its way into the final third, whether it was through Cross on the right, Amber Hughes on the left or George through the middle.
Next, Cross found herself almost firing home from close range. Hughes controlled the ball down the left and as she cut in, Cross took a touch and attempted to dink Sheffield's number one Annie Rushton-Butters, but she was able to confidently collect it.
Hughes also came inches from doubling the lead as she struck and effort just wide of the post and Maz Gauntlett came so close to mirroring her spectacular first-half goal against Huddersfield Town as she whipped the ball in from the edge of the box, but Rushton-Butters was able to keep a hold of it.
However, Wolves got their second in the final ten minutes of the first-half through George. A Morphet corner soared into the box, and after a few attempts from various girls in gold, as well as one effort ricocheting off the bar, George was on hand to tap it home and Wolves had a two-goal lead going into the break
Half-time | Wolves 2-0 Sheffield FC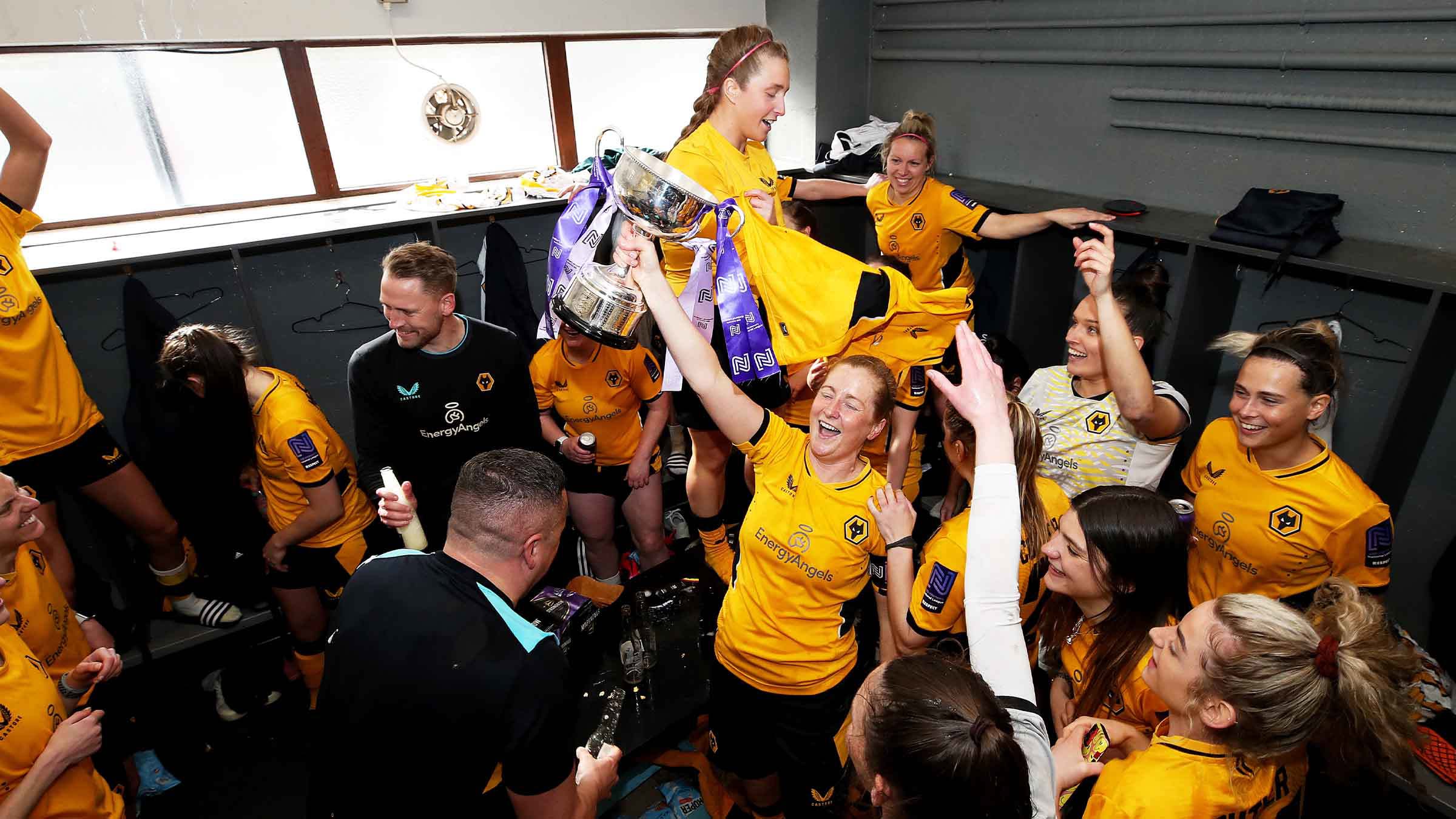 The second-half kicked off and the visitors were yet again showing plenty of fight and determination, and they had their first real chance of the game when a curling effort came in from the edge of the box, but it proved a comfortable save for Shan Turner.
Both teams battled it out in the second-half, especially in the midfield, with George showing her ruthlessness and winning every ariel duel possible. She almost grabbed a brace as a curling ball from Morphet fell to substitute Lowri Walker who was able to keep the ball in. Walker then passed the ball to George, but her effort goes straight into the hands of Sheffield's shot-stopper.
The closest chance in the second-half came through Hughes, as Beth Merrick's cross found her in the six-yard box, but her effort was saved brilliantly on the line by Rushton-Butters, who was put into action a lot yesterday, but fared well in goal and managed to keep plenty of Wolves' chances out.
The visitors defended resiliently in the second-half, making it difficult for Wolves to get through to the final third at every opportunity, but the visitors themselves were unable to create any clear-cut chances of their own.
Hughes had a couple of chances in the dying minutes of the game, her first effort going wide of the post, her second being an overhead kick, which looked like it was going into the back of the net, but Rushton-Butters was there to deny her.
Despite Sheffield's determination and resilience, Wolves' two first-half goals were enough to see them over the line and be declared queens of the North in front of 667 home fans; celebrations at Molineux await.
Full-time | Wolves 2-0 Sheffield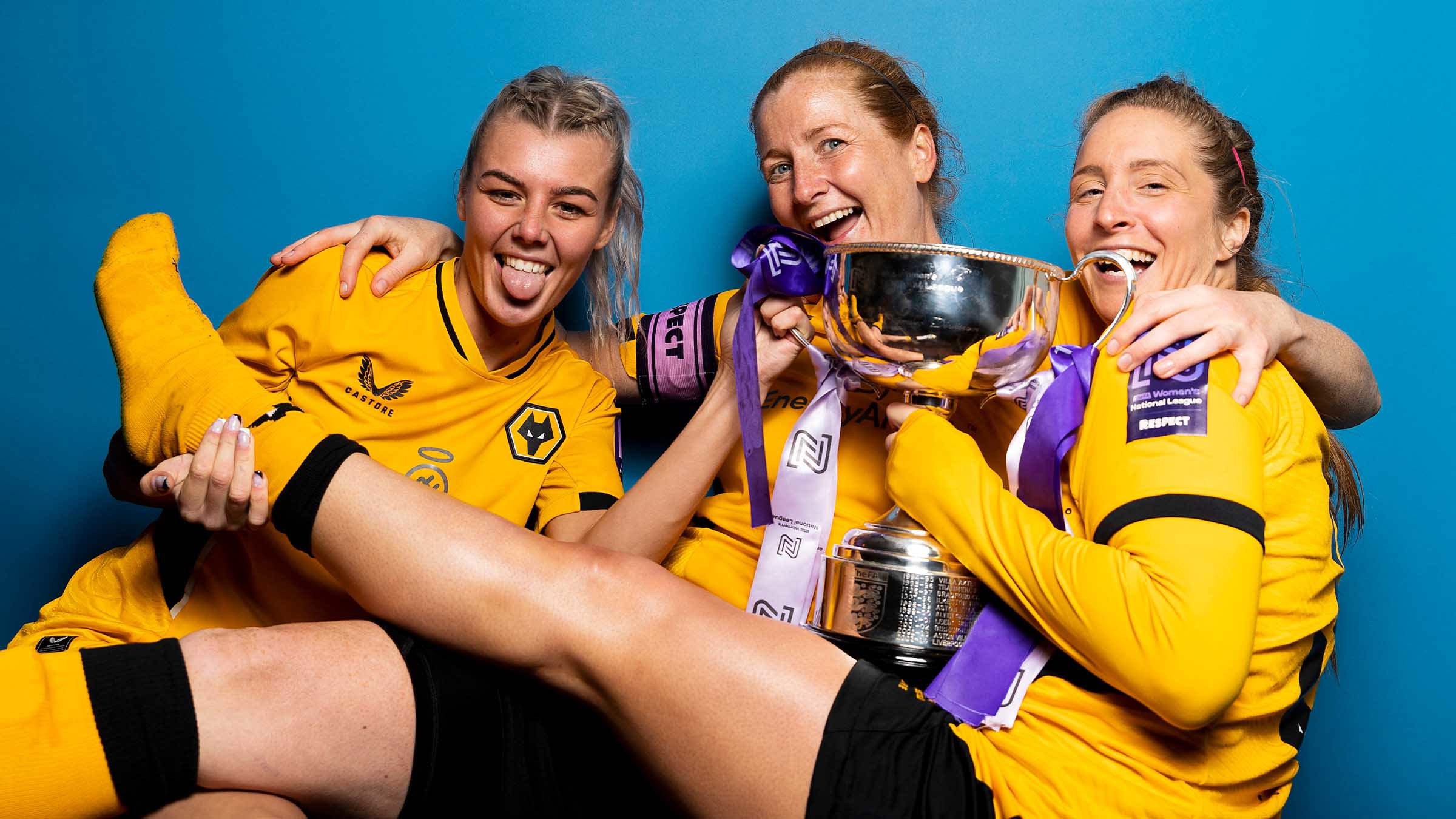 REACTION
Wolves manager Dan McNamara praises his team week in, week out for the performances they put in and the results they get, with yesterday being extra-special for multiple reasons.
"It's unbelievable," said McNamara. "This is three and a half years in the making, and I'm just delighted, delighted for the girls and to see Anna Price lift that trophy after 25 years, that's my proudest day in football.
"We thought Sheffield were quite poor on set pieces and thought we could exploit that area and obviously two set pieces have won us the game today.
"I thought it was a pretty poor performance by our standards. We didn't really get going and there wasn't really that quality that we normally have, but it was to be expected. The girls were nervous, there was a big crowd here today and it was just about getting over the line and that's what it was all about, can we get the point we need to go on and be the champions.
"What a moment for the players, all the families and the whole football club. It's a hell of a journey we've been on."
On Tammi George's midfield performances this season,
"She's been excellent and that's why clubs have been knocking from higher leagues and the Championship. She's an outstanding central midfielder and to pop up with another goal today, I know she's got a target for the end of the season and it's great for her to get another one.
"For the team to get promoted and to win tier three at first time of asking is remarkable. I don't think it'll sink in for them just yet, but what a feat. I said to them at half time, you're 45 minutes away from being one of the top 25 teams in the country and that's where they stand at the minute"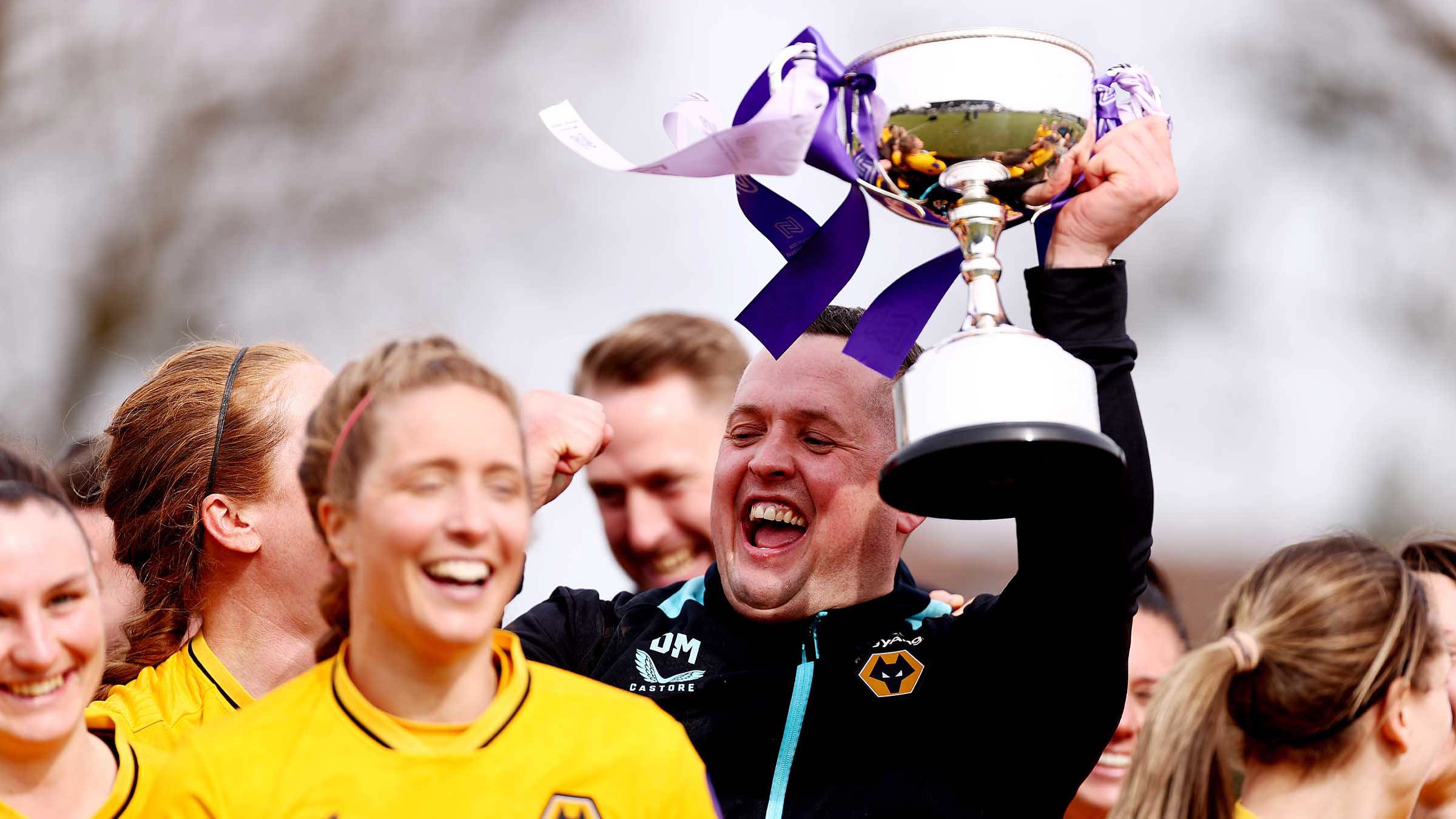 On the upcoming play-off
"First of all, I think it's a sore subject. Whether it was us, Derby or Fylde I think it's a disgrace.
"It's the only pyramid in football that you don't get promoted off winning the league and I think that needs addressing as soon as possible. You've got to stop protecting the elite games and players. There are clubs waiting to get to that professional game.
"I'll be telling the girls to go and do what got us into this position in the first place. We will be massive underdogs against Southampton or Ipswich, with the finances they've put into it this season, but they find a way and come the 21st May they'll find a way again."
COMING UP
With the season coming to a close, Wolves look forward to their next league game against Brighouse Town being played at Molineux. It will be a great occasion a massive celebration for everyone involved in helping the girls to get to where they are now.
Striker Maz Gauntlett said after their win at home against Huddersfield, "It's going to be great for the girls but bad for our legs. The pitch is huge, but it will be a great occasion for everyone."
NEXT FIVE
13/04 Brighouse Town (H)
24/04 Brighouse Town (A)
01/05 Loughborough (H)
11/05 West Brom (County Cup final)
21/05 (Play-off)
TEAMS
Wolves: Turner, Cooper (Price 85), E.Cross (Walker 63), Gauntlett (Dicken 73), George, J.Cross (Dermody 63), Hughes, Darby, Morphet, Merrick, Burridge (Elsmore 63).
Sheffield FC: Rushton-Butters, Smith, Clarkson, Hague (Wood 44), Copeland, Kemp, Jacobs, Bailey, Harness, Evison, Waite.
By Meg Garbutt