8th November 2021
Wolves Women 7 (Dermody 37, Merrick 56, Hughes 58 & 64, Morphet 72, Dicken 83, Miller 85) Hull City Ladies 0
Wolves Women hit Hull City Ladies for seven on Sunday afternoon and booked their place in the second round of the Women's National League Cup.
In front of 240 spectators at the CKW stadium, Wolves showed their clinical side, particularly after the interval when they struck six times to show their superiority. 
Wolves started on the front foot and were unfortunate to have a goal chalked off for offside after 10 minutes when Amber Hughes smashed the ball into the roof of the net from close range.
Hull tested Wolves defensively towards the end of the half, but it was nothing that couldn't be handled confidently, and the home side soon took control of the game again.
Beth Merrick came very close to scoring before the break, with a curling effort forcing Chloe Chan to make a save and, unfortunately, Hughes was unable to finish the follow up and the score remained level.
Just minutes later, the deadlock was broken by Helen Dermody, whose head connected with the ball and she found the back of the net to put the home side 1-0 up after a dominant first-half.
Half-time | Wolves 1– 0 Hull
Hull's first real threat of the game came early in the second-half, but a last-ditch tackle from Emma Cross denied them a goal scoring opportunity.
A superb cross into the box from Hughes saw Wolves double their lead when Merrick connected with the cross at close range to find the back of the net and score her first goal for Wolves.
Two goals in two minutes followed, as Hughes found herself on her own with plenty of space and she was able to powerfully strike the ball into the back of the net, continuing her perfect performance in the game and proving her worth in front of goal. Hughes then found herself in the right position in front of goal and was able to confidently glide the ball into the back of the net for her second.
The goals kept coming as in the 72nd minute Anna Morphet got her name on the scoresheet as she converted calmly from the penalty spot, following a foul on Ali Miller which gave the home side the chance to add to their goals.
Substitute Amy Dicken then followed up on Dermody's long-range effort with a tap in to give the home side their sixth goal of the game in the 83rd minute and Ali Miller made it seven immediately after kick-off minutes later, concluding a well-earned victory.
Full-time | Wolves 7 Hull 0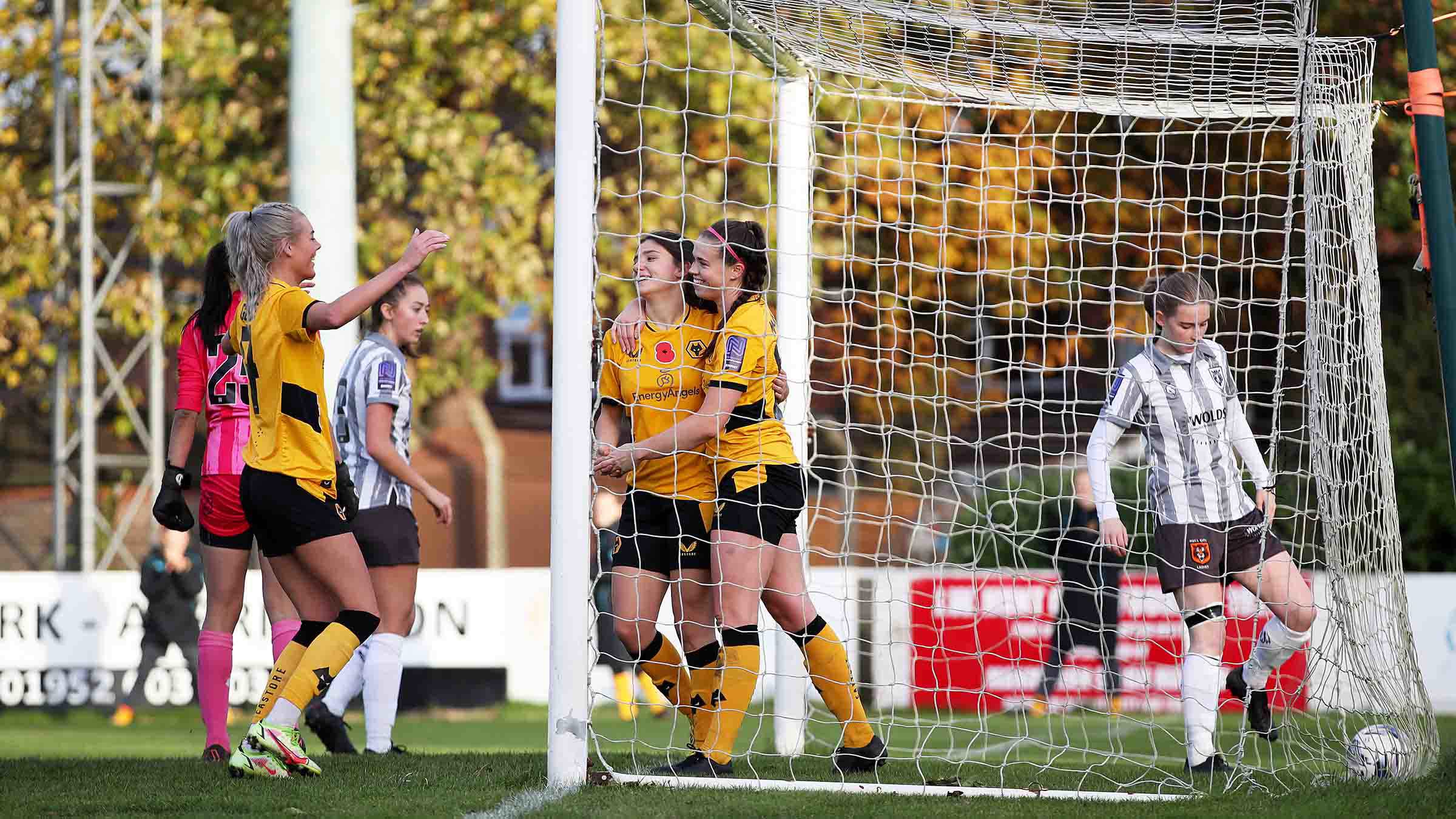 REACTION
Dan McNamara was delighted with his team's performance after what had been a "tough few weeks in the league".
"They were fantastic today. We stripped it right back in training two weeks ago. I just told them to go out there and find that identity that has got us where we are today, so I thought they were tremendous. They expressed themselves right from the first whistle.
"I thought we controlled the game and eventually in the second-half we found that real clinical edge and ruthlessness that we've seen through most of the season so far, so I'm delighted.
"Amber has missed the best part of six weeks, so it was brilliant to see her back on the pitch and with two goals. You know what you're going to get from Amber, she's clinical in front of goal and she's excellent with the ball so I'm delighted to have her back in the fold."
On his half-time talk
"Look at what happened last time out against Hull. Momentum in football is everything and we've got to make sure we don't allow them to get back into the game is what we said at half time.
"We missed chances and we probably should have been two or three ahead at the break, but it was just about not allowing them to get back into the game and I thought we did that fantastically."
COMING UP
Next up for Wolves is a trip to Sporting Khalsa in the first round of this season's FA Cup where they will look to progress through as many rounds as possible against a side who have over the years become strong rivals.
"We've got to take it seriously as we would do with every game that we play this season. It's a local derby so they will be desperate to cause an upset, so we've got to make sure we prepare well.
"We're looking to go and achieve what we did in the FA Cup last season. The girls want to make memories again and we want to go on a good run and it starts next Sunday."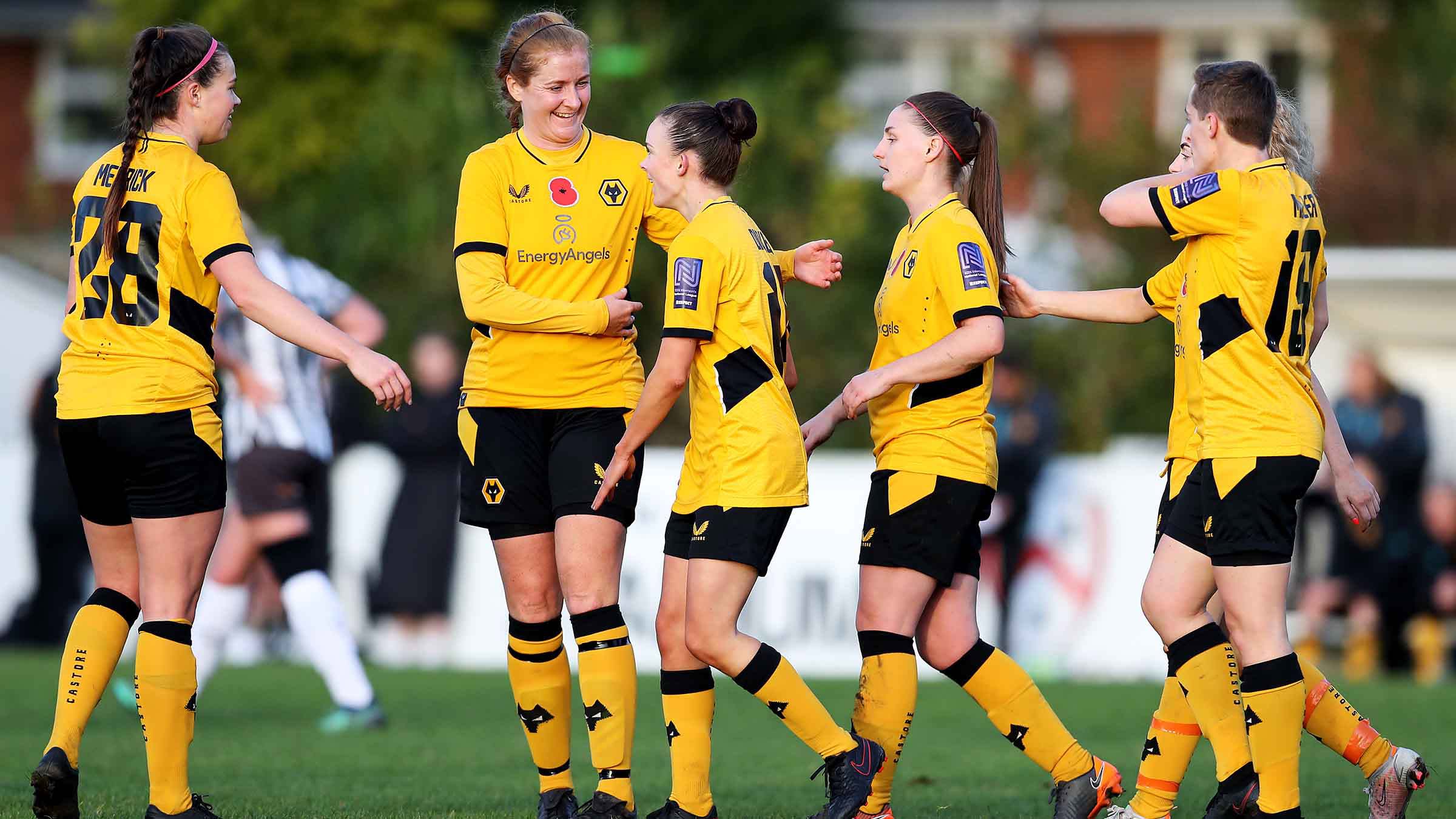 NEXT FIVE
14/ 11 Khalsa Sporting (A) – FA Cup
05/12 Brighouse Town (H)
12/12 Loughborough Lightning (A)
16/01 Middlesbrough (A)
23/01 Derby County (H)
TEAMS
Wolves: Thomas, Cooper (Price 64), E. Cross (Elsmore 68), George (Dicken 68), Hughes, Darby, Holmes (Butler 64), Morphet, Dermody, Joyce (Miller 64), Merrick.
Hull: Chan, Walby, Driscoll, Oxley (Kilkenny 60), Dawson, Tanser (McIntosh 71), Martin, Gray, Bowman, Sellars (Damms 55), Ackroyd.
By Meg Garbutt