6th September 2021
Wolves 1 (Morphet 60) Nottingham Forest 0
Wolves Women maintained their unbeaten start to the season with victory over Nottingham Forrest on Sunday.
Anna Morphet's second-half goal from distance was the match-winner as Dan McNamara's side made it five games unbeaten, with five consecutive clean sheets.
Wolves started the contest strongly and the first real chance of the game fell to the hosts, coming from a counterattack by Wolves from a Forest corner. Jade Cross sped past her marker as she ran the ball down the wing to tee up Summer Holmes, but her shot sailed over.  
Wolves continued to apply heavy pressure from there. Forest's keeper Emily Batty was forced into making a fine save on the stretch to deny Amber Hughes, while Cross came close again before half-time, but was forced off with an injury shortly after.
Half-time | Wolves 0-0 Nottingham Forest
The hosts came flying out the gates for the second-half, but Wolves continued to maintain their dominance. Beth Merrick had a great chance to open the scoring but her shot fell straight to the keeper, while Hughes also tried her luck, but was once again denied by Batty who just managed to keep the ball out.
Wolves' relentless pressure finally paid off on the hour mark, however, when Morphet lobbed a beautiful effort over Batty to give the hosts a well-deserved lead.
Forest kept pushing to find an equaliser late in the game, but Wolves goalkeeper Shan Turner was on top form to keep the visitors at bay. Despite Forest's late pressure, Wolves held firm to claim a huge win to maintain their remarkable start to life back in the third tier.
Full-time | Wolves 1-0 Nottingham Forest
REACTION
Dan McNamara was delighted with his team's performance. He said: "I'm delighted for the girls. Week in, week out they are turning up and putting in performances like that, they're remarkable – a credit to themselves and a credit to the football club.
"We thought it was really tough the last two weeks. We've had to adapt to training on a Tuesday and a Thursday because the girls really struggled with the tempo when playing three games in a week.
"It affected them and it's only to be expected as you move up the leagues but to put in a performance like that, I thought it was tremendous. From the word go, I thought we were absolutely outstanding.
"We controlled the game and really limited Forest – who are a great side. I'm just delighted for the girls – it was remarkable."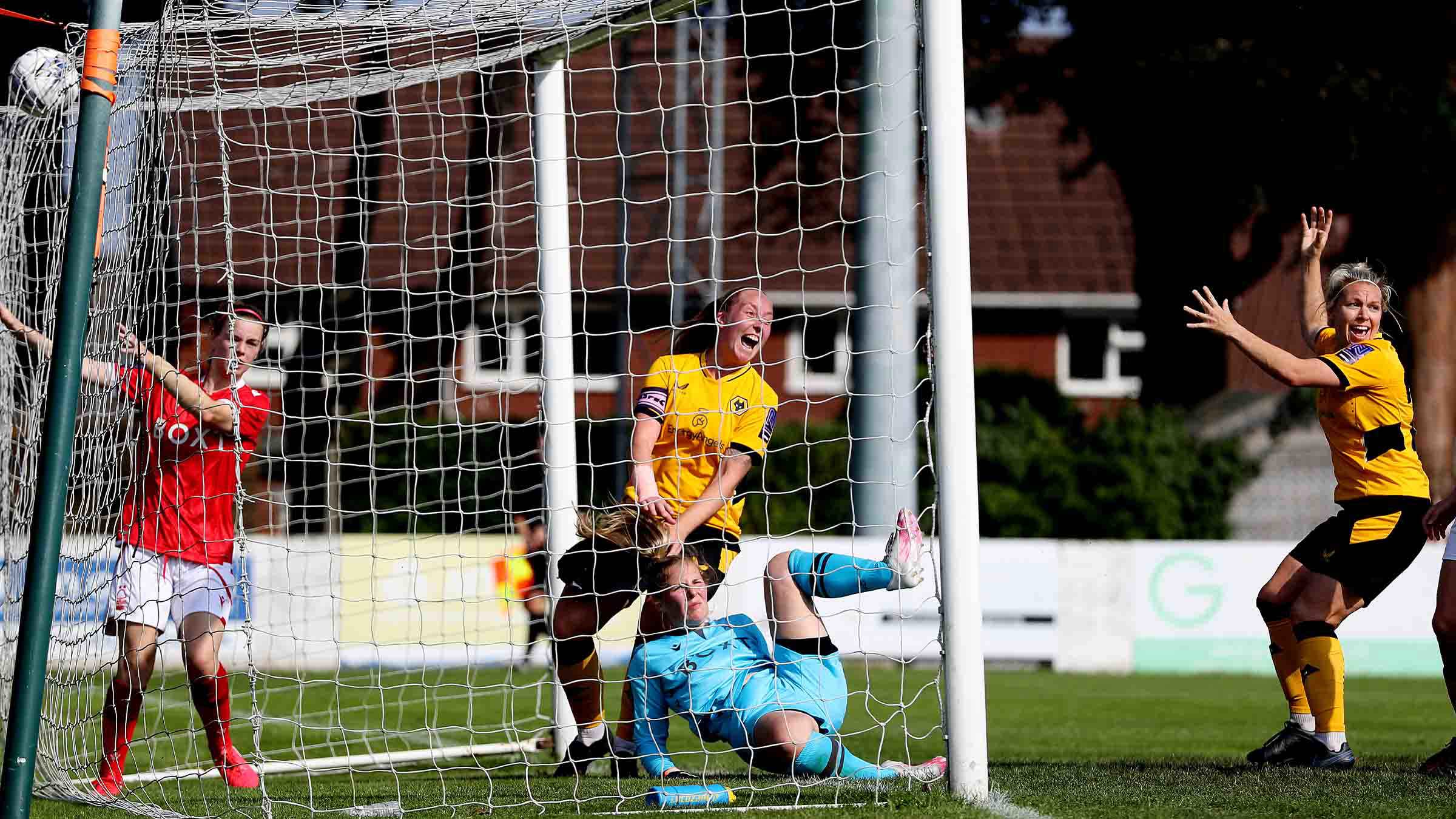 On how he kept up the intensity
"We did the best we could. The three-game week being Derby, Albion and Fylde really took it out on the girls. We had to be adaptable, we limited the tempo in training and did what we needed to – other than that we let the girls rest and recover and it really paid off today.
"Five clean sheets on the bounce for a newly promoted team, it's astonishing. Credit goes to all the players and staff."
On that goal from Anna Morphet
"Maybe there was a stroke of luck. They had a fantastic goalkeeper in goal and Anna's had a little bit of luck there, but we had three or four great opportunities in the first-half, but it didn't fall for us. She kept it on target, and she's turned it back in the box and she got her reward, so I'm delighted for Anna. Over the last three years, we've seen a hell of a journey from Anna Morphet."
NEXT FIVE
12/09 | Leeds United (H) WLC
26/09 | Huddersfield Town (A)
06/10 | Stoke City (A)
24/10 | Burnley (H)
31/10 | Sheffield FC (A)
TEAMS
Wolves | Turner, Darby, E. Cross, Morphet, Holmes, Dermody, George, Miller, Merrick, Hughes, J. Cross.
Subs | Cooper, Price, Palmer, Thomas, Dicken
Nottingham Forest | Batty, Harkin, Brown, Cook, Arber, Axten, West, O'Neill, Thomas, Anderson, Greengrass.
Subs | Hewitt, Middleton, Moncaster, Bramford, Aguirre.
Words by Nikita Gomes Henschl