2nd June 2021
Head coach Dan McNamara couldn't hide his emotion after Wolves Women earned their place in the third tier following a successful upward movement appeal.
After having two seasons voided due to the pandemic, with Wolves runaway leaders both times, promotion had evaded McNamara's side, who lodged an appeal to move up a division, based on their results on the pitch. That appeal was approved this week, meaning Wolves move up to the FA Women's National League Northern Premier – a challenge McNamara and his players are relishing.
On gaining the upward movement
"Overwhelmed was the initial feeling, because the last couple of seasons won't go without recognition. I'm absolutely delighted, particularly that it's come down to the on-field performances.
"The girls have shown the last couple of years that they're ready for a new test and a new challenge in the third tier, so for it to be down to what happened on the field is a big one for me. It's thoroughly deserved, and nobody can take it away from them, even if they haven't got a medal to show for it."
On bouncing back after last summer
"If we look back now on how the decision has been made, it's vital that we did come back and bounce back from it. I spoke numerous times about not knowing if I could do it, I'll be honest, if I had it in myself to go again, but everyone at the club, the staff, the management above me, the players, we all set out and agreed we were going to go for it again.
"Thankfully, the girls responded the way they did because it's played a vital part in us getting the promotion in the end, with the 75 per cent of points per game. A couple of losses at the start of the season could have been catastrophic for us, so we're really pleased. I didn't expect anything less from the girls, I know the group, I know their drive and the characters we have in there – that's why they play for Wolves."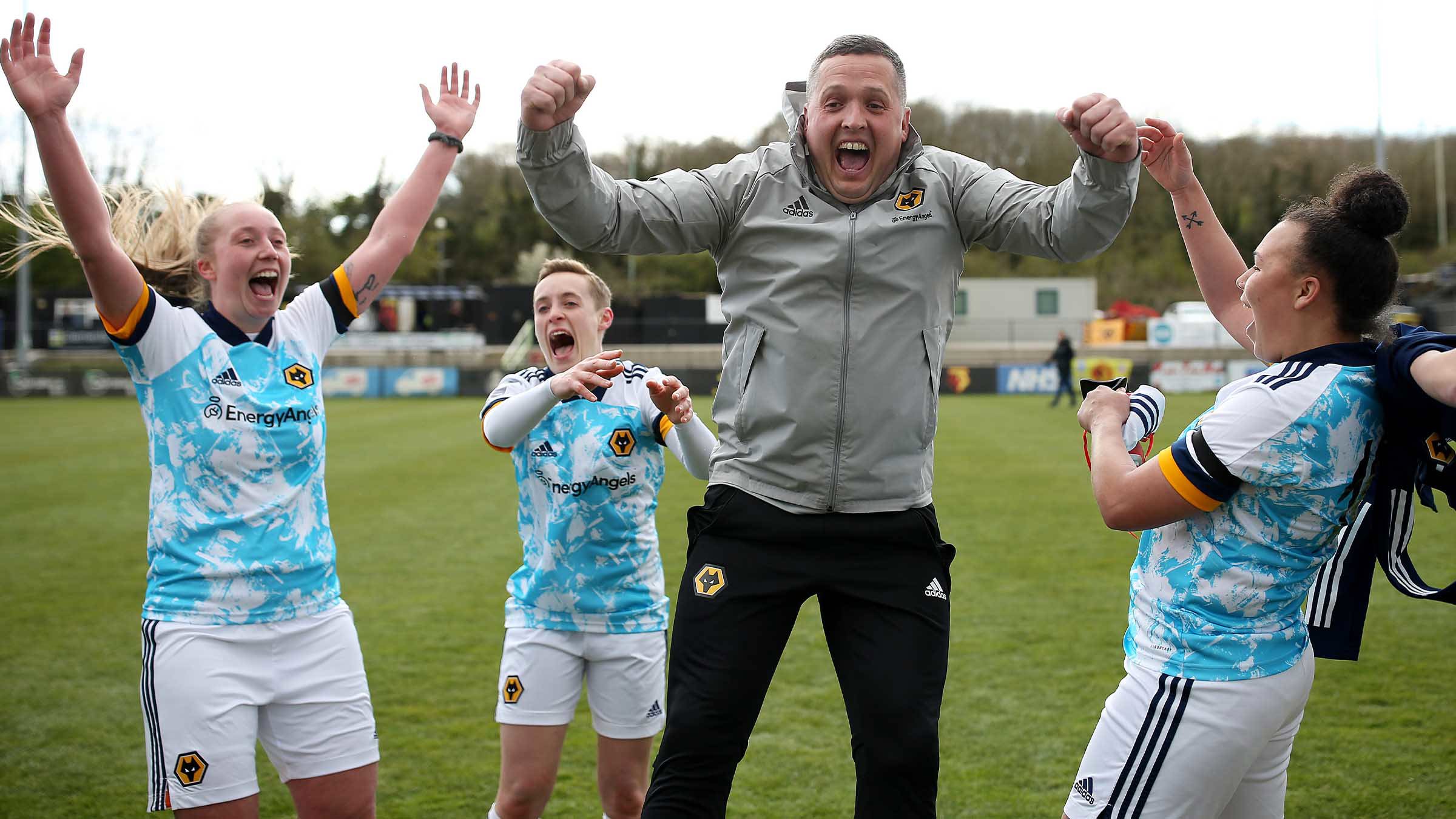 On aiming for unchartered territory
"Wolves Women have never retained tier three status in all their history, so I'm not getting ahead of myself, first and foremost we have to make sure we squash that statistic which is attached to us.
"It's a little bit naïve for anyone to be promoted and not just think about securing their safety first. We're realistic, we know there are some superb teams in the league above, the girls are going to be travelling across the country now, so they've got to adapt to that. Competing and staying in that league in that first season would be a success."
On taking inspiration from the cup run
"We've spoken about this already. We can take a lot of confidence from that cup run, but what we must understand is getting up for an FA Cup final, if you like, every week like we were doing is a lot different from a wet, cold night in Sunderland.
"We've got to learn to go out there and fight with the same drive, determination, passion and desire that we did in the FA Cup, but every week for three points. We're all going to go on a learning journey.
"Me and the staff have also got to learn and adapt to how we're going to compete at that level. It's not just the girls, we've all got to come together and thoroughly enjoy it, but we'll also learn a lot about ourselves."
On being ready for a new challenge
"It's football and we're going to have to add. If you go up a division, you always have to add, you have to freshen things up and bring in new faces, and the girls know that.
"Some of them will stay with us, and I have full faith in every one of them to step up and achieve what we want in tier three. Also, we will need some new faces to try help us retain that tier three status and push on and really have a go – show we can compete in that environment."
#WolvesWomen