8th October 2019
Wolves Women have agreed a new ground-breaking partnership with Wolverhampton-based firm Energy Angels.
In a break from the tradition of Wolves' female players wearing the same shirt sponsor as the men's side, Energy Angels will see their branding front the shirts of Wolves Women's players for the 2019/20 season after becoming team's new official independent partner.
In the largest ever sponsor investment for Wolves Girls & Women, Energy Angels will have their branding on the shirts of the club's six competitive female teams – under-10s, under-12s, under-14s, under-16s, development team and first-team, with the revenue supporting the development of Wolves' female team off the pitch as well as on it.
Wolves Women's technical director Steve Cullis, who presented Energy Angels with a signed shirt during half-time of the men's Carabao Cup tie with Reading, said: "The partnership is ground-breaking with the sort of finance and support that Energy Angels are providing us.
"We hope, with the ambitions of Fosun and the football club, this backing will give the girls the best of support going forward to produce their best on the pitch, with our job being to provide them with the best provision off it.
"We're always proud of our female players and the female provision is a massive part of this football club, but we just want it to get bigger and stronger.
"With the support of Energy Angels and the football club, hopefully we're going to produce this season."
Wolves Women currently sit top of the Women's National League Midlands Division One, winning six of their seven league fixtures and scoring 43 goals. Star striker Jade Cross – who netted her 100th goal for the club in a 4-2 victory over Sporting Khalsa in August – has already scored 16 league goals in seven appearances this campaign.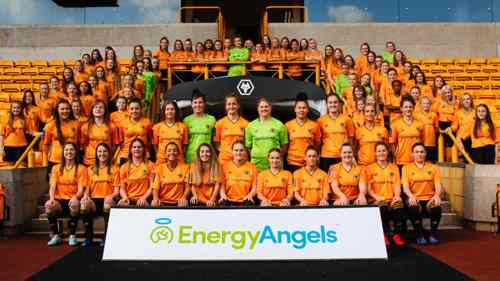 Kevin Thewell, Wolves' sporting director, said the club are delighted to increase their support of the women's and girl's programme.
"First and foremost, we've always recognised that we have a responsibility to develop young people," he said. "Whether that is young men or young boys, but we want to extend that and make sure we have that responsibility to develop young girls and women.
"We're delighted to be able to support the women's and girl's programme and hopefully it will go from strength to strength through that support."
Lewis Taylor, managing director at Energy Angels, added: "All of us at Energy Angels are delighted to partner with Wolves Women as the club's main sponsor.
"Fosun and Wolves share similar values with Energy Angels, and the wider Angels Group, in that we each exist to improve people's lives. Wolves Women are going places, the huge ambitions within the club align with our aspirations across Angels Group.
"Together as one pack, Wolves Women and Energy Angels are heading for huge success and it's going to be one hell of a ride."
#WolvesWomen