19th April 2022
Jose Sa has praised the 'amazing' spirit in the Wolves camp and admitted to former number one Carl Ikeme that the current group is one of the best squads he's been involved in throughout his professional playing career.
The goalkeeper switched from Olympiacos last summer and adapted seamlessly to life in Wolverhampton by becoming a big part of a close-knit squad, with the family-feeling around Compton Park and the city having helped to play a large role in the success of the club in recent years.
In the second part of When Ikeme met Sa, in which the man who currently stands between the sticks sat down for a special chat with the legendary former keeper, the pair discussed the impact the goalkeeper union at the club has had on Sa's performances and improvements during the past nine months, with the Portuguese reserving special praise for the work goalkeeping coach Tony Roberts and fellow first-team keeper John Ruddy have had on his development.
On the spirit in the group
"It's amazing. It's one of the best groups I've had in my career. Here, the club is like a family club, they take care of our family if they need something, and here inside it's the same, the people are very nice.
"We are doing what we're doing in the league because of this, because of the group, it's amazing and we fight for everybody."
On Wolves' goalkeeper union
"Working with Tony [Roberts], I think, in my opinion, I have improved a lot. He's a good coach, but a good guy and a good friend.
"He talks with you about everything. If he sees you feel something, he protects you, and for us this is very good, and helps us a lot.
"John [Ruddy] is amazing and helps me a lot too because he works all the time at the limit. If I don't work like him, he will play. Like the coach says, he'll play who is better in the moment and can help, and if I don't do my job and my work, I don't play.
"Either of us could play and the team will be protected, but of course only one can play. It's very important when you have a guy behind you who helps you to improve and be better, and I feel this about John."
On working with Lage
"He just tells me to not concede goals. He likes to play and sometimes says to us to change to the side but keep playing.
"Of course, if we don't have anybody to play, we kick, but to see the free space, and try to find a player free. Normally, it's more Tony who talks with us, Bruno sometimes, but normally it's Tony."
On a first season in English football
"I think Portuguese guys have a different mentality, because they work in Portugal to go out [of the country], because the best football is out, so we have to change, and we adapt.
"I came from Greece and it's a huge difference. Here the football is more intense, and I came from one team who fights all the time to be champions, so normally I don't have so many actions in their games, like here.
"Here, we are fighting for the European competitions, but if you play against last place, it's difficult, it's unbelievable, and for me it's good because like to work and to help the team."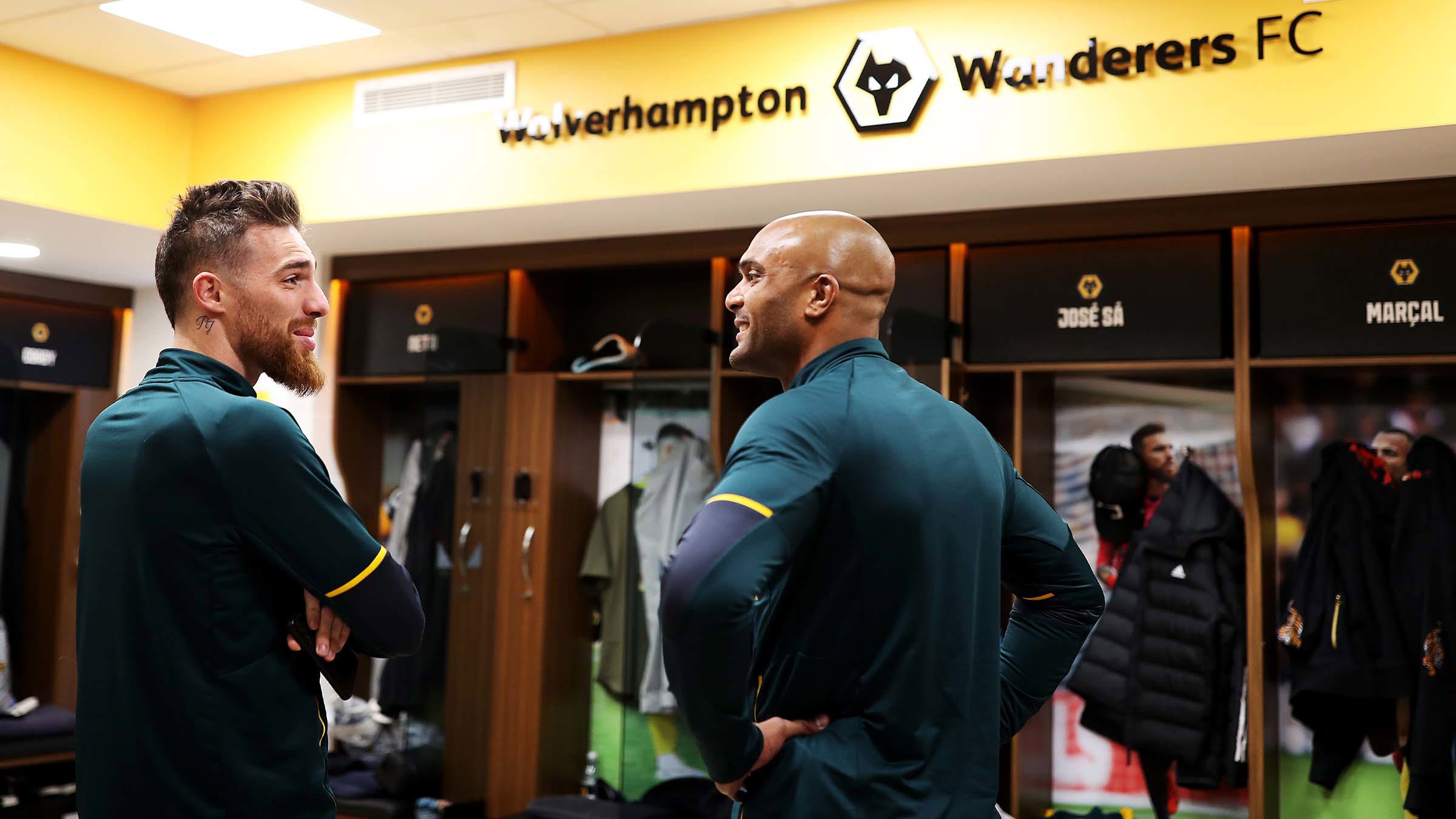 On life in Wolverhampton
"My family are OK here and they like it because we have a very good group and a lot of Portuguese. The wives of everybody are together all the time, and for us it's good because it gives us tranquillity to enjoy, to play, and to do our work.
"In Greece, the weather is amazing, all the time there's sun and in Athens you have the sea, and we lived close to the sea, and of course it's good, but we didn't have a group like this.
"It was me, my wife and my daughter all the time. Here, we go to Joao Moutinho's house, Ruben Neves', we are always with some people and for us this is good because they enjoy here, and we are closer to home if we need it."
The first part of When Ikeme met Sa quotes on wolves.co.uk can be found here, but the entire interview can also be viewed here.