2nd April 2022
Bruno Lage was delighted with his side's performance but has called on his players to be more clinical and put results beyond doubt.
Wolves led 2-0 at the break against Aston Villa, having impressed at Molineux, and after conceding an identical lead against Leeds United, tension surrounded Molineux when the visitors reduced the lead. However, Lage's men battled for every ball and showed their passion in the closing stages to see out the victory and claim the double over West Midlands neighbours Villa.
On a big win
"One more time, it was a great performance, I think maybe 75 minutes of good football. We dominated the game with the ball. We were very good with the things we need to do and try to do every time. We cannot defend for too much time. We tried to control the game with the ball, and we did that. We created chances.
"The only thing that I just said to the players, I'm happy, we won the game, three points, two goals, and we need to score one more goal when we are in that moment – 2-0, creating chances, we need to have that mentality, try to kill the game and after continue to play in the same way."
On taking more chances
"Like the Leeds game, 2-0, especially here in this competition, it's so dangerous. You are thinking everything's your way, creating chances, don't score, playing well, controlling the game like controlled it, especially in the middle.
"But if you relax, give them a chance to score one goal and come into the game, after anything can happen. I know we are young, especially up front, but they need to grow up with that experience that we should score for 3-0 and finish the game."
"You've got to @%*$#&! die to get three points."

😅 pic.twitter.com/aOR88nfU47

— Wolves (@Wolves) April 2, 2022
On the performance
"After Crystal Palace, what's important is the way we want to play and one more time we played in that way. Teams are so good, top players, they score one goal, and everything can change. I think the whole team – that's the spirit with everyone.
"For me, playing games and training are every time moments to grow up and improve. After, come to me to take the best decisions each game. Today, we changed four players and we played the same way.
"We were so happy the way we played – that's the most important thing, the process, and believing in the process. Everything changes in a moment for another. The Leeds game, we lose, but we played the way we wanted to play. For sure, this is the game which will give us goals and points."
On the penalty decision
"If you're asking the question, it's because there's doubt. It's a strange decision. VAR is there to help referees. I watched the images, another touch between the goalkeeper and player, but I can take about the referee when we win or lose, but against Leeds we were winning 2-0 but have the ability with ten to be there.
"A team like us which is so good in defence, we shouldn't suffer two goals in two or three minutes, and today the same situation. We look at ourselves. 2-0 up, playing well, with lots of chances, and leaving one man against the goalkeeper, when we should score."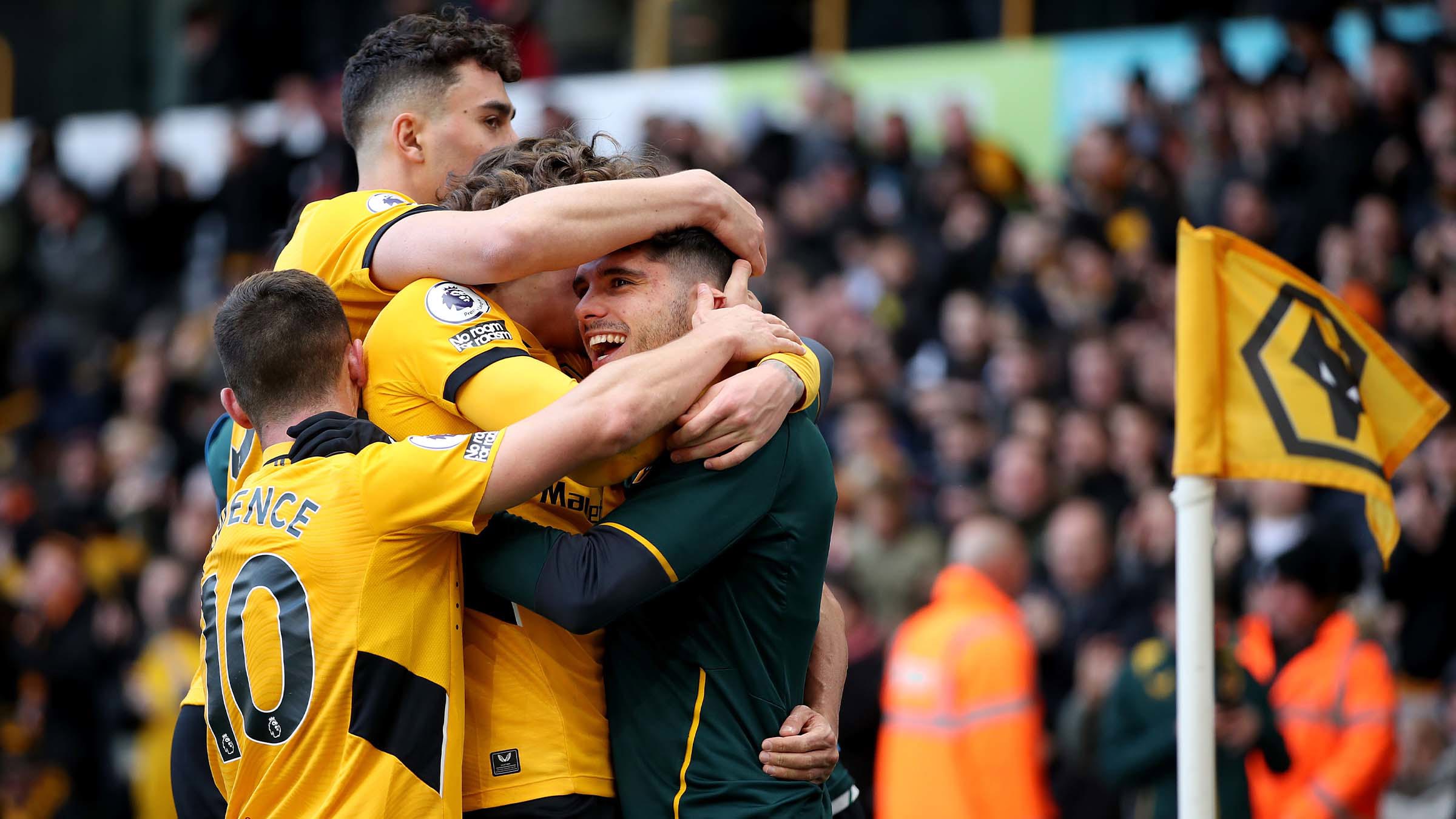 On not looking ahead
"It's game by game. The most important thing is to continue to play between now until the end of May, play this way, because this way we believe will give us goals and points, and if at the end we finish in the positions, we accept the challenge to go to Europe. For now, it's just play, the game like we played today."
#WOLAVL