1st July 2022
Wolves Disability FC captain Darren James is with us again for his final diary of the campaign…
Read back on Darren's diaries from December and March for more on his year so far.
***
I'm back again, this time to let you know what's been happening since the end of the season. There's a little about our cup tournament, the Foundation Focus Fixture and the end of season presentation.
So after the last season's league fixtures, we had our Cup Tournament. This was a one-day tournament with all the teams in the league competing for cup glory! Our league positions dictated the groups and I knew going into this we stood a good chance. All we had to do was top our group and we'd go straight into the final, something that I was very confident about due to how we'd been playing at the back end of the season.
We started off brilliantly, Jack, Tom, Ethan and Alfie up front were in the zone, pressing from the front, scoring goals and making it easy for me and Mark at the back. And just like I'd been telling the lads, we'd topped the group and into the final. I think we'd only conceded two goals and we were playing well.
We were facing Stoke in the final, who are a good side with some very good players. One lad up front in particular was very fast and a good footballer. Mark and I told each other if he got the ball, make sure we pinned him so he couldn't turn and run at us. We started fast again, we hit the post twice and the bar, how we didn't score was beyond me! Mark and I carried out our game plan and I don't think Stoke even had a shot. But 0-0 at full time meant straight to penalties.
We agreed that the young lads in our team would take them. I was so nervous - I wanted this win so bad. First off Ethan walked up and I had every confidence he would bury it. And sure enough, he did. Next Stoke walked up and bang, Joe our keeper saves it, get in! Jack then walks up and as calm as you like, 2-0 to us, before the Stoke lad walked up and skied it. We were so close!
It was all in Alfie's hands. After a few words of encouragement from us he walks up, and with a deep breath hits the back of the net! The lads went mental. I walked over to the Stoke team and made sure I shook their hands. The lads came and jumped on me, saying "Daz you've done it, You've led us to the cup, you told us we'd do it!"
I'm not ashamed to say I got a bit emotional. I wanted this win so bad, not just for me but for the whole team, the mums and dads that support us & most of all for Gav, Carl, Luke, Mark, Matt, Damian & Ryan - our coaches who put so much of their time into the Foundation. Let me tell you lifting that Cup as Captain is something that will live with me forever!
After the high of winning the cup, it was straight onto another high with our Wolves Foundation Focus Fixture against Norwich at Molineux. Wolves Disability FC had a special game on the pitch against the Norwich disability side, and I'd been picked to play and lead the lads out at half time. This was something that was a big milestone for me. I'd only got involved with the Foundation after seeing the lads do the same a few years back against Cardiff in 2019 - my son and I were at Molineux that day.
It was great, we did a few promo photos and videos a few weeks before the game, which went out on social media in the lead up to the match. On the day of the game, I had an early start down at the Dome to meet the Norwich team, who were playing some friendlies against the rest of our team.
I then headed down to the ground where I'd got some promotional work to do: I was being interviewed at the Fan Zone and in the corporate areas to talk about the team.
It was soon time to get ready for our short match. As half time hit, the first team were 1-0 down and there were some boos from the crowd. I thought, "oh no, this is going to be tough!", but as soon as I started to lead the lads out, the crowd were amazing. The stands were full and they were singing Wolves songs for us! We won the game 2-0 and being out there in front of the fans was amazing, the love and support we got just shows the fanbase we have. Thank you everyone, it was a very proud moment in my life.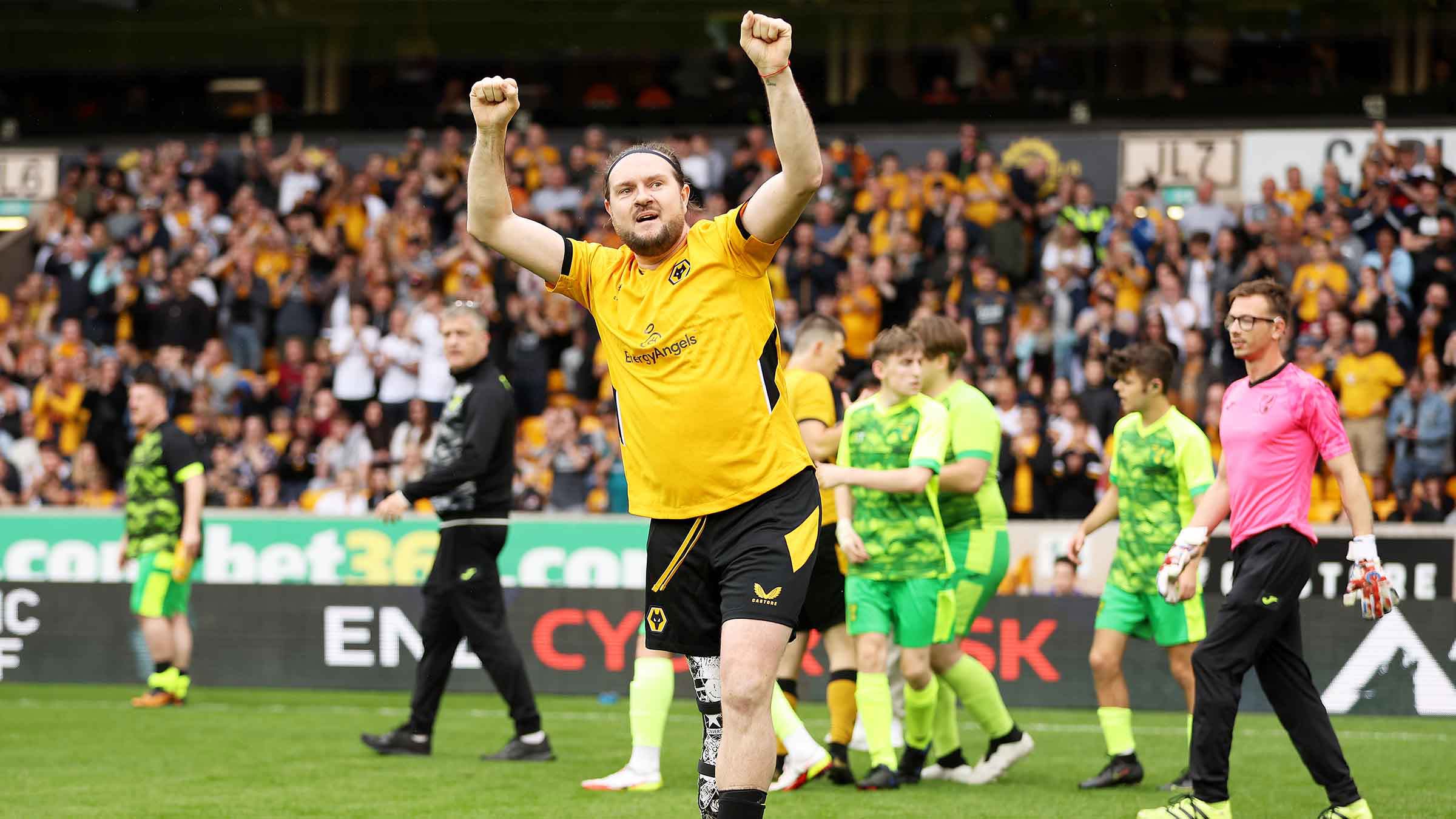 I've already done a special diary on this day and my experiences. All I'll say here is that to share this with my family and friends was very special and something that will live with me forever.
Finally, the week after our fixture on the pitch, we had our end of season presentation night at Molineux. This was a time to really relax and celebrate what had been achieved by all the Wolves Disability FC teams throughout the season.
When my family and I arrived, I was quite taken back of how many people were already there, the support was brilliant. There was entertainment for the kids and we were also raising cash for the Foundation too. There were a number of prizes to be won through the raffle, including signed shirts, signed balls, and also donated prizes from sponsors too – we were in for a good night!
We started of by celebrating the achievements from the under-12's teams, they'd also won the cup too. Brilliant! Some of the lads were recognised with individual achievements from player of the season and supporters player of the season. Then it was time for the U16's and they'd won the league and cup. Let's say the future is in good hands!
Both teams collected their medals and certificates and then it was our time to look back at our achievements throughout the season. We started by watching the video of us playing on the pitch. It was brilliant to watch it back. All those emotions came rushing back, I could here the crowd singing, and remembered how it felt. The feeling of hearing the South Bank getting behind us is a massive highlight for me, it's a dream come true!
Our coach Gav gave a speech, thanking everyone for their support. He mentioned that when he first held a presentation night there were no more that three to four tables, now we had a whole room full. It just shows the great work that's been done by the Foundation. I can't thank everyone at the Foundation enough for the experiences they've given me. I just hope there's someone out there that get's in touch like I did a few years back. I thought my footballing days were well behind me, but in a few years the Foundation has helped me achieve so much.
It was then onto our player awards and first up was Supporters' Player of the Season – it was only me who'd won it! I couldn't believe it and, if I didn't show it, I was very humbled and proud. It was really nice to be acknowledged and to share it with my wife and kids. Jack and Alfie received player of the season awards too which were very well deserved.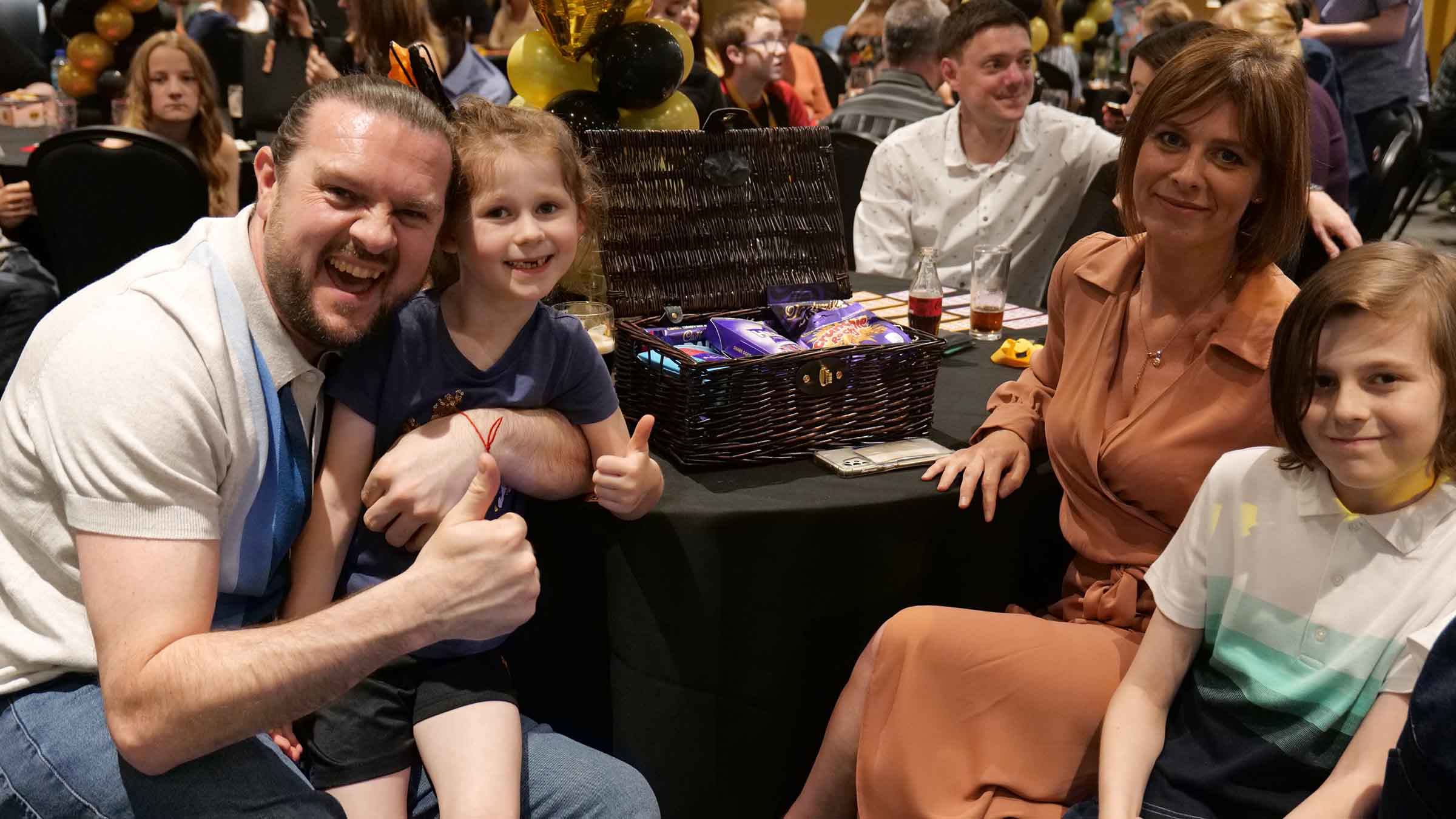 After the awards the raffle winners were announced. We picked up a chocolate hamper donated by Cadbury – very nice it was, or so the kids tell me. I didn't get a look in! Ha ha ha!
I'd like to say a big thank you to Ste and Faye Norwood, who put the disco on and decorated the room. They did all of this for nothing and also contributed big towards the fundraising. It just shows again how much love and support we have!
Once the awards had been done, it was onto just having a good time! Every one of the players from the U12's through to the adults were treated to a magic night that will not be forgotten.
So that brings you up to date of what's going on. I'm trying to rest my bad knee, hoping that it's better for the start of training in a few weeks.
I'll try to give you guys updates live from training and game days on social media next season. So follow me on Instagram (@dazjames3) if you want to support our team.
Thanks.
Until next time,
Daz James