20th May 2022
The fixture between Wolves Disability FC and Norwich was one of the highlights of Wolves Foundation's Focus Fixture.
Darren James skippered the Wolves team, completing an incredible journey from having been a supporter in the stands watching the first Disability fixture against Cardiff three years ago.
Daz, who contributes to our regular diaries on the Foundation website, has kindly penned his memories of a very special day.
***
Well, playing on the pitch, where do I start?
Firstly, the whole day was amazing!
I started off at the Foundation Arena to meet the Norwich lads as we'd arranged to play them there for our lads that didn't get picked to play on the pitch.
I was there just for support and to do a bit of homework on how Norwich played and who to look out for.
They had some good players and I picked out three that were very good and knew we would have to look out for them on the pitch.
After the Arena, I headed to Molineux as I'd been asked to be interviewed in the Fan Zone and corporate areas before the match.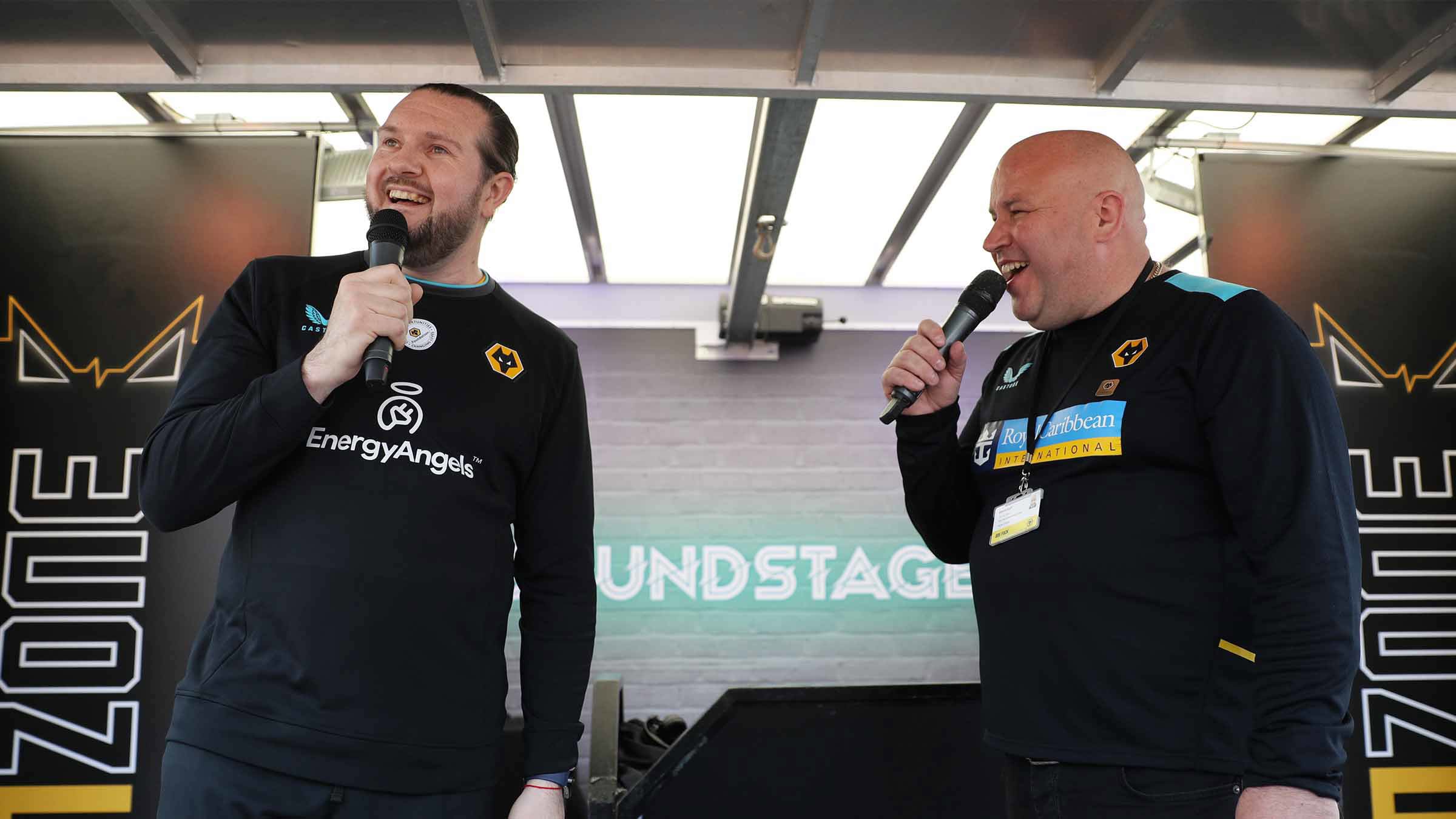 Obviously, this was something I wanted to do because it was a great way to raise the awareness of what the Foundation does for our city.
It was brilliant to get up and talk about how I got involved with the team and Foundation, what it was like playing for Wolves and how our season had gone.
The last question was: "What's it going to be like walking out to play at Molineux in front of the fans?" Now I can't remember exactly how I answered that question, but whatever I said wouldn't have been enough!
It was quite funny walking round the corporate areas and being interviewed.  In one area I even got asked to sign a young girl's programme!  That was new to me, but very humbling and sweet of the young fan!
Each area listened and showed their support and love to what I was saying, again something that shows the fanbase we have, and another reason why I love this club.
It was important to me that my wife Emma and two children Liam and Esmee also got to share this experience with me too, and it was a nice touch from the club.
Once all the interviews were done, I met back up with the team and got changed ready for half time.
I can't say I was nervous, I was more excited to get out there and play in front of the fans. I wanted to win which put some pressure on me, but that just added to the excitement.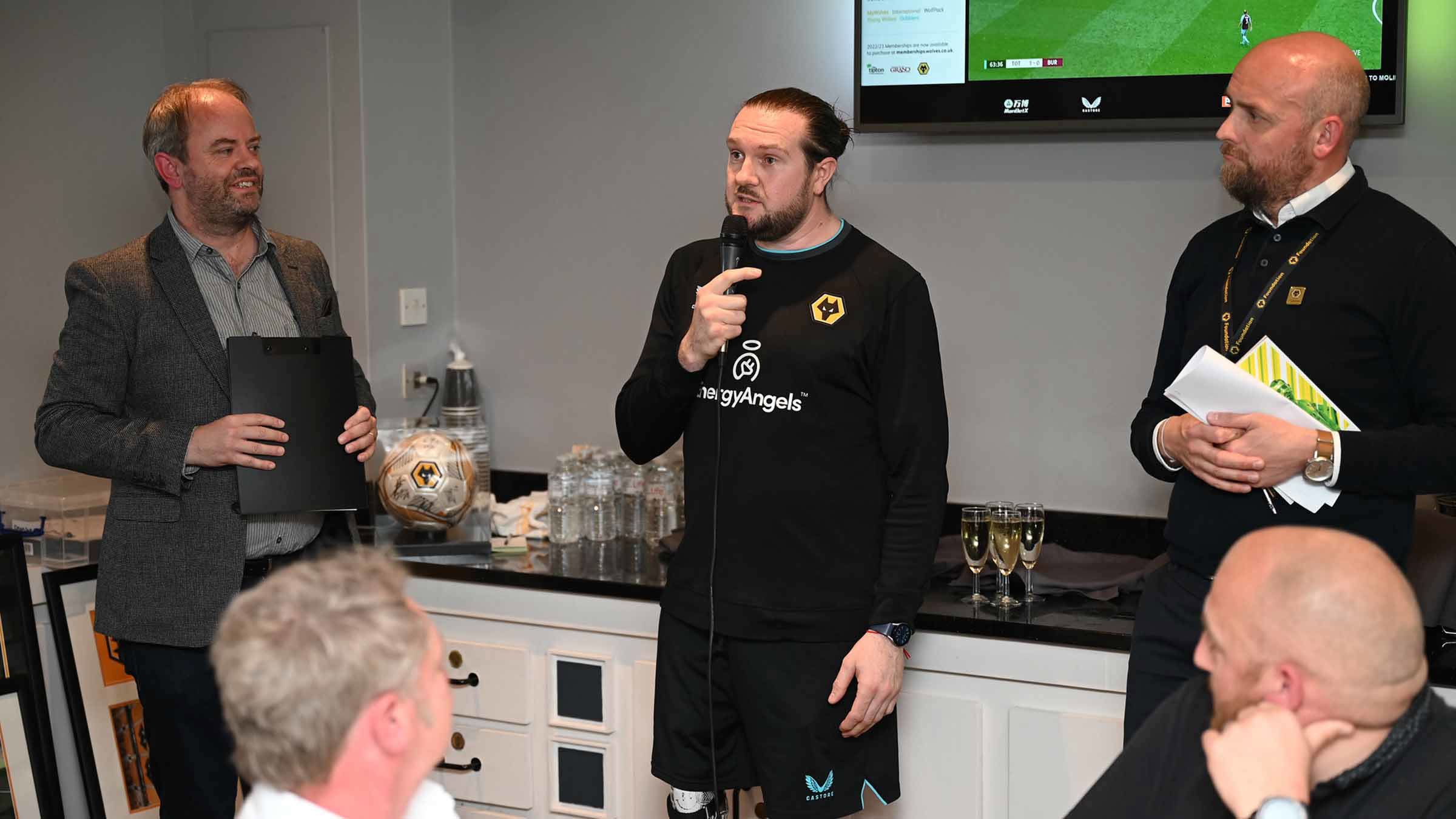 Five minutes before half–time we got in position and lined up ready to go on. At this point I made sure that I took as much of the experience in as I could. I was about to lead the lads on to the pitch at Molineux in front of the fans!
We got the nod to walk on, and from the moment we started to walk the fans were brilliant.   The hairs on the back of my neck were tingling - this was amazing. We gave the fans a clap and then I went into game mode.
I gave the lads a few last words and we kicked off.  We pressed from the front and got an early goal - man the fans were loud at this point!  Our team were celebrating and I quickly told them to get their heads back in the game as it was far from over, but the fans were brilliant.
I remember thinking the South Bank were so loud for us. We won a corner and our forward Cameron went over to take it and started to gee up the fans, and they went wild.  We were all loving it!
Cameron took the corner and Tom managed to bundle it over the line.  2-0. Again, the fans went wild and were singing Wolves songs for us.  I was getting a bit emotional to be honest, but I kept it together and even had a bit of fun myself by taking on one of their players and getting a cheer from the fans.  Absolutely magic.
The final whistle came and we'd done it, we'd won at Molineux in front of my family and friends plus the amazing fans. I can't say enough about the fans as they stayed in the ground during half–time to show their support and I hope it came across to them how much we appreciated them. The whole ground was brilliant, but the South Bank was bouncing for us!  Thank you so much!
After our short match I got to relax, which I hadn't do for a few hours.  It was a busy day but my god it was worth it.
Earlier in the day Gav (head coach Gavin Jones) had told us that the first team and women's team were going to do a lap of the ground at full time as it was our last home game of the season and the player awards were going to be handed out.  He told us that we were going to give out the awards too, and that me, as captain, would give out the award for the first team player of the season.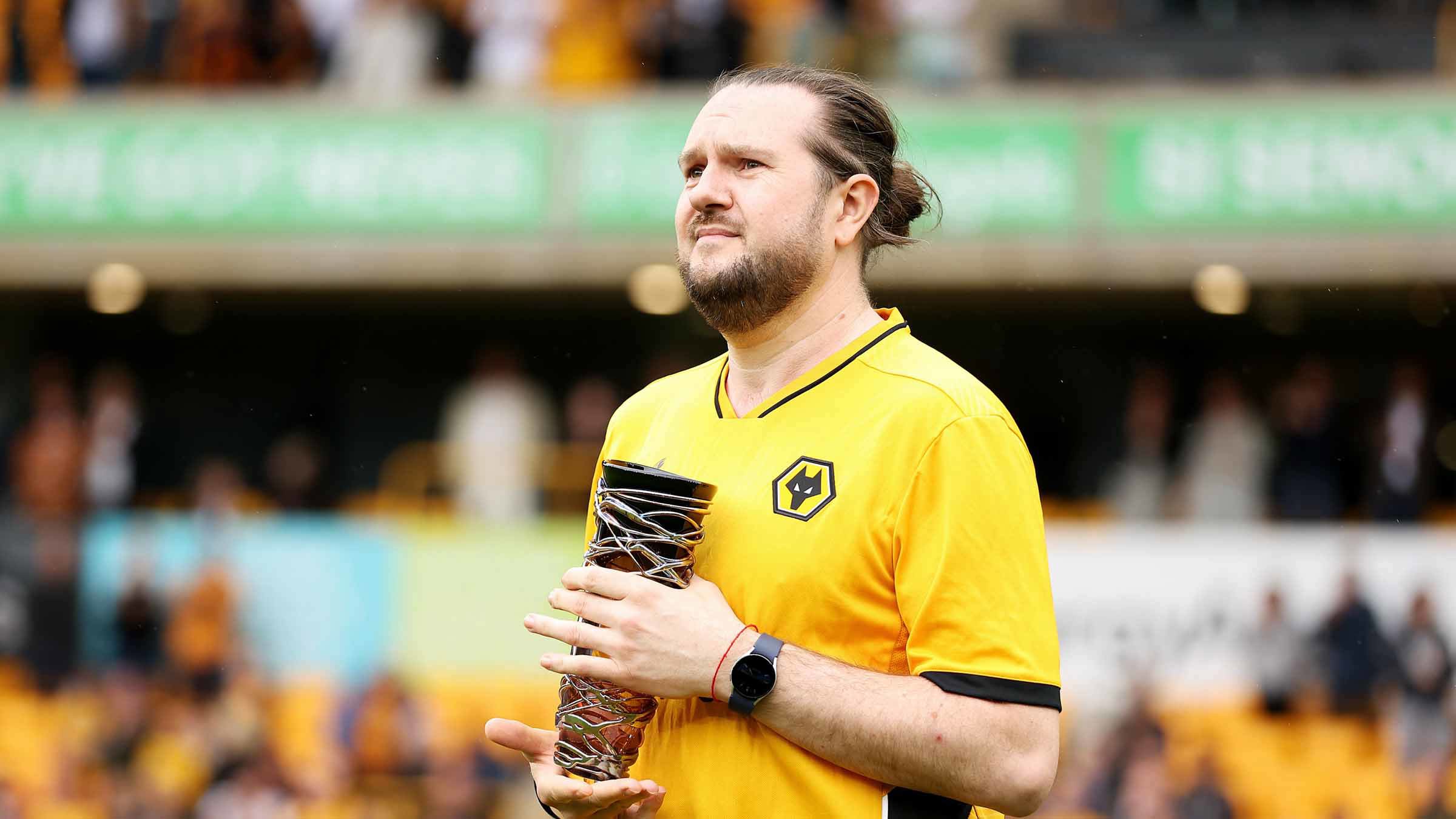 That was something else that the Foundation and club did to make this a day never to be forgotten.
At the final whistle we made our way around to the tunnel while the teams carried out their lap of honour, and the fans who stopped in the ground again to watch this were amazing.
So, by now you all know that Jose Sa won, but being introduced as captain of the disability team, said out loud at Molineux - words don't do it justice. I was very proud and honoured to be part of the celebrations. (Oh, and Jose was very nice too.)
As we parted ways and all started heading off home, I was leaving the ground when a little boy and his mum asked if I didn't mind having a photo with her son.  Wow. Me? Obviously I said yes and I'd like to thank that little boy and mum because I was so humbled.  Thank you!
It didn't really stop there.  On my way to my car I was getting high fives, calls of 'well played mate' and attention that I didn't expect. But this is what I'm trying to say about our fans, they are the best, and you'll never really know how much it means to me, so thank you.
I also hope there are people out there that have seen what the Foundation do, and, like I did, get in touch to support this great group of people or get involved.
Wolves and Wolves Foundation, thank you so much for this special day, from me and my family.
Wolves ay we!