6th June 2022
As the season's curtains closed recently, the media hunted for stories of the campaign, where things had gone well, and by the same token not so well on the pitch, but internally, the safe return from injury for a pair of influential members of this Wolves group was high on the list. 
When that same curtain was opened on day one at Leicester City, the names of Jonny and Pedro Neto were, unfortunately, nowhere near Bruno Lage's plan, as they both faced a season predominantly in the treatment room.
Those days are long, they're tough, and require a determined and positive mindset, which both certainly possess. For Jonny, his ACL injury picked up last April was cruel repetition, having battled back from similarly serious damage to the same knee just months before.
Just one week later, Neto's story was different, but equally as harsh. The winger was flying, coming towards the end of the most fruitful season of his career, when an innocuous challenge at Craven Cottage subjected him to 10 months out.
While they didn't know it at the time, the timescales were similar – both returned in February this season – so their battles for fitness were at least synchronised. Nevertheless, time on the sidelines can be a lonely place for a footballer, so now they're both back playing, they're doing so with a renewed appreciation.
Jonny said: "Some days you don't want to come in and do the same recovery things. That's normal. With my injuries, the second one was longer and some days I did feel very frustrated because it's a very difficult time, but in this moment, when your wife is there and your kids are there, they help you a lot to get through that moment. They helped me to focus on looking forward and keep going.
"I'm really grateful to Rui Fuste [the club's physio] who mainly worked with me one-to-one every single day. I think I did a good job, but he did a better job than me, so I'm really grateful to him. It wasn't just this last injury, but he helped me through the first one too.
"It's frustrating because you see teammates training outside and you stay in the gym. When the weather is bad here, I'm in the gym, so it's no problem. Every day I woke up with my kids, so came here happy for one more day."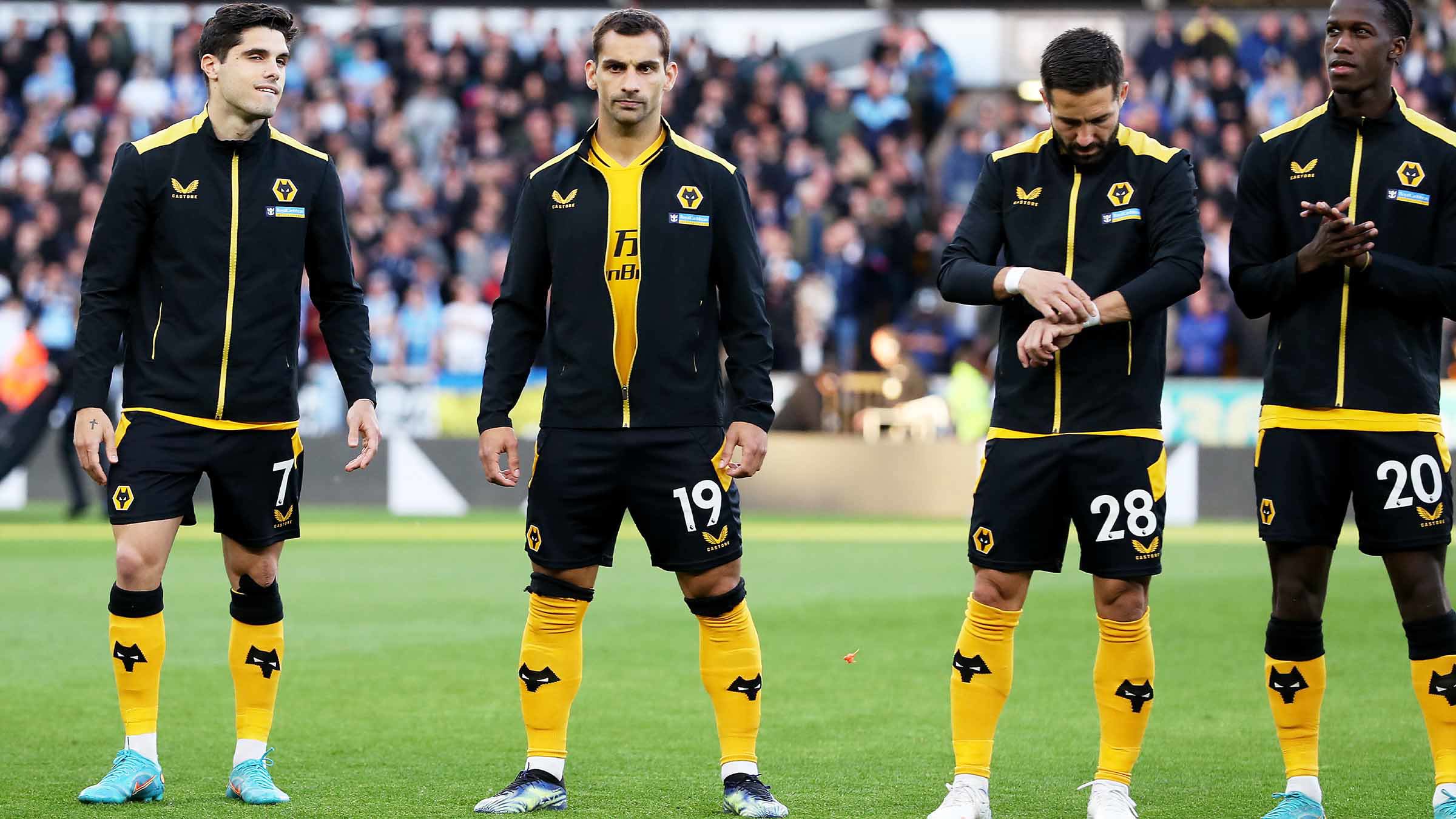 For Neto, time out was extended by a setback along his journey. 2020/21's Player of the Season had been cut down at the peak of his powers but could sniff a return, only for it to be cruelly snatched away.
"It was difficult, I will be honest," Neto admitted. "Sometimes we think that nothing will happen to us and only when it does happen, you have to put your feet on the earth and realise you have a long way to go.
"When I was doing the recovery very well, I had a setback. It was a difficult time. I wouldn't say it was more difficult than the first one, because that one was a shock and it's a rare injury for a footballer, but the day I had the setback I just thought, 'OK, I have one more challenge that I have to go through.' I worked harder than I was working and now I'm back."
Jonny's return to action was, understandably, a cautious one. The Spaniard was an unused substitute for three Premier League games, and even his return at the Emirates Stadium was enforced due to Nelson Semedo's injury. Initially, were there doubts in his mind?
"If I say no, I'm maybe lying," revealed Jonny. "Sometimes you think the third time might come again. I try to keep these things out and put all myself forward in training to improve my physicality. Now, I'm very happy. I know I'm not 100 per cent, but I think it's normal. For me, the most important is to keep playing, keep training."
Bodies everywhere. 😅

The pitchside view of the opener.

🎬😍 pic.twitter.com/coGYno1k7V

— Wolves (@Wolves) April 3, 2022
Fortunately, that comeback has been a successful one. The 28-year-old featured in each game since the Crystal Palace meeting in March and could truly celebrate his return with striker-like finishes against Leeds United and Aston Villa, which took his Wolves tally from three to five in the space of a fortnight. The joy for a popular member of the pack around Molineux on each occasion was palpable.
Jonny said: "I've been happy with these goals, but the most important thing is the team. Every game is about improving and keep improving, but I'm still happy with these goals. I remember my wife asked me, 'What do you feel when you score?' There are no words I can use to describe it. Scoring at Molineux, after a big injury, and the people all celebrating, it's a special feeling. It's just you and the people celebrating these things and it's incredible.
"We know these injuries can happen. All we can do is keep our eyes in front and keep going with this challenge to bring better things in the future. I feel good, but I know that every week I can keep improving myself, my technique and my physicality. I need to keep improving for the next year and start next season with everyone else at 100 per cent."
For Neto, his reappearance possessed the wow factor. There'd been little talk of a return. No comeback date down on paper. So, when the Portuguese appeared on the teamsheet for the visit of Leicester City, there was an air of surprise, and with nine minutes to go, he got the moment he'd been dreaming of – what had been at the forefront of his mind for ten gruelling months, which were now behind him.
Neto said: "It felt unbelievable the moment I arrived. I said to my family that it gave me goosebumps, when I went on to the pitch and started to hear my name from the crowd, it was unbelievable. It was a unique moment. I know the ten months that I spent out of the pitch, when I came in, it was worth everything.
"It's unbelievable. Even when I was injured, sometimes I left my car on the car park and had to go through the fans to go to the stadium, and the support was unbelievable. Even when I was injured, they said they want me back and the reception I got was unbelievable, so I am thankful for all of that and all of them. I play football and the fans are one of the reasons we play football, because without them, it will not be the same, and for the fans of Wolves, I have to thank them because they made this club my home and I felt very happy because of them.
"During the 10 months it was very difficult, and I worked very hard. I had difficult times but now I'm back and I'm very happy. I will do my work every day and I am here to help. My mentality, as I always say, is to be the best. I am here to help the team to give my best and play my football. I want to enjoy my football."
This calendar year ends in Qatar with the World Cup, and for both Jonny and Neto, a carrot has been dangled. Both are full internationals, with Neto scoring on his Portugal debut and Jonny making three appearances in 2018, during the infant months of his Wolves career. However, that gap of nearly four years has simply increased his hunger to return to the national stage.
On Spain, Jonny said: "The players who go to the national team are doing well, without injuries. They did well in the Euros and have now qualified for the World Cup. I try to improve every day with Wolves, but also myself, and why not go back to the national team? I know it's difficult, but it's a goal for me, to go there, but I know for this I need to think about Wolves, every day work a lot, and who knows? My goal is this and I'll fight."
First off all just to say that everything is fine.
After a long time, what a feeling🙏🏻✨ now rest and next season comeback with everything to conquer amazing things with this club and this amazing fans.
C'mon @wolves 🐺🧡 pic.twitter.com/H1AbH7hDuv

— Pedro Neto (@pedrolneto7) May 22, 2022
Like Jonny, the way Neto will attract the attention of Portugal manager Fernando Santos is with performances for Wolves, with whom he signed a new long-term contract in March. At Stamford Bridge in early May, making only his second start of the season, Neto looked back to his old self, likewise at Anfield on the final day. He was a nuisance for defenders, was confident when running at players and got off the mark for the season on Merseyside. The 22-year-old was back enjoying himself.
"It's in our mindset to believe. This team is always like this. We work hard to win the games. It was a very good game [at Anfield]. We did a very good job here and we had quite a few chances to score. We could have been 2-0 after Leander's chance, but what a game."
As Molineux bid farewell to another Premier League season, all with a Wolves affiliation will be relieved it's ended with two of the most popular members of the squad back firing on all cylinders.