2nd May 2022
As the final whistle blew following Saturday's clash with Brighton & Hove Albion, it concluded the incredible Wolves career of Dr Matt Perry, and wolves.co.uk spoke to six people who worked closely with him during that era.
Conor Coady, Wolves captain
"Matt's had an incredible impact on the club in the 20-odd years that he's been here. He's an incredible character, an incredible person, and what he's done for me, my family and every single person in this football club will never be forgotten. He has done everything for me and my family from the moment we arrived here. He has always been the first port of call if my kids ever had problems or if my wife ever had problems. If there was anything ever going on, he was always the first person I'd ring.
"I've been here seven years now, and he's an incredible character around the building, but more important than that, is that he's an incredible person. You can always open up to him about anything happening in your life, you can always talk to him and he's someone who you can always turn to for help, especially during the Covid pandemic. The last few years have been really hard for him, because he was the person at the club which everything seemed to fall on, but as players we understood how much he was going through and how much of a hard time it was.
"We were trying to help him as much as he was trying to help us, because he was an enormous help to everyone at the football club and he was such a friendly face to have around the place at a very difficult time in everybody's lives. What he did for the football club during Covid will never be forgotten but this help is what you expect from Matt because he's an incredible human being, and what he's done, not just for me, but for the majority of the lads in the changing room, has been second to none, so he's obviously going to be massively, massively missed.
"He's a real massive presence within the football club so to see him leave now is a real sad time for us as players and for us as club, be we also understand where he is in his life and the new things that he's going on to do, and we really respect that. I'm incredibly proud to have known him and to be able to call him a very close friend, because what a fantastic doctor and what a fantastic person he is."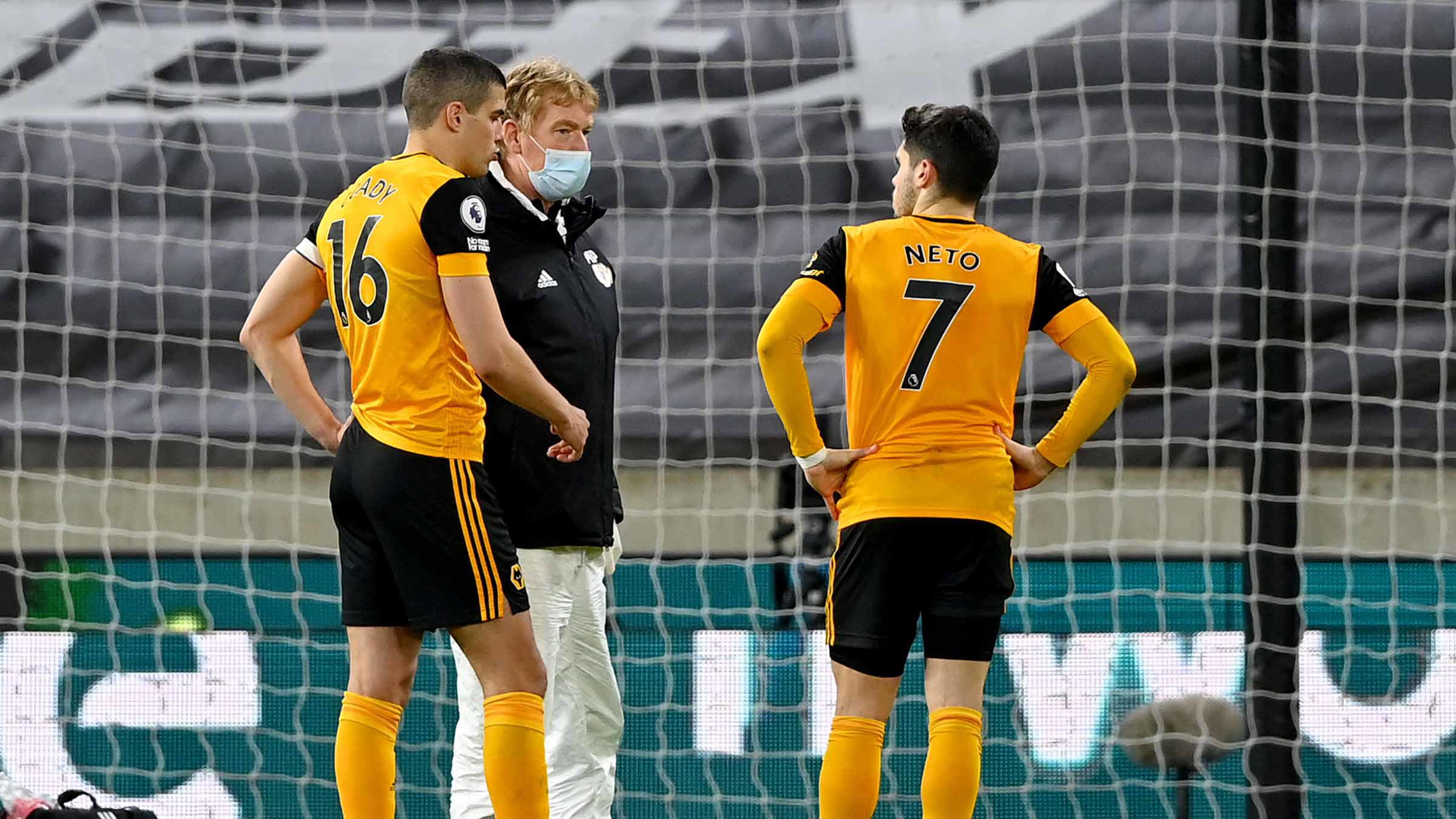 Scott Sellars, Wolves technical director
"I've been here seven years and Matt's been here throughout that period. It's very sad he's leaving, it's sad to see great staff and great people leave, but I understand the reasons why. Matt loves the club and has a massive affinity, so it would have been a massive decision, but to be at the club for so many years, we've been very lucky.
"He's been great in terms of work, but also the standards he was driving in the medical department and at the Premier League. He's always been a person who, like we all are, tries to improve and move the club forward, and I'll always thank him for that.
"He was outstanding during the pandemic, how he dealt with it, how calm he was, but also the work and detail that was put in by his team. It was certainly a stressful and traumatic time for us all, but the way he drove us forward showed with how we dealt with it as a football club.
"He'll always be welcomed back. He's been a fantastic servant to the club, but also a great guy who we'll miss around the place for his expertise, but also being great to talk to. He'll be a big loss, but we certainly wish him all the best."
Matt Murray, former Wolves footballer
"Matt is a top man. He's so nice, so trusted, respected, and when I had the injuries, he was amazing, the compassion he showed and the care, and even when I left the club, he still helped me so much. An unbelievable person, Wolves through and through. I don't know any player who doesn't trust him. If the Doc said to do it, we'd just trust him – he's an amazing human being.
"At Pride Park one day, he leaned on the shower. Darren Potter was getting treatment, the Gaffer was giving a team talk and it was busy, and we had the put the bed in the shower so the Gaffer could speak to the players getting treatment, and the Doc leaned back and set the shower off, and instead of letting the player getting soaked, he stood there and took it until it ran out. He was stood there taking a cold shower, that always tickles me.
"I still think the best moment was when he gave the team talk at Old Trafford. Dave Jones was trying to tell Henri Camara, who only spoke French, to stop Gary Neville heading the ball. We'd been battered by Chelsea, Blackburn and Charlton, then went to Old Trafford and there were better odds for them to beat us 10-0 than for us to win. John O'Shea scored a header, 1-0 down, and Tim Howard is drilling the ball to Neville, he's heading it on and Ronaldo is running at us. Henri didn't understand, so Dave Jones said, 'Doc, you speak French,' and he ended up taking the team talk. He was saying things like 'Monsieur Neville' and 'Head ze ball' – it was like 'Allo 'Allo! French, and everybody started laughing. We drew the second-half 0-0."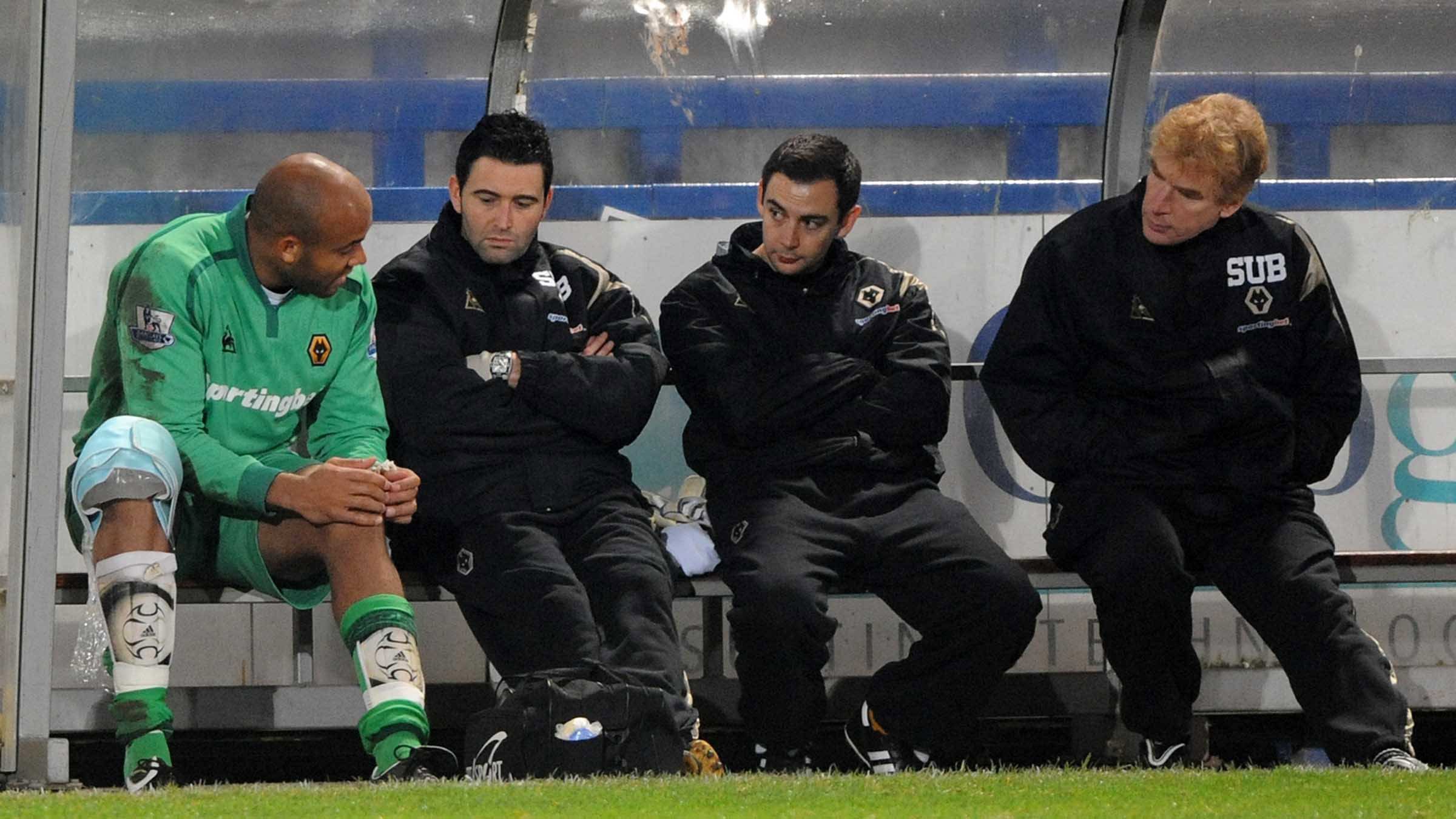 Oliver Leaper, first-team physiotherapist
"Matt's been here too many years to count now, but in that time, he's had a dramatic impact on the club. Throughout all the time he's been here, the club has always been highly regarded in terms of its medical department, and Matt was always the one who was in charge of that and a major part of it. That was reflective in how he ended up heading up the Premier League's medical care and pathway for a period of time. He's definitely going to be missed, as a person but also as a doctor, because the knowledge he's got is second to none in football. If you were to look at everyone who is a doctor in the Premier League, I don't think there's going to be anyone who can hold a candle to Matt and the knowledge and expertise he has from all the time he's spent in football.
"I've only been here for the last five years, but even much earlier on than that, he was pushing he boundaries as to what he could offer the football club in terms of his ultrasound scanning and how you can treat a player and monitor their care as a result of the extra information those tests were able to give.  Especially the years through the Covid pandemic, it was a little more difficult to get outside information from other avenues, such as consultants or MRI scans from a hospital, but having Matt and his skills of being able to scan people with our own ultrasound machine was instrumental.
"Before I came to Wolves, I had never worked with a doctor who was so skilled in these areas and this allowed us to work well in managing players who weren't injured or certainly the rehabilitation of an injury as a result. That's something that England will benefit from now with the under-21s or wherever he ends up working with their players when they're away at camp. With his experience and that extra knowledge. he has at being able to interpret that information is a skill that very few people around football have.
"You won't meet a nicer guy in terms of someone who has always got time for everybody, whether that was in his profession as a doctor, but also as a person. He's such a kind-hearted guy who couldn't do enough for you. With his knowledge and experience of not just being a doctor but in life, he's always been a fantastic friend and everyone at the club, players and staff alike, will all say the same thing. It's going to be really sad to lose him from our team and not to see him every day like we do now.
"I know that in the past when he didn't work full-time for Wolves he was with England, and I'm sure that if things work out for him with the under-21s and he finds himself with the senior side at the World Cup, I'm sure he'd be the proudest man in the country. With an England badge on his chest and representing his country will give him great pride and I'm sure he's going to enjoy it because he loves football and he loves the game. I've done the run-on in games with him at Wolves in several situations, and in those situations he's fantastic. His knowledge and expertise means the players have always been in the best care possible.
"We've always seemed to have a really symbiotic relationship and from the word go, we seemed to know exactly what to expect from each other. During a run-ons, I would do my bit and he would do his bit while I'm talking on the radio and vice-versa, and it just worked really well. It was always very natural with Matt, especially compared to some of the doctors I had previously worked with before coming to Wolves, it always seemed to click and work. We were always able to deal with the situations we found ourselves facing on the pitch, whether that was just somebody going down because they needed a rest to some of the more serious injuries that we've unfortunately had to deal with, we always got a positive outcome.
"He's a great person to work with on the pitch and he's a calm presence. The players have the utmost respect for him and I imagine they found everything easier knowing they had Matt treating them. I can't imagine anyone else being able to do what he did during the Covid pandemic, in terms of not just for the team, but the city of Wolverhampton. At one point with Fosun and Jeff's backing, Matt was very much involved in trying to help equip New Cross Hospital with ventilators from China.
"But being able to provide our players with the right information and PPE at the time, he left no stone unturned and I think we were very fortunate to have somebody with his background leading us through that time because speaking to people at other clubs and other organisations, we were so well organised and able to deal with everything so quickly and professionally, but that was all down to Matt, so we were very fortunate to have him on our side.
"Matt is someone who you're always happy to see, he's a real gent and I don't think there's many people like him as a person or as a doctor. He's someone who's irreplaceable and will be massively missed by all of us at Compton and the training ground, but also across the club because of what he has done at Wolves during the past 20 years."
Matt Wild, Wolves head of football administration
"Today the club loses, in my opinion, one of its most highly regarded members of staff, with head of medical services Dr Matt Perry leaving Wolves, following his final duty as run-on doctor for this afternoon's match against Brighton.
"One of my most noticeable memories of Matt was in January 2020 when he called a small group of us into Jeff Shi's office to explain about a disease called Coronavirus which was sweeping through Wuhan, China. I remember thinking to myself at the time that surely it wouldn't hit the UK with any severity. How wrong was I and I am still thankful to Matt for that meeting and indeed for all of his help in the two years that followed, where Covid-19 changed entirely how the club operated at both training and on matchdays.
"It was an extremely difficult time for us all which presented the club with numerous operational challenges. However, Matt's knowledge and wisdom, coupled with his calming nature and reassuring voice, gave us all the belief that we would overcome any challenges, which we indeed did, mostly thanks to Matt's direction, and for that we will always be grateful. Matt has been a true hero during this period.
"We then had that dreadful night in November 2020 at the Emirates. It was a truly awful incident, and we are all thankful that Raul recovered, but even in the midst of such an horrific ordeal which Matt was at the centre of, I remember him explaining to me in the tunnel in such a calm and matter-of-fact manner what had happened and issuing me with various instructions before heading off to hospital. Even at the hospital, as we waited for what felt like a lifetime for Raul to come out of surgery, Matt was so reassuring and made you feel like everything was going to be all right, and I think that is the biggest compliment I can give to Matt – he is so approachable, and you just trust and believe in everything he is saying to you.
"Wolves has certainly been Matt's passion and we are all the better for it. However, I know he has been wanting to slow down somewhat, focus on other projects and spend more time with that wonderful family of his and I am so glad that he now has that opportunity. Thank you for everything, Doc, and keep in touch."
Carl Ikeme, former Wolves footballer
"I've known Matt, or the Doc as I call him, since I came to the club as a young kid. He's been incredible for me personally. Over the years being at Wolves, his door was always open, and phone was always on if I needed to ask him a question. He helped me through injury worries as I was playing and gave a good conversation about anything, at any time. He's really good-natured and thoughtful. Even if I was asking a question about my kids being unwell, he was willing to pick up the phone at any time. A really caring, great man, and he will be a big loss to the club, but he's put in his time, he's given everything to Wolves and is highly respected from anyone who has had the pleasure to work with him.
"Obviously, it's a bit more personal with me because of my leukaemia, and how he spotted there was something not quite right straight away and acted really quickly. Throughout that process, he was always there to answer questions I had, and came to visit whenever he could, and helped me and my family through a really tough time, and I'll be forever grateful for what he's done with me personally."