28th April 2022
How do you summarise more than 20 years of your life which have been dedicated to the football club you love, working in the perfect role? "It's been a dream" is the phrase Dr Matt Perry appropriately chooses, and who could argue?
On 31st October 1999, a younger Perry worked his first Wolves game as first-team doctor, but the final whistle at Molineux this afternoon will call time on a loyal, dedicated and thrilling career spanning 23 seasons, 12 managers, four promotions, three relegations and too many memories to sum up in a single interview, although the eloquent Perry gives it a good go.
A humble character, who has quietly gone about his business with consummate professionalism, has lived the dream of any Wolves supporter. As a child, Perry spent "two and six" – the equivalent to 12.5 pence – to stand on the North Bank in the late 1960s but has spent much of his adult life in the privileged position of the dugout on a matchday and Compton Park during the week, tending to the players of the club so close to his heart.
"If I could describe my perfect job in medicine, being Wolves first-team doctor has it all," he explained. "It's been a privilege and a fantastic learning experience, both professionally and personally. I'm still a boy at heart, you still get that pinch-yourself feeling when you're out there at Molineux, the stadium's rocking and you're part of it, it's incredible."
It's now one of the most important jobs in the sport, in an era where greater attention and respect is paid to the medical room, but during Perry's maiden steps in the game, Championship clubs wouldn't have full-time doctors, and certainly not the widely specialised medical departments of the modern day, so breaking into the industry would require patience, hard work and a bit of guile.
"Back then, the FA ran the academy systems and recognised that players were coming through at elite level carrying injuries, they wanted independent doctors, so teams weren't pressurising them to play unfit. As crowd doctor, I used to sit next to Chris Evans, the academy director at the time, and I always complimented him on the academy players. In 2001, he offered me the academy job. I shook hands on the condition that if I got to do a master's in sports medicine, the club would help fund it, which they did.
"Then the first-team doctor left in 2002. I was in my practice one Monday afternoon and the receptionist said the Wolves manager was in the waiting room, wanting to see me. So, Dave Jones walked in and said, 'Doc, you've got a full waiting room, I'll keep this brief, do you want to be the first-team doctor at Wolves?'."
The decision was a no-brainer for Perry, who'd dipped his toe in the life of a football doctor in previous seasons.
"It was July 2002, just in time for the promotion season, and you're pitching up in a dressing room full of huge young talent and also experience. Joleon [Lescott], Nayls [Lee Naylor], Matt Murray at the back and Kenny Miller up front, then we had Paul Ince, Denis Irwin, Alex Rae, Paul Butler, Nathan Blake, Colin Cameron and Dean Sturridge as senior pros. We didn't start winning games until January, but after the FA Cup win against Newcastle we went on this amazing run."
In his previous role of crowd doctor, Perry provided an extra pair of hands on the football side when required – a role he was delighted to take – and after the opportunity to meet a few familiar faces arose, the heat of a blood and thunder derby awaited. Quite the welcome to the professional game.
"During my first game as a crowd doctor, I was asked to come to the dressing room because they needed some insurance forms filling in for a young lad called Robbie Keane. We beat Barnet 5-0 in the cup, Bully scored three and Robbie scored two, and they assisted each other.
"Just before that, we'd played Barcelona in pre-season and Bully had scored, I was asked into the dressing room for the first time then. John Richards was in there, and he said, 'Hello, Doc, my name's John Richards.' When I was a kid, they didn't have names on shirts, but in my head, I was always John Richards, he was my hero, and I was shaking his hand.
"Then the first game as team doctor was away at the Hawthorns, and Pete [the doctor] couldn't go. Mike Stowell needed some medical attention before the game, so I met him there and joined the team for the game. Ludo Pollet and Keith Curle headed one another after ten minutes, and I had to take Pollet to Sandwell Casualty in his full Wolves kit, which was interesting. We got back before the end of the game, it was 1-1, and the atmosphere was amazing, then Colin Lee pulled me into the dressing room, and George Ndah was there with a cracked tibia – a real baptism of fire."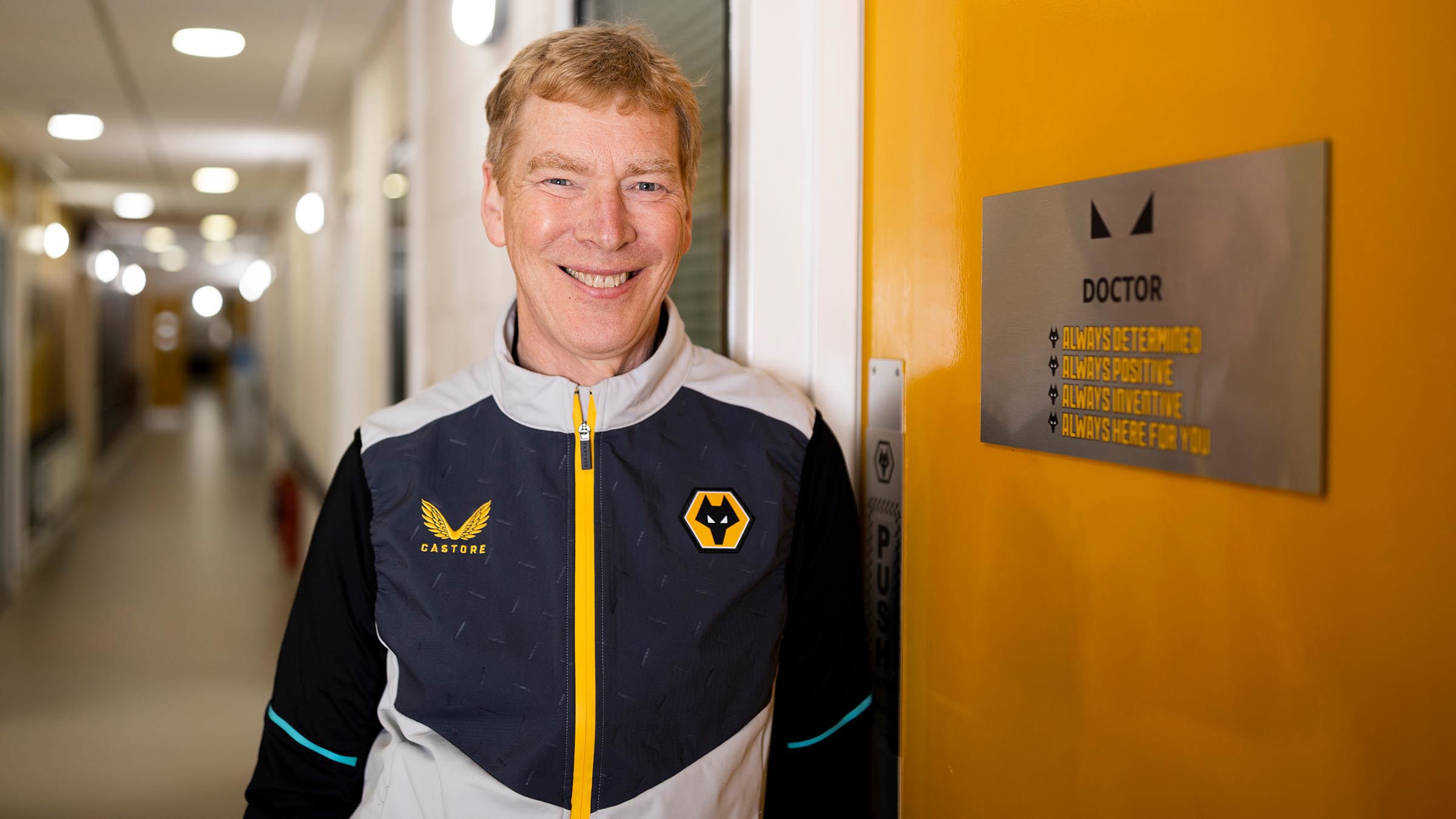 Perry is sitting in the press conference room of the training ground during the dying embers of his time at the club, reflecting on years long gone in this final interview. It's a room which didn't exist for the majority of his tenure, like much of the complex, so when delving into the memory bank to compare then and now, it's a natural place to begin.
"My first year here we used to change in the squash club next door and use their gym if it wasn't being used by the local members, then climb through the hedge. When we went into the Premier League [in 2003], we had portacabins and I had a desk, but no phone, no record system, no canteen. We had a couple of showers, and the players would take turns to see if they got some hot water. We had one physio, a fitness coach, a part-time doctor and two masseurs on matchday and that was the total sports science and medical staff.
"At that time, we did an audit at supposedly comparable clubs: we looked at Bolton, Middlesbrough, Sunderland, West Brom – teams at the time who'd go up and down – and looked at our facilities. We didn't even have a treatment room at the training ground, it was up at Molineux, so you couldn't have the physiotherapist at both sites. The closest team to us had five times more medical staff than we had. We'd got ourselves into the Premier League with experienced, capable players, but the infrastructure just wasn't there.
"Now, we've got a training ground with manicured grass and the Academy players have services far in excess of what the first-team had then. Massive changes in terms of sport science, nutrition, longevity of players, rehabilitation facilities, and load management and player development.
"Medically, the biggest changes have been the on-field emergency care available now. There's an excellent mandated FA course and all clubs in the professional game have staff trained to a high level. In the Premier League, it's present every training session, everywhere we go, and that saves lives. Also, I can do ultrasound scanning every day, looking at niggles and injuries, and that helps give the players and the staff confidence on issues. Players are fitter, stronger, faster, as well as being tactically and technically good, they're physically advanced as well, so it's a huge difference."
Despite being offered opportunities in football over the years, Perry's commitment was clear – he was Wolves through and through. After shaking Jones' hand in that waiting room, he was in, that was it. Little did he know the adventure he was signing up for.
Promotions came under Jones, Mick McCarthy, Kenny Jackett and Nuno Espirito Santo, and Perry was there for the lot. In recent years, as Wolves headed to Shanghai for a pre-season tour, and covered almost half of Europe in the run to the Europa League quarter-final, it was Perry there for each trip, ensuring all things medical were in place and to the highest standard – so much so, Wolves received commendations for their injury records during that most relentless of 2019/20 campaigns.
"The love for the club is the most important, because I really wouldn't want to work for any other club. Then the progression. Wolves have gone through some rough patches, but even during that time, you could see where the club was trying to go. The players and staff have been fantastic. Great physios and coaches who teach you – you learn stuff about yourself, about medicine and about football. You put a lot in and get a lot out – it's rewarding.
"Mick's team were youthful energy – they just ran their socks off, scored goals for fun and were a fantastic group of young lads experiencing a level of football most of them hadn't played at before. Mick and Terry [Connor] were great to work with.
"Kenny Jackett, record points with a team heavily reinforced from the Wolves Academy. Kenny and Joe Gallen gave a group of young kids a professional approach to the game, a lot of them started their careers with Wolves. Had Wolves been in the Premier League, they wouldn't have had that experience. Rotherham 6-4, 11K to MK Dons, they're just great memories. It was League One, but for those players, that was a launchpad for some great careers.
"Then Nuno's team was exquisite technical football, players coming in from other leagues, not just different on the pitch, but off it as well. A very experienced and technical approach to winning games and setting up the team. Going up, we had the players to compete. People like Conor Coady, Ruben Neves, Jonny Otto and Joao Moutinho are exceptional, wonderful to work with. I've watched Wolves for so many years and many of the most talented players are here right now."
Before Wolves' 2003 play-off final in Cardiff, astonishingly in this day and age, the club weren't planning to travel with a doctor. Things changed very late because of some injury concerns and Perry drove down to South Wales, but there was no spare room at the hotel, so he slept on the floor of the physio's room before the all-important match.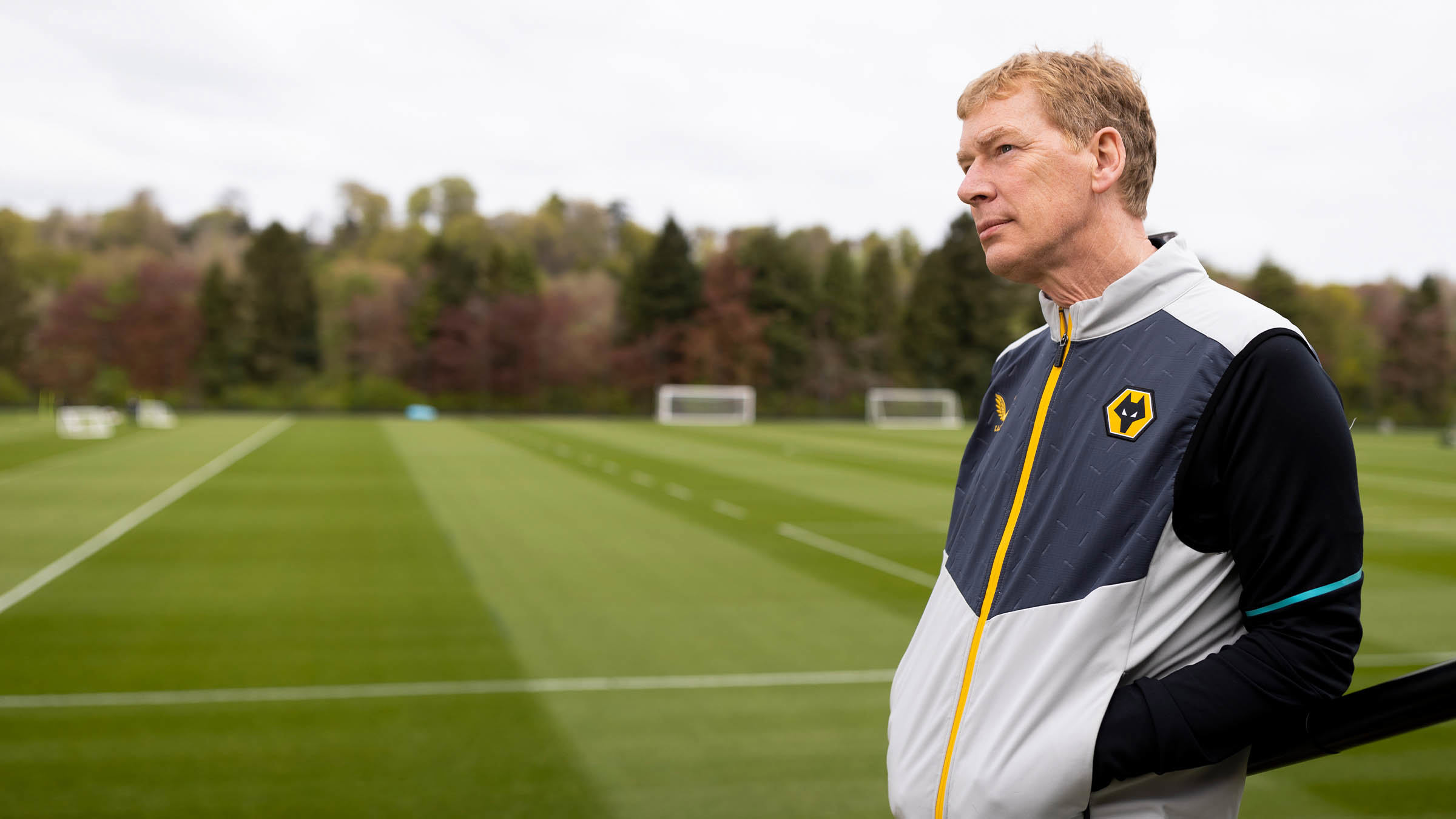 "It was astonishing going into Cardiff, the sea of gold and black, an amazing game, a fantastic experience, but I checked out of the after-party early as I was on call at 7.30am the next morning in Albrighton. I drove home, barely slept and spent the day seeing patients – all Wolves fans.
"The play-off final was a thrilling occasion, but the other promotions were slow-burners. The team is leading the league and you know promotion is likely a few weeks out – barring disasters. They are great achievements, but for raw excitement, winning late is always a thrill – the third goal against Manchester City from Matt Doherty, having been 2-0 down – and doing the double over the champions stands out. The away game with Adama's goals, we'd got in from Istanbul at 5am the Friday morning, and then we travelled on Saturday and beat Manchester City 2-0 at Sunday lunchtime, having also won in Istanbul – how do you do that? Those moments, the belief you can do it as a close knit-team, stand out.
"The victories away at Spurs. I've watched us lose to Spurs so many times over the years, particularly in the UEFA Cup – those Martin Chivers goals stuck, so to beat them in their new stadium was good. Also, my first experience of winning at Anfield, when Stephen Ward nutmegged Pepe Reina, he was a left-back playing centre-forward – even more special after his red card the year before."
They're words spoken as a true fan. Similar moments would have been plucked out by those in the respective away ends on those special days in the capital and north-west. That victory at Tottenham's new home in March 2020 was a significant one as the club's final away game before the Covid-19 pandemic struck and closed down football, which transformed the job for Perry.
Given his professionalism and preparation, the news was no shock when it came, but what was to come still couldn't have been predicted. The virus was on Perry's radar for a number of months beforehand, and he cut a concerned figure when Wolves were given no choice but to travel to Athens as infections increased. As life for many 'locked down', the club was still operating, preparing for the eventual resumption of the Premier League and Europa League
As the pandemic snapped all across the city of Wolverhampton, the club's owners and the club doctor stepped up. Perry was involved in co-ordinating work between Wolves, Fosun in Shanghai and partners across Europe, sourcing PPE and other equipment for New Cross Hospital, which, simply put, saved lives.
"We had the game against Olympiacos and knew we had to go, despite the risks. Amongst staff, we had people for whom it could be life-threatening, so you take every precaution, and the season gets paused. Then lots of stuff happened. As a club in the city, you get involved, not just as club doctor for players and families, we were trying to source PPE for the city.
"I was involved with a couple of national initiatives, and internationally with Fosun in Shanghai. We had a clinical consortium sharing expertise between colleagues in China, London, Lisbon, Rome, New York, Coventry and New Cross. I linked Chinese contacts to doctors in the UK and Fosun-owned hospitals in the other cities. Separately, a research network was being set up to find seed funding for research into treatments.
"Having worked as medical advisor to the Premier League until 2018, I was approached to help develop the return-to-play protocols; trying to re-establish football as safely as we could. That felt very strange, because it's clearly a privilege to be able to work during lockdown, but we were in a protected environment. Others were facing much greater risks. Why could elite sport carry on, but people couldn't go to weddings and funerals? At some levels, it felt very unfair, but it was also a necessary distraction for the country. We set up protocols to make things as safe as could be, whilst recognising that it couldn't be entirely safe, so players would face risks.
"The club, like the city, suffered during Covid, we were visited by great sadness, we lost a number of colleagues. Players and staff from home and abroad were separated from family at times of great stress. Players were called to international duty, and they were allowed, under special permissions, to fly to competitions in their home countries, but then, just like everyone else, they could not see family, or be present when their children were born, nor attend family funerals.  
"During lockdown, we appointed another full-time doctor, because apart from the growing workload, if I went off with Covid, we'd have no cover. We had Rob [Chakraverty] come in and that was a huge help to me. It was a big couple of years, a very long season, with European competition, Phil Hayward leaving, Covid and then no summer break and straight into a soulless season with no fans and then Raul's injury. So, it was a really busy two years without a break."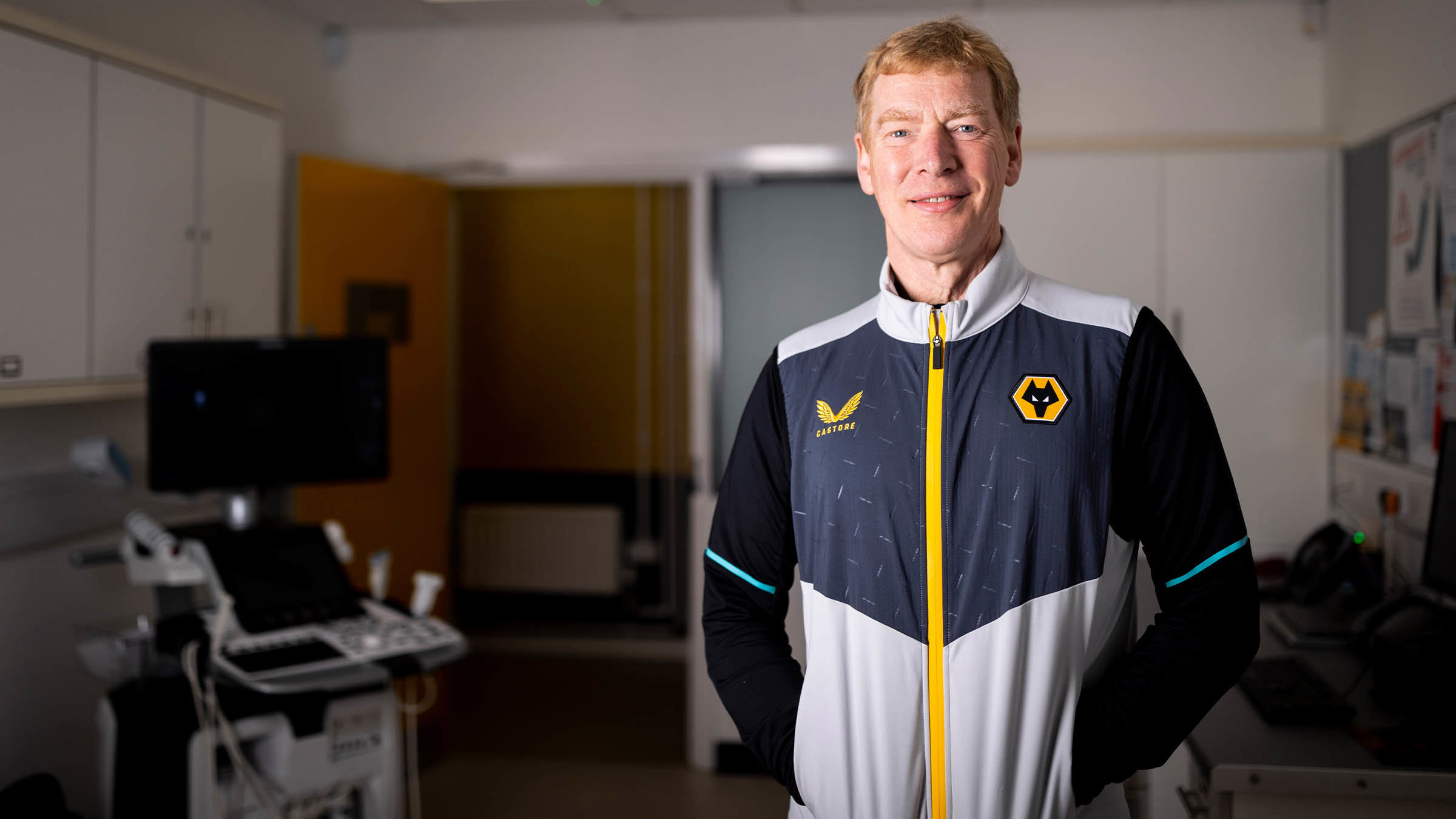 The treatment and recovery journey of Jimenez is where supporters may link Perry's face. The doctor was one of the first to the scene at the Emirates Stadium that night and played an integral role each step of the way, as the Mexican made a full return to action, but more importantly for Perry, a full return to family life at home.
That message is reiterated with Carl Ikeme, who was diagnosed with leukaemia in 2017, and had Perry at close quarters from day one, when pre-season blood tests in the Wolves treatment room displayed concerning signs, and once again, Perry conducted himself impeccably, providing an indispensable figure of support for the former Wolves goalkeeper.
"They were very different situations. Raul's was very public and immediate. Carl's was private, at least initially. I worked 30 years as a GP and you see a lot of serious stuff every day, you see lives in the balance and provide support, so in football it was very unusual, but medically it wasn't. The training is there.
"The difference is most of your patients are relatively anonymous outside of their community and family, so it's not in the spotlight. With both Raul and Carl, there was a huge outpouring of support from the community, from the Wolves fans, and even globally, you recognise that life event is very public. Both had wives and new-born babies, and those families are having to deal with a very serious situation with separation. Carl was up in Manchester having treatment, unable to see his family. Raul was in England while his extended family were in Mexico, Daniela could not be with him in hospital. It was tough for them.
"My main reflection was their being public figures at a time of private hardship, yet everybody wants to know what's going on. You need to manage the medical situation and also recognise everybody you meet wants to know how they are. It's not about how it starts, it's about how it ends, and in both cases it's ended well. They're both doing fine. It was a huge pleasure to see Carl recently and it's lovely to see Raul – for me the pleasure is in family medicine, it's great to see Raul playing again, but I don't worry that Carl's not, I'm just delighted to see him healthy.
"However tough you're finding it, the family are finding it ten times tougher – you're trained and should be objective, for them it's the first time. The patient and the family are the focus and everything else is secondary, but they're people you know and love, so it has an effect."
Seeing both Carl and Raul fit and well visibly pleases Perry, who will no doubt reflect on both positive outcomes during future challenges in his career. Unfortunately for those at Molineux, however, that career will no longer be at Wolves after this afternoon.
Following the exertions of two seasons effectively combined into one during lockdown, Perry has been able to take a step back this year with Dr Rob Chakraverty taking on a new role as head of performance and medicine, and also a new first-team doctor, Dr Kai Win. He has also linked up with the FA's under-21s group during the international period, where his future now lies.
"I've had 20 great years at Wolves, but I'm 64 next week, you don't carry on forever. I was looking for something more sustainable, which I can carry on doing. How many more years could I reasonably do this job well? The answer is not many – it's better other people do it. I want to do other things with my life. I've got a sister in New Zealand and a brother in the United States, who I haven't visited in a very long time, so I'd like to do that.
"International under-21s is elite football at a high level. I've already seen players progress to the first-team, so it's competitive, but it's two or three weeks at a time. It's not 12 months, followed by another 12 months, there are breaks. To me, it's more sustainable and a different challenge and I can still watch Wolves" – and Perry has Morgan Gibbs-White, Stuart Birch (Wolves chef) and Joleon Lescott (coach), all friends from Wolves, working in the U21s set-up.
"I'm also teaching on the trauma course too, which feels full circle. I was taught the on-field skills to manage the big issues which we have come across, and the FA run an excellent on-field trauma management course. I'm joining the faculty there to hand on a bit of experience. Last week, I was teaching a group alongside Steve Kemp."
A natural step for an incredibly knowledgeable individual, who still has so much to offer the game. However, this afternoon, there's still one final matter in hand with Wolves against Brighton & Hove Albion. So when that final whistle goes for the last time, how will the emotions be?
"I know how I'll feel at the final whistle. I want no major injuries, three points and a clean sheet, in that order. Then, if you get off the pitch and deal with any issues, that's the next challenge. I think probably that's how I'll feel, my mind will still be on my game. I know the way I think, and I'll be focused on the game until I leave the dressing room and head up to my family upstairs.
"While you're on duty, you have to be controlled, so you suspend anything else. I'll get to see what happens on the pitch again as a fan, but being behind the scenes, leaving that area and saying goodbye to everyone is what I'll find emotional."
A Wolves legend off the pitch – good luck, Dr Matt, it's been a blast.