5th January 2022
After Wolves celebrated a historical moment on Monday evening against Manchester United, historian Clive Corbett looks back at the last time the old gold walked away from Old Trafford with a top-flight victory – 42 years ago.
Joao Moutinho's late strike against Manchester United on 3rd January famously set up Wolves' first league win at Old Trafford since 1980.
They had been winless in ten league games away to the Reds, losing seven and drawing three. Indeed that last victory, on 9th February 1980, completed a league double for John Barnwell's Wanderers in a season when they finished sixth in the league and won the League Cup against Nottingham Forest.
So, first back to Molineux on 22nd September 1979 and Andy Gray's home debut against Dave Sexton's Manchester United.
Skipper Emlyn Hughes was buoyant about the way things were going: "Since I have arrived at Molineux everything has been buzzing. I have been very excited with every aspect of the club. I have enjoyed the training. It's been hard but good. Manager John Barnwell and assistant Richie Barker deserve all the credit for what is and has been happening this season. I am just happy to be involved in it."
He went on to enthuse about the potential of Gray's partnership with John Richards: "Just imagine what they will do to opposing defences when they have had a few more games together and have built up a better understanding, it's frightening."
The performance against United matched Hughes's expectations and ended with a 3-1 win over the division's leaders. Watched by a crowd of 35,503 the visitors took an early lead through Lou Macari, but Kenny Hibbitt soon equalised.
After the break Gray scored at close range and Richards then lifted the ball over Gary Bailey to make it 3-1. Geoff Palmer sums up the excitement of the time: "We were just winning games and it kept us going. We just had a team where we could keep going from one week to the next. We won a game, won another game, then perhaps we'd draw."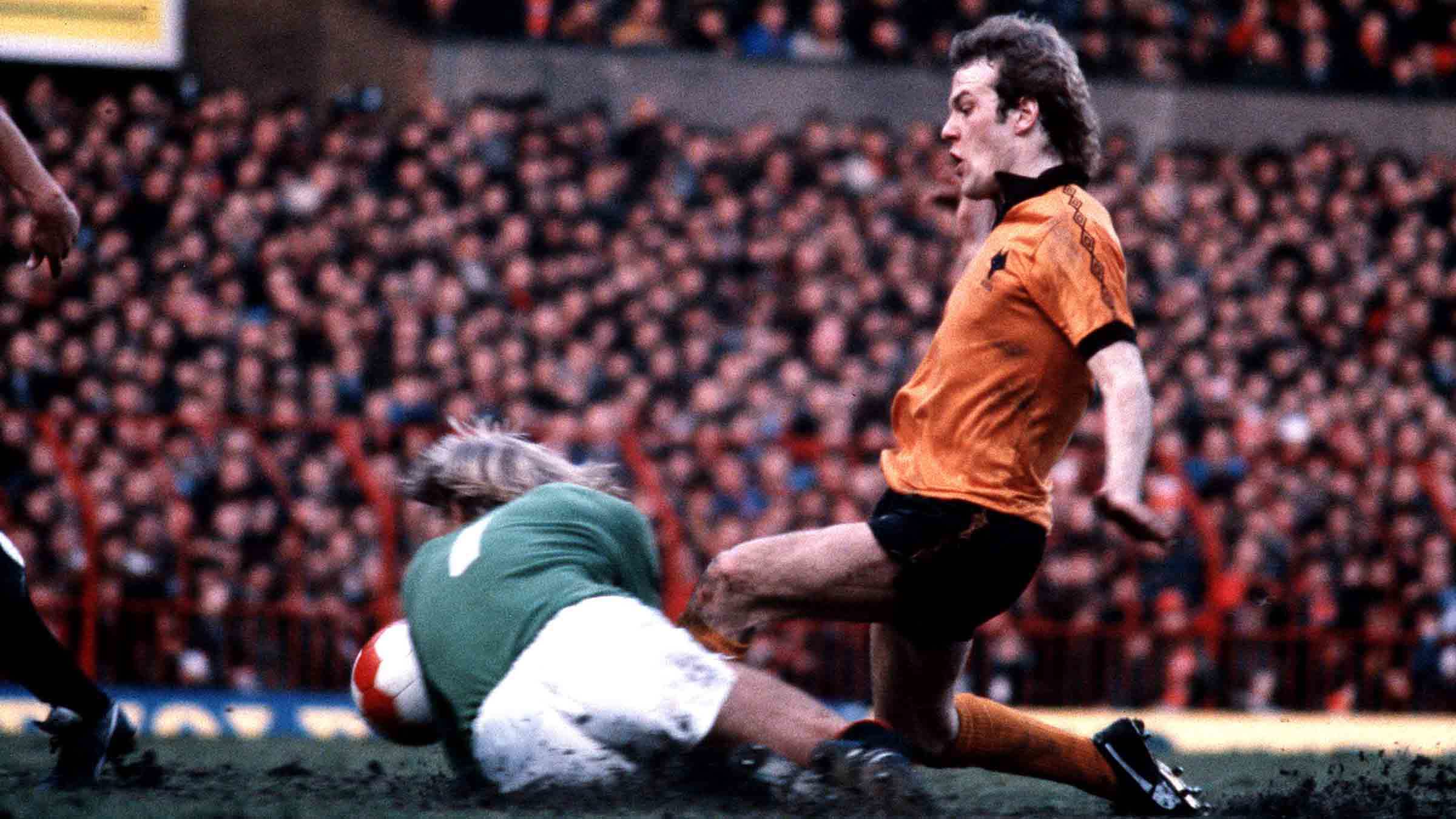 The return match came in the New Year, February having begun with a hard earned goalless draw at home to Everton with Emlyn Hughes picking up an injury that kept him out for the game a week later at Manchester United.
John McAlle returned to deputise in central defence and in front of an Old Trafford crowd of 51,568 Mel Eves scored the only goal of the game. He sped past Jimmy Nicholl to seize on a through ball from Richards to fire past Gary Bailey for his fifth of the season and set up Wolves' first double over United since the 1960-61 season.
Eves recalls: "That season we won 3-2 at Everton, 3-2 at Arsenal, and we beat Man United   1-0 away and I scored there. We won about 11 games away from home. We did very well away because we'd got players who could score from a lot of positions. I was probably third top scorer. If they had had the Pro Zone figures then, I'd loved to have known how far I ran in a game. I was expected to track back every time and if I didn't I would know about it."
In one way Mel must be pleased that his records are tumbling since in addition to his Old Trafford winner, his goal against PSV Eindhoven in the UEFA Cup in October 1980 stood as the last by a Wolves player in Europe for almost 39 years.
That was until August 2019 when another Portuguese international, Diogo Jota, netted against Crusaders in the Europa League. These gaps of several decades show the dreadful decline in Wolves' fortunes in the intervening years and we can only hope that future successes are not as long in the making.
Old Gold
#MUNWOL