17th November 2021
After England hit ten on Monday evening, in a game which saw Wolves captain Conor Coady finish with the captain's armband, historian Clive Corbett delves into the history books to the last time the Three Lions won 10-0 when, once again, there was a healthy old gold presence.
England's 10-0 victory over San Marino on 15th November was the first time that the Three Lions had hit double figures since 1964. That match, played against the USA on 27th May in New York City, ended in the same score line and was notable for the involvement of three Wolves greats.
Ron Flowers, in his 44th international start, captained England, becoming the fourth Wolves player to lead his country, following in the illustrious footsteps of John Brodie, Stan Cullis and Billy Wright. Ron's teammate, Bobby Thomson won his second cap and future Wolves skipper, Mike Bailey (then with Charlton Athletic) won his first.
Full details of the game are to be found in Bob Bannister's book, 'Wolves' England Internationals', but Clive provides a brief synopsis now. Roger Hunt and Fred Pickering, another winning his first cap, had given England a two-goal lead within six minutes of the start. Hunt scored again before the interval, but the goal-fest did not begin in earnest until the second half.
Before the hour mark Pickering, Terry Paine and Hunt all netted, and between the 64th and 69th minute Hunt, substitute Bobby Charlton and Terry Paine added a further three goals. Pickering completed the rout with a tenth with 16 minutes remaining.
Mike Bailey recalled the experience when I had the joy of helping him to write his book, 'The Valley Wanderer' in 2015. Whilst on an under-23 tour of eastern Europe Bailey discovered that two England players had been injured and would not be available for the full tour of America that was due to set off from Ireland a few days later.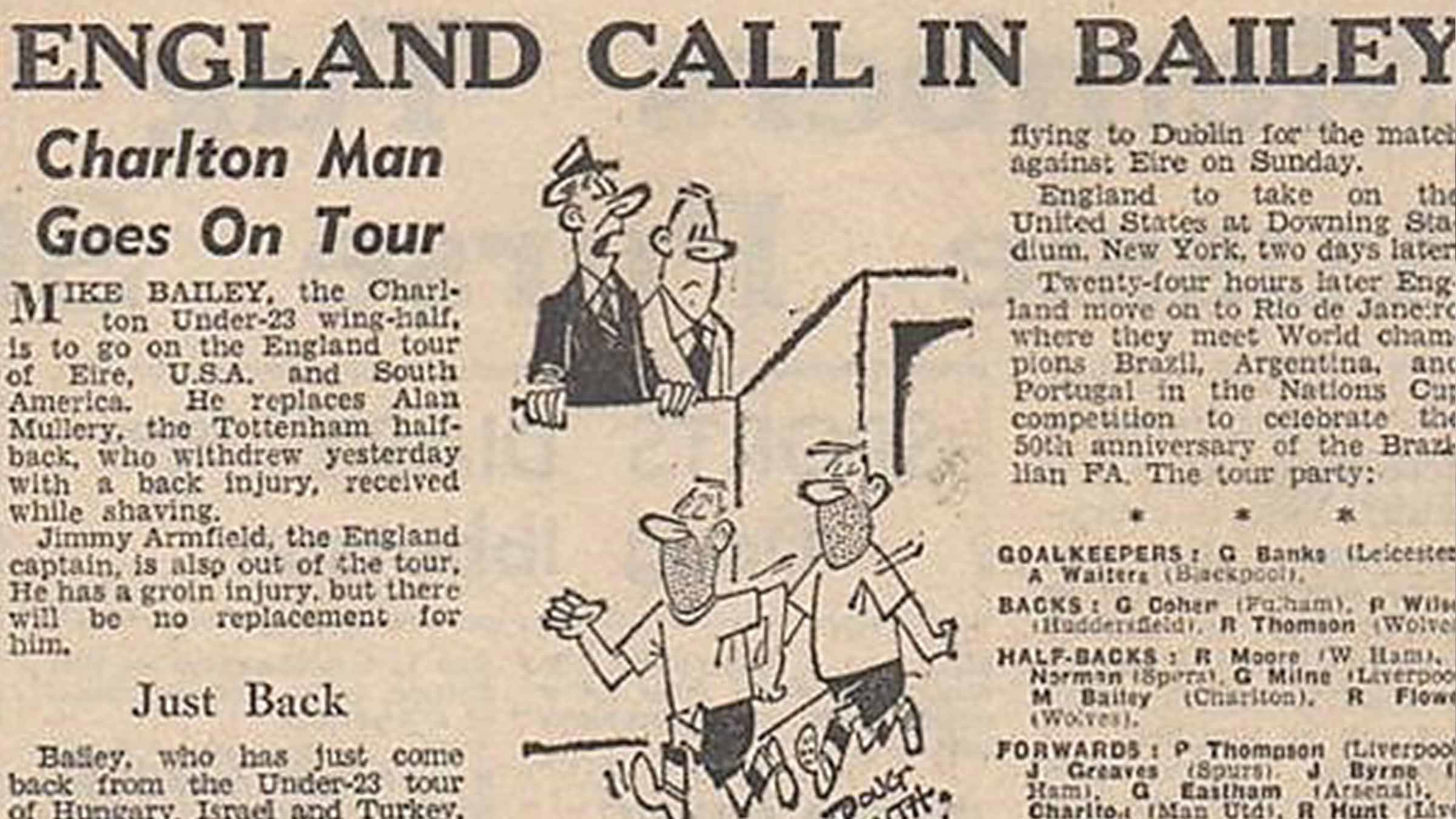 Bailey recalls: "I was called up to replace Burnley's John Talbut who had been brought in to cover for Alan Mullery who had suffered a back injury whilst shaving. You can hardly imagine how excited I was to be told that I had been selected to go and might have the chance of a full England cap. I had two days to get myself organised before I had to join the squad in Eire for the flight to New York on Monday, 25th May."
Before joining up with the England squad, Bailey made whistle stop calls to see his wife Barbara and then his parents in Great Yarmouth. The Eastern Evening News covered the story under the headline, 'Turkish slippers for mum'. It went, saying, '22 year-old Mike Bailey packed his bags at his home in Southtown, Yarmouth, yesterday, and set out for London on the latest stage of a crowded week.' He said that receiving Alf Ramsey's news "Took my breath away".
"I still feel a bit stunned. I never dreamed of all this happening in those days. I was very tiny when I was at school, but for a year I worked as a bricklayer for my uncle and I did some heavy work when I joined the Charlton ground staff. That built me up. This latest step is a wonderful feeling."
His father, Horace, a ship's storeman, said that the news was "smashing, really lovely", whilst Cissie Bailey said "we're feeling very proud of Mike". Mum and Dad, Mike's brother David and Barbara also got into the photographs.
Bailey picks up the story: "We then made it back to London in time for me to get to Ireland and meet up with the England lads. The one who I liked most was Maurice Norman who looked after me throughout the trip. He had played for Norwich before joining Spurs and was determined to make a fellow Norfolk boy completely welcome. I sat with him on the plane to America and he told me he thought that I would win my first England cap in the USA."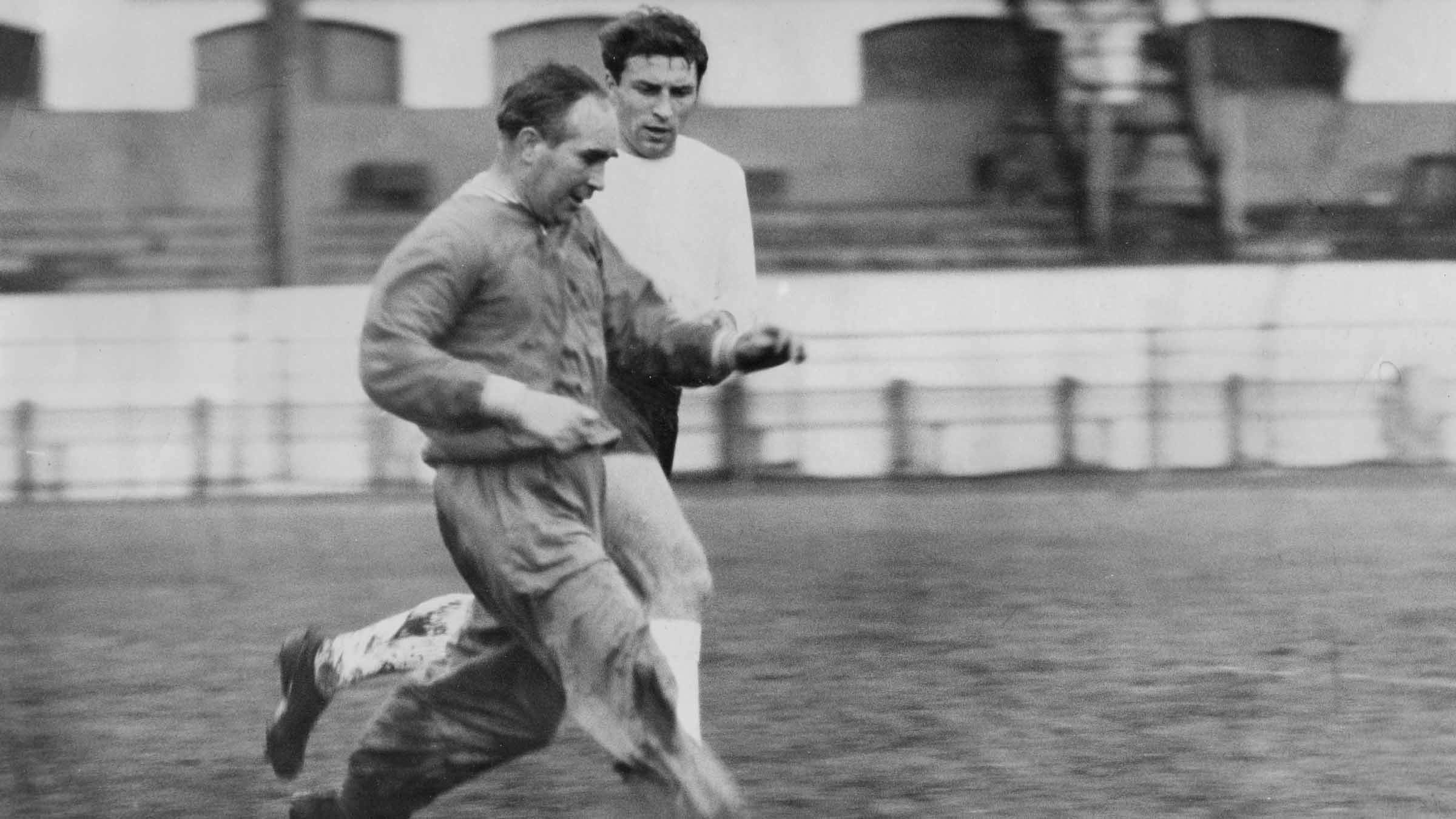 Maurice was right and it would be a day that Mike would never forget. He goes on: "Gordon Milne was the man in possession of the number-four shirt in the senior side and the tour began with a low key game against the USA. But it was hardly low key for me. To my great delight I was awarded my first full England cap on 27th May in a team that showed seven changes from that which had beaten Eire 3-1 the Friday before. Fred Pickering and I made our debuts, and only George Cohen, Ron Flowers, George Eastham and Peter Thompson survived from the team that had played the Irish.
"Ron moved from centre half to left half, and Peter from right to left wing. It was still an impressive team sheet that contained seven members of 1966 squad, with Bobby Charlton at number 12. I was bursting with pride at becoming Charlton's first full English international since Derek Ufton had faced a FIFA side at Wembley in 1953. Frank McGhee described my incredulity, 'Bailey joined the tour party only yesterday in Ireland and still wears the slightly bewildered look of a man who can't quite believe his luck.'"
In advance of the game, Frank McGhee reported on Hamburg-born Uwe Schwart, a waiter at our hotel, the Waldorf Astoria, who happened to be selected to play in goal for the USA. Schwart said about his team: "We have never played together. We have never trained together. We have never even talked together. We were supposed to have a training session last night, but the four guys from Philadelphia in our team couldn't get here. We won't meet until we get into the dressing room. The great thing for our team is that we know we can go out there, lose the match and still win something."
Mike remembers the match: "We played in front of a crowd of 5,062 at Downing Stadium on Randall's Island in New York and beat the USA 10-0. We were only three up at the break, but rattled in another seven goals without reply in the second half. George Eastham had a great game until he got injured and was replaced by Bobby Charlton. We were six goals to the good by then.
"Roger Hunt was on target four times in our easy win, and Fred Pickering, our other debutant, scored three. Terry Paine scored twice and Bobby Charlton the other. Ron Flowers skippered the side and we had at least a dozen fans backing us as the Liverpool-registered Sylvania was docked in New York at the time. The newspaper reported on a good debut for yours truly after a nervous opening, 'Bailey made a shaky start but settled down'.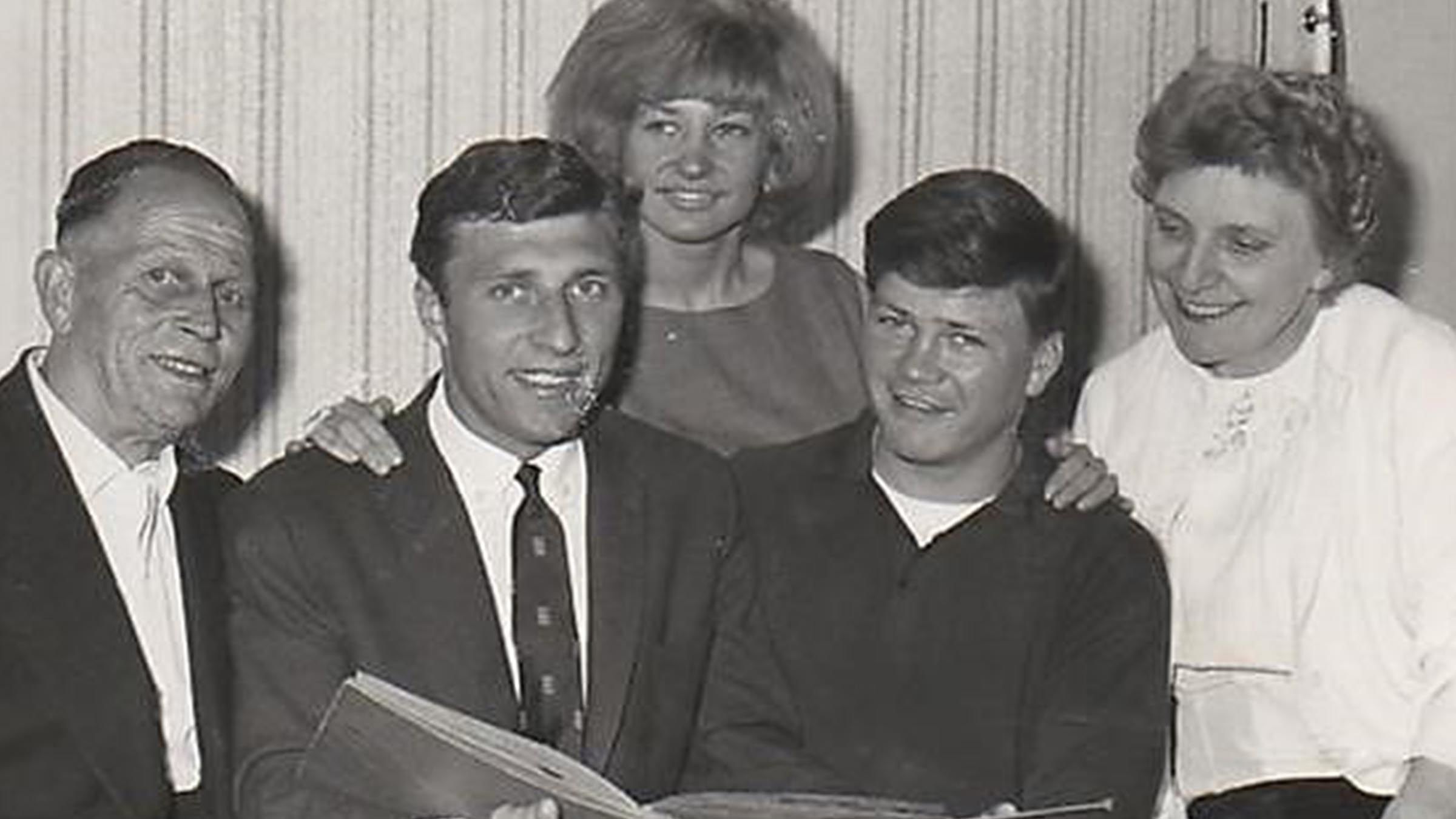 Steve Gordos, a Wolves fan since 1954, remembers the match: "Mike Bailey? I first became aware of the Charlton Athletic midfield dynamo on a special occasion for another Wolves legend. For a low profile friendly against the USA at Randall's Island, New York, in the summer of 1964, Ron Flowers was given the honour of captaining England.
"Manager Sir Alf Ramsey fielded a virtual B team against the Americans, not much of a force in those days, and the tourists strolled to a 10–0 win with Mike having a useful game. Despite that, he did not figure in the more serious stuff that followed – a tournament in Brazil involving games against Brazil, Portugal and Argentina. Yet he forced his way into Sir Alf Ramsey's thoughts when the new season started."
Indeed, Mike would play one further full international, against Wales at Wembley the following October, when Ron Flowers was again captain, but for all of the injustice of him not being capped again nothing can take away from his involvement in England's ten-goal romp 57 years ago. It reminds us that not only the Beatles invaded America in 1964.
MATCH DETAILS
Result | USA 0 England 10,
Date | 27th May 1964
Venue | Randall Stadium, New York.
England | Gordon Banks (Leicester), George Cohen (Fulham), Bobby Thomson (Wolves), Mike Bailey (Charlton), Maurice Norman (Tottenham), Ron Flowers (Wolves), Terry Paine (Southampton), Roger Hunt (Liverpool), Fred Pickering (Everton), George Eastham (Arsenal), Peter Thompson (Liverpool).
Substitute | Bobby Charlton (Manchester United), for Eastham 36.
Scorers | Hunt (4), Pickering (3), Paine (2), Charlton.