21st April 2021
With almost 300 Wolves appearances to his name during a gold and black career which spanned 10 years, Lee Naylor remembers one game which will always stick out as one of his favourites.
The former full-back joined Mikey Burrows as the latest guest on the Old Gold Club's My Golden Game podcast, as he discussed overcoming Newcastle United in the 2002/03 FA Cup.
The Academy graduate put his body on the line in more ways than one when he made a painful goalline clearance to help Wolves hold on to a memorable 3-2 victory over the Magpies in the third round – a game which inspired their dramatic run to the play-off final and a place in the Premier League for the first time in the club's history.
On facing quality Premier League opposition
"I had it before when we played Leeds in the FA Cup quarter-final in Bully's era, where we also had 'Keany' [Robbie Keane], when Don Goodman scored, so I had it back then. I had it really early and we got to the semi-finals when I got dropped, but I'd played every game up until then and I was fuming because he moved 'Froggy' into left-back.
"I knew what I was facing, so I wasn't nervous, I was excited. I'd faced [Craig] Bellamy before when he was at Norwich. I knew he was good, but he took his game to a new level when he was at Newcastle.
"Then you've got the likes of [Alan] Shearer, who's just strong as an ox, ridiculous, and they had a lot of stars back then.
"Because that's where I always wanted to be as a player, I always looked forward to those sorts of games. When that game came around you thought, 'Let's pull up our sleeves and give it a go'."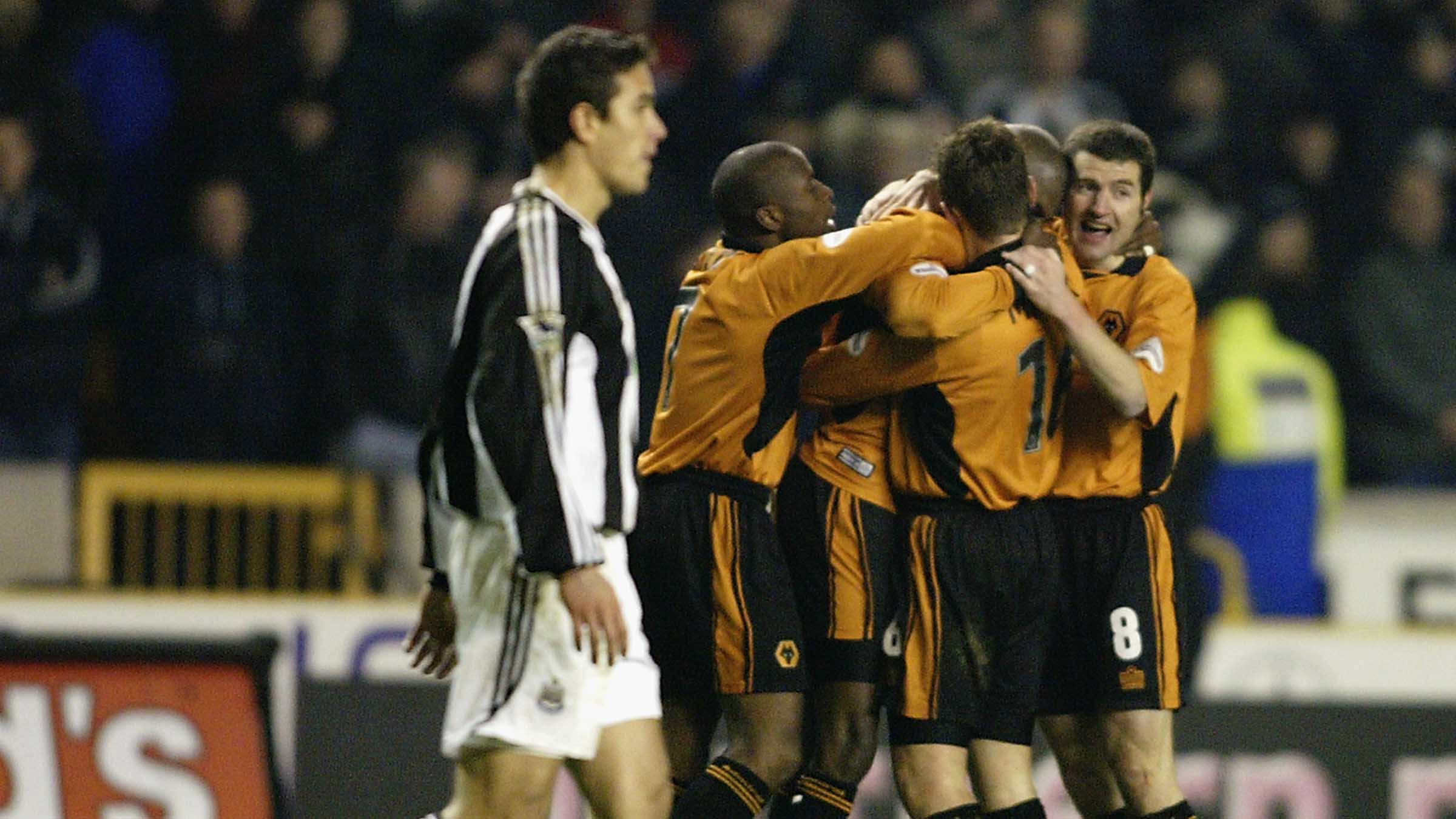 On the whole squad having a point to prove
"I guess so, because we had a lot of players who had played at a better level. They'd been there and done it, but there were also others who also had a lot promise and there was a lot of fuss around them.
"Everyone had their little say to have; the ones that had been there and were a little bit older, who still had something to show and prove they still belong there.
"Then you had the younger ones; me and Joleon [Lescott], who want to get there, so we're trying to show that we can play in the Prem, and then you're got the ones who had promise and haven't quite made it who still think they can, so there was a lot of incentives for our players that day."
On a stunning contest at Molineux
"I remember us starting the game and we were on fire. We literally started the game on fire. Then we went 2-0 up.
"The first was an 'Incey' [Paul Ince] half-volley from a short corner, 'Butts' [Paul Butler] headed it down and then Incey, half-volley, a sweet half-volley into the bottom corner.
"The second began with Matty [Murray] staring the attack with a ridiculous throw out. He gathered a cross and then set 'Newts' [Shaun Newton] off down the right wing. This throw was just like a kick. And then 'Cams' [Colin Cameron] was making one of his runs into the box, crossing it, it went behind everyone, and then it was 'Sparky' [Mark Kennedy] who slotted it home with a crisp strike to make it 2-0.
"Newcastle scored next when Bellamy went flying down the line. I was trying to catch him for the length of the pitch, but he was fast back in the day. I thought I had good pace, and I nearly got the cross – I was fuming with myself to be honest because I thought I could get there – and although Butts got a block, it fell to Jermaine Jenas and he slotted it home.
"It went 2-2 with a penalty, but it was never a penalty, it's just because Joleon was so strong. I just couldn't believe he gave that.
"Then there was all the commotion with Joleon getting one off the line, and it went to 3-2 then with Sparky crossing the ball to Newts at the back stick and he headed it back to George [Ndah], who tapped it in."
On taking one for the team
"It wasn't done yet because I cleared one off the line and I smacked into the post, in between my legs. You joke, but this is why I remember this game because of that clearance and me smacking against the post – and I'm still feeling the effects to this day!
"Everyone's laughing their heads off. I'm there crying. But when I watched it back a couple of days after the game, the clearance is an absolute joke. I couldn't believe I got there.
"But we also had Joleon's clearance as well when he headed it off the line, but in that game, I thought we were different class."
On kickstarting the run to the play-off final
"We started the game well and went from there. That season, that game was what kicked us on because we went on a ridiculous run after it.
"It helped us fire our way into the play-offs, and I think it was all down to this game because it really lifted us.
"Our squad and our players were better than the level, so it's taken a Premier League side to get us there. It fired us up for the rest of the season because we thought, 'This is where we want to be and this is how we've got to perform every week,' and from then, we went on a really good run."
Subscribe to the Old Gold Club on Spotify, or any other podcast app, for the latest episodes of My Golden Game.
#OldGoldClub