13th April 2021
Following Friday's late victory over Fulham, historian Clive Corbett put pen to paper to dissect significance of the achievement, after more than 50 years without a top flight success at Craven Cottage.
By Clive Corbett
Other than hopefully securing Wolves' Premier League future for another season, the 1-0 win over Fulham on 9th April will not live long in the memory, notwithstanding a VAR controversy and an Adama Traore screamer.
But it was somewhat surprising to find that it was their first top-flight win at Craven Cottage since August 1967. However, that really should not have been because it is one of those misleading statistics that can sometimes be bandied about.
Fulham were relegated at the end of that 1967/68 season and the Londoners and Wolves were not together in the top-flight again until the 2003/04 campaign. Between 1967 and that date the teams were in the same division just six times and Wolves won three and drew two of these away encounters.
The Premier League match at Craven Cottage on 18th October 2003 ended goalless, as did the next one on 17th April 2010. In fact, Fulham's only Premier League home wins over Wolves since 1967/68 came in September 2010 (2-1) and March 2012 (5-0).
After that, Wolves won three times in a row in London between 2014 and 2017 - twice in the Championship and once in League One. Fulham did turn Wolves over at home (2-0) in Nuno Espirito Santo's promotion season (February 2018), but the last Premier League match at Craven Cottage until this year ended 1-1 on Boxing Day 2018.
I very much hope that you are keeping up, but any suggestion of Fulham home superiority is something of a myth.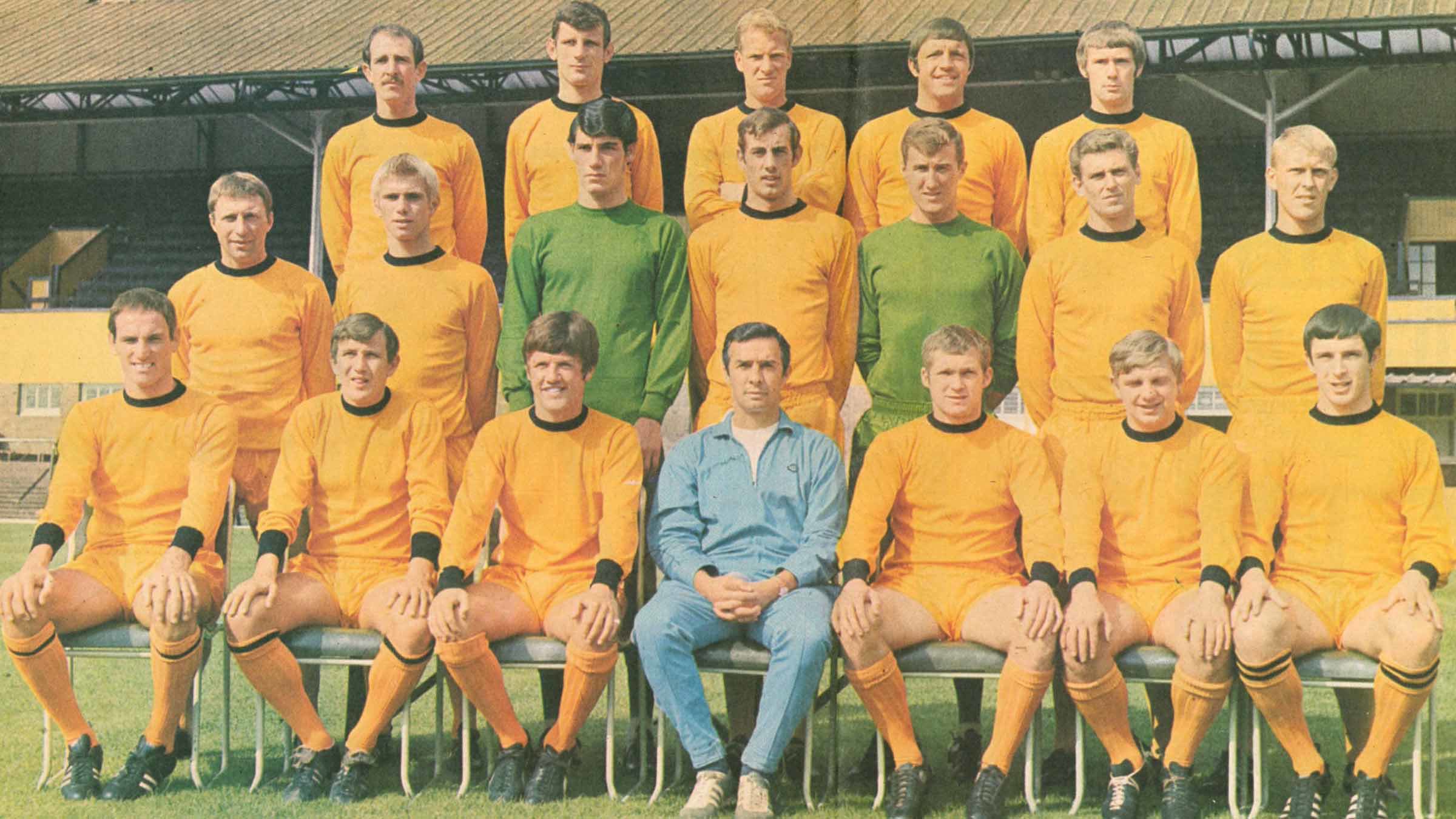 But please indulge me in the real reason for writing this article. The recounting of the tedious statistics above are of course nothing more than an elaborate excuse for me to drift back to Craven Cottage on 19th August 1967.
Wolves were fresh from their successful tour of the USA and 27,874 packed into Craven Cottage for the first game of a new season. Brief highlights of the game are to be found on the internet at:
Two minutes and 13 seconds of footage remain on YouTube, taken from British Movietone News, with the legendary Leslie Mitchell commentating on 'Soccer Season'.
"Soccer time again and the turnstiles at Craven Cottage are working non-stop before Fulham hit the turf at their home ground. And here are Wolves - their Division One comeback adds that extra touch of excitement to the start of the new football season.
"So, Fulham in the light shirts kick-off for a match that promised a revival of the great Wolves tradition of the 1950s. Remember, they were then the most powerful club in the land, four times (sic) First Division champions, twice cup winners after the war, and hailed on the continent as the kings of soccer. Wolves may have lost their fame but not their fans."
The film shows skippers George Cohen and Mike Bailey shaking hands before the start and Dave Wagstaffe put on his backside early on by the England World Cup winning right-back.
But 'Waggy' had the last laugh, tormenting Cohen and laying on both goals for the visitors. In the first-half his free-kick from the left was headed home by Derek Dougan – cue the obligatory toilet paper on the net. Phil Parkes is seen in commanding form and on another occasion 'the Doog' is seen leaping theatrically over home keeper Tony Macedo before playing to the crowd.
In the second period 'Waggy' lofted in another free-kick from the left and Mike Bailey fired home a magnificent right-footed volley that gave Macedo no chance. Wolves' fans behind the goal celebrated wildly.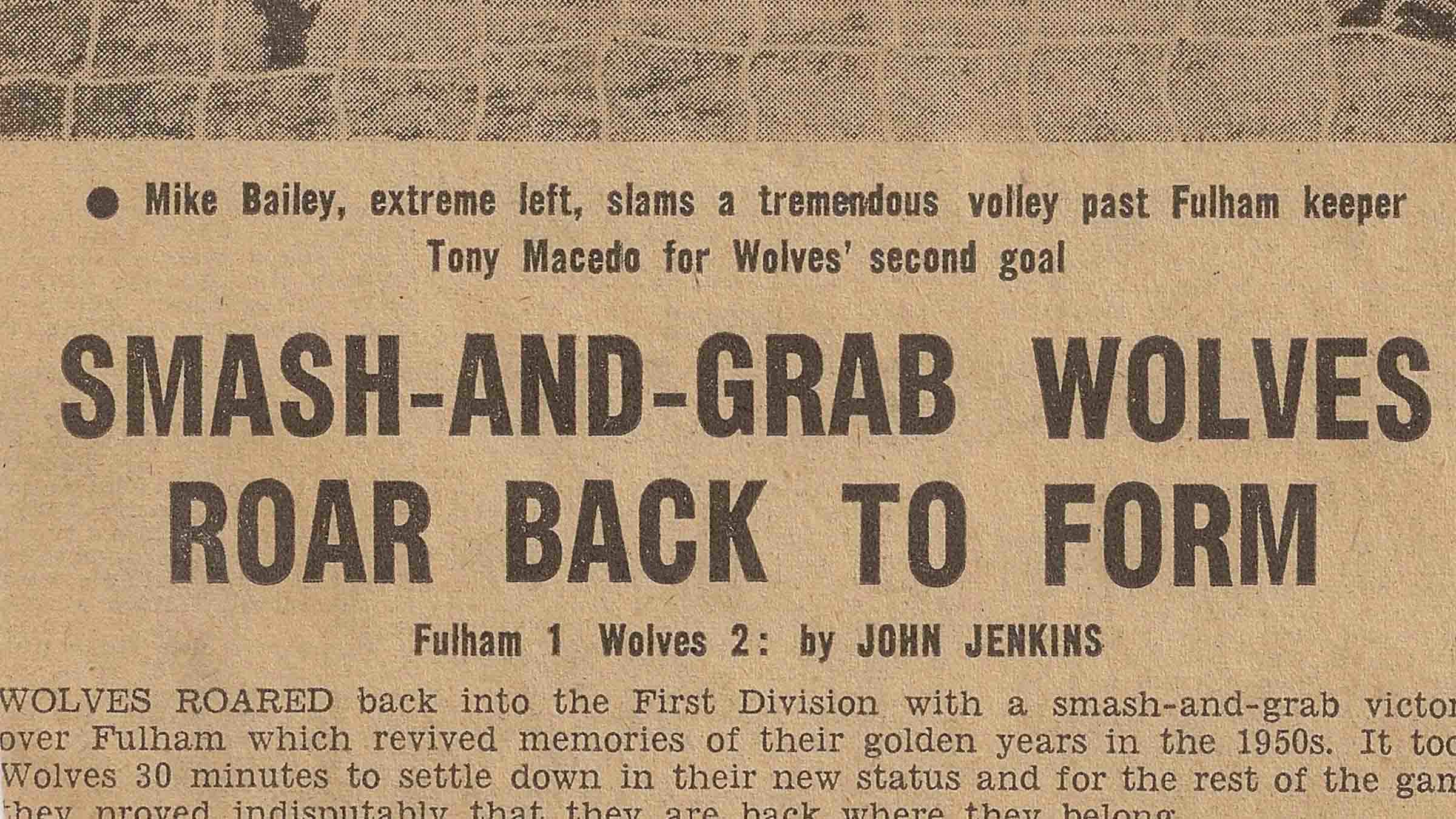 Although Brian Nichols scored a consolation for Fulham before the end, Leslie Mitchell reported: "Throughout the match Wolves looked the stronger side. Although Fulham scored before the end Wolves certainly deserved the applause and the praise for an impressive return to the First Division."
Mitchell (1905-85) had a long association with British Movietone News, for whom he commentated during the Second World War and for many years afterwards. His was the first voice heard on BBC Television when it first broadcast in November 1936.
When I interviewed him for his book, 'The Valley Wanderer', Mike Bailey shared his experience of that memorable first day now almost 54 years ago: "A 2-1 win provided a welcome start, with Dougan getting on the score sheet and a volley from me sealing maximum points. I remember the winning goal well.
"George Cohen took 'Waggy' out near the corner flag. Waggy took the free-kick and bent in a great ball that came to me on the edge of the box. I was going to bring it down, but just hit on the volley and it flew past Tony Macedo and into the top corner. I think it was my best Wolves goal."
The teams that day…
Fulham | Macedo; Nichols, Callaghan, Dempsey, Cohen, Parmenter, Earle, Brown, Conway, Barrett, Haynes. Manager | Vic Buckingham.
Wolves | Parkes, Taylor, Thomson, Bailey, Woodfield, Holsgrove, Wharton, Hunt, Dougan, Burnside, Wagstaffe. Manager | Ronnie Allen.
Old Gold