8th April 2021
Self-confessed 'team player' Carl Robinson will always remember the day he got his chance to have a golden game for Wolves when he struck a brace in a West Midlands derby at Molineux.
The midfielder joined Mikey Burrows as the latest guest on the Old Gold Club's My Golden Game podcast, as he discussed his most memorable game in gold and black, when he notched two goals against Birmingham City back in November 1998, including a stunning second late in the contest.
Having graduated from the Academy, Robinson was unassuming in the centre of the park as Wolves pushed from promotion from the first division, but the 3-1 victory against the Blues will live long in the memory for the Welsh international.
On falling short of promotion
"In my time at Wolves, I played with some brilliant players, and we came close on so many occasions, only to fall at the final hurdle. It just eluded us every time.
"There was a season where we were flying and everyone was talking about us getting promoted, but then in the last 10 or eleven games, we just blew up. There were times when we were in the play-offs, we were confident going into it, and we missed out.
"It started to become one of those where we wondered if we were going to become one of those clubs who just missed out and didn't quite make it.
"It was just my luck that the season that I decided to leave, they made it to the Premier League. But I was as happy as anyone because the team that I joined, Portsmouth, we made it as well, so it was the best-case scenario."
On being a team player
"I didn't score many, I was more of a connecting-type player and a team player rather than an individual, and you find out how important they are when you become a manager; the glue, the players who aren't recognised as much by the fans because they don't get 20 assists or score 20 goals like Bully.
"Everybody loves him because he is the main man, but within that structure and for him to score the goals he did, you need the other players; the Kevin Muscats, who bring the nastiness, whether it's Simon Osborn, who brings the guile, and I always thought I was a team player and would make the others around me better.
"But I did have a spell of scoring against our rivals up the road – both of them, that we didn't like. But there was one game in particular where I managed to get a brace of two goals."
A spectacular strike from @WolvesAcademy graduate Carl Robinson puts the icing on the cake of a midlands derby win.@Coindealcom #GoalOfTheDay

⚽️⏪ pic.twitter.com/jg8qzPjiXu

— Wolves (@Wolves) May 16, 2020
On form not counting in a derby
"We were on a good run of form, but form goes out of the window when you play a derby game because you could be on the best run of form and suddenly you can meet your match and get turned over. These games are a chance for a team to reset.
"But we wanted to ensure we stayed on that good run, against a really good Birmingham team at the time, with real experienced players.
"That was the time I realised football was so close and it's about players stepping up on the day. I stepped up on the day and got the two goals, but it wasn't just me, there were so many good performances in that Wolves team."
On the Molineux derby day atmosphere
"Every player will say their club has got the best fans in the world. But when you play at Molineux in a derby game against West Brom, Birmingham or even Aston Villa, you realise there is an extra edge on that.
"At Molineux, under the lights as well – although this game wasn't under the lights – it's a special feeling and that feeling can never be taken away from you.
"That feeling has stayed with me into 2020/21, which is 25 years later. It's a special feeling, and I always tell people to go and experience it if they can, because when you go there, you will realise. That period was one of the best times in my career."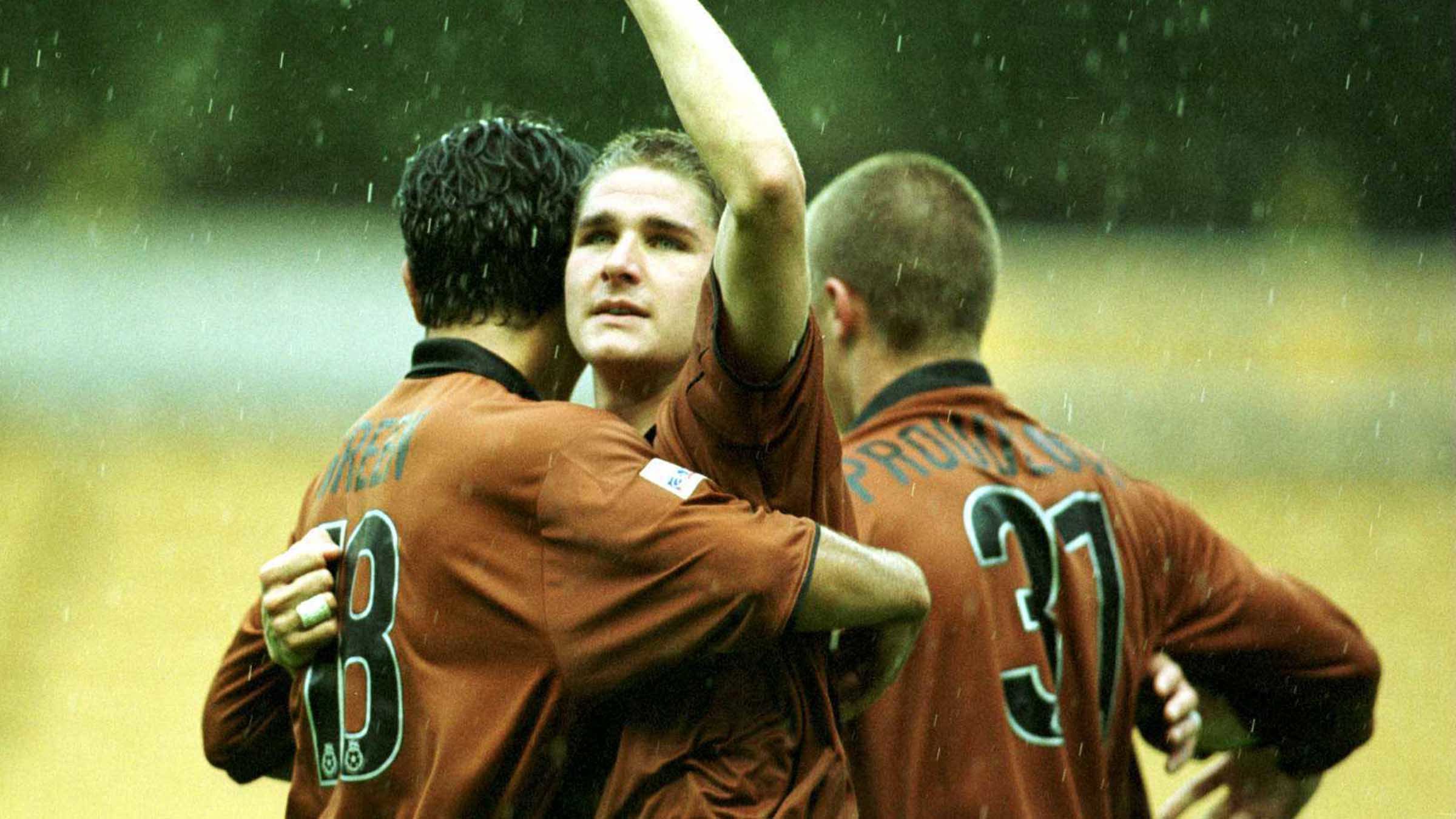 On scoring a brace
"We used to work on shooting in training, right and left foot, but I could never strike a ball that well with my left foot. I wasn't like Thommo, who was right or left-footed, you couldn't tell because he was as good with both feet. I had to really work on my left foot and think about technique. But for the first one, Robbie was able to lay I through to me and I hit it into the top of the net.
"The second goal would probably rank up in the top five that I ever scored, but it's not hard because I didn't score too many.
"I remember racing forward and the ball just broke to me. I looked up and saw the keeper was off his line, and yes, I was knackered, it was the last minute of the game. Some players would drive through and go round the keeper, but there was no chance I could do that. I was dead on my feet and thought, 'I'll hit it'."
Subscribe to the Old Gold Club on Spotify, or any other podcast app, for the latest episodes of My Golden Game.
#OldGoldClub