16th February 2021
Sunday afternoon's fightback against Southampton, Pedro Neto's sublime winner and Nuno's 100th Premier League game in charge were just some of the topics discussed on the latest episode of Matchday Live Extra.
Joining Mikey Burrows was co-commentator and former-Wolves full-back Andy Thompson, as well as regular pundits in the form of ex-old gold players Carl Ikeme and Chris Iwelumo, who analysed the Premier League victory at St Mary's.
Also joining the panel were special guests including former Saints midfielder Matt Le Tissier, ex-Wolves man Carl Robinson and match-winner Pedro Neto, as the team discussed the penalty decision to get Wolves back into the game as well as the benefits of rotating the side on Thursday night for the FA Cup.
On an under-par first-half performance
Ikeme said: "As a player, if I was going into the tunnel after that, I feel there would've been a lot of strong words being said, from me personally. If I was Rui, I would be fuming about the goal. It was all too easy and there was no effort.
"It's not been good enough. I'm not saying it as if I'm trying to get at the players, but as a former player, if I'd be going in at half-time, I'd be fuming about the performance, I'd be fuming about the way the half went, the goal, the effort, there's a lot of things to be angry about. You could see Nuno was seething on the touchline, and I wouldn't be surprised if changers are made."
Thompson added: "The ball's coming up to them and they've got their arms up in the air, wondering where they're going to go and what they're going to do. They've got no options. Southampton are snapping into them and they've got nothing else they can do. They've just got to be sharper. If you're not going to compete with them, they're going to pick you off."
On a second-half turnaround
Iwelumo said: "What a win it was, by the way. What a reaction. The quality is there, we never question the quality, it's just the certain fundamentals. If you're going to go into a match and you're not going to be on the front foot, you're going to be punished at this level.
"But everything was better in the second-half. Pressing as a unit, hard to break down, and although Southampton had their chances, we were clinical when our chances came. I'm delighted, because Nuno made a gamble the other night, and it's paid off, because maybe we wouldn't have had that energy in the second-half."
Thompson added: "We saw the way Nuno and the staff were on the touchline at half-time. They were frustrated and so were the players.
"Sometimes, it's home truths that are needed. We've all seen it in dressing rooms, the fingers get pointed at players and questions start to be asked of each other. It might come from the manager, the coaching staff or the other players, and sometimes it just has to be said. Even though they're all friends off the pitch, sometimes things need to be said."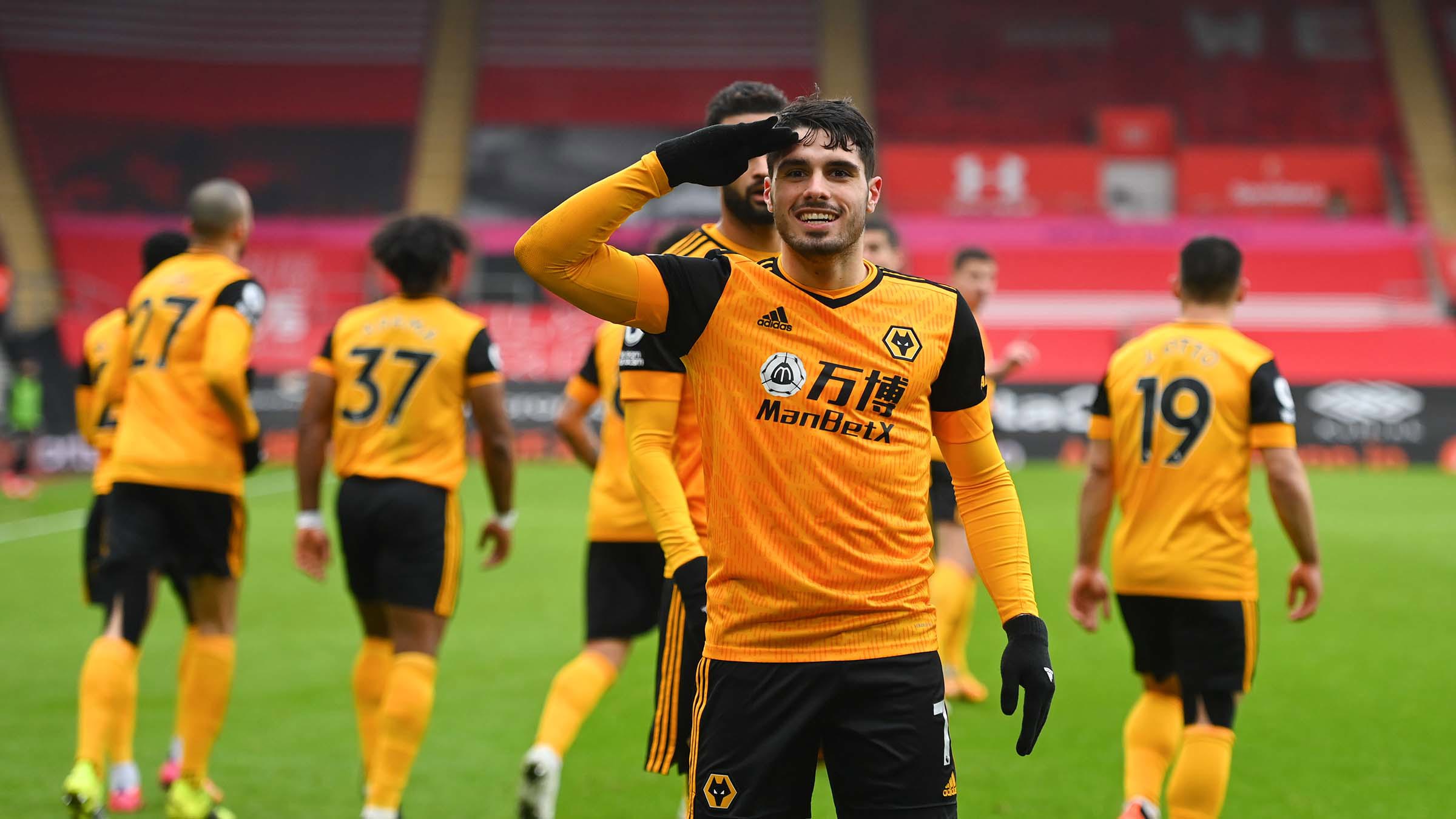 On the penalty decision
Iwelumo said: "If the referee hadn't given it against Ryan Bertrand, I don't think they're changing it and making it a penalty. I don't think it's a clear and obvious error.
"But according to the rules, it can be given. You have to go out and earn those little bits of luck, when you're chasing, when you're pressing and when you're at it."
"We have to take this second-half as an example, because we did a very good second-half, we pressed high, we were very aggressive, we won duels and we had quality in the game."

🗣 @pedrolneto7 pic.twitter.com/vqetXqubnV

— Wolves (@Wolves) February 15, 2021
On Neto's piece of individual brilliance
Ikeme said: "From a goalkeeper's point of view, McCarthy will be thinking whether he should close the space or whether Neto was going to cross it, but he put the ball where he wasn't going to get it.
"You just have to try and stand big and hope it hits you, to be honest. But the pace on the ball, the accuracy of the finish as well was brilliant. It seemed like such an intense moment, I don't know whether that's just from a fans point of view, but it was just a great finish. He's Wolves' main player at the minute. I'm glad he got a goal today because his performances have been really good and he deserved the goal.
Thompson added: "With the talent that he's got, he can do what he wants in the game. He's got pace, he's got ability, he's got confidence, and he can finish. He knows that he should be getting more goals with the talent that he's got and his contribution to the team, but it was a great finish."
On Nuno reaching 100 Premier League games in charge
Ikeme said: "Everyone at the club, the owners, Nuno and everyone behind the scenes have done an incredible job over the past couple of seasons to get Wolves to where they are now, but some of the nonsense I see on social media about Nuno – I just can't catch my breath.
"We are in a transitional period and everyone has a right to an opinion, but they need patience. If you look at the brand of football and what we're looking to achieve long-term, that's more important than a short-term gain for us to finish seventh again.
"It's not like if we don't finish seventh or eighth again it's a bad season. To finish seventh or eighth before was an incredible achievement. It's not a given at any football club unless you're in the so0-called 'top six'. The longer-term gains from this season will see us in good stead for another 100 games under Nuno."
Iwelumo added: "It's a fantastic achievement. The club has to take a lot of credit there, because they know exactly what Nuno is doing behind the scenes, the work that he's putting in and giving him the time, especially through this transitional period that we're going through. To reach that is an amazing target, but I want him here for the next 100 as well."
Nuno becomes the second Wolves boss to take charge of 100 games in the @premierleague.

💯🔢 pic.twitter.com/jvkM327T4n

— Wolves (@Wolves) February 15, 2021
On rotating for the cup
Iwelumo said: "I know they had a lot of their strongest players on the pitch the other night and I know the result's come and gone, but rotating doesn't guarantee today. If we finished 17th in the Premier League, stay up, but we'd have won the FA Cup, I would've walked away a happy man."
Ikeme added: "But that could work the other way. We could've put out our strongest team on Thursday night and still lost and then stick with that strongest side today and lost again because the players are tired. Then people would've said we should've made changes on Thursday, so it goes both ways.
"I understand what Lumes is saying, but I also understand the thinking that went into the rotation in midweek. An FA Cup run would've been nice, but a 17th place finish in the league, at this point in time, would be more damaging to the club's finances in the longer term."
To rewatch the latest Matchday Live Extra show from Sunday, click here.
#SOUWOL