16th February 2021
A player who burst onto the Wolves senior stage from the Academy at the start of the Millennium, Adam Proudlock fondly looks back on his time at his boyhood club, and one particular afternoon at Molineux in particular.
The former Wolves forward joins Mikey Burrows as the latest guest on the Old Gold Club's My Golden Game podcast, as he discusses his initial breakthrough into the senior side and scoring his first goal during a 4-0 win over Norwich City back in September 2000.
Although Proudlock was unable to live up to the hype after being dubbed the successor to Steve Bull, having been handed the famous number nine shirt, he still holds precious memories of his time in gold and black.
On his first senior goal for Wolves
"It was live on Sky, on a Sunday. I'm a local lad and I had all my mates watching it in the pub, cheering me on, and my family are there in the stadium watching the game, and we beat Norwich 4-0, and I managed to score my first goal. To score on Sky for my local team, knowing everyone was watching, was an unreal feeling.
"I can remember 'Branchy', Michael Branch, running down the left and he was tearing them apart because he was quick and I was getting little inches of chances. I thought, 'I'm going to take my chance here'.
"He ran down the left and he cut back inside, and I thought, 'I know where he's putting this', because you train together and you know he's going to whip it in on his right.
"I just got my body in front of Steve Walsh and it's just looped over, I managed to control it on my left thigh, rolled it on the turn and managed to score with my left foot."
On scoring in front of the South Bank
"In the moment when it happened, I didn't know where my head was. The excitement of scoring my first goal, scoring at Molineux, and playing in front of the Sky cameras, you lose yourself in celebration.
"It was only after when you can really think about it. You think about how many people were watching, you think about all the fans, it's amazing."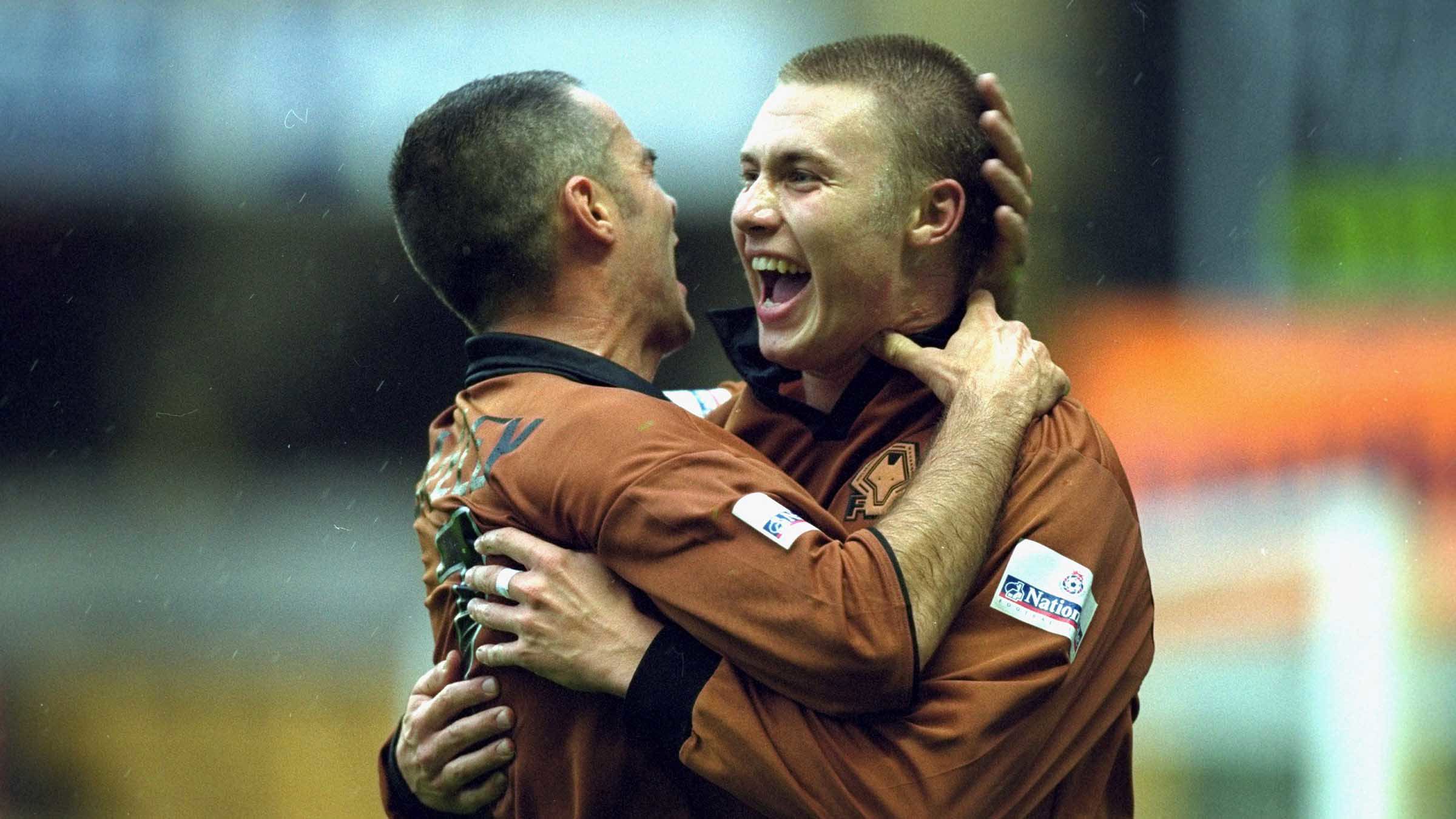 On the game not reflecting on the season
"It showed we had absolute potential. Potential what we could've done, but you have to be consistent, week in week out. It can't just be a one-off.
"Although the lads in that team were brilliant and we gelled really well of the pitch, we were never able to gel on the pitch, apart from this game.
"In my first season they were great with me, welcomed me in, I had to do a few initiations but they were brilliant, and it was just a shame we couldn't gel every week because there were some decent players in that team."
On dealing with 'the new Steve Bull' moniker
"It was really hard. I trained with Bully quite a lot before he retired, and he put so much into training, it was non-stop. Some may think that because he's Bully, former England international, Wolves' top goalscorer in history, he's not got to work as hard, but the way he trained, I knew that's how you've got to do it.
"When people were saying I was the next Steve Bull, although it was nice for people to say that and compare me to him, I didn't want that pressure. I was like, 'No, I'm Adam Proudlock, I'm not the new Steve Bull.'
"It was a little bit of pressure, but when Dave Jones handed me the number nine shirt, I put myself under a lot of pressure because I was thinking about that and not concentrating on my own game. It's not that it was a weight around my neck, but there is a pressure about wearing the number nine for Wolves because of Bully and it got into my head.
"I would never regret taking it because I wore the number nine at Wolves. No matter what anyone ever says, I've worn the number nine shirt for Wolves."
#OldGoldClub