19th January 2021
As Wolves prepare for an eagerly-anticipated Emirates FA Cup reunion with sixth tier Chorley on Friday evening, historian Clive Corbett delves into history books to give wolves.co.uk the full backstory between the two club's three-game duel in 1986.
In an incredible twist of fate, the FA Cup fourth round draw has pitted Wolves against Chorley, which will take place on Friday evening, and the occasion revives memories of one of the club's darkest hours that unfolded over three matches in November 1986, when the old gold were languishing in Division Four.
The draw for the first round of the competition back then pitted Wolves against mid-table Multipart (Northern Premier) League outfit Chorley on Saturday 15th November, to be played at Bolton's Burnden Park, not Chorley's Victory Park.
The home team's most famous old boy was Ipswich Town and England striker Paul Mariner, and at the same stage of the previous season Chorley had taken on Altrincham, with ex-Wolves men Gary Pierce and Jeff Wealands guarding the respective nets.
Game 1 | Chorley 1-1 Wolves | Saturday 15th November 1986
Andy Mutch put Wolves ahead but within a minute an equaliser had forced a replay. Chorley's goal was scored by Paul Moss, once of Horwich RMI and their top scorer for the past two seasons.
Only once previously had Wolves been held by non-league opposition in the competition, 2-2 by Southern League Crystal Palace in the 1908/09 season, before a 4-2 replay loss at Selhurst Park.
Prior to the re-match at Molineux three days later boss Graham Turner stressed that the outcome was far from a foregone conclusion: "In order for us to progress further this season we must dispose of Chorley in tonight's replay.
"I thought they played extremely well in the first match and certainly caused us problems, particularly in the first-half. If that is their true form, then we know we are in for another tough match."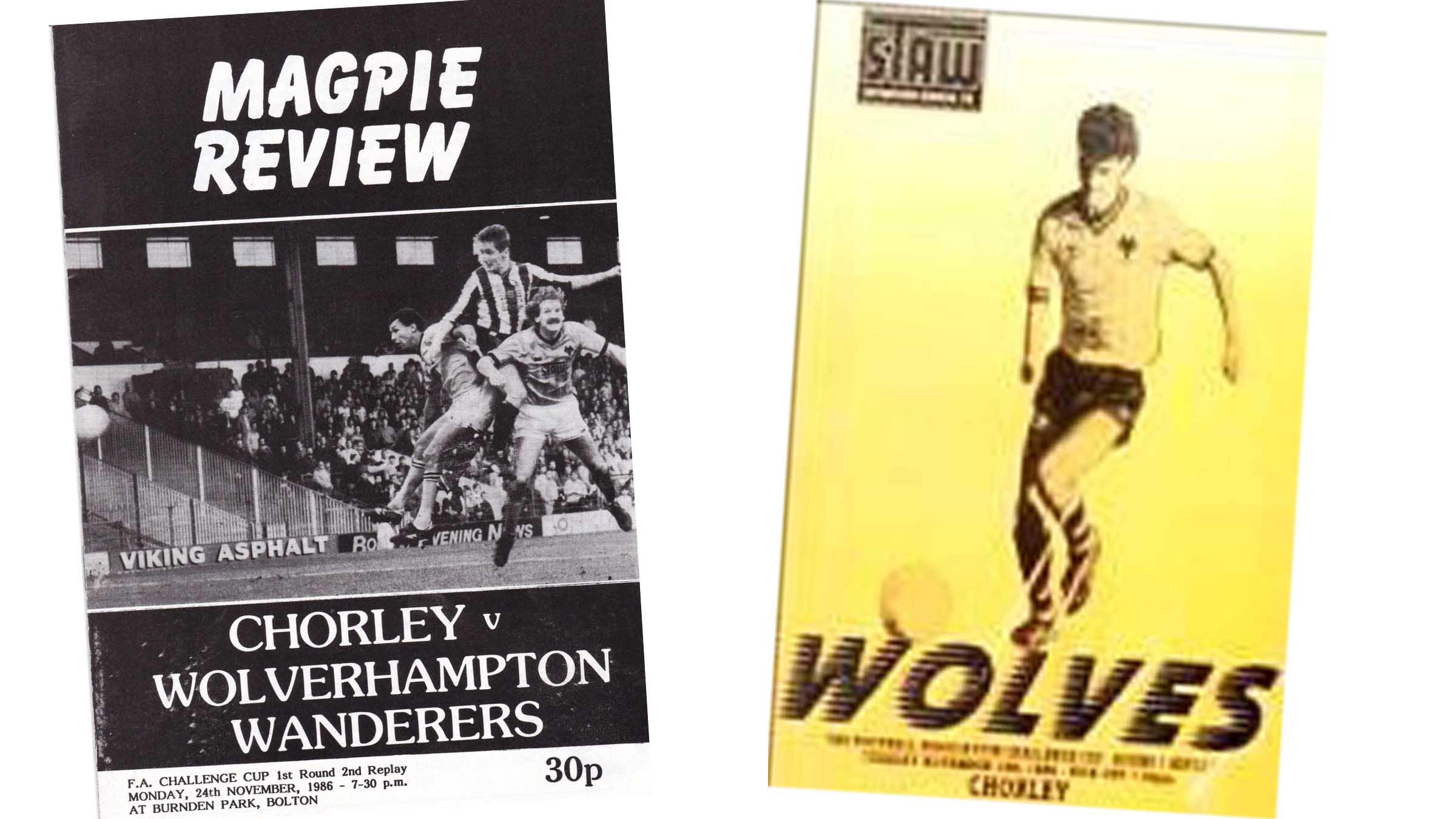 Game 2 | Wolves 1-1 Chorley | Tuesday 18th November 1986
Although Turner was unprepared to accept any excuses, injuries and the absence of on-loan players would not help Wolves' cause in a match that would see the winners take on Preston North End in the second round on 6th December.
A diving header from Matt Forman at the South Bank end gave Wolves the lead, but Chorley pegged them back in bizarre circumstances.
Turner describes it: "It was a strange story in the replay at Molineux – a ball boy played them onside for their equaliser. We were leading, no problems but it was pouring down with rain. We used to have ball boys around the pitch in yellow tops, just the other side of the barrier. The one kid was nearer the pitch than the barrier and the linesman glanced across. The Chorley forward was miles offside, but the 'lino' saw a yellow shirt he thought, but it was a ball boy, he admitted it afterwards. He allowed play to go on and they scored an equaliser."
There was no surprise after this that KAW Engineering was persuaded to sponsor new tracksuits for the ball boys.
Game 3 | Chorley 3-0 Wolves | Monday 24th November 1986
The second replay took place on Monday 24th, once again at Burnden Park. In advance of the game it was reported in the Express & Star that 'Five miss Wolves cup clash'.
Peter White revealed that in addition to the loan spells of Ian Handysides and Eric Nixon coming to an end, Floyd Streete had aggravated a knee injury against Wrexham. Steve Bull and Andy Thompson had made their Wolves debuts in that match two days earlier but were ineligible (due to a seven-day qualification period) and forced to sit helplessly in the stand as part of the 5,421 crowd. To make matters worse skipper Ally Robertson was injured and would not feature again until New Year's Day.
Graham Turner accepted the challenge that lay ahead: "It is going to be a difficult match for us, particularly after Saturday's setback (3-0 against Wrexham)."
Before Chorley, Wolves had previously lost just twice to non-league opposition in the FA Cup, to Crystal Palace in 1908/09, and then to Midland League Mansfield in 1928/29.
Wearing white shorts, Wolves put in a truly anaemic performance and Charlie Cooper put the part-timers ahead as he seized on a loose ball to round Bartram after just 16 minutes. Then Mark Edwards, six minutes before the hour, and Cooper again, just under twenty minutes later, finished the job. As Wolves fans began to slink dejectedly away, the heavens opened over Bolton and Chorley moved into the second round for the first time in their history.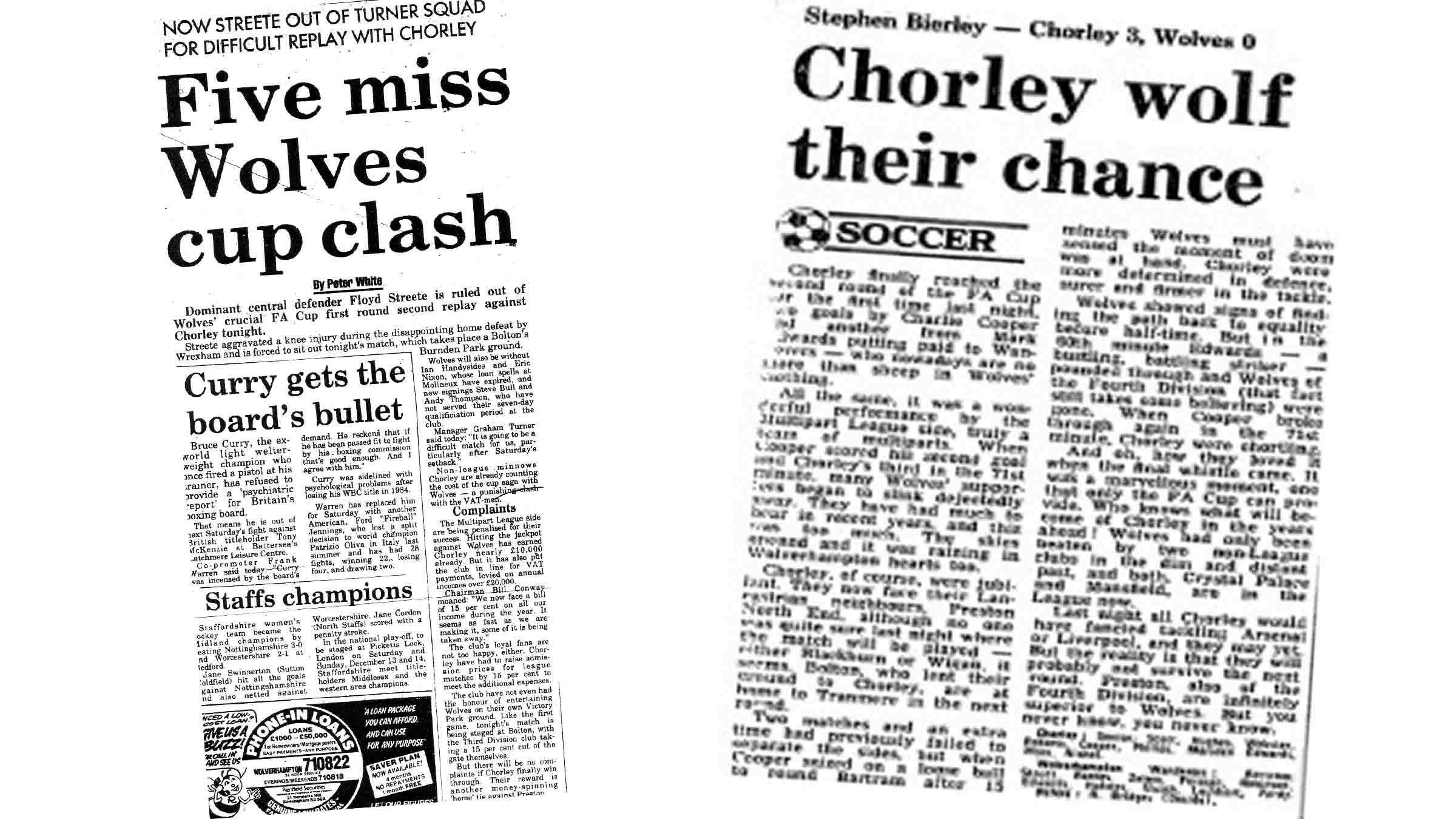 In the final analysis Chorley, in the third tier of non-league football, humiliated Wolves. David Instone's Express & Star report appeared under the headline, 'Disgraced! Wolves sink to new low. Part-timers hand shot-shy Turner's men the final indignity.'
He went on to bemoan the manner of Wolves' surrender: "Wolves failed to produce a single shot on target all night, and the lowest ebb in their distinguished history bore more than a passing resemblance to a club in the death throes."
Although the hosts had few efforts on target besides their goals, Wolves had just two to show, both in the first-half as Purdie shot wide. Instone went on: "They made Wolves like a pub team at times and goalkeeper Ian Senior, the man whose heroics had made this second replay necessary, had the cleanest pair of knees in Bolton as he led his side's lap of honour."
The Evening Mail carried the banner, 'Once proud Wolves buried by non-leaguers' and 'Proper Chorlies', and Leon Hickman's Molineux Requiem ran: "The once great Wolves climbed unprotestingly into their coffin last night, fangs removed by the Multipart men from Chorley."
Stephen Bierley's Guardian article was headed, 'Chorley wolf their chance'. He wrote: "Edwards pounded through and Wolves of the Fourth Division (that fact still takes some believing) were gone. Chorley were chortling and oh, how they loved it when the final whistle came. It was a marvellous moment, one that only the FA Cup can provide."
A 3-0 defeat was made all the worse by Bolton fans joining in the enjoyment of Wolves' humiliation, and other national headline writers had a field day with: 'Humiliated', 'Men against boys', 'Utter dejection', 'Pathetic beyond adequate description'.
Graham Turner recalls a humiliating evening in Lancashire that included inauspicious last appearances for Vince Bartram and Keith Lockhart: "The away replay against Chorley caused the postponement of a testimonial match for Phil Parkes. Bully and Thommo couldn't play but came to watch us and I think they wondered what they'd done. In the match we lost 3-0 and were well beaten."
He goes on: "The following morning when I went in, I sat in the broken old stand, the old office there, it was just such a devastating experience to be part of. I can remember the following morning the national press being outside Molineux, I think they thought it was the final nail in the coffin. It was as low as you could get, but after that we slowly started to pull it round."
'Bully' could hardly believe what he was watching; "We watched the Chorley game, Burnden Park was a bad place for us because that was where Bolton put us out of the Play-Offs in 1995. It was a cold night, but I thought, 'It's going to be a good game tonight. It went one, two, three nil and we looked at each other and I said, 'What have we done Thommo?' He said, 'We've done it now Bully, so it's training tomorrow and get on with it.' It was all in the papers after that, 'Rest in Peace, 'Wolves going out of business', 'A final nail in Wolves' coffin, they're going into liquidation', and stuff like that but eventually it clicked, it kicked on and we never looked back."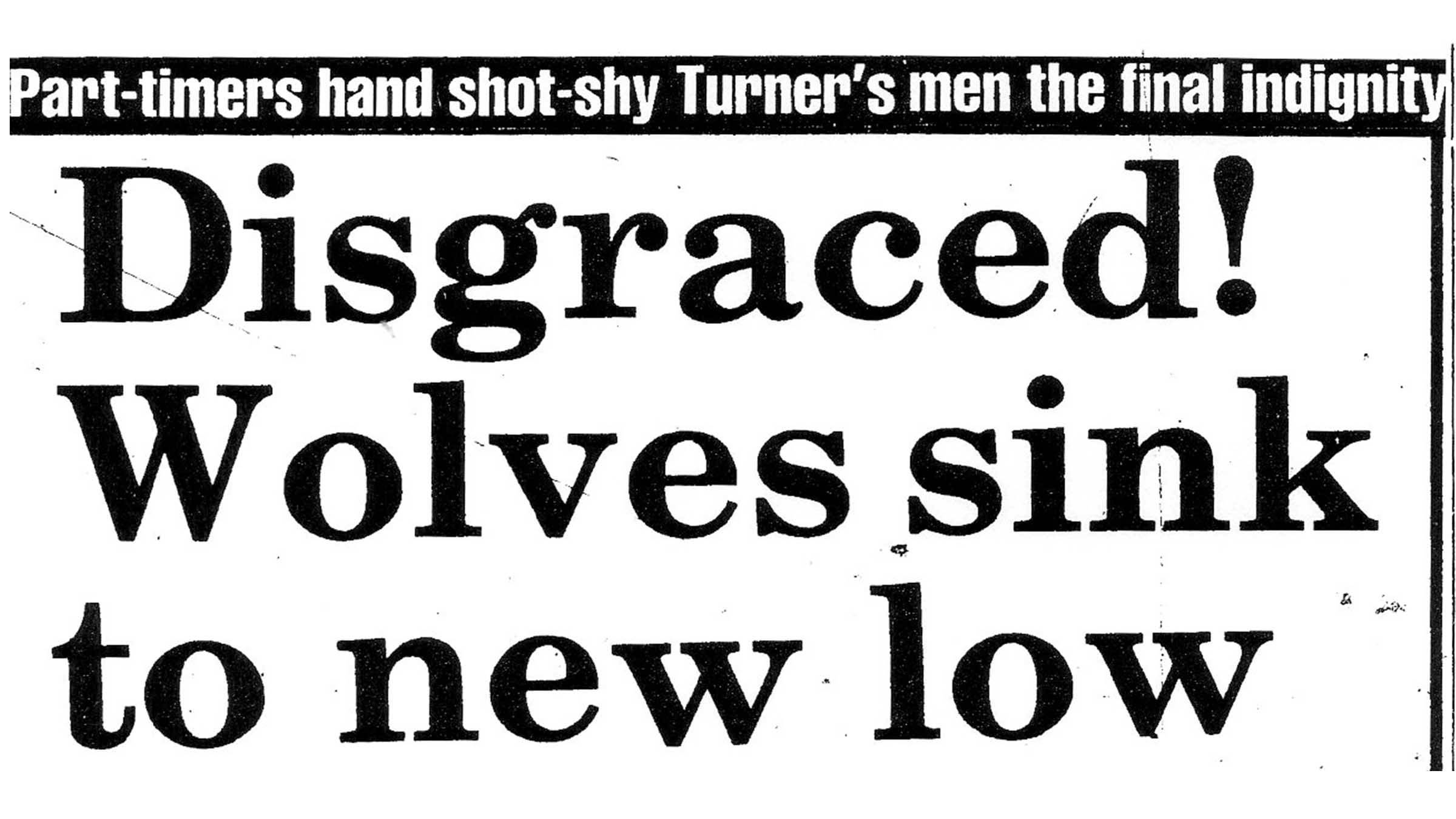 Having beaten Wolves, Chorley went on to take Preston North End to a replay, eventually succumbing 5-0 at Deepdale in front of 16,308 people. Their website magpiesinspace.co.uk recorded a twentieth anniversary reunion dinner being held on Friday 17th November 2006, 7.30 pm for a start at 8pm.
Organised by Geoff Haslam, tickets were on offer at £15 and the event was described as follows; 'Relive one of Chorley FC's most famous occasions along with the playing staff and club officials of that time. The evening will comprise a three coarse (sic) meal followed by entertainment by a first class comedian, Mr Max Pressure, then the opportunity to chat with the past officials and players, and relive those moments of glory in Chorley's history."
Back then the gap between the teams was only three leagues. whilst Chorley currently reside in the sixth tier of English football, the National League North. With such a gap between the teams, at least on paper, Wolves fans can only hope that their team's first visit to Victory Park will bear no similarity to that dark evening in Bolton over 34 years ago. Mind you, as my dad always reminded me, football is played on grass not paper!
Chorley | Senior, Scott, Hughes, Webster (Lloyd 65), Roberts, Cooper, Phillips, Marsden, Mark Edwards, Moss, Nicholl.
Wolves | Bartram, Stoutt, Barnes, Forman, Zelem, Robertson, Lockhart (Ryan 72), Holmes, Mutch, Neil Edwards (Clarke 60), Purdie.
Goals | Cooper (16, 72), M. Edwards (54).
Referee | R Bridges (Deeside).

Old Gold
#CHOWOL