30th December 2020
With a goal and an assist in one of the most remarkable games and final moments of a match in recent Wolves history, Barry Douglas reflects rather fondly on his trip to Bristol City three years ago today.
The former Wolves wing-back is the latest guest on the Old Gold Club's My Golden Game podcast, as he joins Mikey Burrows to discuss the dramatic last-minute win at Ashton Gate, which saw Wolves top the Championship table going into 2018.
Despite playing more than 75 minutes with 10-men after an early sending off, and falling behind early in the second-half, Wolves fought back valiantly, with the Scottish defender levelling the scores directly from a free-kick. He then planted a perfectly-placed cross onto the head of Ryan Bennett to nod home a last-gasp goal, sending the Wolves players, supporters and Nuno – who had been dismissed to the stands, into pandemonium.
On reflecting on his golden game
"Many fans will agree with me that when you think about this game, it gives you goosebumps. Even to this day when I think about it; the feelings, the 'limbs' – as the fans will call it.
"There was a bit of a build-up to that game because Bristol had been doing well and in the media there was a but of joking from their side, talking about Wolves and whether we were the real deal.
"They were up near the top of the league at that point, and I remember a wee bit of animosity before the game and the build-up, but the game itself, going down to 10-men, getting back in it, and that game summed up the season.
"Until the final whistle, you never felt like Wolves were out of any game at all, you always felt there was going to be a chance to score, and thankfully it happened with practically the last kick of the ball, which made it all that much sweeter."
On promotion hopes going into the season
"As a player, you're going to be ambitious and it's easy to get carried away. From the early days that season, you just knew something was special, from the manager coming in, firstly. When he spoke, you listened, and you just believed everything he said.
"Then you look at the calibre of the players who came in that window – and it's nice to be associated with some of the names who came in that year.
"With players like Ruben [Neves] and [Diogo] Jota, they're just game changers and you just had that sense of belief going into every single game – even from that first game, we felt like we were going to win a lot of games."
On his free-kick to open the scoring
"I think it was Doc who got through and the keeper clipped him down outside the box, and to be fair, I think he could've stayed up and tapped it in, but maybe he didn't fancy it on his left foot.
"There was a bit of drama with the keeper getting sent off and the new keeper coming on, but the way we worked and trained, any time we got a set-piece in or around the box from either side, Ruben or I would be very confident that we would have a good chance of scoring.
"I had one in the first-half which hit the post, which was probably a better strike, because the one that went in was a bit dubious because I got a little deflection, but I'll take it none the less.
"If Ruben felt more confident and wanted to take it, then by all means he could've taken it, but I would always put myself forward to take any set-piece from that area, and I got the luck of the draw on that occasion and it levelled things up."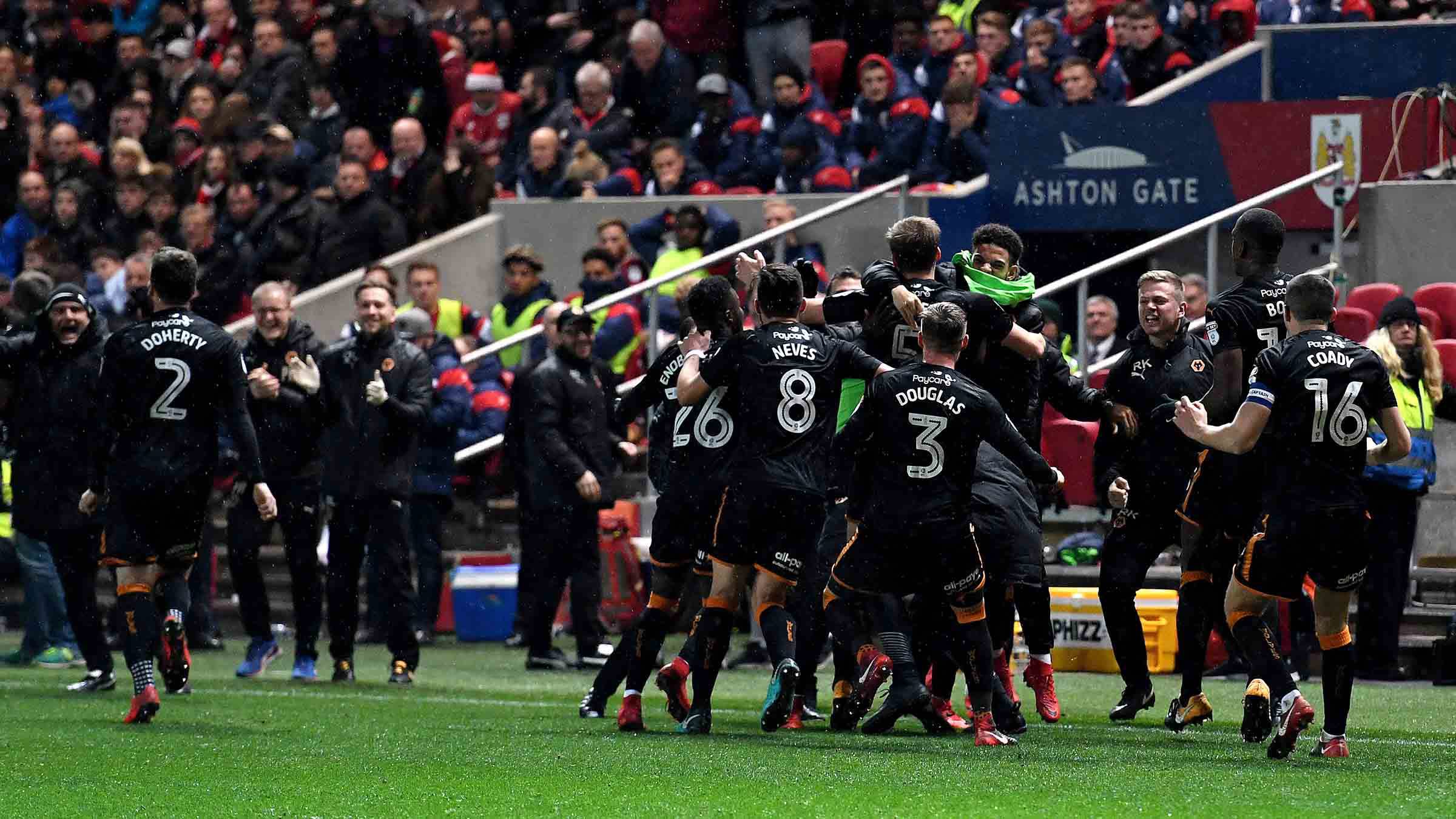 On setting up the winning goal
"I wouldn't say I went for goal, but I would always aim for that area. Being so close, you have to think that if everyone misses it, then I want to put it in that area so it has got a chance of going in.
"I was just trying to be calm and put in a good ball because of the presence we had in there; Benno, Boly, Saiss – all of them can head the ball, and they're not just big, but they're dominant as well, so it was my job just to put it in the right areas for them.
"With it being so close, it just needed a little touch, or someone anticipating it at the back post like Benno did, and it was like it was a magnet to him. It was just unbelievable scenes.
"It was just passion from everyone. I don't know where Benno got that energy from to run half the length of the pitch because I was knackered just chasing him there to celebrate!
"I've been involved in many games where there have been last-minute winners, but that was just different. It felt different and took us to the next level to get the win the way we did."

#OldGoldClub