24th December 2020
One of the most unforgettable away fixtures from Wolves' 2008/09 Championship winning season and a vital three points in securing the title is one that is fondly remembered by Christophe Berra.
The former Wolves defender is the latest guest on the Old Gold Club's My Golden Game podcast, as he joins Mikey Burrows to discuss the 3-2 win at Pride Park against Derby County.
Despite being 2-1 behind, Wolves fought back heroically thanks to a pair of Andy Keogh goals to win the match, which put the side on the verge of promotion to the Premier League.
On a vital three points against Derby
"Usually in Scotland, you'd just play Saturday, Saturday, Saturday, and there was maybe the odd mid-week game, but that year, around Easter time, we played Friday against Southampton and won 3-0.
"Then we were straight into Derby away on the Monday, and it was a hot day as well, and from a personal point of view, I felt I had no energy. It was a tough game, it was physical, and we didn't play very well, but it was one of those end-to-end games where there was no control from anyone.
"It could've gone either way and we were just fortunate enough. If you're going to win leagues, these kinds of games will happen, because not every game you can control. I knew this game would take it out of me. My legs felt done because it was end-to-end and you were getting exposed.
"There's nothing worse as a defender than these kinds of games, because when it's end-to-end, you're one-v-one, running the channel constantly and you can't win every ball because there's times when the attacker gets the better of you, so you're just hoping there's someone there to help you and cover you, or the goalie pulls off a save."
On being involved in the goals
"I wasn't oblivious to English football before I came down, but Derby is a big club and was a tough place to go, so to win 3-2, especially in the way it happened.
"I know I cleared the ball away to Andy to score the first one, but I don't know if it was me who cleared it for the second as well – it was either me or Jody [Craddock], so I could've had two assists, but we broke forward and then a great ball was put into Andy at the back stick – it was undefendable actually – and a great header, and the rest is history.
"It was close to being offside, but it was a great ball in and if I was Keogh, you couldn't have asked for a better ball. He took his top off and his nice white skin probably would've got sunburnt!"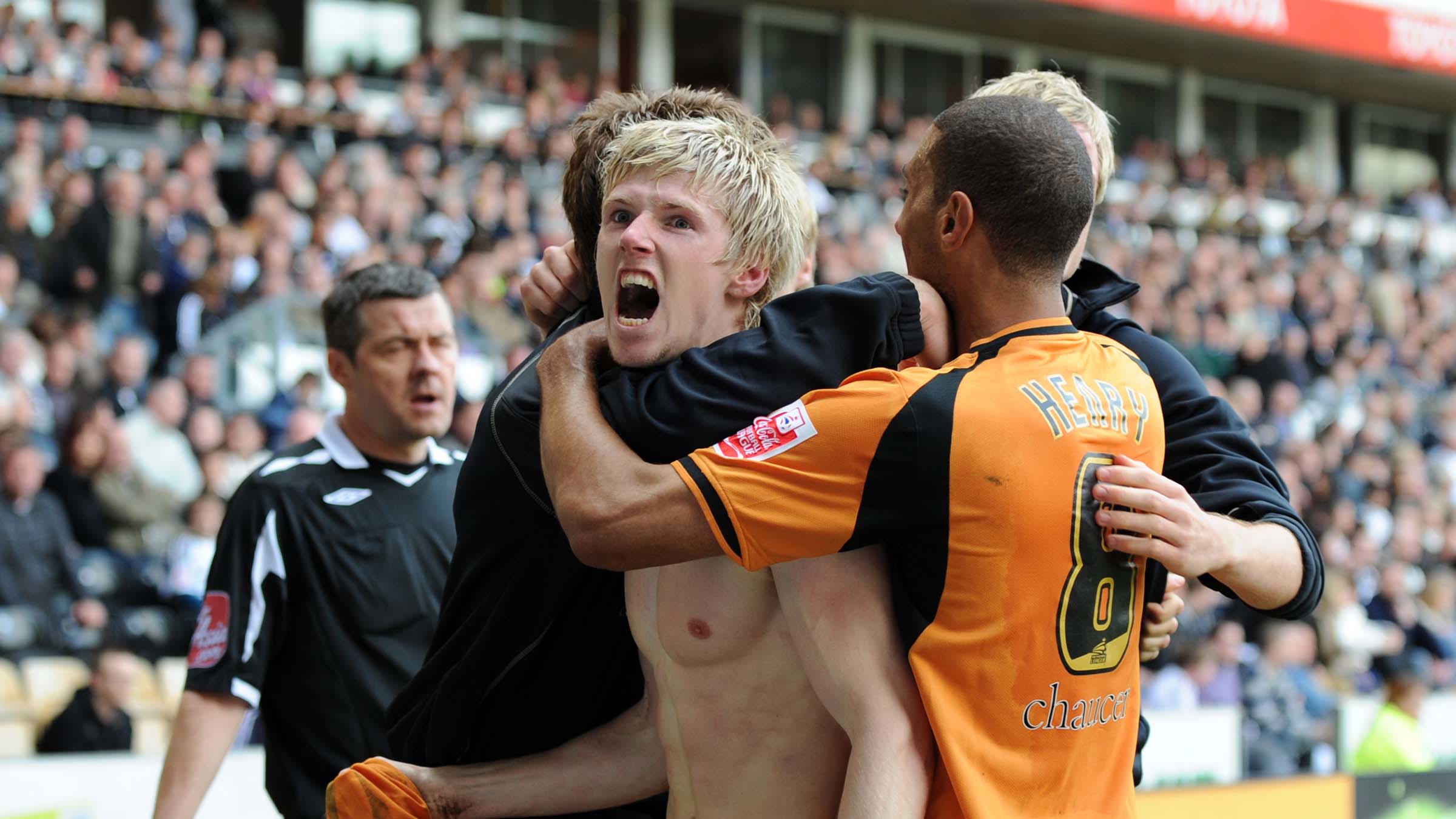 On the importance of the win
"One of the reasons why this game stands out to me was because, I know it wasn't mathematically, but it kind of cemented that we were going to go up. The win in the last minute just put the momentum in our favour.
"I could've picked games in the Premier League from when we beat Liverpool or Man United, but this game was important because of what it meant to us. Everyone probably knew we were going to win the league from then on or at least get runners-up.
"We all knew that we were going to get up after those two big results against Southampton and especially Derby away. No matter when you play Derby, in front of a full house of about 33,000, they are always tough games."
On not having the expectations of other Wolves promotion squads
"If you look at the squad prior to ours who got promoted in 2003 and the squad just now, they had bigger names and bigger money spent on them.
"They bought me for a bit of money and bought players here and there, but we were all from lower league teams with more of a look to the future who were sustainable for the next four or five years.
"Whereas the current team has obviously had money spent on it with some really good players who came to Wolves and played in a league that they were better than, to be honest, but the club had a big project, and the team prior to us had a lot of experienced pros who had been there and done it, your Paul Inces and Denis Irwins.
"But we were untested and a bit raw, as you would say it, with a bit more youth and enthusiasm, as well as a bit of experience as well, but I've played against teams like that in the past, and they can be the hardest because they have a great team spirit.
"We were a typical Mick McCarthy team, we could score goals, but we were all action. It's not that we were a defensive team or an attacking team, we were just a bit of everything, and that showed throughout the results."

#OldGoldClub