18th November 2020
Following a career of thinking what could have been had injuries not stopped him from reaching his potential, Matt Murray looks back on one particular Black Country Derby as the defining game of his 20-year Molineux career.
The former Wolves goalkeeper is the latest guest on the Old Gold Club's My Golden Game podcast, as he joins Mikey Burrows to discuss his man of the match performance in his side's 1-0 victory over West Bromwich Albion at Molineux in the 2006/07 season.
Having grown up at Wolves Academy, Murray knew what the game meant to the club and its supporters, and despite his flourishing career brought to an abrupt halt just two months later, the 39-year-old still holds fond memories of the derby of 12th March 2007.
On understanding the Black Country rivalry
"When you join Wolves at the age of nine, you realise the rivalry and passion in these games that we had this season. We played those lot from down the road in a couple of games, we hadn't played each other for a while and we got beaten 3-0 twice; once in the league and once in the FA Cup, and that hurt.
"When they beat us in the FA Cup, I remember they put the carrier bags on the seats behind the goal, and their players were doing the 'easy' clap, and as a professional footballer, that's horrible. My performance wasn't good enough, it hurt me because I felt that I didn't turn up.
"Going back to 2002; one of the first times I travelled was to West Brom away, but I remember doing the warm-up in that game and experiencing the intensity. They pipped us to second place in the Championship and I remember all the grief that we had taken, so you just knew the rivalry of playing West Brom.
"We'd been hurt twice that season, but we knew that if we won this game, we'd have a good chance of cementing our place in the play-offs, and we went and beat West Brom 1-0 at Molineux, and it was probably one of the best games I'd had in a Wolves shirt.
"But more than that, I knew how much it meant; I knew what it meant to the fans and I knew what it meant for us that season."
We thought we'd save yesterday's #OnThisDay for Monday morning. In 2007, @jaybothroyd got the winner as Mick McCarthy's Wolves beat West Brom 1-0 at Molineux. #OLDGOLD

🎥👇 pic.twitter.com/CyjCXOTimv

— Wolves (@Wolves) March 12, 2018
On the young age of the Wolves team
"I was one of the oldest players in that team, after Seyi [Olofinjana], Jody [Craddock] and 'Breeny' [Gary Breen], and I was only about 25/26.
"West Brom had much more experience than us. We had players who had come from Ireland, from non-league, League One, League Two, but some of those players went on to have very good careers for Wolves – Michael Kightly, Stephen Ward, Andy Keogh – and that's testament to the recruitment Mick [McCarthy] had done and the way he coached everyone.
"But we'd gone on a really good run after a difficult patch, we had momentum, and we knew that if we won that game we'd be right up there and who knows what would happen.
"I was desperate to play in a Black Country Derby, and I don't want to sound arrogant, but I had the feeling that nothing was getting past me that day. I was like a demon; I'd worked so hard, I was so focused, I felt like a man possessed and I loved that game."
On his final full season
"We overachieved that season. When you look at all the people who had left; Joleon [Lescott] had gone, Lee Naylor had gone, Kenny Miller, Mark Kennedy, 'Incey' [Paul Ince] – a lot of big names had all gone.
"Then Glenn Hoddle left, and Mick came in late. There was a lot of change, but we had a lot of hungry players who were desperate to establish themselves. We went on a few runs throughout the season where it wasn't quite ideal, but Mick was amazing and got the best out of us all.
"We had a belief and a unity, no-one would ever blame each other, we worked hard and were on it. The main thing is that we did get into the play-offs. We beat Leicester 4-1 which guaranteed us getting in, but it happened to be my last competitive game for Wolves."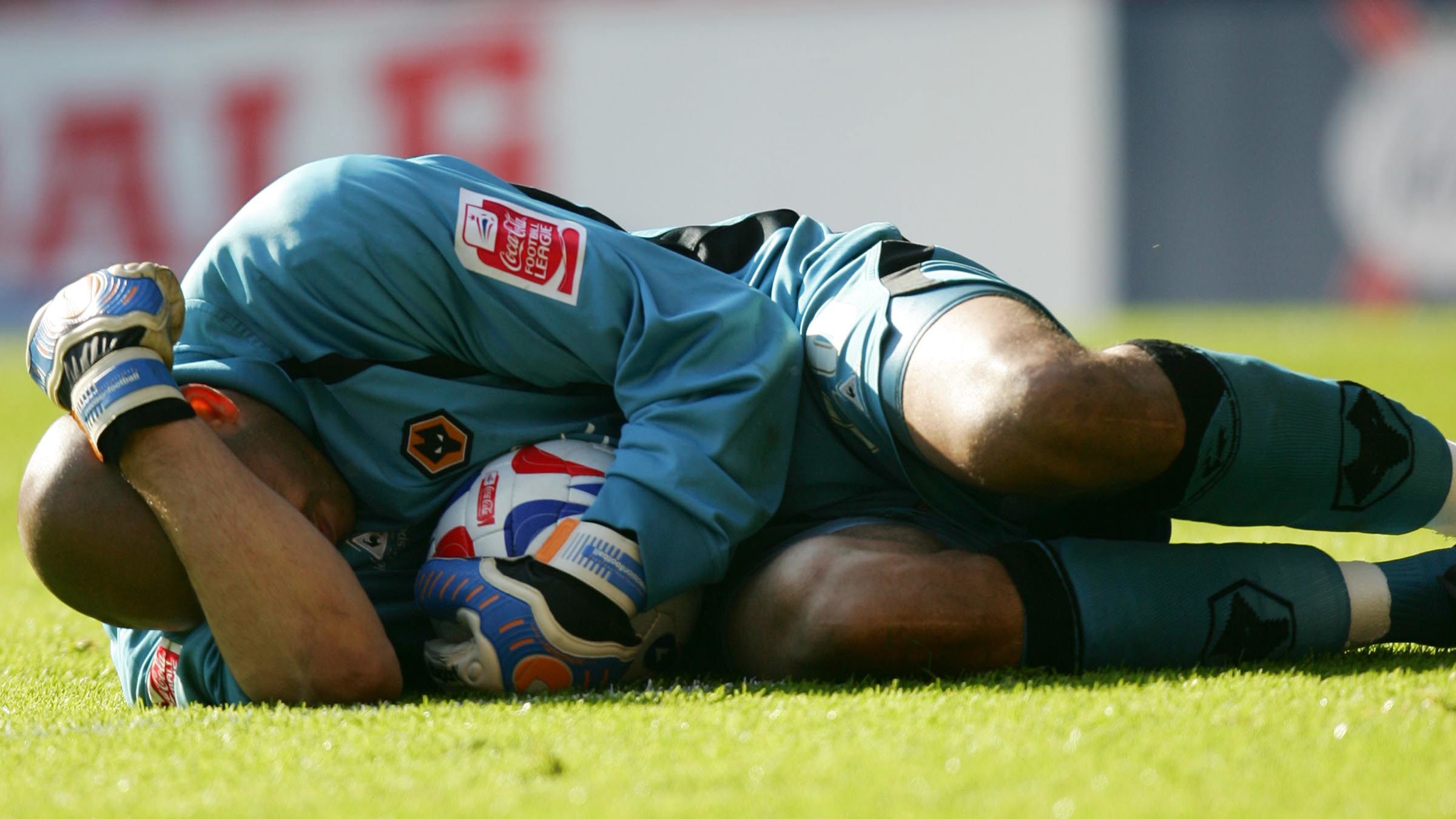 On getting injured on the eve of the play-off semi-finals
"Going into the semi-finals, I felt so good. We had this game against West Brom that we won 1-0, which was nice, I'd been voted into the Championship team of the year, I'd won the golden glove, the fans and the players had voted me player of the year, I won opposition player of the year, and I couldn't believe it.
"For me, I felt good. I always worked hard and wanted more, but I was going into the semi-final having been there and done it before. I wanted to be there with the boys.
"In training, I took this cross, went over a young lad who heard me call 'keepers', I fly over and cracked my shoulder. Straight away I knew it was bad.
"To this day, it guts me up so much, but it wasn't meant to be. It was disappointing, and you always wonder what might have been, but life isn't fair."

#OldGoldClub