9th November 2020
Sunday's narrow defeat to Leicester, the penalty decisions and Pedro Neto's new contract were just some of the topics discussed on the latest episode of Wolves' Matchday Live Extra show.
Joining Mikey Burrows this week was regular co-commentator and ex-Wolves full-back Andy Thompson, as well as fellow former old gold players in goalkeeper Carl Ikeme and striker Chris Iwelumo, who analysed the Premier League loss to the Foxes.
Also joining the panel were special guests including former Wolves and Leicester defender Richard Stearman and Braga technical co-ordinaor Antonio Pereira, who brought Pedro Neto through the junior ranks of the club, as the team discussed the advantages and disadvantages of a full week of training and Rui Patricio's penalty save.
On having a full week of training
Iwelumo said: "I don't know about 'Kemes' as a goalkeeper, but it's better for a player when the games come thick and fast, when you're playing Saturday, Tuesday, Friday.
"You're in, you're having a little massage, and your body gets used to the routine. I understand there's rest and recovery, but for a player, I used to love that. I'm not sure about Thommo and a goalkeeper might be a little bit different, because they have their own drills.
"But off the back of a good performance [against Palace] it is a real important time because we've had new recruits coming in and Nuno is trying to evolve his system, building on and implementing those little ideas and small tweaks."
On Neto signing a new five-year deal with Wolves
Thompson said: "It all comes down to his ability and the confidence that he's got because he's a good player. When he came to the club, he basically came to play in the under-23s, but he has excelled in everything that he's done.
"He's improved, he's built himself up, he's got himself really fit during the lockdown, and it's testimony to him that he's made it difficult for Nuno to leave him out.
"If you look at the subs bench, Traore is there, and Neto's keeping him out. He's keeping him out through his performances, through the way he's played and it's not just going forward, he works very hard for the team when we're out of possession, and that's the kind of player Nuno wants."
"It's very special because I'm always laughing. They know that I am always joking with them, so they joke with me and I think it's the most beautiful thing about this team."

💬👇

— Wolves (@Wolves) November 5, 2020
On the penalty decisions
Iwelumo said: "I thought Anthony Taylor made an absolutely shocking decision for the first penalty. When he goes to the screen, you're thinking common sense is going to prevail here. Yes, it did hit Max Kilman's hand, yes his hand's in an unnatural position, but it's definitely not hand-to-ball.
"The second one against Ait-Nouri was spot-on, penalty, and a fantastic save by Rui Patricio. But the decision affected the match. If that penalty had not been given, it would've been a draw."
Ikeme said: "It was a terrible decision. I was just watching the replay and if you see the Leicester player, as he put the ball into the box, his arm was out – is that natural when you're passing the ball?
"Max Kilman's arm was at his side, five yards away, when the ball was sprayed at him. If his arm was up in the air the fair enough, give the pen, but his arm's by his side. I thought common sense was going to prevail, but as soon as he went up to that monitor, I knew he was going to give it."
On the handball rule
Iwelumo said: "To the letter of the law, Anthony Taylor can give a penalty there. When defenders put their arms behind their backs, and the ball hits off their elbow, basically, to the letter of the law, it's a free-kick or a penalty. But it's not. And that's where the referees, as human beings, have to be better."
Ikeme said: "It's not about Wolves, it's about the Premier League and the handball rule. They've been going on all season."
On Patricio's penalty save
Ikeme said: "It was an outstanding save by Rui. When you face a second penalty, it's a mind game then. I think he'll know before the game where Vardy's been.
"If someone takes the penalty in the same position, you know the majority of them will go that side, but he's probably seen before the game that Vardy can go both ways, and I think that's why he made the decision, stuck with it, and fair play to him.
"That save could've been massive in the context of the game – at 2-0 with that performance, we could've been out of it because there was nothing in the first-half performance, apart from the last couple of minutes when we kind of came into it."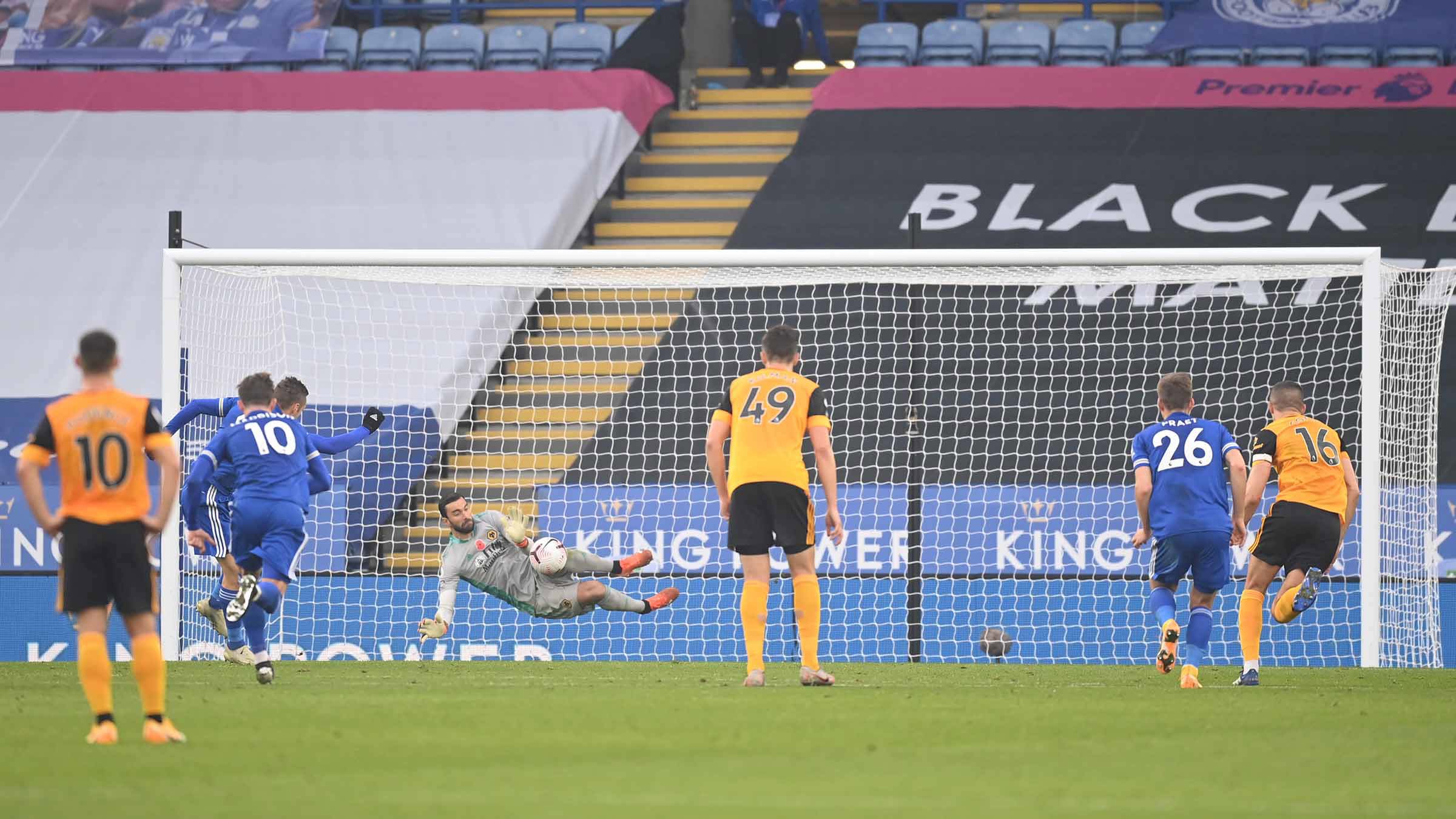 On an improved second-half performance
Ikeme said: "it was definitely a better second-half, we started to move the ball a lot better, with Traore coming into it as well we looked dangerous.
"But I can't say we deserved a victory at the same time. I think Leicester edged it, and we didn't create enough opportunities to say we should've won the game, but it's on to the next one.
"Yeah, we didn't do enough in the first-half and did get a reaction going into the second."
To rewatch the latest Matchday Live Extra show from Sunday, click here.
#LEIWOL