3rd September 2020
It has been 26 years since legendary Wolves and England captain Billy Wright sadly passed, but the great man's legacy continues to live on at Molineux.
A true one-club man, Wright spent his entire club career in gold and black, becoming the first footballer in the world to earn 100 international caps and captaining his country a record 90 times.
To honour the impact Wright had during two decades at Wolves, we've delved into the history books to look back at his career both at Molineux and with the Three Lions.
TAKING HIS FIRST TRIAL AT WOLVES
30th June 1938
Born in nearby Ironbridge in Shropshire, Wright's association with Wolves began in 1939. After being encouraged by a teacher at his school to respond to a newspaper advertisement urging boys to apply for trials at the football club, a 14-year-old Wright was invited by manager Major Frank Buckley to attend.
The letter Wright received from Buckley is now on display at the Wolves Museum.
Pat Quirke, Wolves historian, explains: "Major Frank Buckley, the manager at the time, sent for him by sending a letter to the headmaster of his school in Madeley and asking him to bring Wright down to Wolves for a trial.
"They trialled him as a right winger initially, but his gift was that from a standing position, even though he wasn't a particularly tall man, he could leap really high and he was great in the air. This saw the club convert him to a centre-half and he flourished in that position – especially because he was a good leader of men and it's a good position on the pitch for the leader to be in, as he could see how the game was evolving.
"Wright was at Wolves for a while, but Buckley decided he didn't want him anymore because he believed he would never make it as he thought Wright wasn't tall enough, but the trainer, Jack Davies, felt Wright was particularly good at weeding the pitch, so kept him around the club to help the ground staff.
"It's just as well that they did, because he turned out to be an iconic player."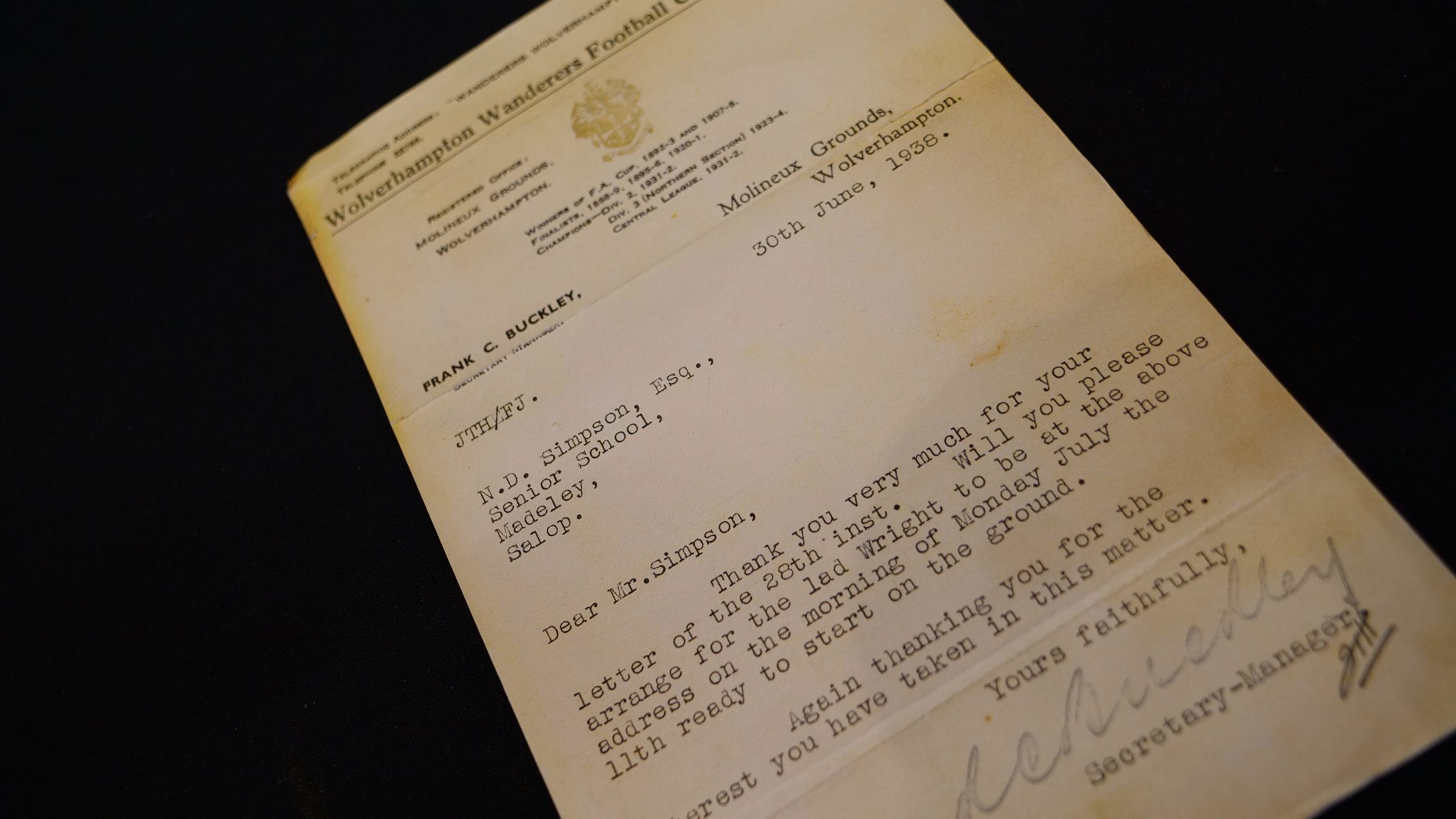 'UNOFFICIAL' GOLD AND BLACK DEBUT
Notts County 1-2 Wolves | 1939
A year after his trial, Wright made his debut appearance for Wolves, aged just 15. However, as the game was played shortly after the start of the Second World War, but by that time the Football League had already suspended its competitions, meaning the match did not count as an official fixture.
After the abandonment of the national football programme, Wolves continued to play matches, with Wright signing as a professional at Molineux when he was 17.
During the conflict, Wright turned out as a guest for Leicester City, playing both as a forward and defender before returning to Wolves in 1942. Wright joined the army in 1943 as a physical training instructor but continued to play for Wolves in their wartime football matches whenever possible.
From 1939 to 1945, Wright went on to make 111 'unofficial' appearances for Wolves, scoring 33 times.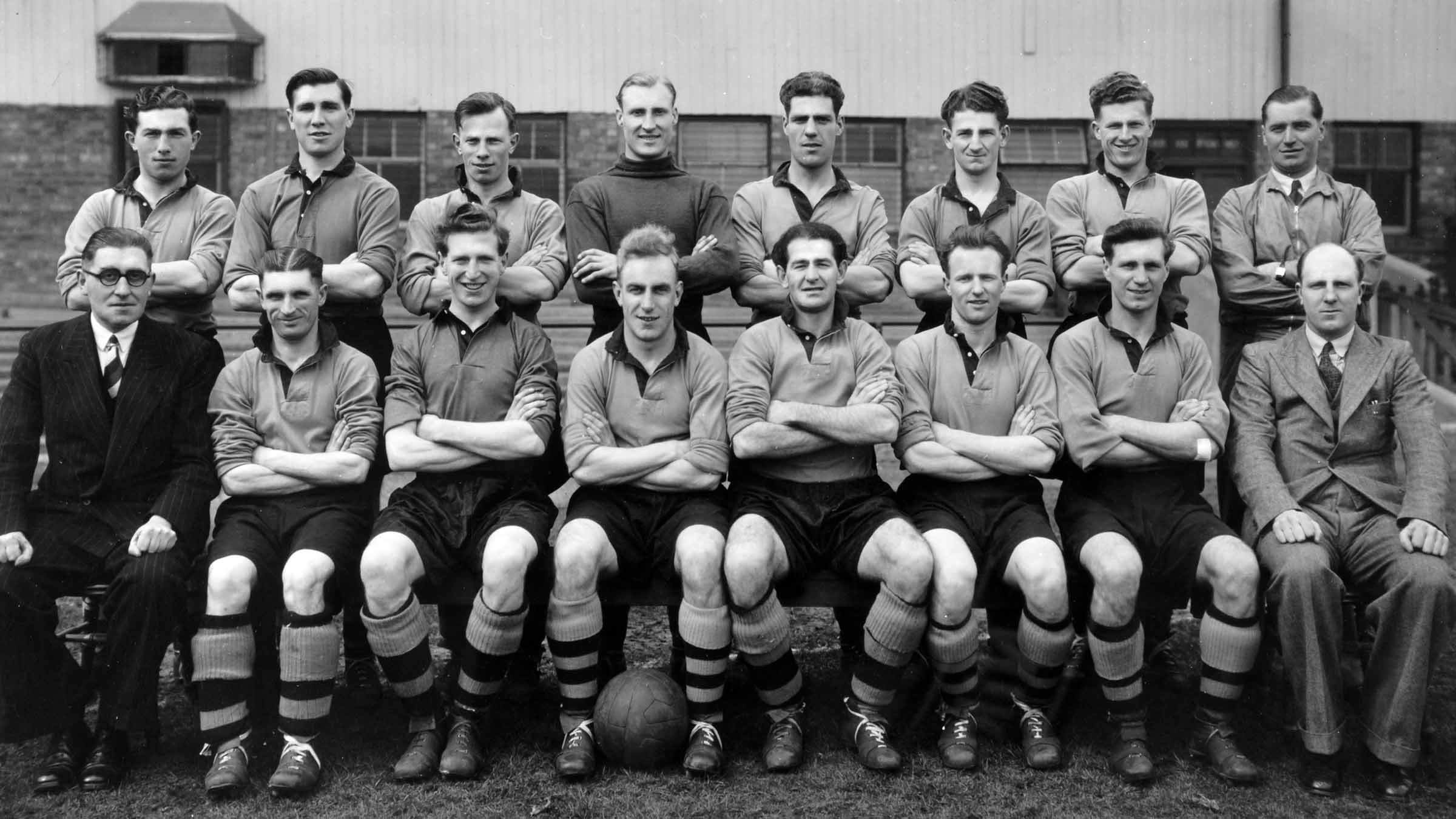 MAKING IT OFFICIAL
Lovells Athletic 2-4 Wolves | 5th January 1946
Despite making more than 100 appearances in gold and black, Wright finally made his 'official' debut for the club in the 1945/46 FA Cup.
Entering the competition at the third round proper, Wolves travelled to Wales to take on Lovells Athletic – the works team for the Lovells sweet factory in Newport – in the first leg, winning the match 4-2, with Wright playing in the heart of the old gold defence.
Four days later, Lovells came to Wolverhampton as Wright made his Molineux debut in an 8-1 home victory, earning a place in the fourth round.
ENGLAND CALLING
England 2-0 Belgium | 19th January 1946
His performances for Wolves during the wartime matches saw Wright earn his first call-up to the England team for the 'Victory International' matches.
Then 21-year-old Wright made his international debut in England's 2-0 win over Belgium at Wembley Stadium [pictured above], with the second of the two goals scored by his Wolves teammate Jesse Pye, who was making his one and only England appearance.
Wright had to wait another eight months before he made his full international bow, playing in a 7-2 victory over Ireland at Windsor Park on 28th September 1946.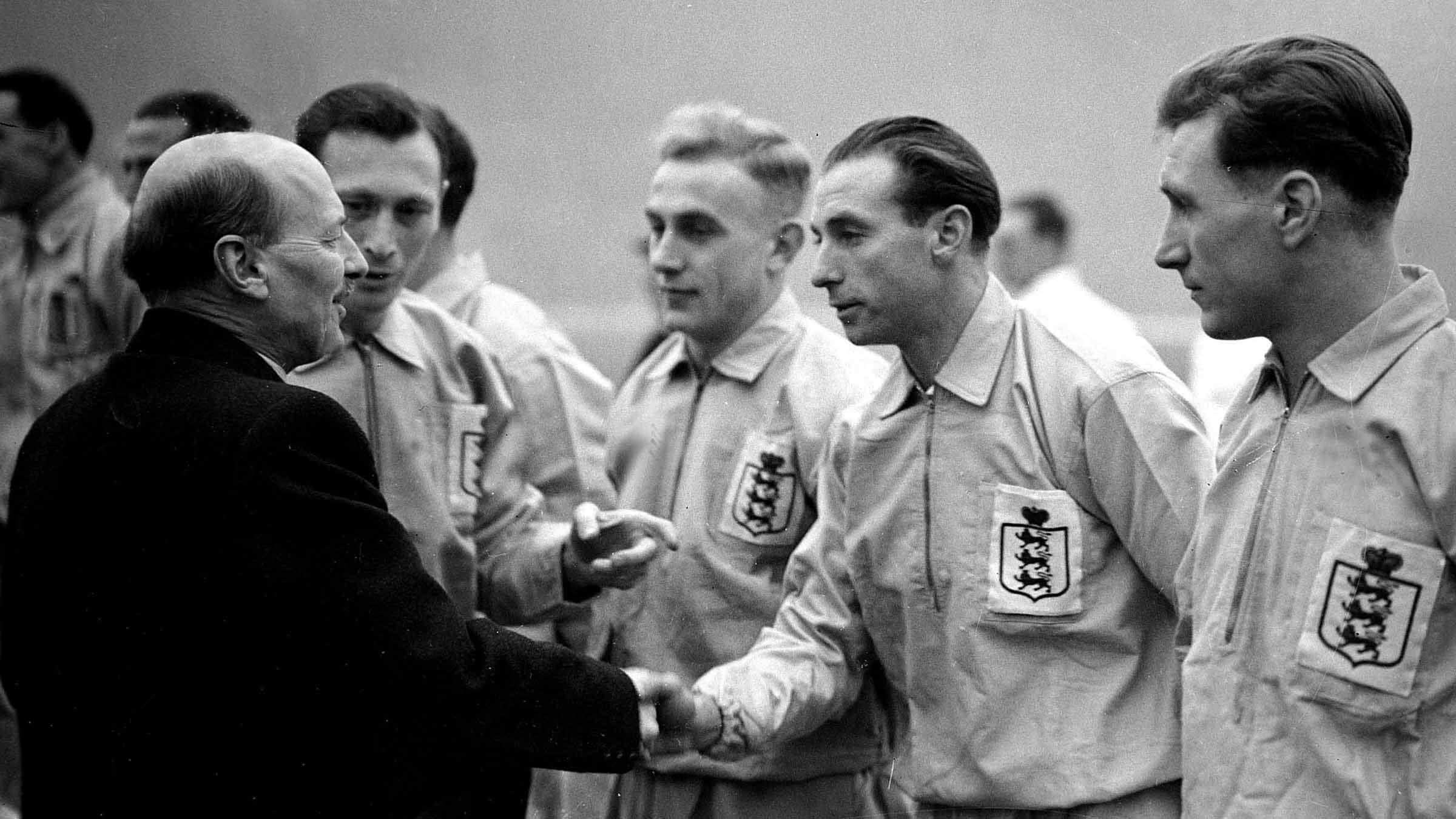 SIGNING A NEW CONTRACT
4th May 1946
With the war now over, the Football League was restarted in for the 1946/47 campaign, and a new football season, also meant a new contract for Wright, which is among the displays in the Wolves Museum.
Pat Quirke explains: "The contract is quite a lot shorter than the ones the players will be signing today, as it's very brief, but still has what they are and are not allowed to do.
"It includes details of Wright's wages, which were £3 per week and a bonus of £5 per match played in – so he would have had to play first-team matches to really make it worthwhile, but that's still good money for a young man straight after the war.
"Eight pounds a week would have been about three or four times the average industrial wage at that time."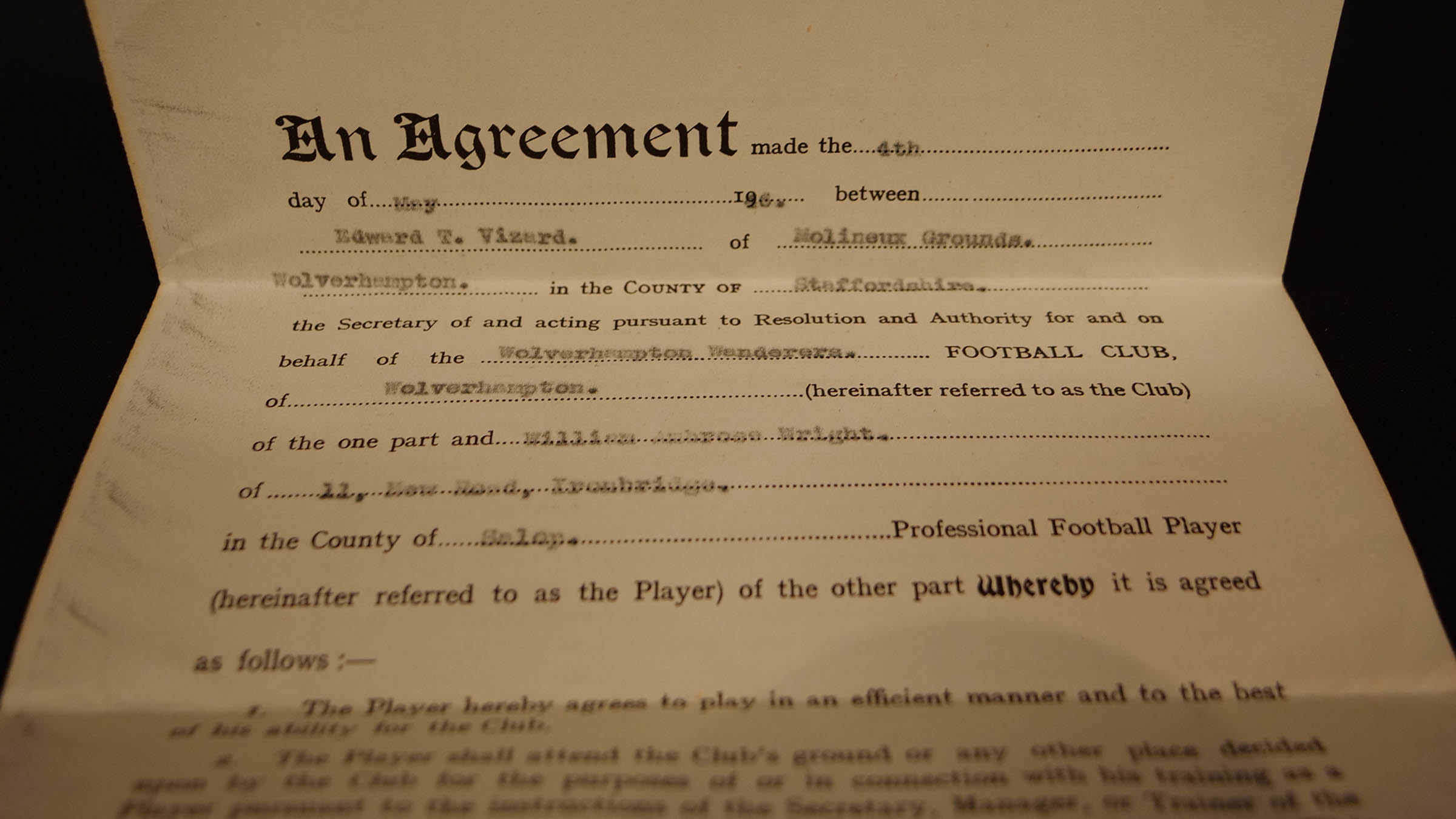 TAKING THE ARMBAND FOR CLUB AND COUNTRY
Ireland 2-6 England | 9th October 1948
With the retirement of Stan Cullis at the end of the 1946/47 season, the captain's armband was up for grabs, with Billy Crook being the man entrusted by manager Ted Vizzard to lead out the team.
However, Wright continued to display his leadership skills, captaining the side several times in the 1947/48 season in Crook's absence, and was skipper when he led the team to FA Cup glory in 1949.
A year earlier, Wright was also handed the honour of leading out his country for the first time, on what was just his 16th match for the Three Lions.
Having been a favourite of manager Walter Winterbottom, Wright had already scored his first goal for England, although in an unofficial friendly against Switzerland in the summer of 1948, and wore the captain's armband for the first time in a Home International's victory over Ireland at Windsor Park – the same venue he made his full debut, just two years previously.
Displaying a quiet temperament and an undemonstrative playing style, some questioned his suitability as captain at both club and national level. But Wright himself preferred to lead through example, explaining: "I decided early on that captaincy is the art of leadership, not dictatorship. Respect is the hardest thing for a captain to come by and the easiest to lose. I never changed my mind about this."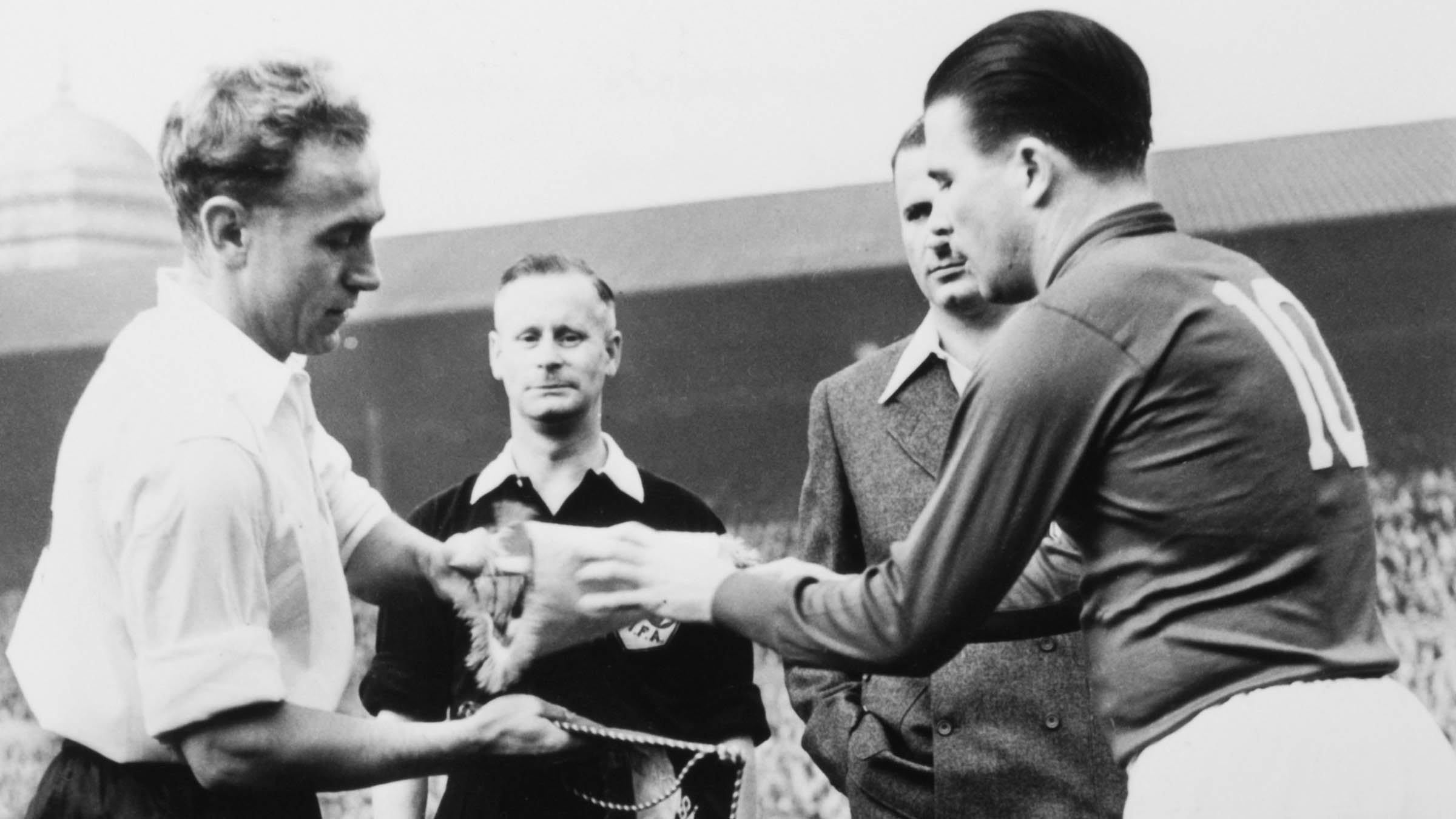 FIRST LEAGUE TITLE
1953/54 First Division
With former captain Stan Cullis now in his sixth season in charge of the side, he'd assembled a formidable squad, with Wright – winner of the 1951/52 Football Writers' Association Footballer of the Year – at the heart.
The captain only missed 31 games for Wolves throughout the 1950s, with the 1953/54 season turning out to be a fabulous one for Wright and his club.
During a never-to-be-forgotten campaign, Wolves achieved some memorable victories; enjoying their first win at Newcastle in 50 years, completing the first double over title rivals West Bromwich Albion since 1909/10 and winning their first match at the Hawthorns since 1928.
Wright was there every step of the way, as Wolves ended the campaign with a 2-0 win over Tottenham Hotspur at Molineux and finishing four points ahead of Albion, with Wright lifting the league trophy for the very first time in the club's history.
FLOODLIT FRIENDLIES
1953 to 1958 | Molineux
Well versed to leading out his country against foreign opposition, Wright soon got used to captaining Wolves against the best club sides from across the world thanks to the floodlit friendlies of the 1950s.
The first saw a South Africa XI travel to the West Midlands, with Wolves coming up victors by three goals to one.
Racing Club of Buenos Aires, Maccabi Tel Aviv, Spartak Moscow, Borussia Dortmund, Valencia, Real Madrid and, of course, Honved were among the teams who took on Wright and his men, but all left Molineux defeated.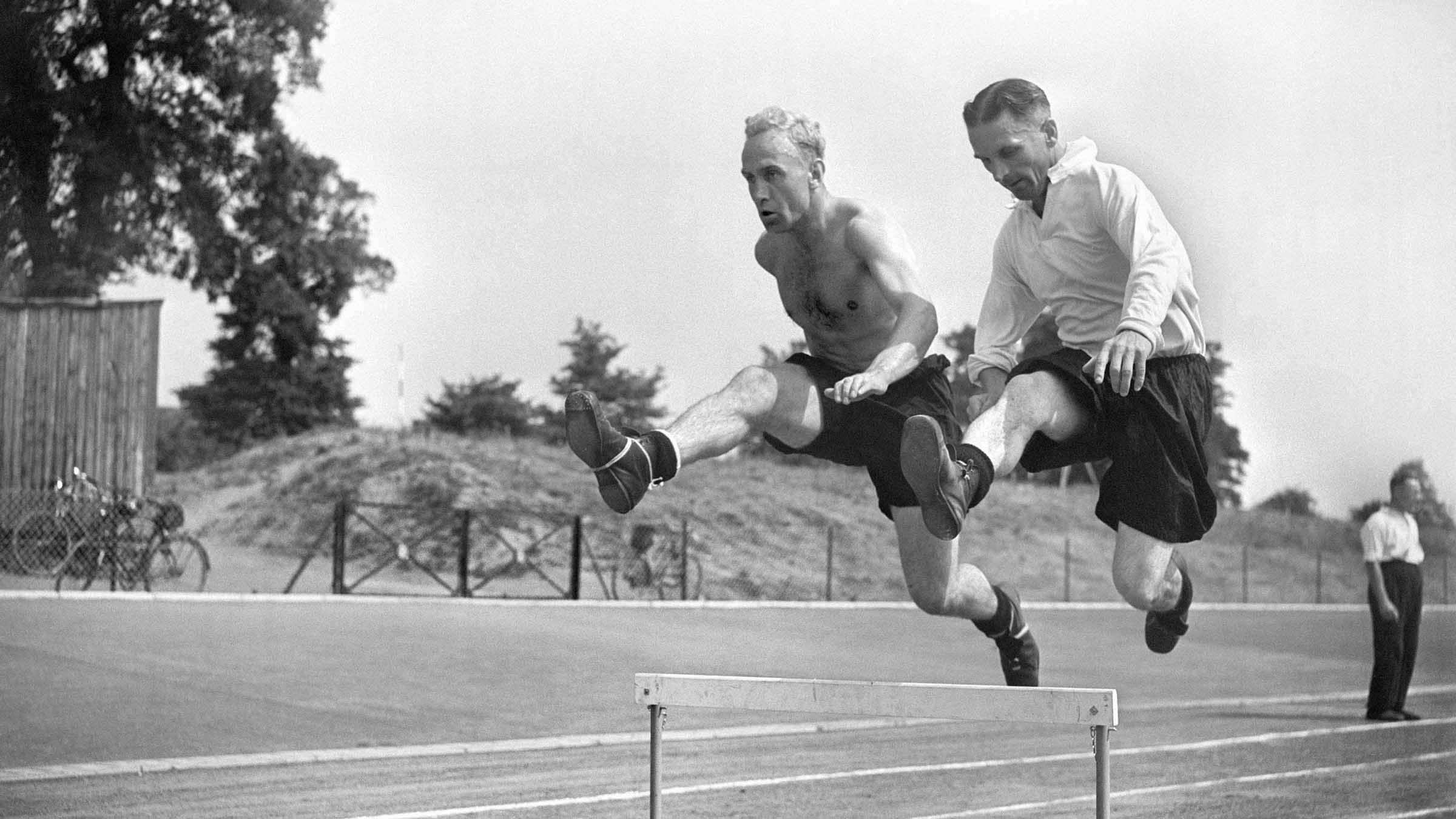 BACK TO BACK LEAGUE CHAMPIONSHIPS
1957/58 and 1958/59 First Division
Throughout the 1950s, Wright and Wolves continued to challenge for the league championship, finishing runners-up to Chelsea in 1954/55 and in third place to Manchester United the following season.
But Wright didn't have to wait for long until he got his hands on the trophy once again. With superb record of 28 wins and eight draws, Wolves finished five points clear of runners-up Preston North End, and falling just two points shy of equalling Arsenal's record league points tally.
The 1958/59 season was another to remember, as Wright became the first man to captain Wolves in a major European tournament, with the league winners competing in the European Cup. However, that joy was to be short lived, due to a first round defeat to German side Schalke 04.
But without European football to distract them, Wright once again led Wolves to the league title, earning back to back championships for the first time, and the last time a gold and black side would be known as English league champions.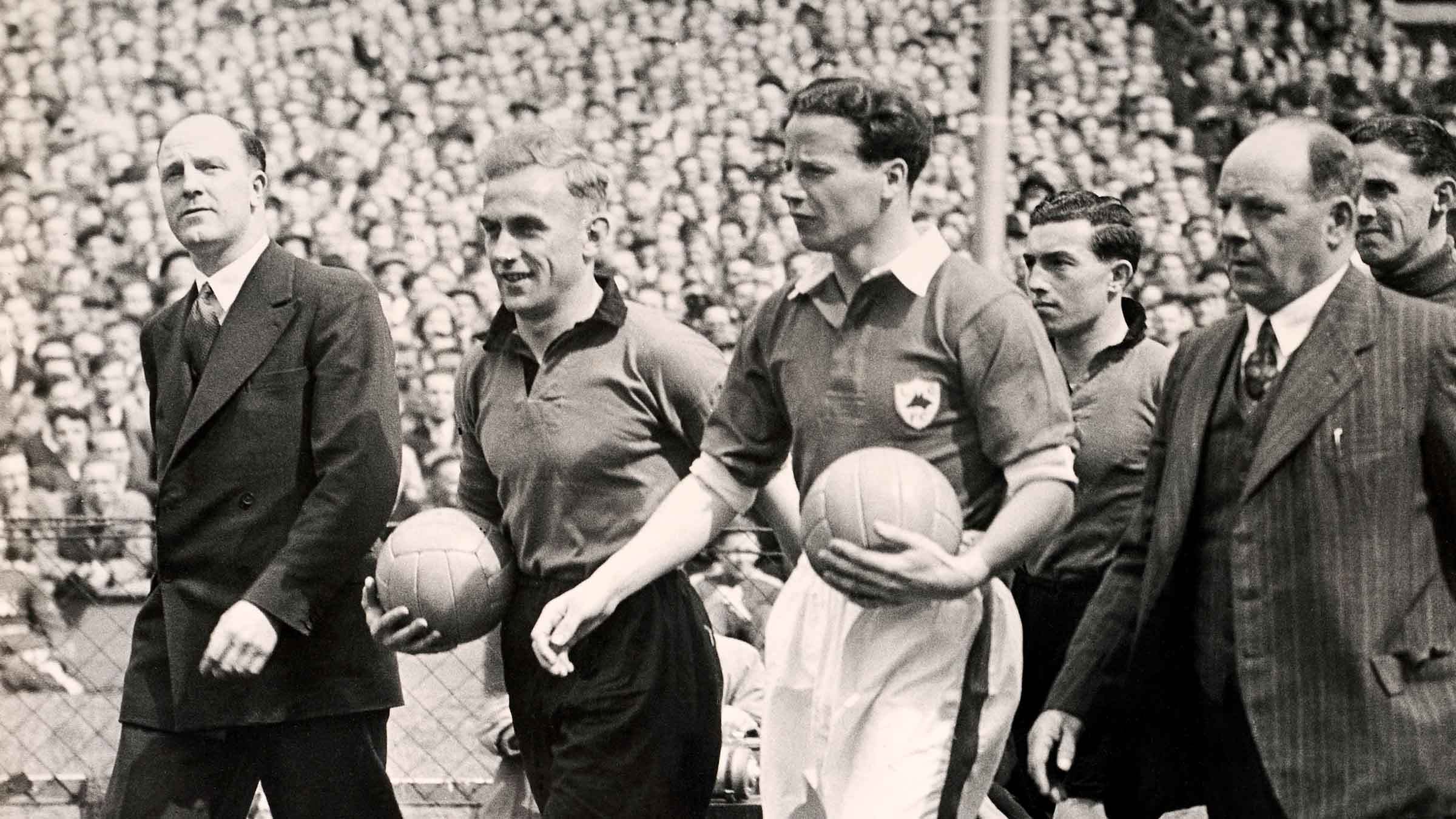 FIRST PLAYER TO EARN 100 INTERNATIONAL CAPS
England 1-0 Scotland | 11th April 1959
Two weeks before Wright went on to lift successive league trophies with Wolves, he was back on international duty with England, playing in the Home Internationals against Scotland at Wembley.
But what made this match more memorable than most, was by playing in this game, Wright became the first footballer in the world to earn 100 international caps.
Wearing the famous number five shirt, Wright would go on to play five more time for England in the summer of 1959 as part of a summer tour of the Americas.
Games against Brazil, Peru and Mexico were to follow, before his 105th and final cap – as well as a record 90th game as captain of his country – arrived on 28th May 1959 against the USA in Wrigley Field, Los Angeles, with Wright leading his side to an 8-1 victory.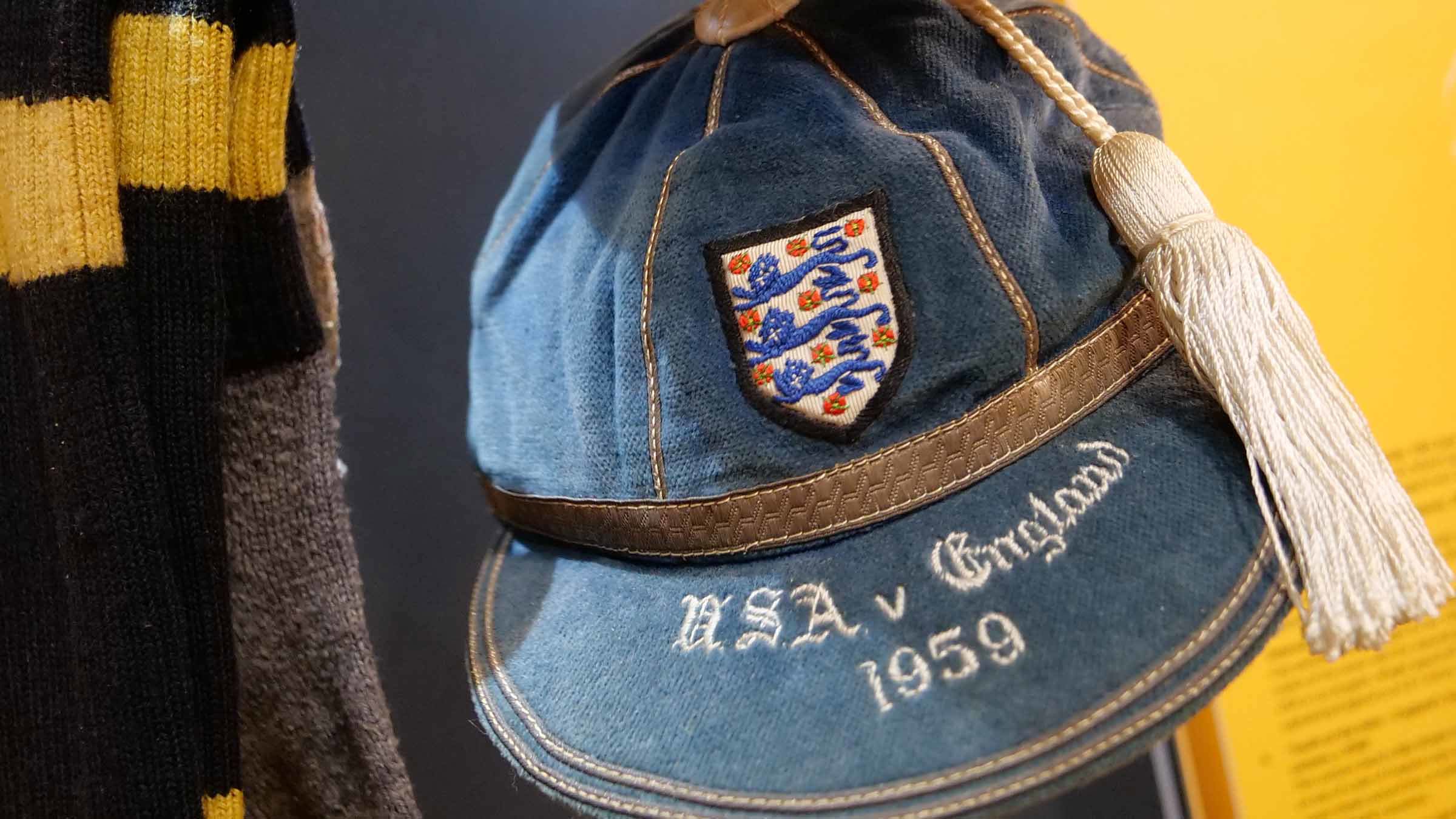 HANGING UP HIS BOOTS
August 1959 | 541 Wolves appearances & 105 England caps
Just days before the new 1959/60 season was due to kick-off, a 35-year-old Wright announced he had retired as a player, brining an end to an illustrious career at both Wolves and England.
A gentle giant of the game, Wright remains one of the greatest players to ever donned the gold and black shirt, with a disciplinary record that was second to none – he was never cautioned or sent off by any referee in his entire career.
Still to this day, Wright is the only man to captain Wolves to a league title, he stands at fourth on the list of appearance makers – although his 'unofficial' wartime appearances would send him straight to the top of the charts – and remains the fourth most capped player ever to have played for England.
Forever synonymous with Wolves, Wright received a CBE for services to football in 1959 and joined the board of directors at Molineux in the early 1990s as part of the club's takeover by Sir Jack Hayward.
A year before his sad passing on 3rd September 1994, aged just 70, Wright was honoured by Hayward by renaming the Waterloo Road Stand at Molineux to the Billy Wright Stand, and in the years after his death, Wright was made an inaugural inductee of the English Football Hall of Fame, while a statue was erected outside the stand that bares his name at Molineux, where his legacy will live on forever.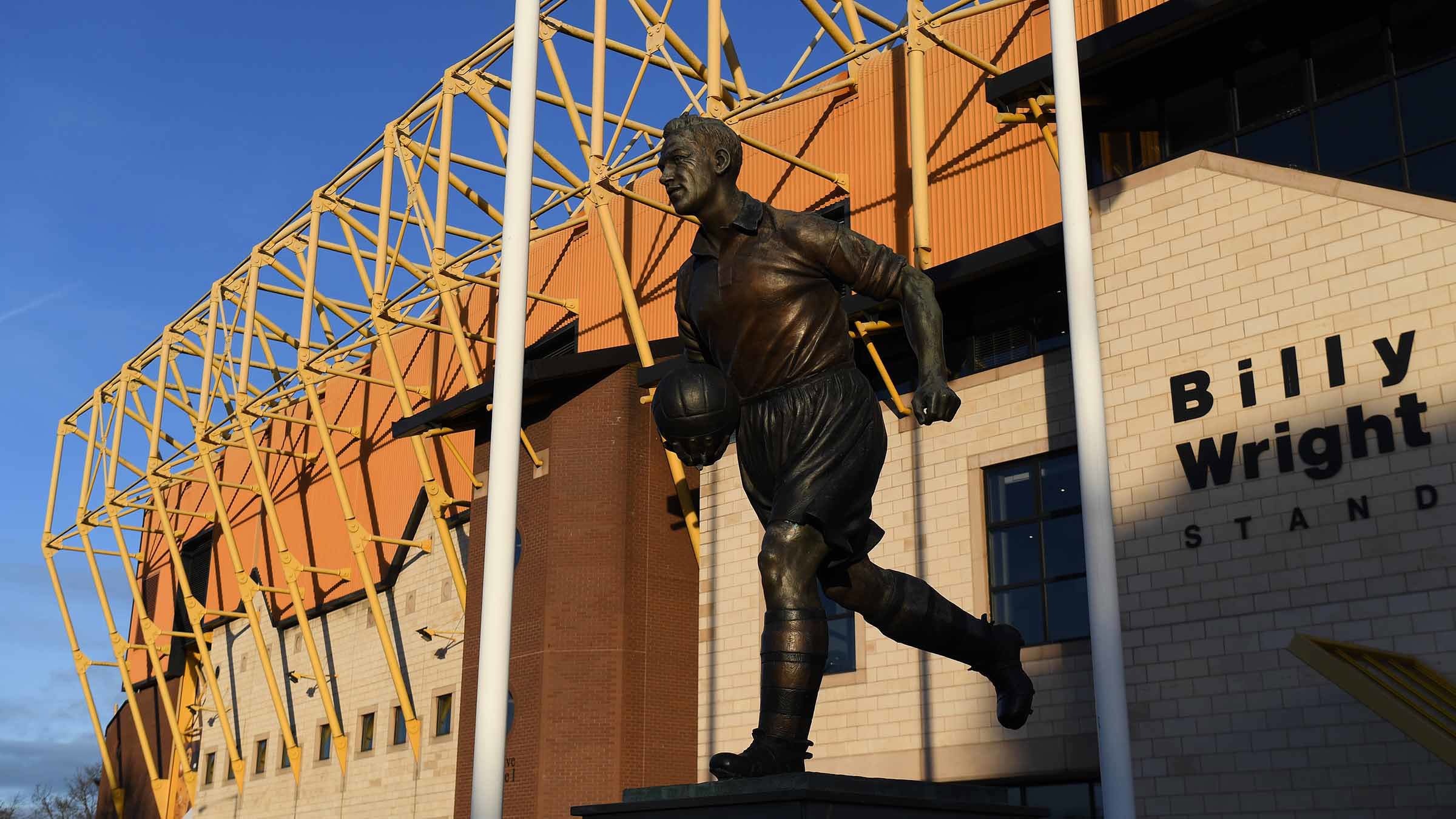 Old Gold