10th August 2020
Sevilla have quality all over the pitch and are hungry to continue their illustrious history in the Europa League, so Wolves are in for a tough test on Tuesday evening, according to La Liga journalist Guillem Balague.  
Guillem, how would you sum up where Sevilla are at as a team?
"They've gone through a lot of things that make a team stronger, adapting to a new situation, which I know every team has to go through, but in this case it's really reinforced the team, the targets and the objectives of Lopetegui. He went from the beginning with a 4-3-3 formation, to a team that is flexible. They want to dominate if they can, but they can transform themselves into anything the game requires. To put all that together in one season is impressive.
"They did it against Roma, Suso was in the line-up and not expected, the midfield with Fernando as a sweeper, Jordan working box to box, Banega linking with the attack, Ocampos, it was brilliant. Full-backs running up and down. Their centre back partnership is one of the best I've seen in La Liga. It works on many levels and even the Roma manager said Sevilla are the favourites to win the Europa League and I don't think there's a better team than Sevilla. There are others that are like them, but they are certainly one of the top sides left in the competition."
How much have Sevilla improved the attacking aspect of their game?
"They played well against Barcelona and have had moments, the problem's been, while they've been growing, they put a lot of emphasis on rotating, but the attack required more work. They didn't have the players needed in that part of the pitch, but everybody's raised their level. They've shown in big games, Ocampos is the big example, he's added goals – when they were needed, there was always somebody lifting the team.
"They're not outstanding attacking wise but are very versatile in the way they attack. They are impressive as a team, collectively. They adapt very well to what the game requires."
How useful is Sevilla's past in the Europa League when heading into the last eight?
"When Pep Guardiola talks about City not having a history in Europe. He cannot go back and say they have to win like the past, raising their game because you owe it to your history. He has to create a history. For Sevilla, once they knocked Roma out, the coach said they'd done nothing. They could actually be happy to be in the quarter-finals, but the message was that it was nothing, which shows the mentality throughout the club."
Even though Champions League football is confirmed next year, how hungry will Sevilla be for silverware?
"Once you've done it so many times, you think it can be done. You look at previous squads, this one, in midfield and defence especially, they're as strong as any. Perhaps in the past they had better forwards, but you walk into the club and know qualifying for the Europa League is not enough now – Champions League must be the one.
"Once you're in a knockout competition, it's been done before, so why not now? That's a mentality you can't buy, you have it because you build it through the years."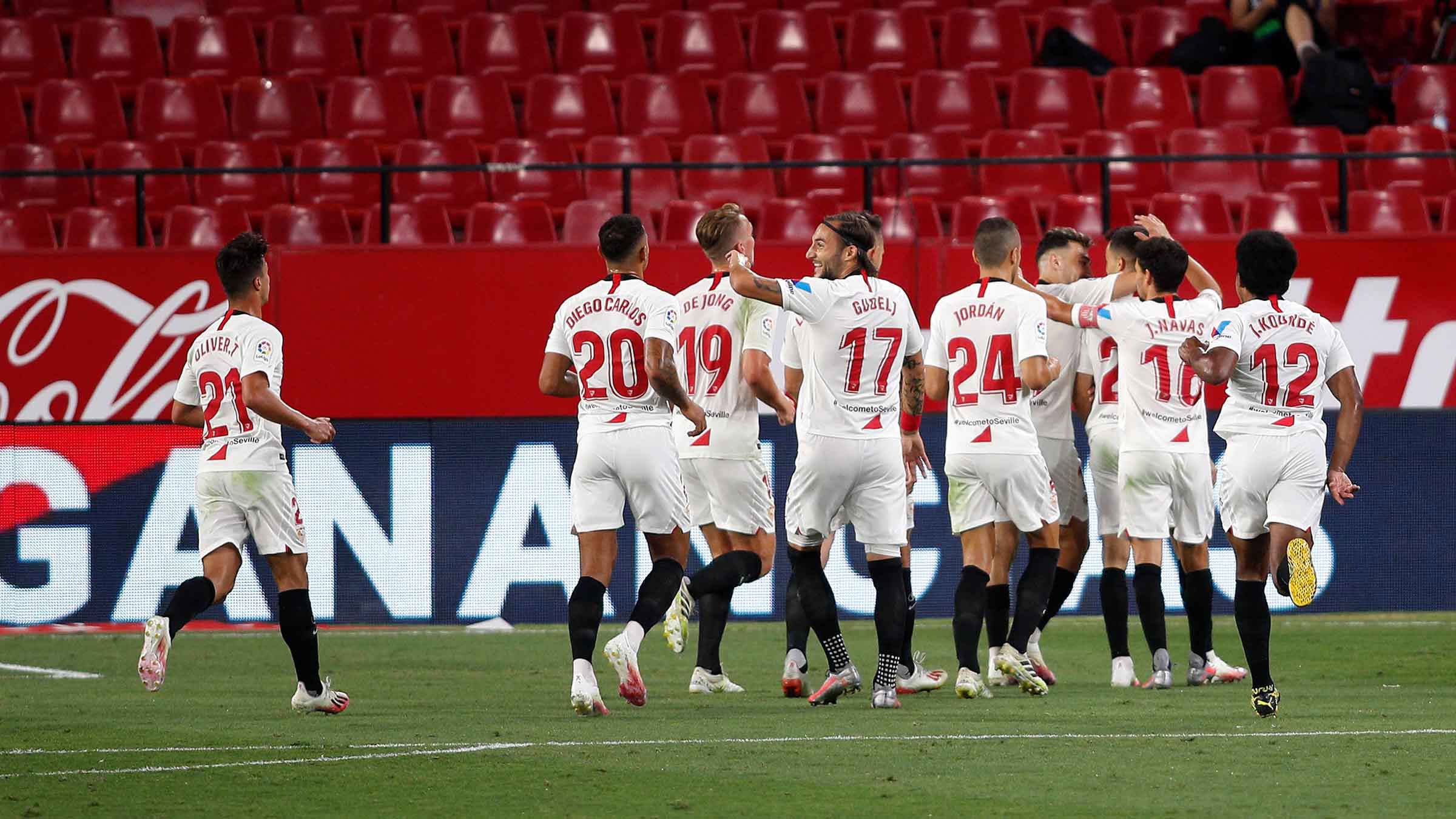 Tell us about Jesus Navas' conversion into a right-back after his days as a winger for Manchester City.
"He's the number one right-back. He doesn't stop running and his crosses are quality, which might be a surprise, because in England he rushed a lot of his decisions. It felt like he put the ball wherever, but his crosses are quality now.
"He can play two games even though he's in his 30s and defensively he's improved as well. It's a team which knows its strengths but is very aware of weaknesses and it can only work if it's the top level."
How long did it take for Julen Lopetegui to receive full backing as manager?
"At the beginning there were doubts based on one or two games. He'd just arrived and tried to implement a way of playing that required time. Now everybody is convinced, but if you look back, fans will tell you the performance against Roma, under the circumstances, against a Roma side who'd finished playing more recently, that it's the game that convinced everybody. The club never had doubts."
How do you expect Sevilla to set up against Wolves?
"It's difficult to predict. You know the full-backs will go forward. They'll probably be 4-3-3, but it changes sometimes, and you don't know what kind of striker he'll have, they have different players. They are solid, you need patterns of defending, and everybody has a role, but when they attack, they can do it in different ways – through the centre, in pockets in the middle, they can attack wide with players in the box, it's what they do.
"There's room for improvement, I don't think we've seen their best. They need to replace Banega when he leaves this summer and we'll see who they go for. What they have, they can get better. We've not seen the best of Suso and Torres."
Finally, who do you expect to win on Tuesday evening?
"Podence and Jonny Otto are not available and I think Sevilla are a better team, but when Wolves have their backs to the wall, and are not the best, they can still win. In the previous round, Wolves could easily have lost, but they didn't. They're good at defending and have a lot of pace, I feel as a team Sevilla are superior, but in one game, anything can happen."

#WOLSEV