25th July 2020
365 days have now passed since Wolves were getting their season underway by taking on Northern Irish outfit Crusaders at Molineux on 25th July 2019.
What has followed for those in gold and black has been one of Wolves' most successful, thrilling, extraordinary and unprecedented campaigns in recent memory.
"We were all obviously expecting a normal season to happen," captain Conor Coady explains as the season marks a year in the making. "We were all expecting everything to go to plan, and nobody in the world could have known what was to come.
"But looking back, I think we can be proud of what has happened in the last 365 days because I don't think any other club would have done what we've done this year. I think we can be proud as a club with what we've achieved over the year.
"We've still got a lot to play for coming into the last game of the Premier League, and the Europa League as well, but the biggest part of our year is being proud of what we've done."
A season that has the possibility to take 13 months to complete by the time the curtain is drawn on the Premier League season this weekend before the conclusion of the Europa League, Wolves were already playing competitive matches when many others had only begun their own pre-season preparations.
Thanks to a wildly impressive first season back in the top-flight of English football in 2018/19, Nuno Espirito Santo's men reached seventh in the table and a place in the second qualifying rounds of the Europa League.
This meant an early start to pre-season for Wolves, who were quickly back on British soil after lifting the Premier League Asia Trophy in Shanghai, ready to play the club's first European tie for almost 40 years.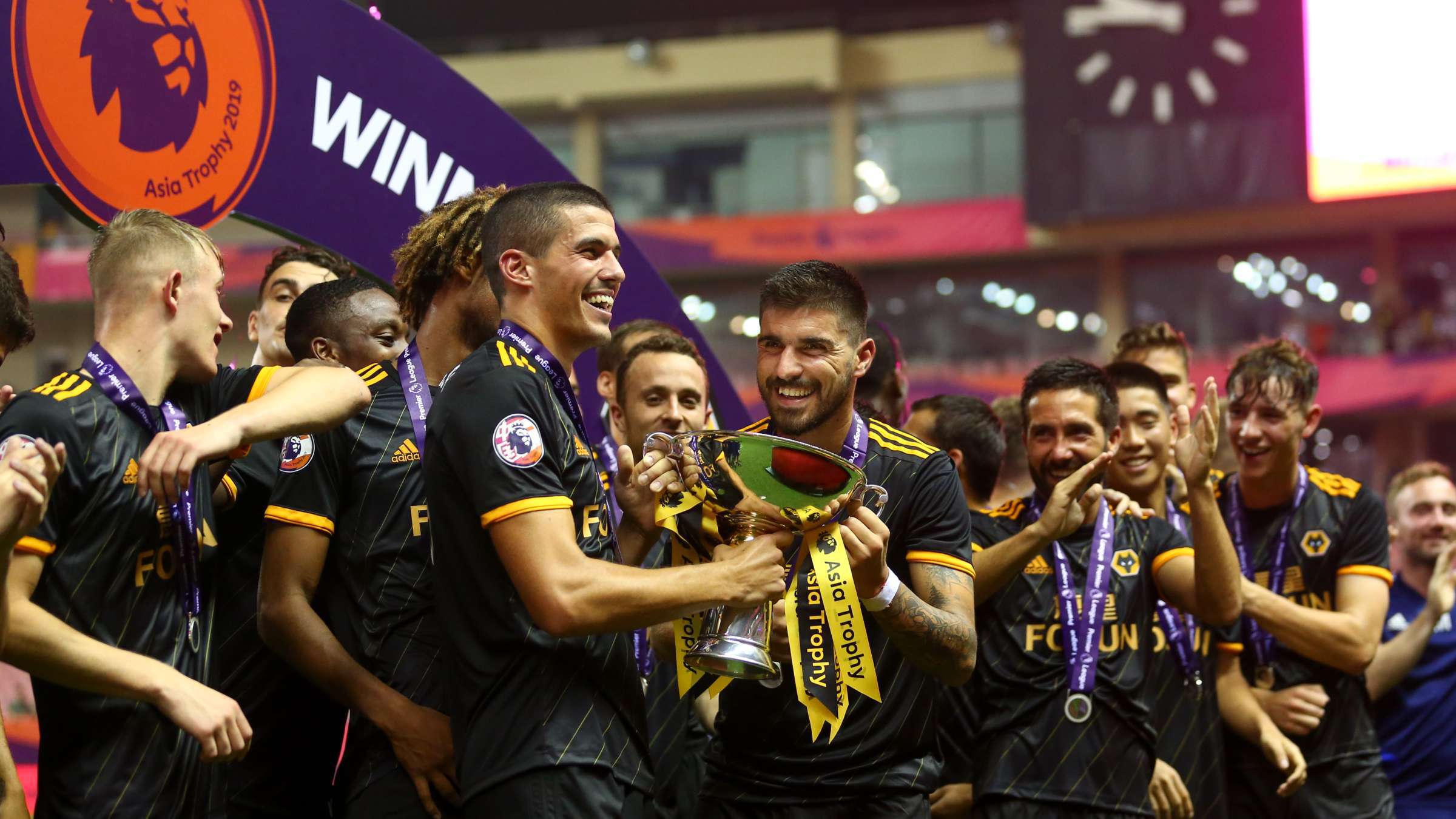 Molineux was rocking on this day exactly a year ago, as Belfast-based Crusaders were the visitors to Wolverhampton, and Diogo Jota got the season underway when he fired home after 37 minutes, allowing the 29,000 Wolves supporters inside the ground to breathe a sigh of relief, with the celebrations continuing as Ruben Vinagre put the icing on the cake in added time.
As Wolves travelled to Northern Ireland for the second leg, hearts were in mouths when Ryan Bennett put the ball past his own goalkeeper early on, but thankfully for Nuno's side, Raul Jimenez – who had only just returned to the squad following his summer exploits in the Gold Cup, which saw the Mexican named player of the tournament after helping his country to victory – equalised on the evening just two minutes later.
From that moment on, there was no looking back for Wolves who comfortably dispatched The Crues 4-1 on the night, before taking apart Armenian runners-up FC Pyunik in the third qualifying round, 8-0 on aggregate.
In between the Pyunik matches, Wolves began their Premier League campaign with a goalless draw at the King Power Stadium against Leicester. VAR, in its first weekend in operation in the competition, was the big talking point after disallowing Leander Dendoncker's effort for an apparent handball in the build-up by Willy Boly.
But being able to recover from a 4,600-mile round trip to Armenia to put in a positive performance against the Foxes was all down to the preparation of the first-team staff, according to Coady.
"The attention to detail the staff have put into the season has been first-class, especially because it's been a bit more hectic with the Europa League.
"I remember at the start of the season, we flew to Armenia to play Pyunik in one of the qualifying rounds on the Thursday and then we were flying back to Leicester to play in the Premier League on the Sunday and we were recovering on the plane.
"Coming back, we had all the different bits and bobs to help us recover; we were foam rolling, we were compexing, the lads were stretching, doing everything we could to do our bit on the plane.
"It was something that quite a lot of the lads weren't used to. We knew it was going to be a tough schedule, but everyone wanted to improve and get better and do as well as we could in the Europa League.
"You look back on it now and it was something we needed. It's happened quite a lot since then, but that moment comes to the top of my head because it was the first time it happened as we were travelling back quite a distance.
"But that all comes from the staff, because every little thing helps with us moving forwards and we knew we had to do these sorts of things to make sure we were fresh as possible for when the game arrived on the Sunday."
Wolves made it two points from the opening two league matches when Ruben Neves' wonderstrike got his team on level terms against Manchester United, and then it was three from three when Jimenez's 97th minute penalty earned a point against Burnley.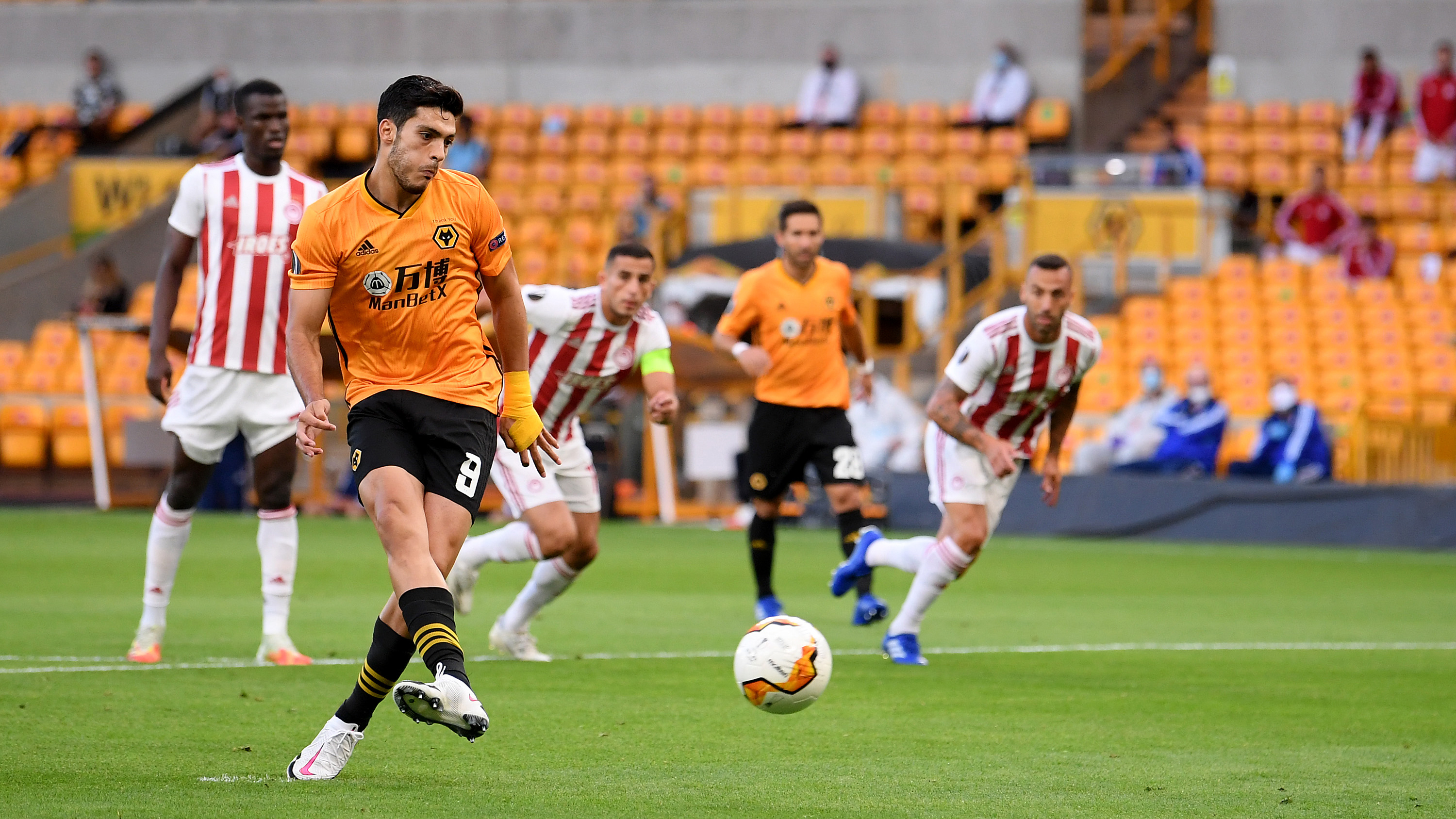 The first true test to Wolves' European pedigree came in late August with a final qualifying round tie versus Italian outfit Torino. But a 3-2 win on their travels in Turin before following that up with a 2-1 victory a week later, sending Molineux into raptures a place in the group stages was secured, meaning at least six further Europa League evenings to enjoy.
Wolves were back.
Despite the success in European competition, Wolves' Premier League campaign was stuttering. It took until 22nd September before getting the first domestic win on the board.
Nineteenth hosted 20th as Wolves invited Watford to Molineux, but Matt Doherty's early effort coupled with a Daryl Janmaat own goal saw the three points would remain in the midlands, with the victory rocketing the side up to 13th in the the table.
Wolves made it unlikely back-to-back 2-0 wins when they took on Man City at the Etihad the following weekend. An Adama Traore masterclass, with the speedster popping up with two goals in the final 15 minutes of the match, was nothing short of stupendous.
An unbeaten run of 11 top-flight matches saw Wolves through to mid-December. But how important was Jota's 95th minute equaliser at Selhurst Park the week before the Watford game?
Three defeats in a row could have caused the panic button to be pressed, but instead, the team which never gives up, never gives in, never surrenders, went on to earn further victories over Aston Villa (thanks again to Neves' long-range brilliance), Bournemouth (who can forget Joao Moutinho's magic that day) and West Ham United, as well as picking up points against Southampton, Newcastle, Arsenal, Sheffield United and Brighton & Hove Albion.
The Premier League campaign was reborn for the gold and black, as Wolves now sat in fifth position. Not a bad return for a side which had practically played Thursday-Sunday-Thursday-Sunday for the first six months of the season.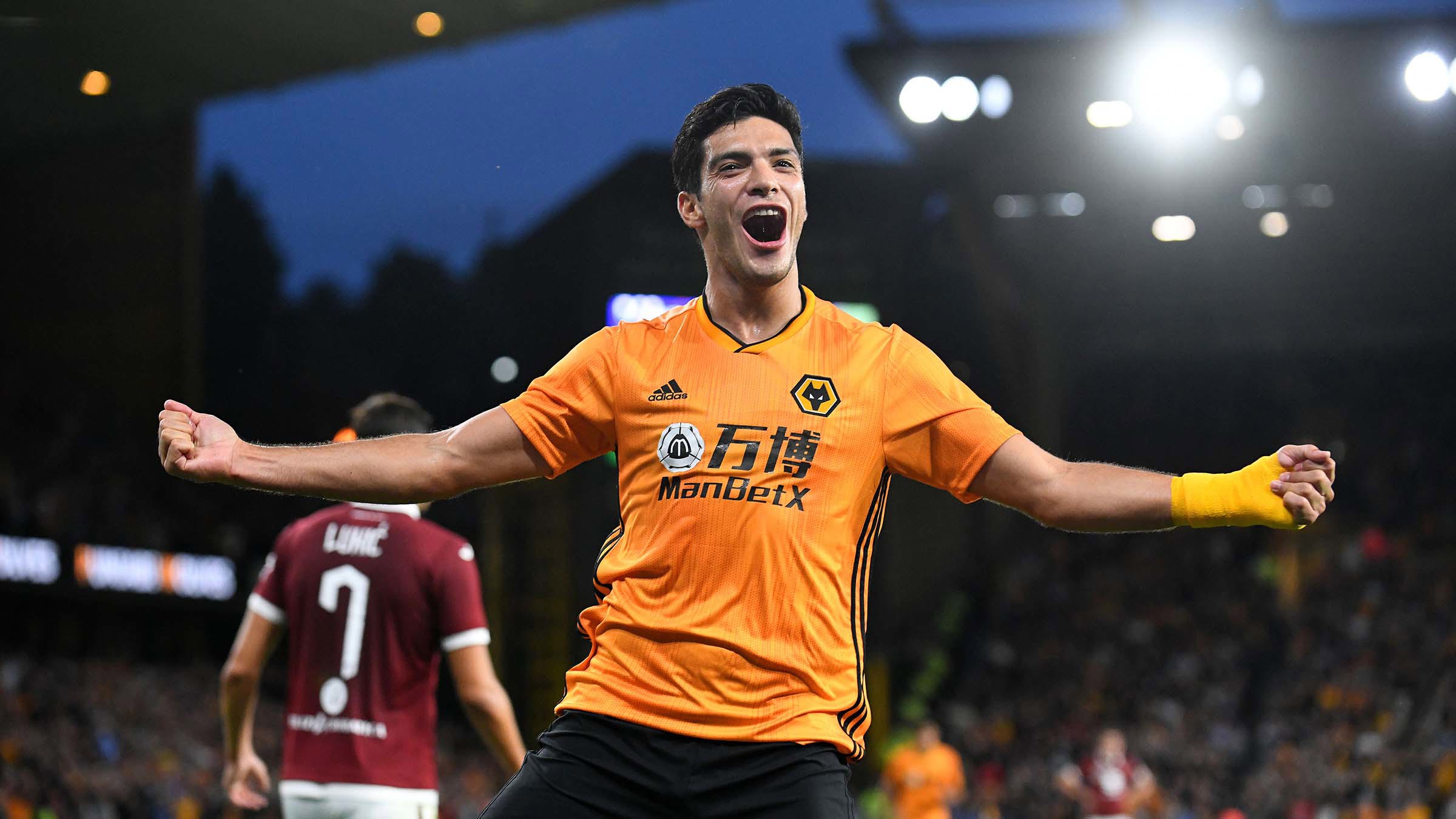 Talking about Thursdays, during that run of 11 unbeaten league matches, Wolves were also having to travel across the continent for the Europa League group stages, which offered up many memorable evenings.
After scoring 19 goals in qualifying, Wolves were one of the teams to be feared heading into the group stages, but a slow start saw Wolves fall to a single goal defeat to Portuguese side Braga on Matchday 1. But Nuno's men were able to rectify that just a few weeks later, with the never say die attitude proving to be the case once again in Turkey against Besiktas as Boly glided his shot into the bottom corner moments before the final whistle blew.
Successive games against Bratislava were next on the agenda, and despite a stadium full of schoolchildren in a 'behind closed doors' game in Slovakia and the return at Molineux which saw Neves' penalty saved by Dominik Grief, Romain Saiss and Jimenez's goals made the difference and earned back-to-back wins.
An entertaining 3-3 draw in Braga followed, during a night many Wolves supporters will remember for all the wrong reasons, but second place in the group, and passage to the knockout stages, was confirmed with a 4-0 hammering of Besiktas at Molineux.
Jota received the all plaudits for netting the club's fastest ever European hat-trick, with the Portuguese youngster needing just 12 minutes earn that feat, moments after coming off the bench.
Back in the league, and Wolves ended the year strongly. After coming from behind to earn the three points against bottom of the league Norwich City, it was another game against Man City. The third time the teams had faced this season, and Wolves were looking to maintain their unbeaten record. And maintain it they did.
The final game at Molineux of the previous decade became one of the most memorable in recent times. With City down to 10-men having had goalkeeper Ederson dismissed for brining down Jota when the striker was one-on-one, the Citizens took a two-goal lead, despite Raheem Sterling needing three attempts to put his first past Rui Patricio from the penalty spot.
Just five minutes after Sterling had made it 2-0, Traore reduced the deficit with a well struck effort from the edge of the penalty area. Just under ten minutes remained with Wolves still trailing, when Benjamin Mendy tried to let the ball roll out of play for a goal-kick, but the defender didn't count on the determination and strength of Traore, who won back possession before putting the ball on a plate for the onrushing Jimenez to turn over the line from close range.
With minutes to go, the Molineux crowd was sent into the stratosphere. Doherty picked up possession after a neat backheel pass from Jimenez before waltzing his way around the City defence and slotting the ball into the bottom corner of the net.
A stunning way to end another rollercoaster decade at Molineux.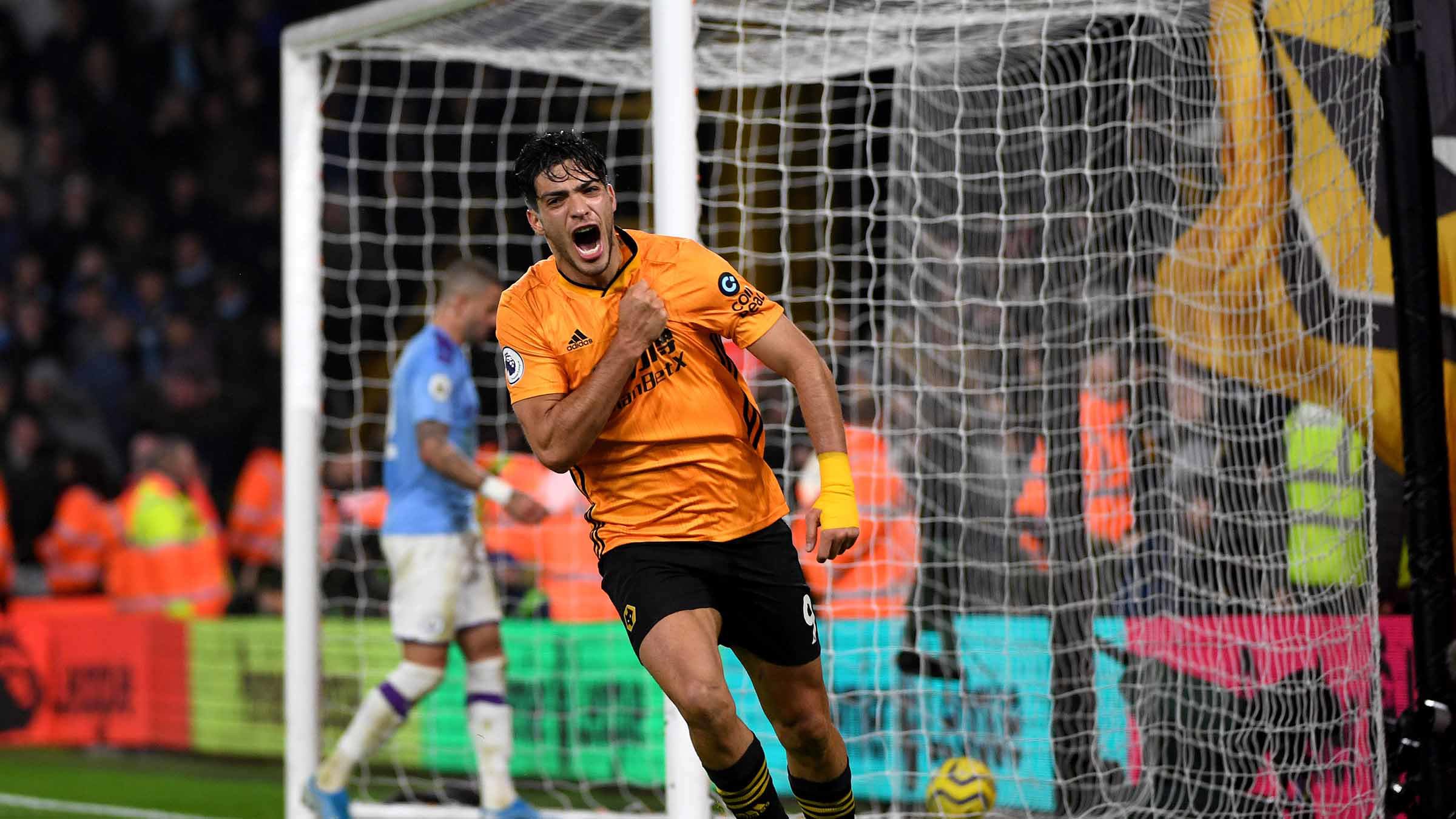 Two games against runaway Premier League champions Liverpool either side of the new year left Wolves wondering what could have been.
Had it not been for VAR, then a 1-0 loss at Anfield could have so easily have been flipped on its head, before a narrow defeat at Molineux in January showed the class of those in gold and black; going toe-to-toe with the best team in the country for much of the 90 minutes.
In between those Liverpool battles was a disappointing New Year's Day defeat to Watford, where Pedro Neto became the first teenager to score for Wolves in the Premier League after his goal against the Reds a few days earlier was controversially ruled out by VAR, a rather forgettable draw with Newcastle at Molineux, and a visit to St Mary's Stadium where we witnessed an impressive second-half fightback.
Wolves began another unbeaten league run in February. Starting with back-to-back goalless draws against Man United and Leicester, a dominant home victory against Norwich followed, while Spurs were put to the sword with another 3-2 comeback win.
With the Europa League in the round of 32 action, Wolves took on La Liga outfit Espanyol over two legs. Jota was back at it again at Molineux with his second hat-trick in consecutive European matches, while Neves also got in on the act with another stunning volley.
Despite a 3-2 defeat in the second leg in Barcelona, Wolves had done enough to earn their place in the last 16, where then 44-time Greek Super League champions Olympiacos would be the opposition.
However, just days before Wolves were due to travel to Greece, Covid-19 struck.
The outbreak sent shockwaves across the footballing world. Although concerns were raised around having to travel into mainland Europe with the spread of this deadly virus becoming more prevalent in the run-up to the last 16 tie, Wolves ventured to Piraeus and played out a 1-1 draw in difficult circumstances at the Karaiskakis Stadium.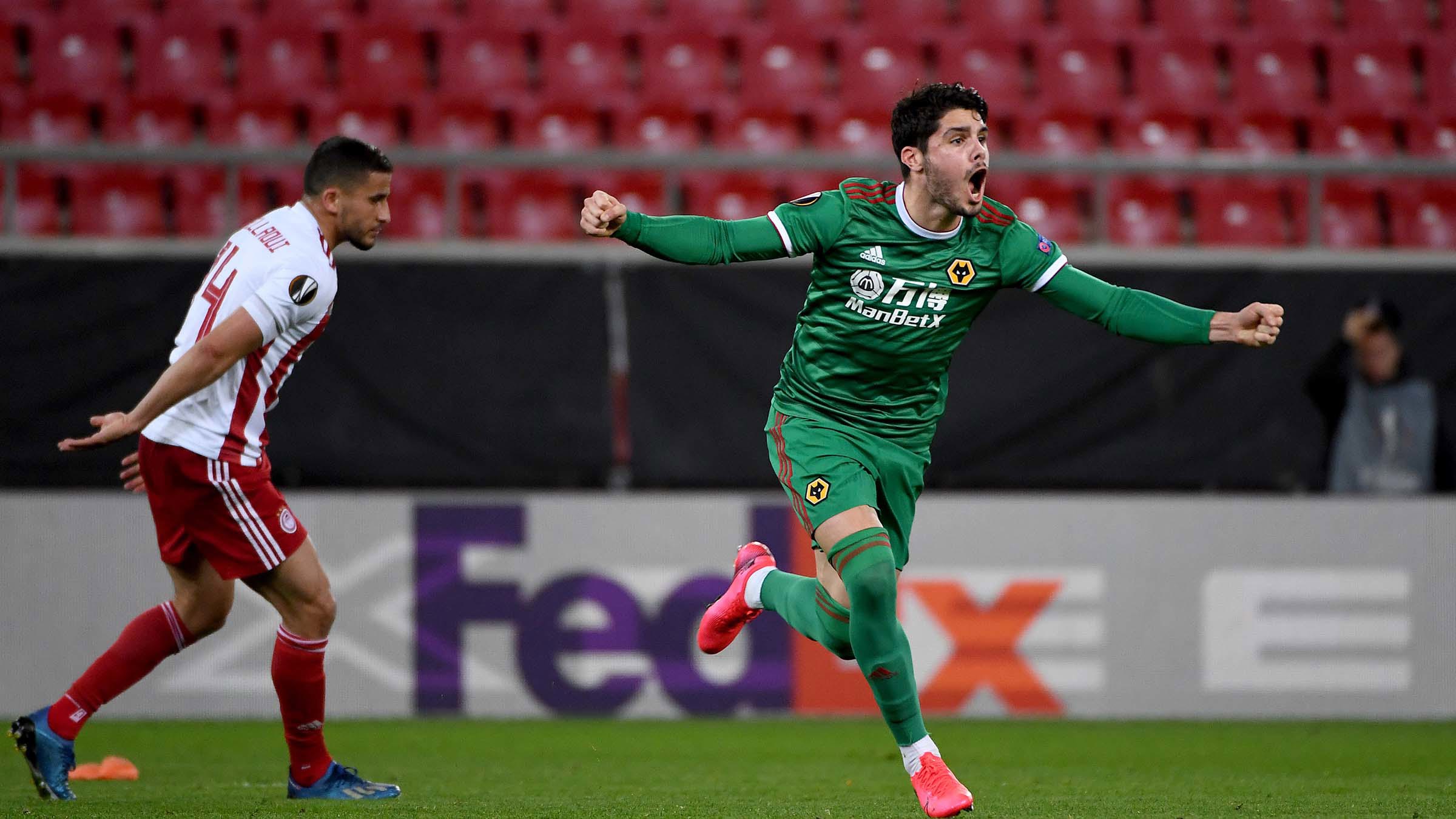 The following day, Friday 13th March, as the team were set to board the plane back to the UK, professional football was suspended for the first time since 1939 and the dawn of the Second World War.
It took 100 days before football was allowed to resume, but the players had to be alert as the season could have restarted at any point.
"It wasn't a break in the way that people might think," insists Coady. "We were still training every day because we didn't know what day we would be coming back.
"Usually when you're off in the summer, you can go on holiday, but you know you've got to be prepared and ready for the 1st of July, or whenever pre-season starts again.
"But we didn't have that with the lockdown. We were speaking to the staff every day and they were keeping us in the loop and informed on how the world was progressing, how the pandemic was moving, but it was up to us to make sure we were fit.
"They could have easily turned around to us and said, 'Right, we're back in next week, so make sure you're ready for that.'
"It was tough, but it was tough mentally for every single player, not just players at Wolves, but every single player in the Premier League and every single player in the world.
"It's been a tough situation, but all we wanted to do in the lockdown is play football. We heard rumours about the season ending, the season finishing, but all we wanted to do was carry it on and finish the season.
"That was because this season has been so good for us and we were loving every part of it."
With news of the Europa League and Champions League being postponed until August, this allowed the Premier League the space to complete the season by the end of July.
Wolves finally returned to action at the London Stadium on Saturday 20th June, showing no signs of post-lockdown fatigue, as they comfortably dispatched West Ham United 2-0 thanks to Jimenez's header and a thunderbolt volley from the boot of Neto.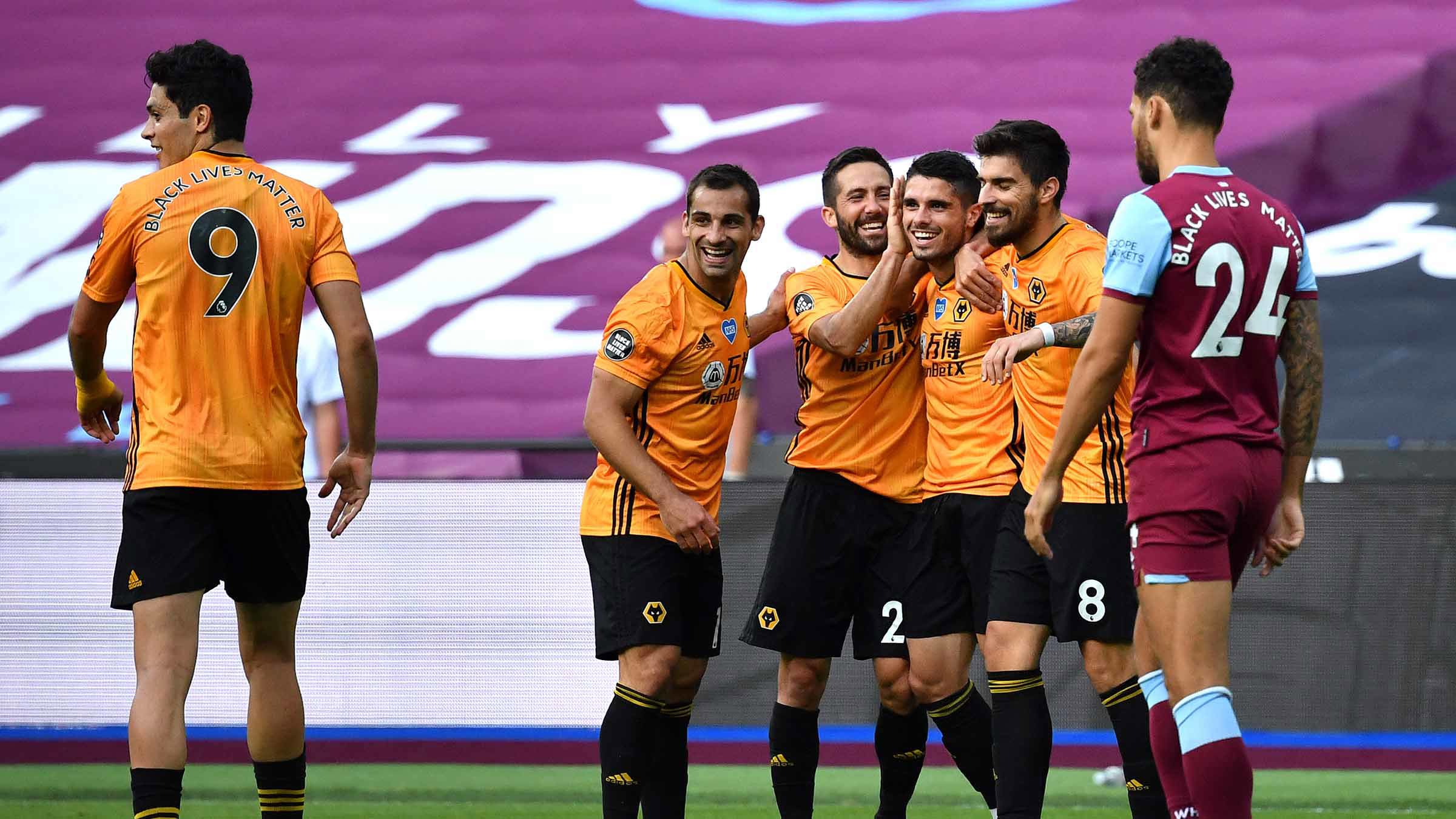 The form of the gold and black continued throughout June, with a close-fought victory over Bournemouth at an empty Molineux, which was followed up by another 1-0 win at Aston Villa.
At the end of June, Wolves were the only club to have a 100 per cent winning record following the Premier League restart, with those results seeing Nuno rewarded with the Manager of the Month award, who paid tribute to the staff who have worked tirelessly to make sure the team was in the best possible condition to return.
Nuno's words were echoed by his captain. "This season has been a massive credit to all our staff at the football club," Coady said. "What they've done has been incredible.
"We said after the first game back after lockdown at West Ham that this win was for the staff, because the way they prepare us, the way they kept us informed and kept us going was brilliant.
"They were speaking to us every day to change sessions, to make things interesting for you; make sure you're not just doing the same old runs and the doctor was keeping us informed every week with what was going on with the Covid-19 situation.
"I think a lot of what we've been able to do this season is the credit of our staff, as well as the boys because the shape they've all come back in, they wanted to play. The whole club was just ready to play football and we did everything we could to play football again."
Despite a stunning restart, Wolves would soon be bumped back down to earth, with back-to-back defeats against Arsenal and Sheffield United, putting a big dent in the possibility of finishing in the top four.
But bouncebackability is something that Nuno's Wolves are renown for, and a 3-0 win over Everton at Molineux on 12th July relit a glimmer of hope for supporters of an old gold persuasion.
Then came Burnley.
A controversial last-minute penalty decision gave the Clarets a point and confirmed a top-four finish was out of the question for this season. However, Wolves could still improve on last season's record points tally if they were to beat Crystal Palace – their 56th match of the season – five days later.
Daniel Podence's first goal for the club following a January move from Europa League opponents Olympiacos and a brilliant effort on the turn for Jonny meant that Nuno's men would achieve that feat – signalling the club's greatest top-flight points tally since the 1970s.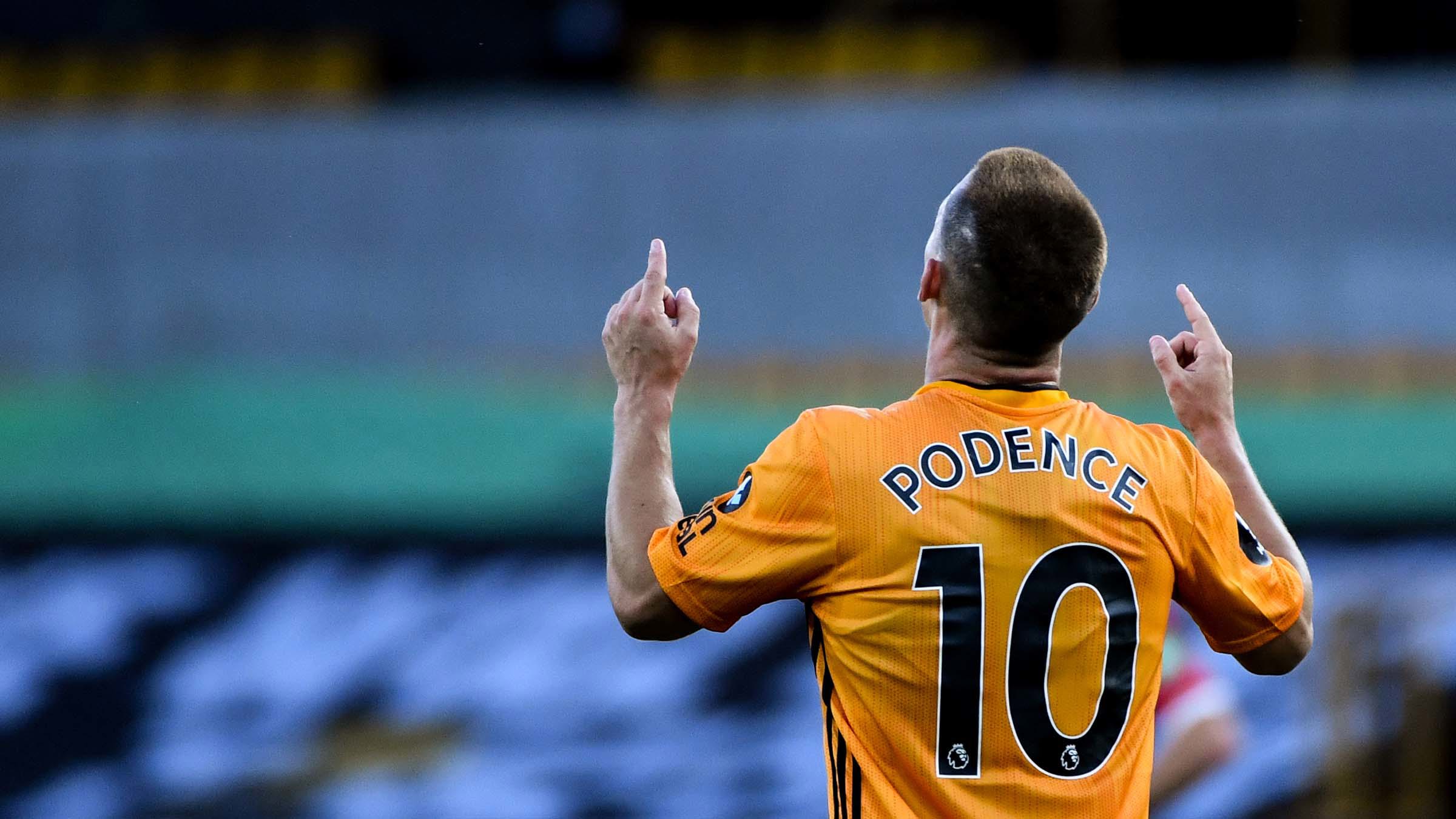 Coady said: "A lot of people have spoken about us this year regarding the amount of games we've played, but as players, we just want to play football.
"We're happy to be playing as many games as possible and it's something we live for every day, to be playing football games. There's nothing better than doing what we've been doing in the competitions.
"We always take it a game at a time, and we won't be looking further ahead than Sunday's game with Chelsea, but the future is very exciting and I think it's exciting for every football fan in the world to know that the amount of football which will be coming up."
Tomorrow's Premier League clash with Chelsea will mark the end of an unprecedented league season for the men in gold and black.
But it doesn't stop there.
Following a 10-day break, Wolves will be back at Molineux – unfortunately behind closed doors – to finally complete their Europa League last 16 tie with the Greek champions, who confirmed their 45th league title last weekend.
Although the 2020/21 season is expected to begin in September, Coady insists that the Wolves squad will not be hoping for an extended off-season, as they want this campaign to continue all the way till the 21st of August in Cologne, which would fall just six short of an incredible 400-day season.
"For us, we never, ever look too far ahead. For me as a player, I've never once thought about a holiday or having time off.
"The next one for us is Chelsea where we're massively focused on trying to get a positive result against them to finish off the season well and finish the season with what we deserve.
"The amount we've put into this season and everything that's come with it as players and as a club, we're fully focused on that because we don't know when the season is going to finish for us.
"As a team, we want it to go on as long as possible because of the competitions that we're in. We're not looking too far ahead, we just want to finish off this incredible season as well as we possibly can."

Long Reads
#CHEWOL