26th May 2020
Matt Murray believes Wolves' Division One play-off final win over Sheffield United in 2003 was a real team effort, despite picking up the man-of-the-match award for a crucial second-half penalty save.
17 years to the day since the 3-0 win over the Blades at Cardiff's Millennium Stadium, the goalkeeper joins Mikey Burrows and Chris Iwelumo from 8pm this evening to relive one of the most memorable games in Wolves history, along with several of his squad who played a key part in that season.
In what was to be the biggest game of his promising career which was blighted by injury, Murray reflects on the perfect end to his debut season after being handed the number one shirt after graduating from the Academy of the club he had been at since a young age.
Supporters can catch the latest episode of Big Match Revisited on Wolves' official YouTube channel, with Joleon Lescott, Lee Naylor, Kenny Miller, Colin Cameron and manager Dave Jones also joining Murray in looking back at a game which forever be remembered.
On calming his nerves ahead of the match
"For me, it was the biggest game of my career by far, other players had already played in finals before, but for me, this ended up being the biggest game I was ever going to play in.
"I remember two night before we travelled down and Darren Campbell, 'Blakey' [Nathan Blake], George Ndah, 'Incey' [Paul Ince], everyone was in our room and we were chatting.
"Darren Campbell said to me, 'Are you alright big man? What's happening?' And I said, 'Look, I'm cool, I'm just nervous looking ahead to the game.'
"And he spoke about it and the words of wisdom really calmed me down. He said, 'You haven't just arrived here in the final. Everything you've done since the age of eight or nine, going to training and everything else, has prepared you for this moment.
"'As a sprinter, I train for four years and if I false start, my Olympics is done.' He said, 'Just enjoy it and prepare the best you can.' I always remember those words really calming me down and gave me the feeling that I belong there.
"Looking back, when I had that chat with Darren, he probably doesn't think much of it, but they were really good words of wisdom that helped me get a good night's sleep."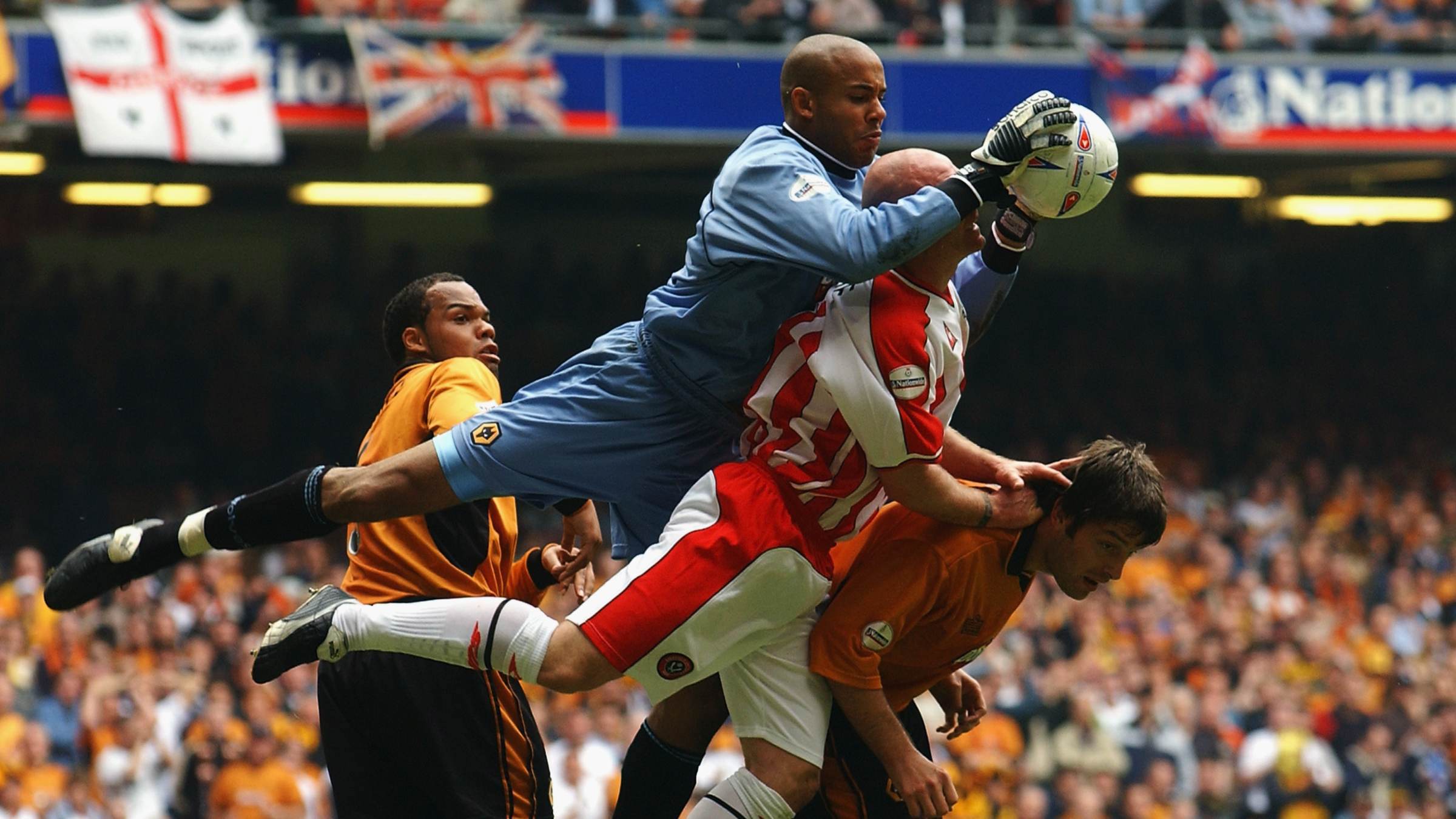 On saving Michael Brown's penalty
"I've never watched it back or spoken about it since! We would practice penalties in the week leading up to the game because we thought it would be such a tight game and might go to a penalty shootout.
"We'd been pretty even during the season and only played them a few weeks before, towards the end of the league season, so penalties were something I practiced with Bobby Mimms [goalkeeper coach] and with the players behind.
"Something Dean Sturridge had spoken about was that he wanted to go to the keeper's left because he took five or six penalties that season, so that's why I showed him that little bit more space.
"It was nice to have that moment, the only thing was that [Steve] Kabba put the rebound behind and I had to take a goal kick and, you know me, I don't like taking goal kicks, I'd rather it have gone out for a corner!
"The plus bit was bouncing into 'Nails' [Lee Naylor] and wiping him out, but that's why I look so serious after it because I'm thinking about having to take a goal kick!
"The thing that's most crazy about this game, is actually a few of the goals came from my kicking, and that never, ever happened.
"They're not quite on the level with the quality of the finishes, but it was a great day with all the guys. The goal Kenny [Miller] scored just before half-time was such a calming moment."
On a great end to his debut senior season
"It was a nice debut season for me, but I just felt on that day, we were all at it, every single one of us to a man.
"They had a great team, had a lot of good players, got to the semi-finals of both cup competitions, they beat us earlier in the season, but I still felt that on that morning, when we had a walk and just with the team we had; the goalscoring form Kenny was in, the blend of youth and experience, I just knew – especially when we got those early goals – it just felt like our day."
On being one part of a collective squad
"The whole team complimented each other. You knew on the wings you had 'Newts' [Shaun Newton] and 'Sparky' [Mark Kennedy], so if I caught a cross, they were on their way.
"'Butts' [Paul Butler] and Joleon would protect you, we had that triangle so they knew they had to block or get back on the goal line, the conditions were fantastic, absolutely bang on, and everyone knows I'm not Ederson, playing out from the back in that way, so I was never asked to do that.
"What I would do is throw it out or hit areas that would help the team, but the whole team all the way round was perfect. I just felt that as a team we all really trusted each other, we demanded from each other, whether that was in training or games, but I just felt that the camaraderie was really good.
"Dave Jones had also built a really good team with the youth and experience, and I just felt the blend was right, so it was a nice game for me, but the early goal settled us down and everybody's first touch just seemed to go well for them. We grew and grew, and I just knew it was going to be our day."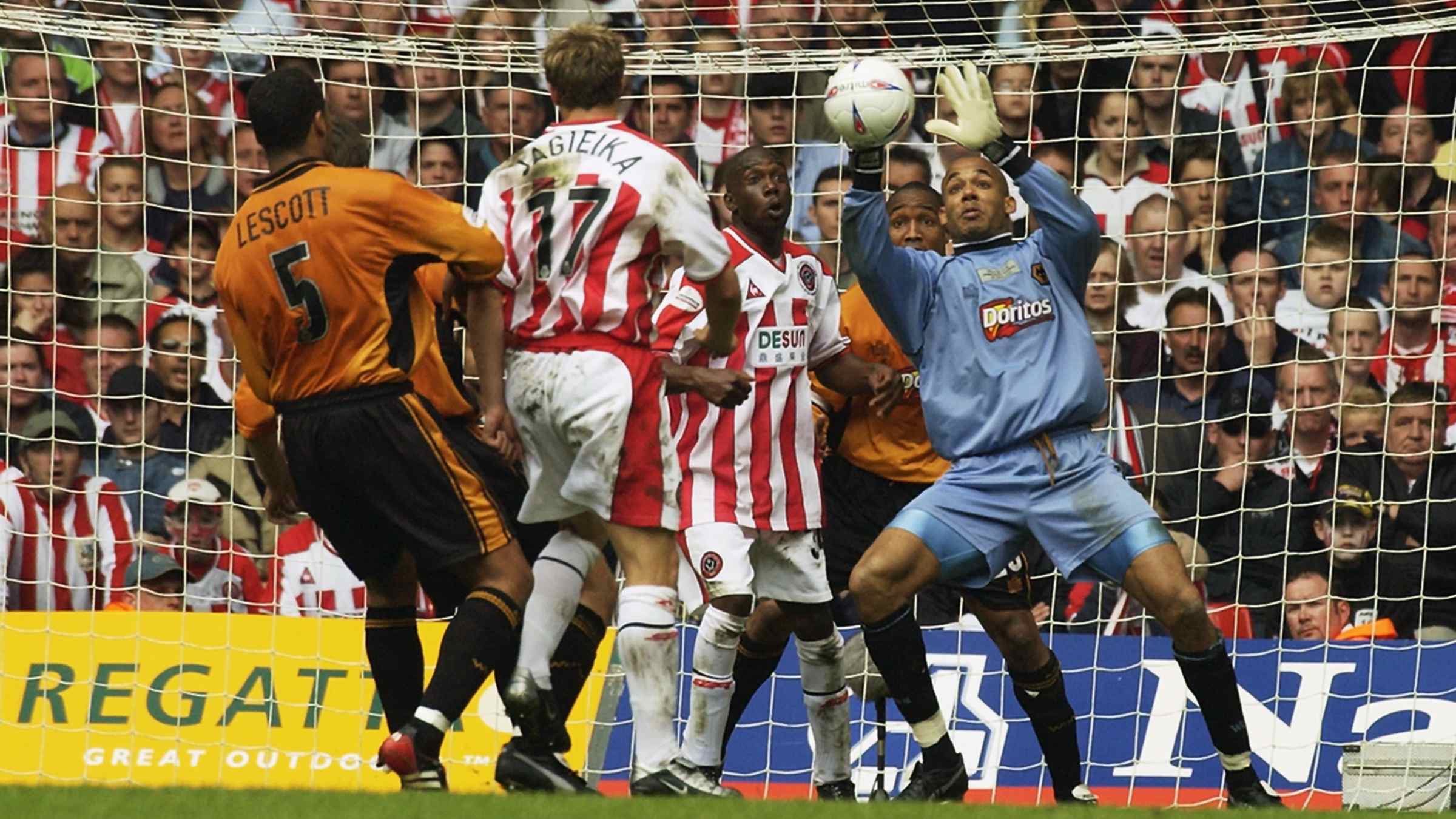 On beating out Michael Oakes for the number one spot
"Growing up, there were times when I did have to stand up for myself and have that side to me. I would like to think that I'm a friendly, easy going guy, but that gaffer would tell you that when he first came into the club, he tore a few strips off me.
"I had to react one way or the other; was I going to be this nice guy who's everybody's friend, or was I going to be everybody's friend at the right times but do things that were best for my career.
"That was a chat the gaffer had with me, but from that I went in the gym and did my stuff. I knew there were things I couldn't do as well as Michael Oakes, but if I played in the team, kept the ball out of the net and took crosses – you either don't come for crosses or you do – and that was something that with my activities I was able to do.
"Of course, I got a few wrong, but I felt I got more right than wrong. When they were using long throws into the box as weapons, I felt that was something that would be a super strength for mine to get me in the team and keep me in the team.
"This was a perfect game for me and it was a nice finish to the season, I just wish I could have built on it."
The latest edition of the must-see 90-minute Old Gold Club: Big Match Revisited premieres at 8pm on Tuesday on Wolves' YouTube channel, before being available in the archive at tv.wolves.co.uk.
Big Match Revisited will be powered by Blyth Group, an industry-leading construction company driving investment and infrastructure across the UK.

#OldGoldClub