25th May 2020
A Wolves Academy graduate who many tipped to become one of the best goalkeepers in world football if not for several major injuries, Matt Murray made exactly 100 appearances for the old gold, in a career which will always be remembered for one afternoon in Cardiff.
THE MOVE
I was nine-years-old and playing for a local team in Litchfield. My Sunday League manager was a Wolves fan and an apprentice at Wolves, Dave Read, would come and coach the team. The Centre of Excellence was just starting up and I was invited along to East Park to trial and from that, Rob Kelly offered me forms, and year on year, I just kept signing.
WOLVES DEBUT
I'd had a good pre-season in 2002/03 and Michael Oakes picked up an injury against Sheffield Wednesday and had to do a fitness test on the morning of the Wimbledon game, but Dave Jones named the team and I was in it. I was well nervous on the morning of the game that I was actually sick! It was Wimbledon away at Selhurst Park, and we took more fans away than they had at home as they were boycotting the games, so it was a small crowd at a big stadium. I conceded very early on and we lost the game 3-2, but I will never forget the game and making my debut. My home debut was Reading where we lost 1-0 but I got man of the match.
BEST GAME
My best performances were when we went down to nine men against Norwich and West Brom at home when we won 1-0, both of those were under Mick McCarthy. But the game that will live longest in Wolves fans' memories would be the play-off final because I saved a penalty, and the magnitude of the game, when you joined the club at nine, you've seen all the heartaches in the play-offs before, to finally get to the Premier League when you're playing alongside many of your youth team friends, to see that wall of gold and black, and just what it meant to everybody, I'll have to say the play-off final.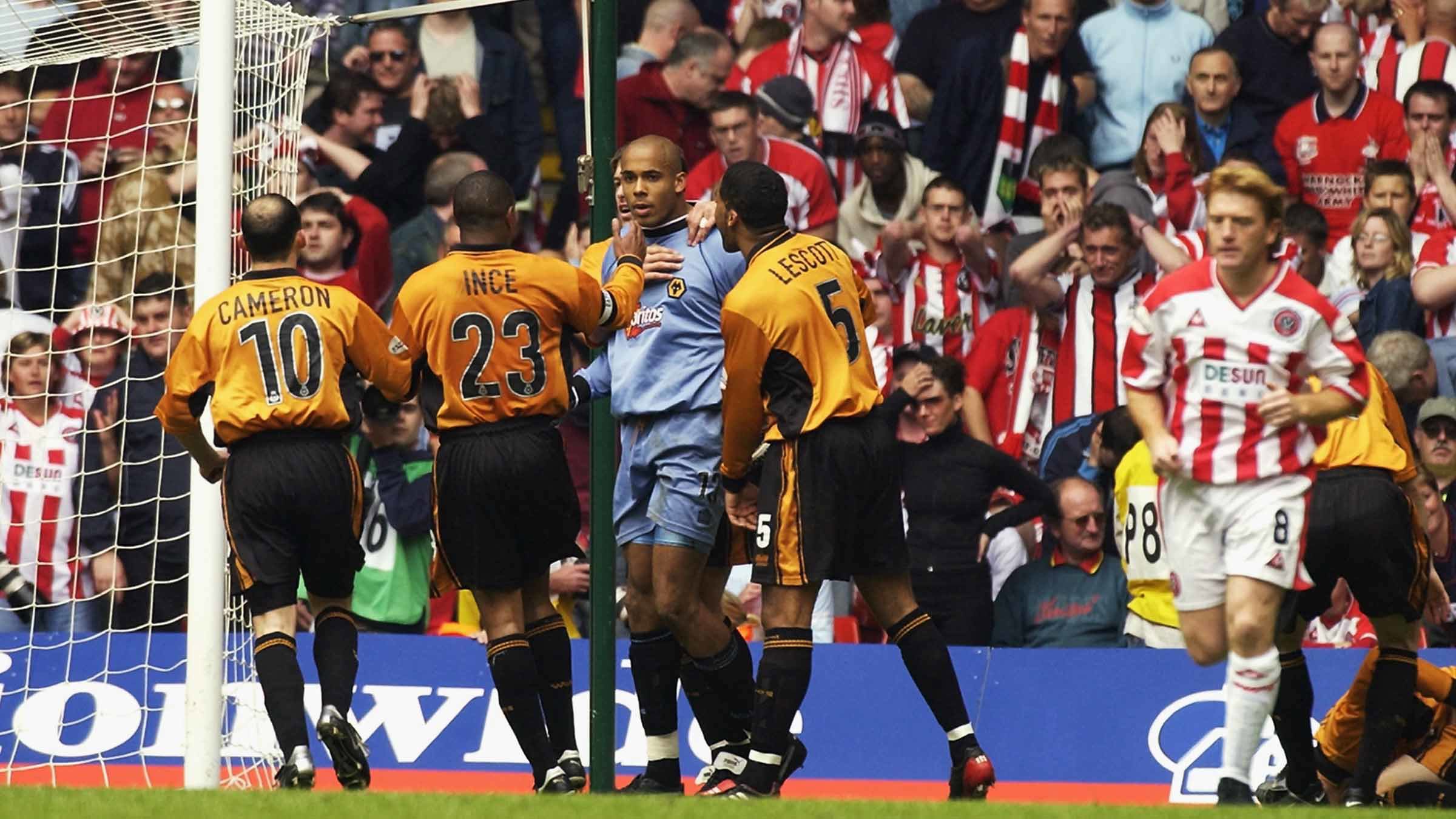 WORST GAME
The one that stands out to me was the one where we lost 6-0 at home to Southampton. Obviously, I didn't play well, but the team played well, which was proved by their goalkeeper, Bartosz Bialkowski, being named man of the match. When I was at school, we did an exchange thing and I went to Germany and the German lad came here, and he had tracked me down and flew in for that game. I got him and his sister picked up and driven to the game, and I got the g olden glove for the most clean sheets in the league that season, yet when he came all this way to watch me – I could see him sat in the stands – I let in goal after goal!
BEST PLAYER
I was lucky that I had the chance to play with Steve Bull, as well as Robbie Keane, Denis Irwin, Paul Ince, Dean Richards – god bless his soul – all fantastic players, but the one I would say was always the best and I played the majority of my games with that was always so influential was Joleon Lescott – even though he did go on to play a few games for those lot down the road! He loved when he faced the top strikers in the league, he would thrive on playing them, and he studied the game so well. Dispending on the type of striker he was up against he would change his game to make sure he got the better of them. As a goalkeeper, he also gave me a lot of confidence knowing he was there in front of me as I knew he would be on top of his game week in, week out.
BEST TRAINER
Carl Ikeme was a fantastic trainer. When he came in at 16, I was in the first-team and you could see he had the athleticism, good distribution, and ability to make top saves, but his technical side – because he hadn't been overly coached – was very raw. But he trained so hard every day, and picked things up so quickly, that he became one of the best technicians I ever worked with. I'd also give a special mention to Jody Craddock who was an immense professional and would always give his all. When he retired, he said he knows he couldn't have had a better career as he got every bit out of himself.
WORST TRAINER
Paul Ince. He chipped me once in training – an unbelievable chip – and after he scored, although there was still quite a bit of the session to go, he just jogged off the pitch and went for a massage! When he wanted to he would train hard, but when he was at Wolves he was at the stage of his career that he didn't have to – he'd earned that right, because when it came to matchday he would turn it on. He trained to play and did whatever was right so on a matchday he would peak.
ROOM MATE
Early on it was Lee Naylor and Adam Proudlock, but because I'm a crazy sleeper and would sleep walk, sleep talk and wake up with goalie gloves on, I ended up rooming on my own.
BIGGEST JOKER
Steve Sedgley. I was in the dressing room at Wolves for a long time and there were some funny people and good characters – Stephen Hunt, Michael Kightly – but the one I've never seen surpassed is Steve Sedgley, he was unbelievable. I don't think I could repeat some of the things he did.
BEST MANAGER
I worked under some very good managers for different reasons, but the one that got the best out of the squad, connected most with the fans, developed players, overachieved really and is still held in such high affections is Mick McCarthy. A brilliant human being. There were very few players who didn't like him, but 100 per cent of players respected him.
ROLE IN CURRENT SQUAD
I'd love to think I could stay fit! The level of goalkeeping at Wolves now is very high, but you always believe you could go in there and do your part. As a fan, this is the best Wolves team I've seen, and I'd love to play with someone like Conor Coady. That would be an absolute dream. I've got a bit of a football crush on Conor, everything about him is great. I'd love to play in this team now and be an experienced head and be part of this great journey the club is on. It would be a hard team to get into, because I've played with some good Wolves sides, but this is the best I've ever seen.
Wolves Scrapbooks