8th May 2020
Michael Kightly made more than 100 appearances in old gold and was a star of Mick McCarthy's 2008/09 promotion-winning side, and now reflects on his time at Molineux.
SIGNING
I got a phone call from my ex manager at Grays, Mark Stimson, to say that someone was interested in signing me and would I be interested in going. I asked about the club and he said it's "a proper club, a top club". He made me guess and I knew Mansfield and Notts County had been interested, so I mentioned those, but when he said Wolves, I couldn't believe it. As soon as he told me they were putting an offer in I was so excited and couldn't wait to get up to Wolves. Once I met Mick McCarthy and looked around the training ground, there was only one club I was ever going to sign for. I was going to go to Forest on the same day and have talks there too, but after meeting Mick there was only one choice for me. 
WOLVES DEBUT
It was against Southend which was the club that released me, which was weird. I had an average game, didn't do too well, didn't to too bad. It was my second game, away at QPR, where things really went well, I scored and we won 1-0, so from there I didn't look back.
FIRST GOAL
The QPR one, it came across from the left and I managed to get a volley on it, left-footed, and it went in the bottom corner. It was at the end my mum and family were at, I remember looking at them in the crowd and they were chuffed to bits, so it was a good day.
BEST MANAGER
Mick was my only manager really at Wolves. I had Terry Connor for a bit and Solbakken for a short while, but Mick was really good. What he did at the club was great and he's gone on to do well at other clubs and now at international level.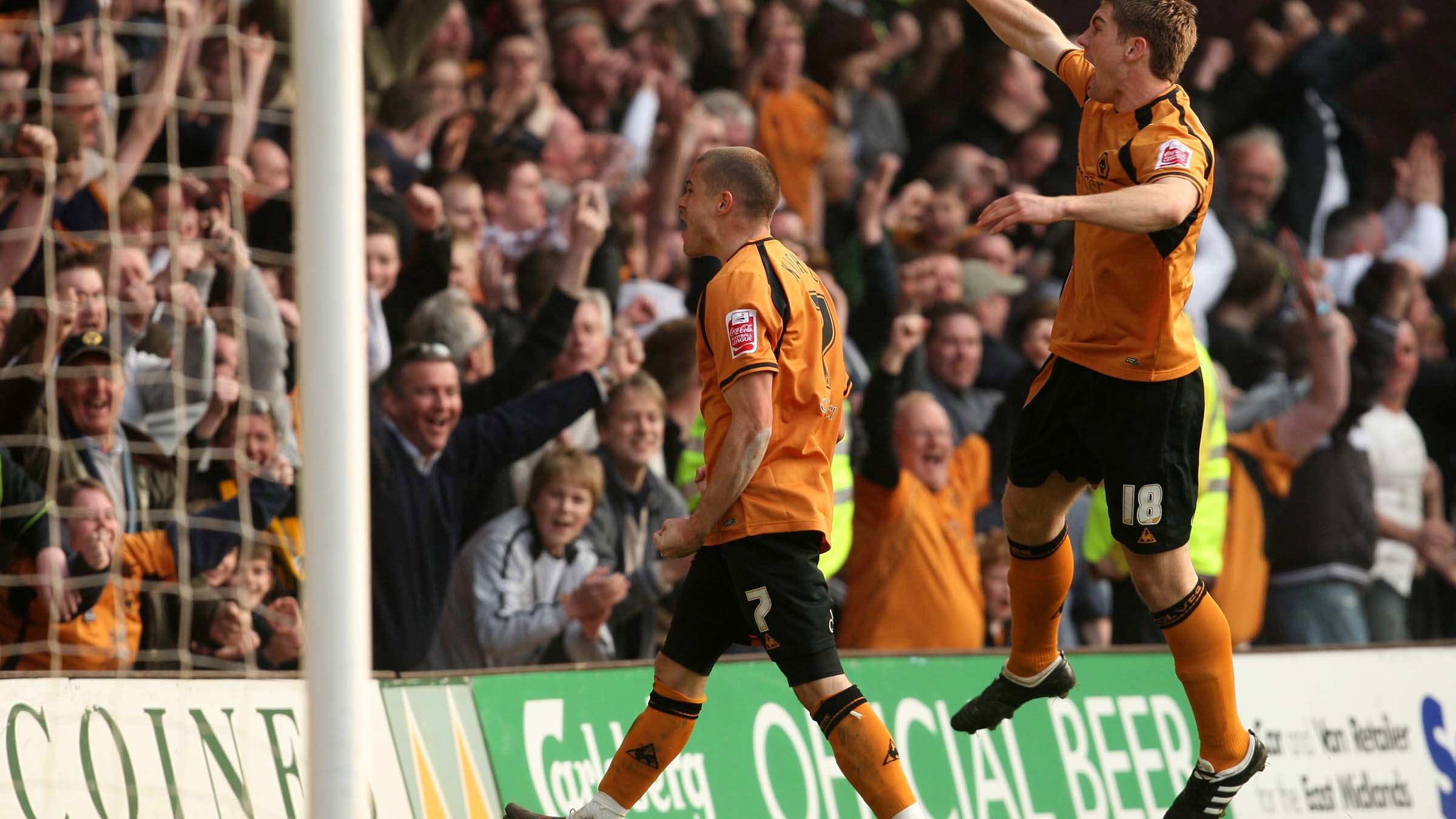 BEST PLAYER
I think Ebanks-Blake with the goals he scored. He won the golden boot two years on the spin and if he was to do that now he'd be getting sold for 30, 40 million. Gary Breen stuck out too, he was very clever. I don't think people realised how good he was – I learnt a lot from him in my first six months at the club.
BEST GAME
For me, personally, after being out injured, I came back and we played Aston Villa at home in the Premier League, and I scored my first Premier League goal for Wolves. It was an emotional moment for me. As for the team, we beat Forest 5-0 the season we won promotion and everyone was on it, it was a good day.
WORST GAME
Probably the Play-Offs in my first year, when we got beat by West Brom. We weren't expected to do very well, but we got into the Play-Offs and if we could have beat West Brom in the semi-final I think we would have got promoted, but we didn't quite have enough. There was the game when Mick got the sack and we lost to West Brom too.
BEST TRAINER
Dave Jones was a very good trainer, I spent time with him at Burnley as well and he always trained well and kept high standards.
WORST TRAINER
It's mad but Ebanks-Blake was probably one of the worst trainers, but he used to score on a matchday and be a real threat.
ROOM MATE
I used to stay with Andy Keogh. We joined the club at a similar time and are we similar sort of lads, so we roomed together, and I enjoyed it. I still speak to him today and we get on really well, but in fairness we had a really good group that all got on, there was no cliques in the dressing room which was important. I'm still in contract with a lot of the lads now.
THEN VERSUS NOW
To be honest, I think we'd probably get beat. We had a really good team at the time, but the team now, I've been doing a lot of media work, watching them, and there's some really good players. They are two different styles, on our day we could probably beat them, but overall this is a better team, more equipped for the Premier League than we probably were, and it's good to see them doing really well.

Wolves Scrapbooks