1st April 2020
A proud member of the Wolves Hall of Fame, Andy Mutch made more than 300 appearances in old gold and formed a formidable partnership with Steve Bull in attack.
SIGNING
I'd left Everton as a young professional and went into non-league with Southport. We had a good cup run and played Kidderminster. We drew the first game and played the second game at Kidderminster on a Tuesday night. Sammy Chapman was watching the game, he liked what he saw so made inquires and I ended up signing.
WOLVES DEBUT
We played at home to Rotherham. Geoff Palmer, at the end of his career, played that day. We drew 0-0 and Geoff missed a penalty, but we laugh about it now.
FIRST GOAL
I came in late February and we were bottom of the league, to go into League Two now. I didn't score for four or five games but managed to get one against Bristol City. I don't remember the finish, but I ended up scoring seven goals. When I started playing, I found it really difficult adjusting to the Football League, after almost a year in non-league, but we were given an opportunity because there weren't many players around to take your place. The more games we played, the more we sussed it out.
WORST GAME
We played Chorley in the FA Cup and they beat us which was devastating for everyone concerned, players, club, management, the lot. It was at a stage where the club was at its lowest ebb, most of the lads who played left pretty quickly, I was one of the only ones who stayed. At that time, they signed 'Bully' and 'Thommo', they watched the game from the stand, but that was a really disappointing day.
BEST MOMENT
I'd say just the general experience of coming into the club and stamping my mark. We got the support and became a successful side, climbing the leagues and winning at Wembley. It was a great set of lads, with good team spirit, and it'll never be forgotten, not only by us, but everyone at the club. The great thing for me was the support we had, they were urging us to reincarnate the club, everywhere we went away from home there was thousands of fans, which wasn't the norm. We were close with the supporters and that made it what it was.
BEST PLAYER
It's got to be 'Bully'. Robbie Dennison wasn't bad, nor 'Thommo', they were all good players and all good, honest lads – they never got above their station. We grafted and worked for each other. I played with 'Gazza' and Gary Pallister at the top of their game, but I only had a few games there, on a consistent basis we had some really good players at Wolves.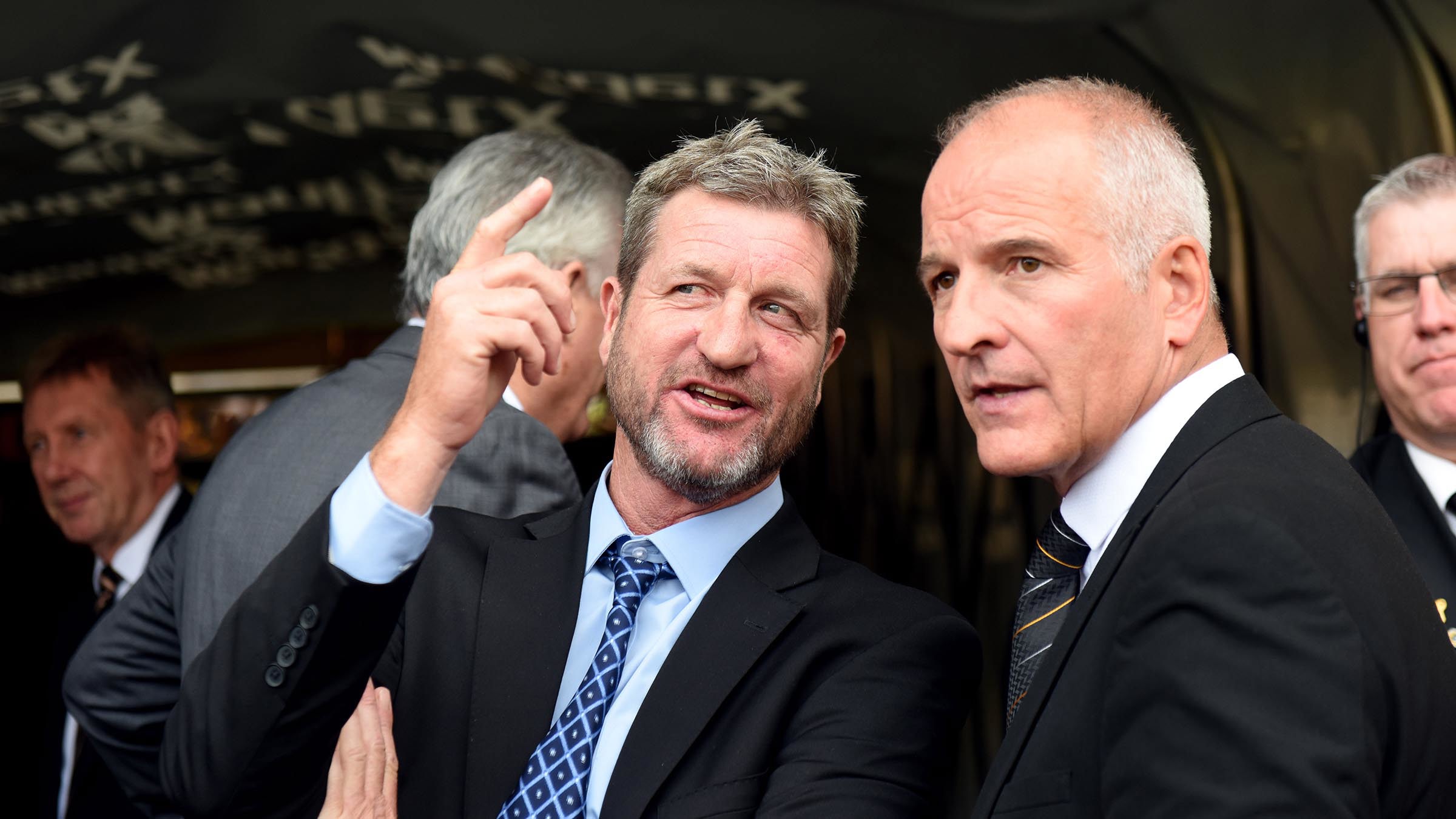 BEST TRAINER
Me and 'Bully' were the worst at the long-distance running. All the lads grafted as part of the success. You look at the current Wolves side, we saw how successful they were last season, but it was the organisation and work rate of the player which stood out more than anything. They're all cracking players, but what is clear is the commitment and will to win games of football, and that goes for any team that does well.
ROOM MATE
I roomed with Floyd Street for a number of years, a great defender and great lad, then when he left, I roomed with Paul Cook, who is good lad and is doing well for himself. We had a good laugh with all the lads, there was no little corners, we were all in it together which was fantastic.
THEN VERSUS NOW
In honesty, the game's changed so much now. You look at the pitches now, they're amazing. If we played on these pitches, what could we have done? That's why Diego Maradona was the best player who ever lived, he played on quagmires, got kicked to death and produced what he did. Imagine if he played on these pitches now. It's hard to compare then and now, but obviously Wolves are a top side playing in the Premier League, so you'd have your work cut out.

Wolves Scrapbooks