29th March 2020
Stepping out more than 600 times in gold and black during a 16-year career at Molineux, Wolves' highest ever appearance maker Derek Parkin will forever be remembered for his dedicated service to the club where he won both the 1974 and 1980 League Cups.
THE MOVE
I was at Huddersfield when we played the Wolves twice during the Easter period of 1967 and it stemmed from there. It was inevitable that I was moving, I was getting a lot of publicity, and the Wolves came in. Back in those days, you didn't have any say as a player, you just went where they told you to go – and if you didn't go there was going to be trouble, that's for sure.
WOLVES DEBUT
It was against Liverpool down here at Molineux and we drew. But my second game – funnily enough – was against Newcastle and being from Newcastle myself, growing up as a Newcastle supporter, I couldn't believe it. It was incredible. I was never the biggest of Newcastle fans, because back in those days my family were quite poor and my mum couldn't afford for me to go down to watch them. In the early 70s, I was out of the game for about six months and missed half the season because of a serious injury, and my first game back from that was against Newcastle again – it's such a coincidence.
FIRST GOAL
I can't remember what my first goal was. I was never renowned for being a goalscorer as I barely ever went over the half-way line! It was always nice to score, but back then full-backs wouldn't score. You were told to defend, that was your job and that's all you did. Clean sheets meant more for defenders, and especially for the managers at that time because you only needed to lose a couple of games and you'd be out.
BEST GAME
I really enjoyed me time at Wolves. They were great years and I was involved in so many great games but the one that sticks out to me was the '74 League Cup Final. This was because it looked like I was finished again because I had a bit of a heart murmur. I came back the following season and we beat a very good Manchester City side at Wembley. I suppose that was the highlight of my career because I came so close to missing it and so close to going out of the game because of this heart defect, so to win at Wembley was the icing on the cake.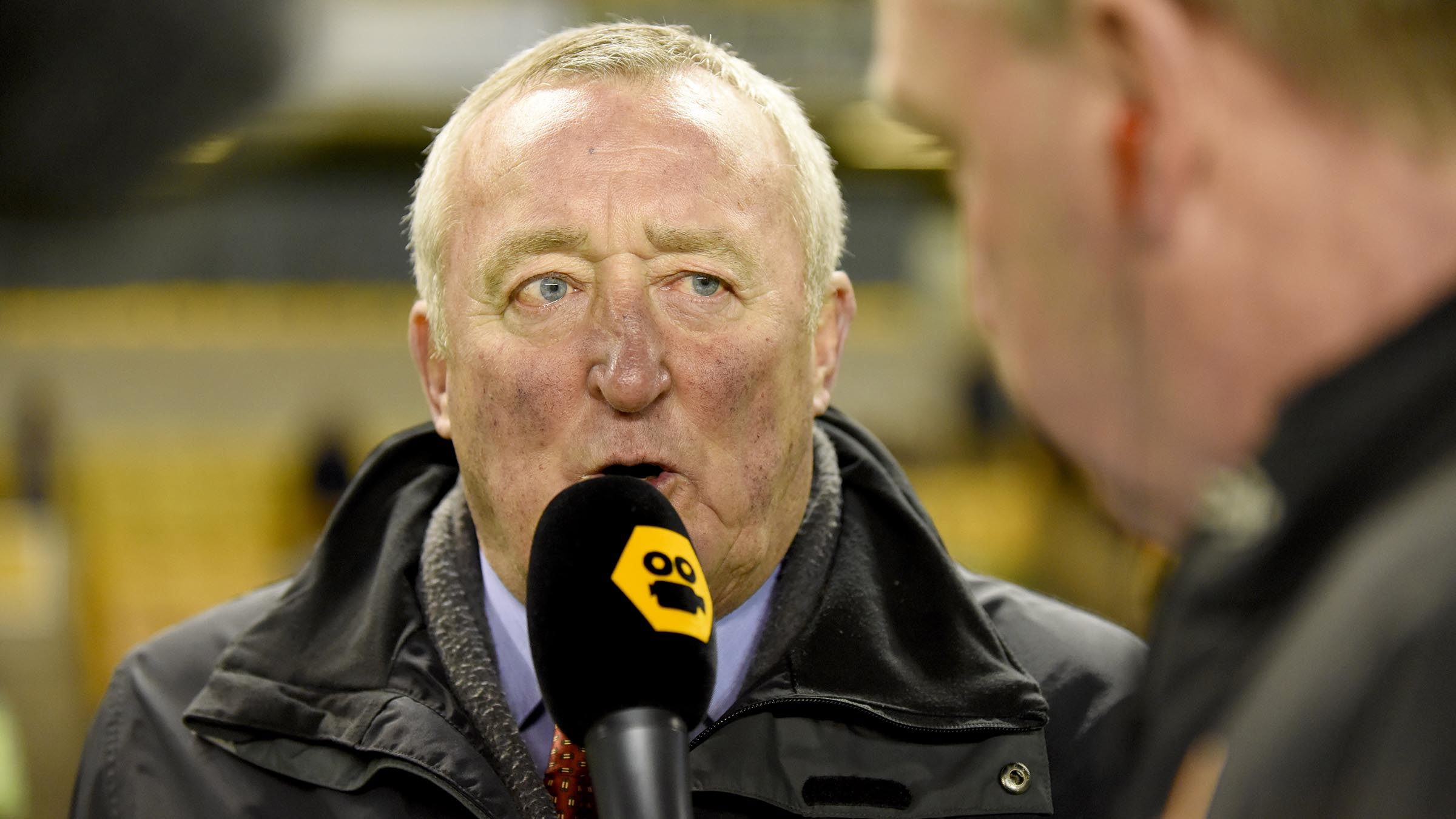 WORST GAME
I never had a bad one! I always believe that if you give 100 per cent effort then the crowd will be behind you – especially at Wolves. But if you don't put the effort in, if you throw the towel in, then they will be the first to spot it. Sometimes you didn't feel that good, but you just make sure you put the effort in because the supporters are the ones paying their money to watch you and you've got to show effort, if you don't you shouldn't be there.
BEST PLAYER
I would probably say John McAlle. We've always been very close and he was a brilliant player. I respected The Doog, I respected Mike Bailey, I respected Waggy – who was a great player – but there were so many. It would be so difficult to choose one over another as there were so many good players at the club during the time I was here. It was always a case of the team picking itself, every game was the same team. I can't believe players on the modern times saying they're tired – how can you be tired, it's your profession, you train every day for this. We used to play three games in four days over Easter and Christmas. You didn't want to rest, I wanted to play every minute possible.
BEST TRAINER
The Doog was a great trainer, John [McAlle] was a great trainer. We used to compete against each other and The Doog was 10 years older than us, but you would never have known because he was such a fit man.
WORST TRAINER
Most of the lads who played at that time were good trainers. Let's face it, some people carry a bit of weight, some people are very lucky that we don't put on weight easily, but Frank Munro was a great player, a giant of a man, but he just couldn't help putting weight on. It was a big lad with a big frame and was a superb player – I never saw anybody beat him in a match, and that's what you're looking for.
ROOM MATE
I was room mates with John [McAlle] for about 11 or 12 years, but that's probably why I finished so early! We've been great friends now for 50 years, but it's not just the two of us, the rest of the lads are all close to each other. Even though some of the lads like Kenny [Hibbitt] and Jim McCalliog have moved away, we're all really good mates.
BEST MANAGER
Ronnie Allen was the manager when I first joined then there was [Bill] McGarry, Sammy Chung and John Barnwell. I would probably say McGarry, but he was lucky as he inherited a good side. However, he might not have been the most liked of people but he came so close to being a really great manager. I actually quite liked playing for him, he was a bit of a disciplinarian and wanted you to play a certain way, and you'd do it, if you didn't he would be on your back.
THEN VERSUS NOW
We'd get hammered! These are a good side, the current lads. I don't think you can ever compare the eras, it's very difficult because football has changed a lot since we were playing, but there's also the saying that if you were a good player, you would be able to play in any era and it's the same today. We're just lucky that we played at the time and for the length of time that we did.

Wolves Scrapbooks