25th March 2020
A legend in all sense of the word for his 16-year spell in gold and black where he went on to become Wolves' second highest appearance maker, Kenny Hibbitt was a popular member of a successful 1970s side, playing a key role in the team reaching the 1972 UEFA Cup Final, while scoring the opening goal of Wolves' 1974 League Cup title win.
THE MOVE
I was an apprentice at Bradford Park Avenue and I had broken into their first-team at 16. We had a chief scout here at Wolves called Joe Gardiner who had actually been watching me during my 16 games for them. He actually instigated the move, because although Ronnie Allen signed me, I don't think he actually saw me play; so I have a lot to thank Joe Gardiner for, because he brought me to a club that I didn't know were spending a lot of money on me, but I'm so glad he did. I signed a professional contract because Wolves couldn't sign me as an apprentice as they'd paid 5,000 quid for me. It seemed a lot of money in those days – my father was only earning £14 a week, so when you were talking about thousands, that was a lot to me at the time, as a young boy. It all stemmed from there and I couldn't have asked for anything more in my career. Playing for a team like Wolves was something I always dreamed about, and myself and my brother Terry both ended up playing First Division football and playing against each other – something we never expected we'd be doing when we were kids.
WOLVES DEBUT
I came on as a sub against West Brom in a 1-0 defeat in April 1959, but that was only a 10-minute appearance at the end of the match. I think that might have been Peter Knowles' final game for Wolves as well, which I never realised at the time, that it would be the only time I'd be on the same pitch as Peter, because I have a lot of respect for him and what he chose to do with his life. My full debut came against Chelsea in September the following year and the game finished 2-2.
FIRST GOAL
It was that same game against Chelsea. I scored the first goal against Peter Bonetti. A corner came in from 'Waggy' [Dave Wagstaffe] and Peter Bonetti's punched it out of the box and I smashed it, left foot, into the bottom corner. It was teaming down with rain and water was all over the place, but I have great memories of that first goal, as I do about playing against Chelsea. It was like yesterday, you don't forget things like that; scoring your first goal is something and was a great occasion for me, playing against Chelsea, who were not my favourite team, but I played in the England under-23s with Alan Hudson and Ian Hutchinson, so I always had a soft spot for them. I couldn't sleep the night after I'd scored, and although I'd only scored the one goal, before I went to sleep I'd scored 100 goals because I just kept replaying it through in my mind. I would always think, if I'd missed that shot, what would've happened? Would I have had this career? It was a wonderful feeling and I was on cloud nine after that goal, but because of the players we had at the club, I quickly came back down to earth and would never have been able to start swanning around, thinking I'd made it.
BEST GAME
The most satisfying game for my was when we beat Newcastle 4-2 down at Molineux in 1994 and I scored all four goals – I still have the ball at home, but it's not in the best of nick. It was such a special game for me because no midfield player had ever done that before – a record I think still holds true now. What made it even more special was that it was against my brother, obviously he wasn't a happy bunny at the end, and might have called me a few names, but he said if he was going to get beat then he'd rather it be me and was glad I scored the goals. I got two in front of the North Bank and two in front of the South Bank, just to keep both sides of the ground happy!
WORST GAME
It's something I've never really thought about and probably the first time I've ever been asked that! We've all had indifferent games as footballers – missing a penalty here at Molineux against Birmingham City in a game which my brother was also playing in. He had told the goalkeeper which way to go and I changed my mind. I think I ended up hitting somebody in the crowd on the head it was that bad a penalty. All players have indifferent time periods, niggly injuries don't help, but I can't think of one really bad game that I had.
BEST PLAYER
Every player I played with. Without them, I couldn't have done what I was able to do, and I wouldn't have been a Wolves player for as long as I was without the help of the other 10 players on the pitch. I played with some really top-class players while I was at this great club; the best striker the club has ever had in John Richards, the best winger the club has ever had in Dave Wagstaffe, and the best captain that Wolves have ever had – with the exception of Billy Wright – in Mike Bailey. In all our performances, Mike led by example and was a great role model for the young players at the club. If you ever started to drift away or start to not pull your weight, he would always pull you up on it and tell you that he wanted a bit more. Mike had a lot of influence on us.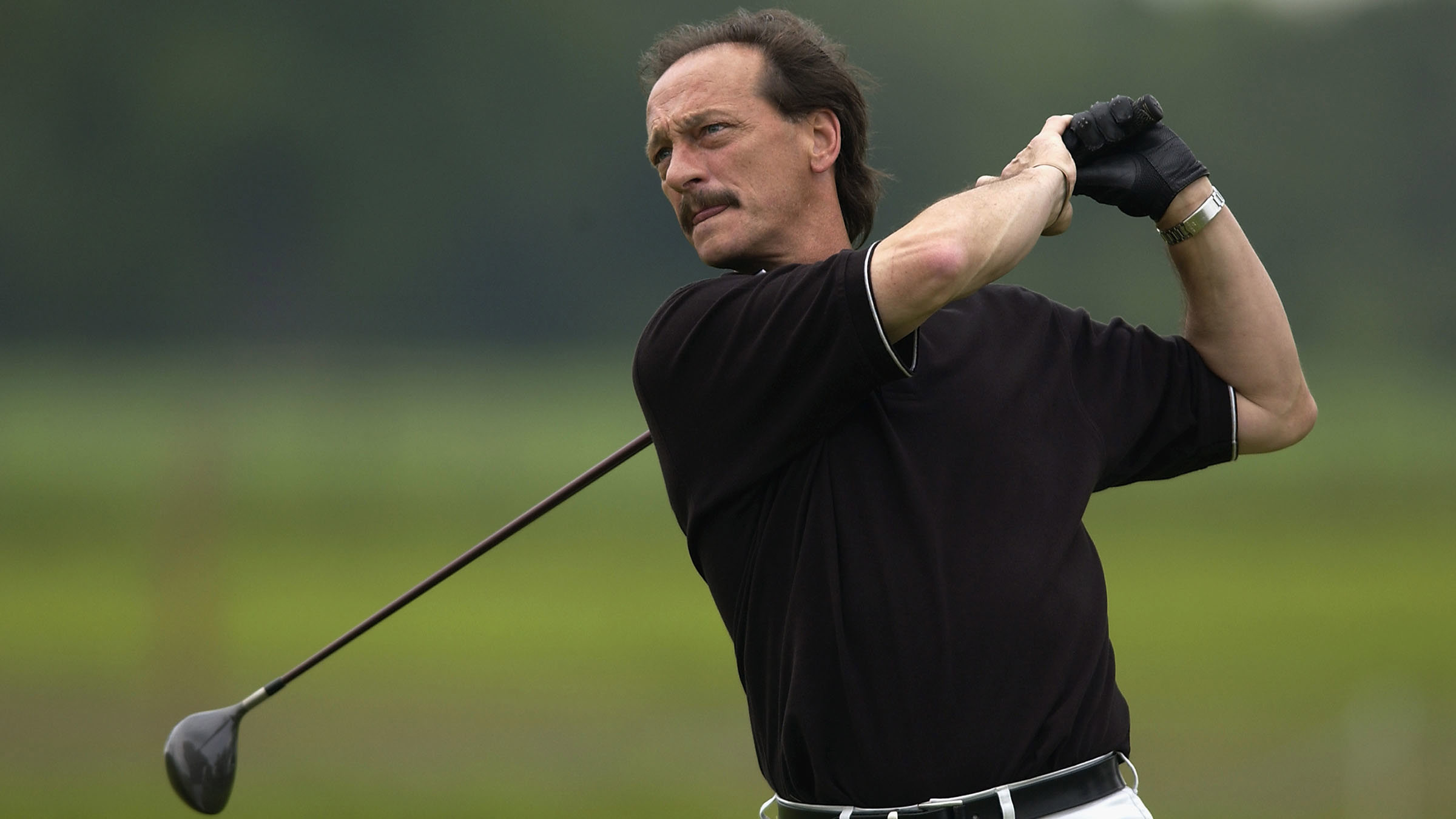 BEST TRAINER
We used to have Peter Withe here at Wolves and he could run all day and Derek Dougan could run all day, but Peter Withe was possibly one of the best I've seen. He would do a lap of the pitch and he'd be sprinting round it without breaking a sweat. We used to always have to tell him to slow down a bit because he was making the rest of us look bad. But for me, it doesn't matter what you do in training, it's what you do on the pitch that counts. You can run all day, look good in training, but going out on the pitch and performing in the matches is what's important.
WORST TRAINER
There were some bad ones, but it's got to be Phil Parkes. I feel sorry for 'Lofty' because goalkeepers would just have the ball in their hand, throw it up in the air and practice catching it. We never had goalkeeping coaches, and the keepers were just expected to do the same sorts of things we were, but they're completely different players, however, that's how it was in those days. I remember when I was Gerry Francis' assistant down at Bristol Rovers and we brought in Nigel Martyn from St Blazey in Cornwall, gave him specific coaching from the rest of the team and turned him into a £1 million goalkeeper who played for England.
ROOM MATE
Willie Carr. He was a great player. I spent seven years rooming with Willie and he's a great friend. I didn't have to put up with him at all because he was absolutely brilliant and I love him to death. He's a big friend of mine – and the rest of my family – and when I come up to the Midlands we stay either at John Richards' or Willie's and they are ever so kind and welcoming.
BEST MANAGER
Bill McGarry gave me my opportunity, and he was very successful in the seven years that he spent here, getting us into the Europe, getting us to the UEFA Cup final in 1971/72. Bill had a lot of influence on my career, as he did for a lot of the youngsters coming through at the club. Only once in our seven years together did he say well done. That was when I scored against Exeter here, but it meant so much that I almost fainted and fell on the floor! That's how he was with the youngsters, he was hard with us, but he was fair. We might not have liked him, but we respected him. But John Barnwell was another one – the last manager who won a major trophy with the club in 1980, so you can't take him away from the equation.
THEN VERSUS NOW
If we were to play the current Wolves team, we'd win 10-9! If you could put the two teams together on a computer it would be a different world because they pass the ball so well now on a fantastic pitch. We couldn't mess around at the back, we had to get the ball wide – where the grass was – as quickly as we could and put it into the penalty box. That's the way it's changed, but it's almost impossible to compare.
EUROPEAN EXPERIENCES
That was a dream come true for me, to play in major European competition was better than anything I could have expected. As a kid growing up in Bradford, it was a train journey to Blackpool or Morecambe for the day as a holiday, and here I was as a 19/20-year-old playing all around Europe. Flying to Turin, Hungary, going behind the Iron Curtain – we did all that, which was something I'd only read about in books, yet I was getting on the plane to go there to play football. Football gave me the opportunities to see Europe, and to be playing in Turin, against a Juventus side with World Cup winners in the team, was a remarkable period and I loved every moment of getting to the final, only to lose out to an English team!

Wolves Scrapbooks