20th March 2020
A legend among the Molineux faithful, 'King John' Richards spent 14 years at Wolves as a player, becoming the club's record goalscorer, until his tally of 194 goals was broken in 1992. A double League Cup winner, Richards was also part of the team which reached the final of the 1971/72 UEFA Cup final.
THE MOVE
It was exactly 50 years ago, 1969, when I first came to Wolves. I was 18 and playing for Lancashire Grammar School's boys' team when we played against the Staffordshire school team and one of the staff happened to be a Wolves scout. He approached me and asked if I was assigned to any club, which I wasn't as I'd intended to go to teacher training college and he asked if I fancied having a trial at Wolves. From there, I was offered a one-year contract and started training with the club. I started playing with the third team and then the reserves, and I ended up staying a bit longer than just the one year.
WOLVES DEBUT
I made a very rapid ascent through the different sides that Wolves had at the time, but it was a very exciting time as there was a lot going on at Wolves. We were doing well, but Peter Knowles had just packed in playing to become a Jehovah's Witness, so there was a lot of discussion about what's going to happen in the team. I managed to progress through the club and scored five goals against Blackburn for the reserves. I then started training with the first-team and was on the fringes of starting. Fortunately for me, Derek Dougan got injured and I didn't know until the Friday before my first game against West Brom that I would be playing, but it just gave me enough time to tell my mum and my pals so they could come down and watch the game. It was an exciting time, but I wasn't aware of the significance of the match – not being from Wolverhampton, I wasn't aware of the rivalry between the two sides. I noticed the difference when I walked out as it was quite feverish, loud and hostile. It was the first time I'd played in front of a full stadium and the Hawthorns is quite an intimidating place any way. But I played well, and we were unlucky not to win.
FIRST GOAL
I didn't even get a look in for the next few games after playing West Brom with all the strikers being back fit, but after a good pre-season I got into the squad against Huddersfield and remember scoring from a corner. It was in front of the South Bank and I was on the far post and the ball just landed to me on the volley. I can't say it flew in, I think it bobbled back across the goal into the other corner. It wasn't the best hit of goals, but it was a goal non the less. As a footballer it's one ambition to just play once for a team like Wolves but then your key ambition was to score your first goal. After that I would have happily gone off to college and started a career outside of football because that goal made my footballing career.
BEST GAME
One of the games where I felt everything worked out was when we beat Everton 4-2 in 1972/73 and I scored a hat-trick and Kenny (Hibbitt) got the other one. I believe that was the game I scored my best goal in, again down at the South Bank end, left foot, half volley on the turn and straight unto the top corner. I then scored another cracker with my right foot and then scored another in the second-half. From a performance point of view, I think it was a perfect game for myself. I've played in a lot of important games and exciting games for Wolves but when you look back at performance, that Everton game just went as well as it could have done.
WORST GAME
Towards the end of my career at Wolves I had a few bad ones. I had a bad spell in the early 1970s when I was left out of the team by (Bill) McGarry, but one of my worst games was after I'd been on loan to Derby County and I was called back as we had a few injuries. We were playing Grimsby away – it was absolutely freezing cold up in Grimsby – and I was told I'd be playing, but I was stuck on the bench. I came on with two minutes to go, never touched the ball once and walked off and thought 'that's it'. That appearance basically summed up that period of my Wolves career. I realised then that I wasn't going to be at the club for much longer. Whilst it wasn't a complete game, it was the situation that I will always look on as my worst time at Wolves.
BEST PLAYER
There were so many talented players I played with. For his skill it was 'Waggy' (Dave Wagstaffe), he was super talented player who you would just give the ball to and let him do the rest. If you were struggling or hanging on, you'd just give the ball to him and he would wonder down the wing with it. He was very deceptive, a beautiful passer of the ball and scored some cracking goals. As an overall player I don't think you can beat Mike Bailey. The way that he led the team as captain, I don't think Wolves have had anyone in that sort of mold since. Conor Coady is not dissimilar and we even had Emlyn Hughes with us for a short time, but we've not had anybody like Mike as our natural captain since he stopped playing. The influence he had on the team was huge and we sorely missed him when he was out.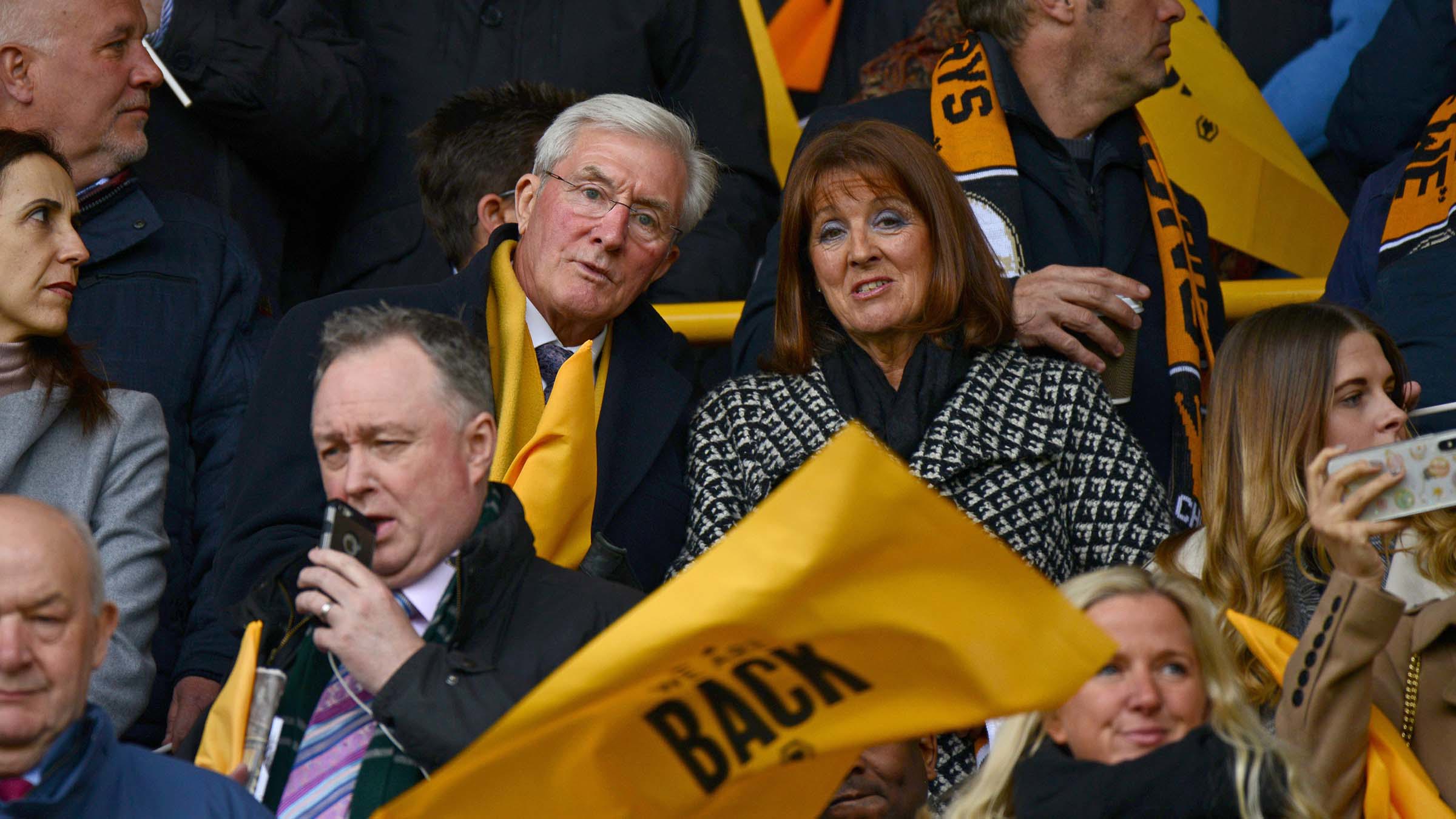 BEST TRAINER
On a par with each other were John McAlle and Derek Parkin – they were phenomenal, and it was embarrassing for the rest of us. They would keep running non-stop and just loved keeping fit. They were first ones there in the morning, in the gym more than anyone else, they were just naturally fit people who could run forever. We used to go running over at Cannock Chase and they would be back in the coach 10 to 15 minutes before the group, and the group would be about half-an-hour in front of Dave Wagstaffe and Frank Munro – but you can't criticize Frank and Waggy, they just weren't designed for long-distance running and would make up for it in other ways.
WORST TRAINER
Waggy and Phil Parkes never enjoyed training. It's amazing how things have moved on because goalkeepers now have specialist coaches to do different skills, and different training sessions, but back then goalkeepers were expected to train like the rest of the outfield players and do everything they did. This included running up sand dunes when we went to Southport for our warm weather training in January! 'Lofty' was a great goalkeeper – he wasn't a cross country runner. You could hear him muttering as soon as it was announced on the coach that we were going to Brocton because he knew what we were going to be doing.
ROOM MATE
I had several roommates while at Wolves, but early on it was Steve Kindon. Steve was a laugh-a-minute kind of guy and was non-stop, he was hyper active and you just couldn't stop him. He was one of those who would stay up late but be up early the following day, but because we were both from Warrington and he joined us in 1972, we just teamed up automatically. After Steve left it would vary because I was then involved as a club captain, so I would team up with the new players to help them settle in. I remember sharing with players like Billy Rafferty and Andy Gray, but Steve was the main one.
BEST MANAGER
I'll have to say Bill McGarry. John Barnwell was outstanding with his man management, but Bill was as good as any one from a tactics standpoint, but his man management wasn't the greatest. When you look back, we had a mix of young men, some more mature men who were married, and you've got to get them to gel. McGarry used to frighten the young lads to death, which was good; we were frightened of him and you didn't want to step out of line, and it got you used to the big wide world that we were coming in to as young players. He had to have strong discipline in the team which is what he did, but he also had Sammy Chung who would support him with the coaching side. He got Dougan and I to switch positions; I used to play on the right and Doog on the left, but he switched us and it worked a treat because when we were getting crosses through down the line, we were running onto our stronger foot. John was brilliant, but I'd put Bill just ahead of John.
THEN VERSUS NOW
The current team is one that any of us from my generation would love to play in. We were all top players, as indeed the lads are now, and you look at this team and think I'd love to play alongside the talent they have now. They're quick, intelligent, and most of the players from my generation would be able to slot into one of the positions we play now, it's just a case of who would you leave out. At the moment, you'd struggle to say anyone because they're all that good, but it would be lovely to play in attack. We had a big lad up front in Dougan and I used to play off him, similarly to Jimenez and Jota now, but back then we used to get a lot more crosses in, the team now use more of an intelligent build up, to break in between the defences. Maybe I could get a chance as a right wing-back, but I would be happy to play in any position in this side.

Wolves Scrapbooks