16th March 2020
With almost 300 gold and black appearances to his name, Willie Carr had a distinguished Molineux career, helping Wolves lift the 1980 League Cup. Following their cup success, Wolves returned to the UEFA Cup in the 1980/81 campaign – the last time the club featured in the competition until this term.
THE MOVE
It was transfer deadline day in March 1975 when I eventually came to Wolves, but I was meant to join them in the October/November before that. I'd had a medical and when I came back from the medical I was sat in the offices at Molineux for a couple of hours while Bill McGarry had a meeting in the office with John Ireland, who was the chairman at the time. Because I'd been sat there for so long I had the feeling that something must be wrong. In 1974 I had two surgeries on my cartilage which had been removed and it transpired that I had arthritis in my knee, but Wolves were going to spend about £250,000 on me – which was a lot of money at the time – but they wouldn't have been able to get insurance, so they had to call it off. In my own mind, I knew that my knee was okay because I'd got back playing. After that I went back to Coventry and started training with them once again; I even had an offer from QPR, who had some great players playing for them at the time, but I just didn't fancy London – I didn't even go to speak to them, which was probably quite silly looking back on it. I stayed at Coventry until transfer deadline day before Wolves came in again, and because I'd already done the medical I didn't have to do another one, and in the end, they got me for a cut-down price of £80,000.
WOLVES DEBUT
It couldn't have gone any better. We played Chelsea, beat them 7-1 and I scored the third goal for Wolves. We were 3-1 up at half-time and then scored another four in the second-half. Mr McGarry obviously wasn't very pleased because he gave us a good shouting at during half-time! I think he felt that we were letting them take command and let them get back into the game – although we did score four in the second-half, so I don't know where his thinking was coming from. If you did alright for him he would be okay, but he was a hard man to please.
FIRST GOAL
From what I remember about that goal against Chelsea, it was round the 18-yard box and somebody passed me the ball and I sort of just shot. The game went great for me that day – every ball I passed seemed to go straight to a teammate and a pot shot from 18-yards went in – so that day couldn't have gone any better, it was just one of those games when everything seems to click. It was a great way to start my Wolves career.
BEST GAME
For me it was the League Cup final. I was 30 at the time and I'd never played at Wembley – the old Wembley was a place where all footballers wanted to play. I got to the age of 30 and thought that it'd passed me by, so getting to the final against Nottingham Forest; and then to win it 1-0 was brilliant. It was a great occasion and couldn't have been bettered very much. The only thing near to it was when I played for Scotland against England at Hampden during the home internationals in 1970. I had made my debut for Scotland in a 1-0 win against Ireland at Windsor Park on the Saturday, who had Georgie Best and Derek Dougan up front, before drawing 0-0 against Wales on the Wednesday in front of 30,000 at Hampden. On the Saturday we played England and there was 137,000 at Hampden that day, which was unbelievable. I was only 20 at the time and that's the only thing that came near to the League Cup final for me.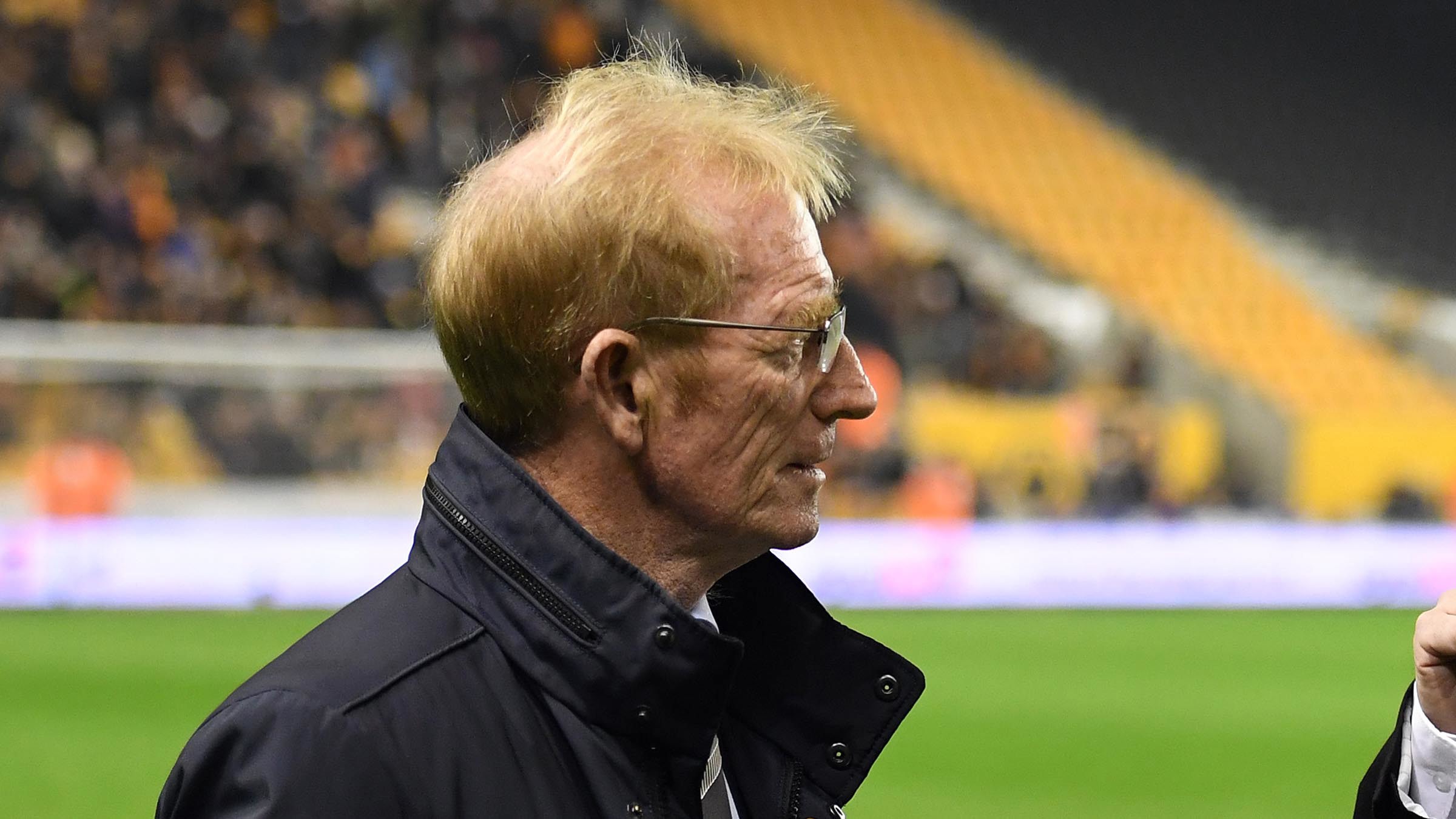 WORST GAME
Getting relegated in 1982 was not nice for anyone, but for a one-off game, the FA Cup semi-final defeat against Tottenham the season before was the most disappointing game I've been involved in. The game took place at Hillsborough and I scored a penalty right at the end of the game as it was entering added time to bring it back to 2-2 and take it to a replay. I felt that we would use that result to push ourselves in the replay and beat them. I would have thought scoring so late on in the game to get the replay would have deflated them and if we'd have pushed ourselves a bit harder we should've beaten then, but in the replay, we went to Highbury and didn't turn up – that's what was most disappointing. We also lost to Arsenal in the semi-final at Villa Park, so it's a shame we couldn't do it in the FA Cup, but I had seven-and-a-half years at Wolves and, for the most part, it was great.
BEST PLAYER
I'd probably say 'Hibby' [Kenny Hibbitt] as far as an understanding with somebody, because it was almost like a telepathic connection between us; we only needed to look at each other and would know what each other wanted to do. But there was a lot of good lads who played for Wolves when I did, and we were all different types of player as well. You had people like 'Big Frank' [Munro] who was like an old inside forward playing centre-half because he was so skillful on the ball. Mike Bailey was probably the best captain who I ever played under and would have the respect of everybody, everybody admired him, while Stevie Daley was probably one of the most gifted who I played with because he had two great feet, would score goals for fun, and obviously went to Man City for a lot of money, although it didn't really work out for him.
BEST TRAINER
Derek Parkin. He was as fit as a fiddle, always very professional and hated losing, even in training. Although he would come across as a really quiet lad, he hated losing and would give his all for this team whenever he was called upon.
WORST TRAINER
I think 'Waggy' [Dave Wagstaffe] because he didn't like running! If we were playing a game of five-a-side he was one of the best, but if it was actual training, taking part in drills and running, he wasn't the best. 'Big Frank' was a good second, because neither of them were fans of running.
ROOM MATE
Most of the time it was 'Hibby'. When I first came to Wolves we seemed to strike up a good friendship straight away. We roomed together for a long time, probably for most of the seven-and-a-half years I was there. There were a lot of good lads when I was there and all of the guys that still live in the area all still keep in touch and meet up when we can.
BEST MANAGER
While I was at Wolves I had Bill McGarry, Sammy Chung, 'Barny' [John Barnwell] and 'Greavesy' [Ian Greaves], but it was probably 'Barny'. I liked him and when he came in he brought Richie Barker as his assistant and they were a very good team, as 'Barny' was very good at talking to people, while Richie did all the training. They came up with a system they wanted to play with and for two years it worked really well, because they were the two most successful seasons we had; all that was due to the system. It seemed to suit us as a team and got the best out of the players because we would play the same way in training as they wanted us to do on the football pitch on a Saturday, so every training session felt, more or less, like a game. They initially wanted us to close the ball down, wherever you were on the park, the first man would always go to close the ball down and then everybody else would run in after them, this gave the opposition less space to play in, which really suited us as players.
THEN VERSUS NOW
I think we'd probably get close to the current team, but they probably have more natural footballers than what we had. I really like the way the team play right now because it's my type of football, I liked to get the ball down and pass it. I reckon we would have done alright and would've given then a game, because we had players like John [Richards] who would score you goals. John was very strong – although he didn't look it, he was very strong and would love centre-halves to get close to him because he could quickly turn them, and he was as brave as a lion. You've also got to take into account the training they do nowadays, it's completely different to what we used to do. I think if you could play football in those days, you could play today. If we were doing the same sort of training as they do now, then I don't see any reason why we couldn't be as good today.
EUROPEAN ADVENTURES
The team Wolves have now consists of players who are all used to playing in Europe, but back in 1980 when we took on PSV Eindhoven, a lot of us weren't. We got into the first round due to winning the League Cup and went straight out at the first stage after losing 3-2 on aggregate. Before then, I'd only played once in Europe when I was with Coventry, that was in the Inter-Cities Fairs Cup in 1970 and we played a Bulgarian side called Trakia Plovdiv in the first round, and we beat them 4-1 in the first leg and 2-0 at home in the second. Then we drew Bayern Munich in the second round – they stuffed us 6-1 in Germany and it was game over then. I think with Wolves, we were a little bit overawed by the entire situation when we faced Eindhoven and if we'd have had the European experience the current side do, then I reckon we'd have given a better go of it. 

Wolves Scrapbooks