15th March 2020
It's been 40 years since Wolves last won a major domestic title. On Saturday 15th March 1980, the great Emlyn Hughes lifted the League Cup trophy above his head at the historic Wembley Stadium in front of tens of thousands of supporters dressed in the old gold and black.
The final of the competition, then in its 20th year, saw Wolves take on Nottingham Forest. At that time, Forest were the overwhelming favourites having won the previous two League Cup finals and also being holders of the European Cup.
Wolves, on the other hand, hadn't lifted silverware for six years following their 1974 League Cup win against Manchester City and finished a lowly 18th in the First Division in their previous campaign.
WOLVES' ROAD TO THE FINAL
Round 2 (first leg): Burnley 1-1 Wolves (Palmer)
Round 2 (second leg): Wolves 2-0 Burnley (Hibbitt, Palmer)
Round 3: Crystal Palace 1-2 Wolves (Eves, Hibbitt)
Round 4: QPR 1-1 Wolves (Hibbitt)
Round 4 (replay): Wolves 1-0 QPR (Carr)
Round 5: Grimsby 0-0 Wolves
Round 5 (replay): Wolves 1-1 Grimsby (Gray)
Round 5 (second replay): Grimsby 0-2 Wolves (Hibbitt, Richards [pictured below])
Semi-final (first leg): Swindon Town 2-1 Wolves (Daniel)
Semi-final (second leg): Wolves 3-1 Swindon Town (Richards 2, Eves)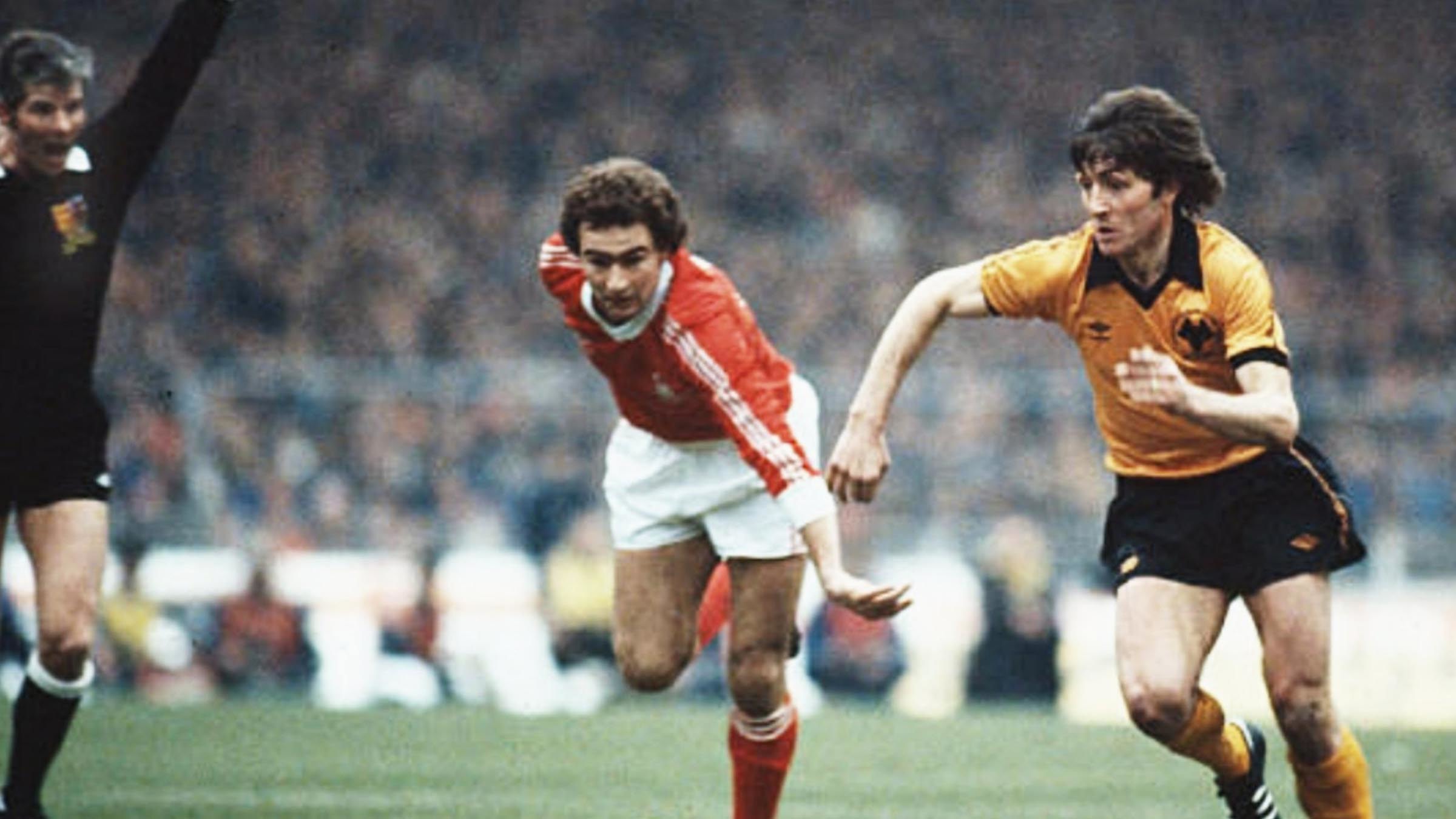 CLASSIC MATCH REPORT
Nottingham Forest 0 Wolves 1 (Gray 67)
A bizarre tap-in from three yards by striker Andy Gray helped Wolves to their second League Cup final victory and stopped European champions Nottingham Forest of a third consecutive title in a tightly fought contest at Wembley Stadium.
In a scrappy first-half, neither side were able to get going and struggled to get a foothold on the game, although John Barnwell's Wolves – backed by 35,000 supporters from the Black Country – were perhaps the more forceful and threatening team and had the best of the midfield exchanges.
There were only six worthwhile efforts on goal during the opening 45 minutes, three to each side, with Gray going closest for Wolves, while Trevor Francis missed opportunities for Forest.
Francis was being well shackled by George Berry [pictured below] and Emlyn Hughes, who was looking to complete his trophy collection having arrived at Molineux from Liverpool after winning every major domestic honour with the exception of the League Cup, with the pair putting in dominant performances at the heart of the Wolves defence to keep the score goalless going into the break.
Half-time: Nottingham Forest 0 Wolves 0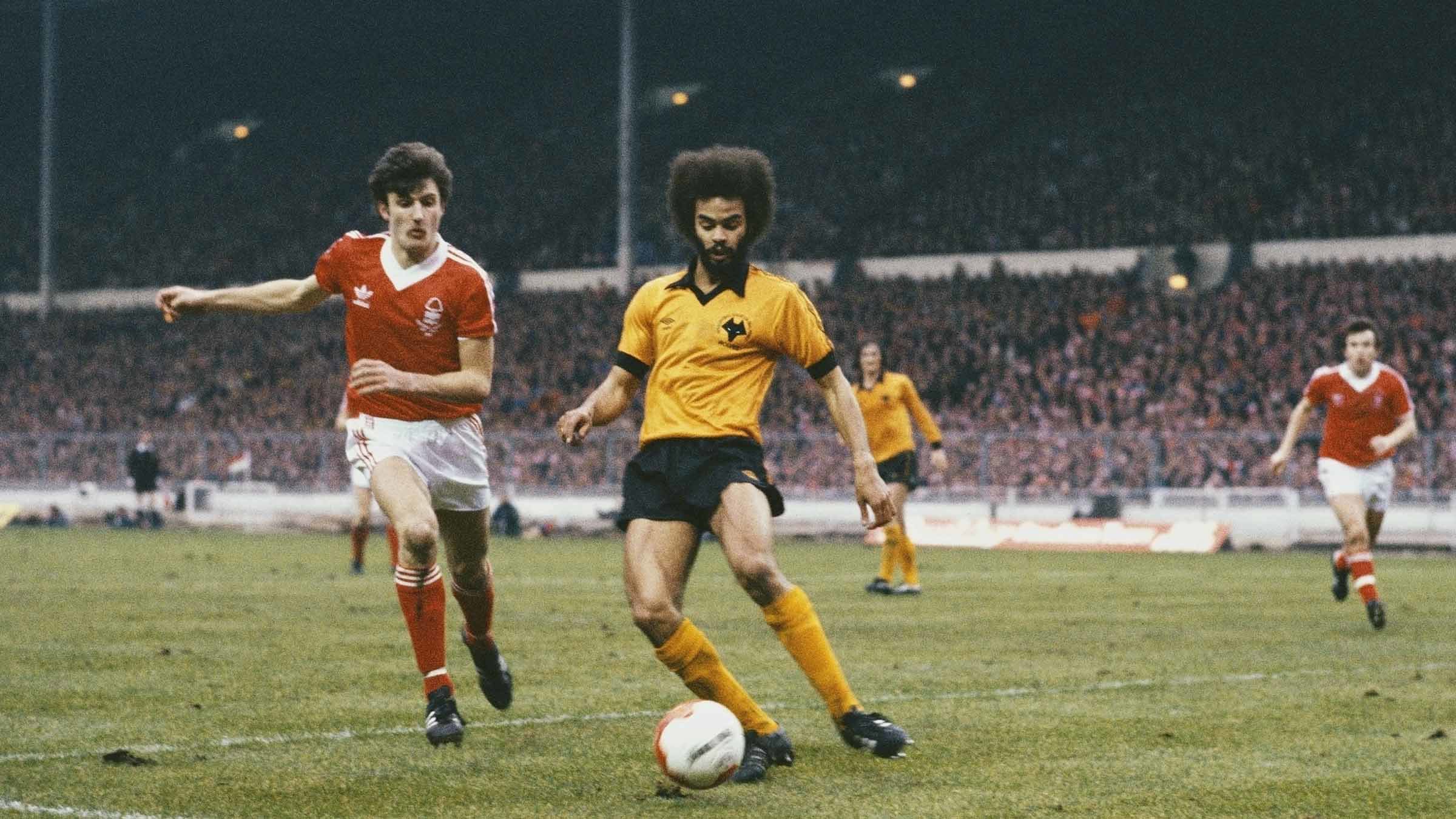 In the second-half, play was much more open, but a lack of composure in dangerous areas left was letting both sides down.
Wolves thought they were ahead when Willie Carr bundled the ball into the back of the net after Forest keeper Peter Shilton had flapped at a cross, only for the referee to award a foul against the Wolves midfielder.
But moments later, out of the blue, Wolves' right-half Peter Daniel pumped a long ball deep into the Forest half, centre-half Dave Needham let it bounce, thinking Shilton would come out and collect it.
However, he didn't and both Forest players hesitated, allowing a thrilled Gray [pictured below] to run in and score the easiest goal of his career.
Forest were pressing hard for the equaliser but were thwarted by the resilient mass of Wolves' defence, as they cleared the ball after several goalmouth scrambles. In a break from the Forest onslaught, Wolves almost extended their lead further when Berry hit the woodwork.
But the single goal was enough to decide the game and Wolves celebrated victory over one of the most successful sides from the era.
A delighted Hughes received the trophy in front of almost 100,000 spectators inside Wembley – helping the gate receipts reach £625,400 and a new record for the 20-year-old competition at the time – and simultaneously completed a full set of winners' medals for triumphs in the League, FA Cup, League Cup and European Cup.
Full-time: Nottingham Forest 0 Wolves 1
Forest: Shilton, Anderson, Needham, Burns, Gray, O'Neill, McGovern (c), Bowyer, Robertson, Francis, Birtles
Unused sub: O'Hare
Wolves: Bradshaw, Palmer, Hughes (c), Berry, Parkin, Hibbitt, Daniel, Carr, Eves, Richards, Gray
Unused sub: Brazier
Referee: David Richardson
Attendance: 96,527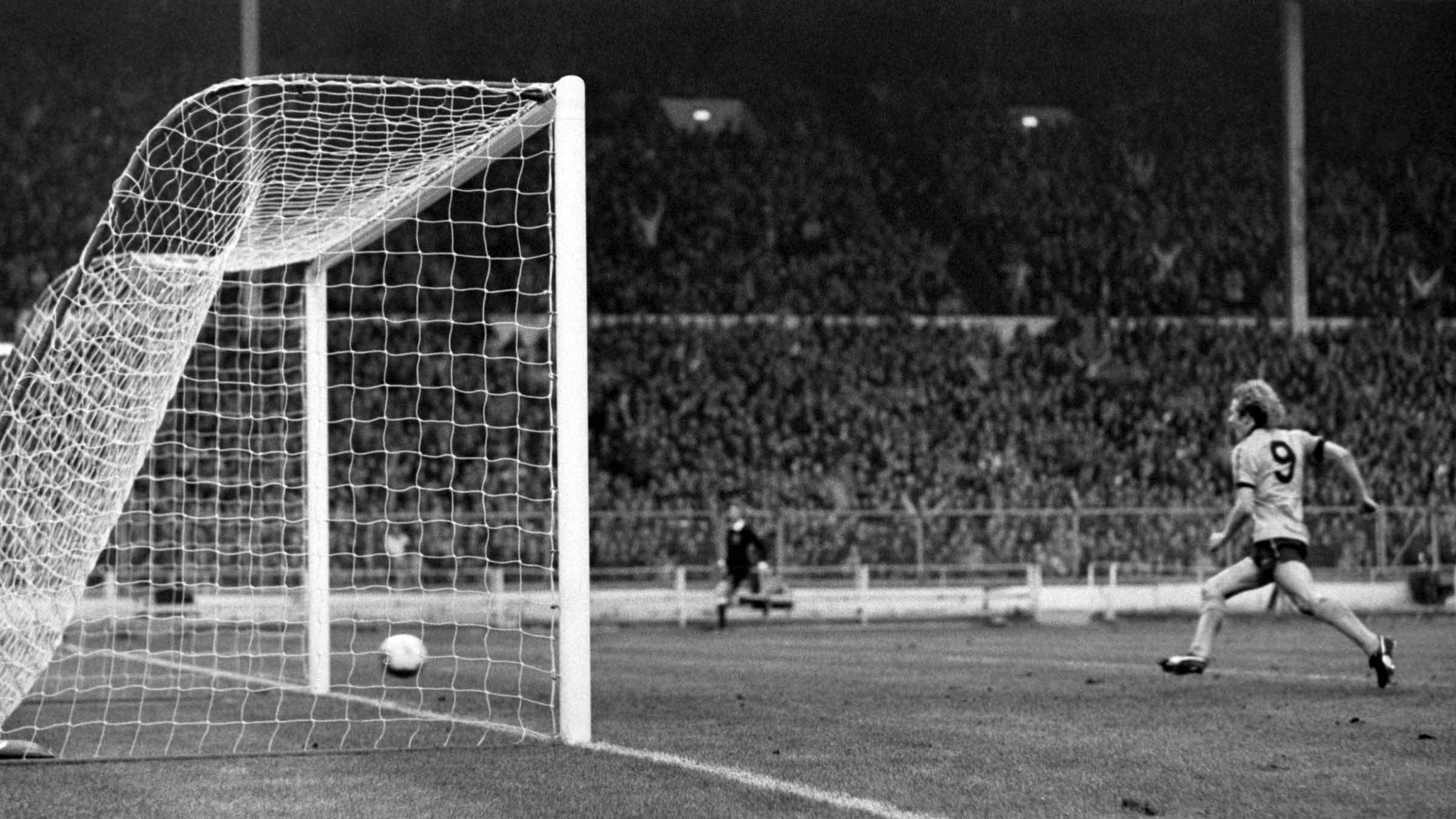 WILLIE CARR'S LEAGUE CUP MEMORIES
On the build-up to the game
"The night before the game we had a few beers, but it's something me and 'Hibby' (Kenny Hibbitt) would do anyway. We always used to take a couple of cans with us to the away games and Geoff Palmer would always say if you went past our rooms, all you would here is the opening of them!
"We would only have a couple and it just helped you settle and relax. Obviously, you wouldn't get that nowadays, but in our days, there was a drinking culture. You wouldn't do it before the game, but a couple of cans of beer doesn't make any difference."
On stepping out at Wembley
"I'd never played at Wembley before. I was 30 at the time, so I thought it'd passed me by, but there was no way I was going to let it pass me by and not play on that day, so I knew I was going to make the most of it. I wasn't going to freeze with the occasion.
"And on the day, I felt we deserved it."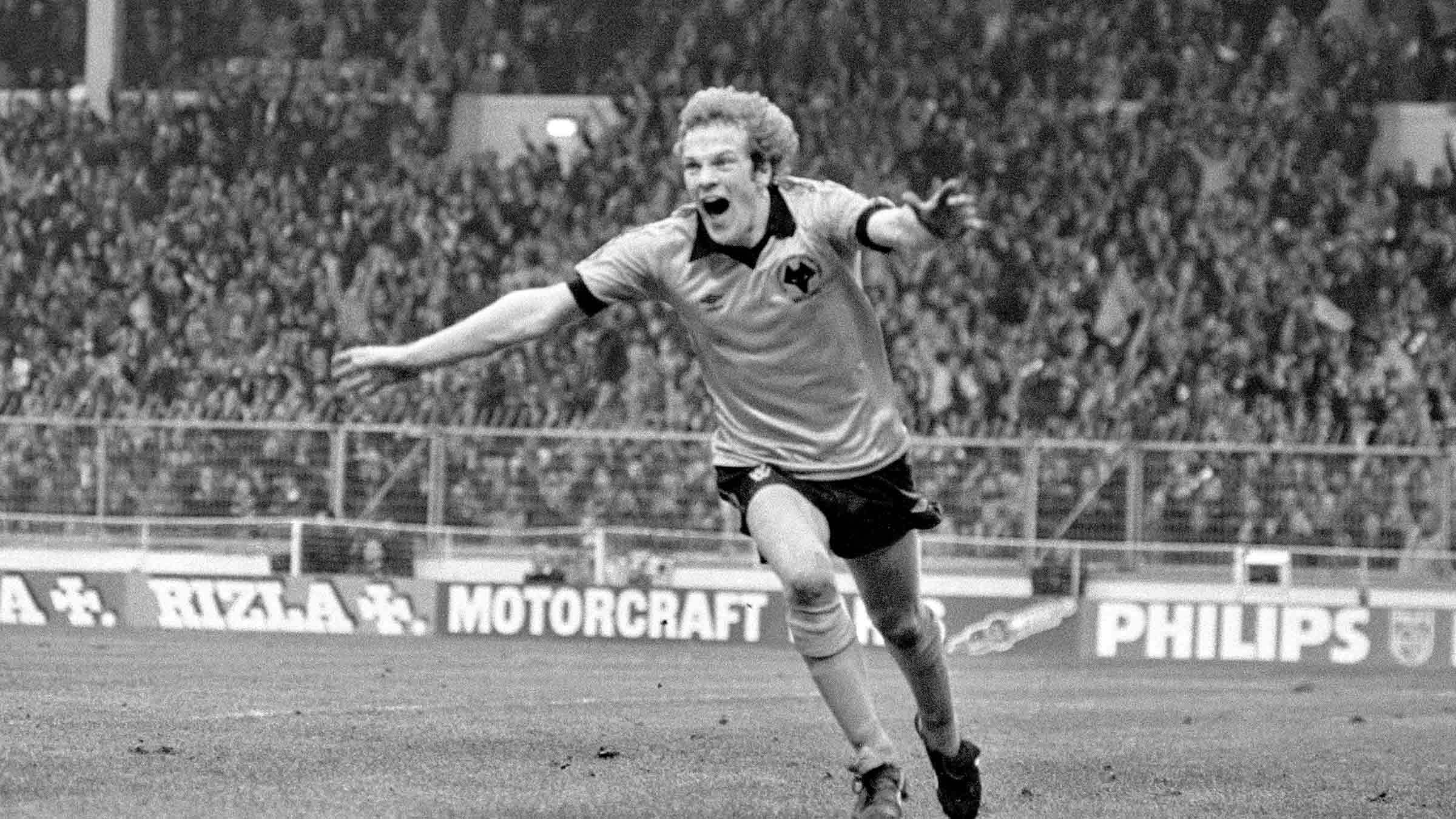 On being underdogs
"Forest were going for three in a row, but the thing with their team was that they only had a couple of lads who were really outstanding, it was more that they were just a very good team. Ability-wise, I thought we were just as good as them.
"They had a lot of success, but in the 1979/80 season, I believe we could have beaten anybody. I didn't feel inferior to the Forest players at all and I thought we were as good as them individually. They had a couple of players like 'Robbo' (John Robertson) and Trevor Francis, but we'd got Richie (John Richards) and Andy (Gray) up front, who could score goals as well.
"I just felt that we could've been a match for them, as we were on the day."
On the victory over Forest
"I thought I'd scored, but the referee disallowed it for a foul on the keeper by John Richards. The ball had been crossed in and fell to me and I just chested it over the line and I thought I'd scored, but the referee gave a foul.
"It was only a couple of minutes before we actually scored and you could see what was coming for Andy's goal as well. Peter Daniel hit this ball forward and you could just see (Peter) Shilton and (Dave) Needham running at each other because they were both watching the ball.
"Andy could see what was happening as well, so he just stood aside, let them run into each other and the ball just rolled on in. Andy, just making sure that he'd done it, he put it in with his left foot instead of his right. Then he went running round the back of the goal to the crowd and I thought 'I'm not running all the way over there! I'll wait until he comes back again.'
"Sometimes you run off to celebrate and you're knackered by the time you come back. But it was a great day."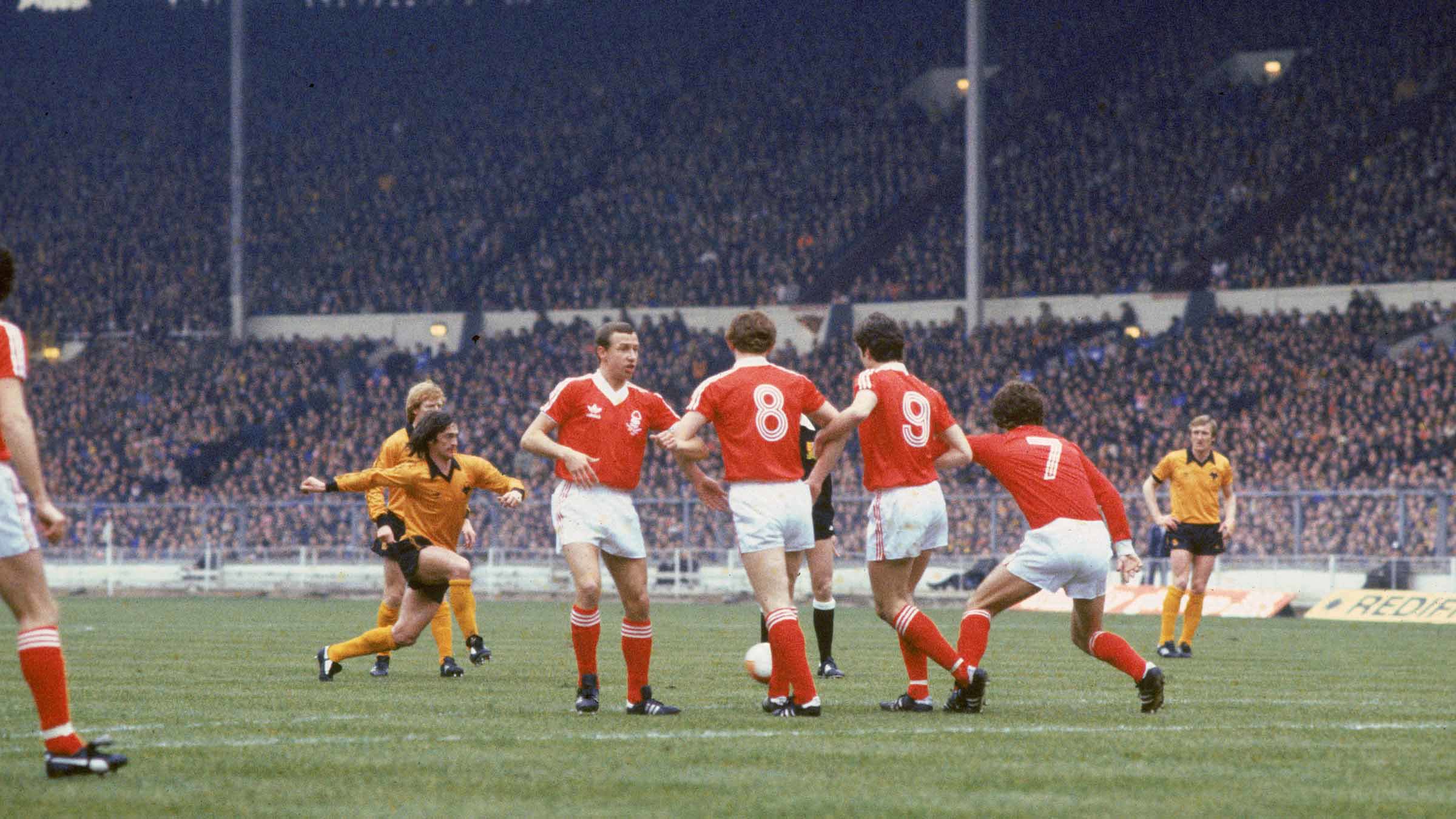 On celebrating the title
"Me and Geoff (Palmer) were the last to go to bed that night, we shut the bar! My missus was seven months pregnant at the time, so she had to go to bed early, but I had to keep Geoff company. I was only being nice to Geoff!
"We weren't too happy that we had won the competition and had to come home from London straight away. In '74 (Wolves' previous cup win over Man City), they actually stayed over in London and I think we should've done that as well.
"Coming back up in the coach straight away took away the atmosphere. I don't know if 'Barney' (John Barnwell) had done a deal with the Mount Hotel to put something on there, but we got back, went to our rooms, came back down and there wasn't any places for us to sit down because there were too many people there, so we had to wait a while until we got any dinner.
"However, they did put a three-piece band on which was magic. But everybody went to bed early, except for me and Geoff."
On the influence of the late Emlyn Hughes
"Emlyn [pictured below] was great. He'd won everything at Liverpool and the only thing that he hadn't won was the League Cup and he actually went and won it in his first season here at Wolves – the jammy git!
"He was a touch of class. He was a slowing down as he came to the end of his career, but up here (his head) he wasn't; he was very calm, and I thought he was class. A great buy by 'Barney'."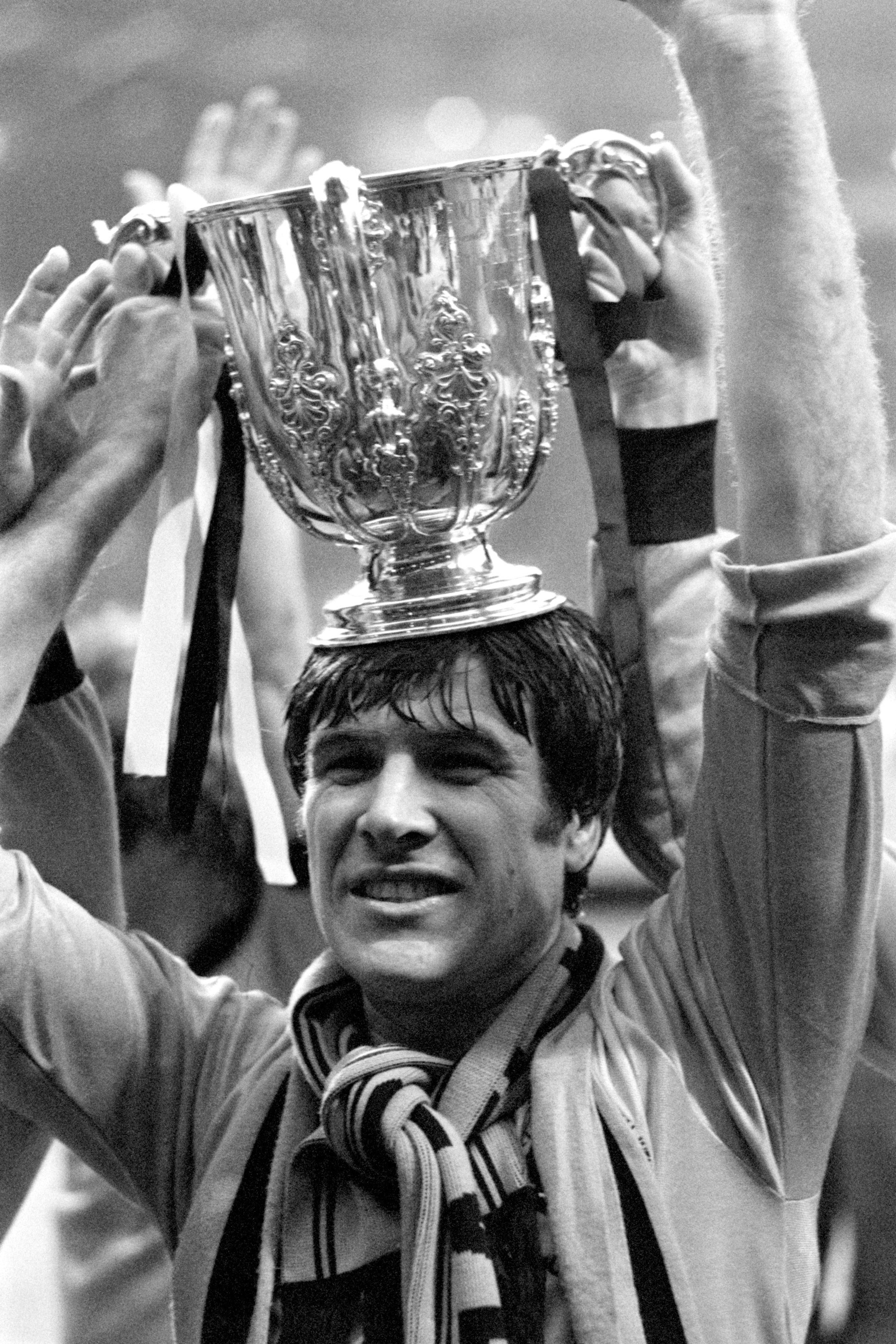 Old Gold