11th December 2019
When Wolves hosts Tottenham Hotspur at Molineux on Sunday afternoon, Nuno Espirito Santo's side will be aiming to extend their unbeaten Premier League run to 12 matches, continuing the team's best ever record in the competition.
Since the 5-2 defeat to Chelsea on Saturday 14th September, Wolves have racked up 21 points from those 11 games, seeing the side on their best streak without defeat in the top-flight of English football since 1962.
In honour of the current side's achievements, we've delved into the history books to discover the times Wolves teams of old went on their longest unbeaten league runs.
11 MATCHES UNBEATEN
First Division | 18th August to 29th September 1962
Stan Cullis was at the helm the last time a Wolves team made it 11 top-flight matches without defeat with a barnstorming start to the 1962/63 season.
The 11-game charge began on Saturday 18th August when Wolves ran out 8-1 winners over Manchester City at Molineux. Ted Farmer [pictured below] bagged four goals that day, Jimmy Murray hit a brace, while Terry Wharton and Alan Hinton were also on the scoresheet that day.
Within those 11 matches, Wolves won eight times, including victories over West Ham, Blackpool, Blackburn, Sheffield United, Tottenham, Ipswich and Liverpool, and drawing three.
The unbeaten streak came to an abrupt end on 6th October following a 2-0 defeat to eventual league winners Everton, with Cullis' men going on to lose three more games on the bounce, falling to Bolton, Birmingham City and Arsenal.
Wolves were unable to replicate their early season form throughout the rest of the campaign, finishing up in fifth position in the top-flight on 50 points, behind the Toffees, Spurs, Burnley and Leicester.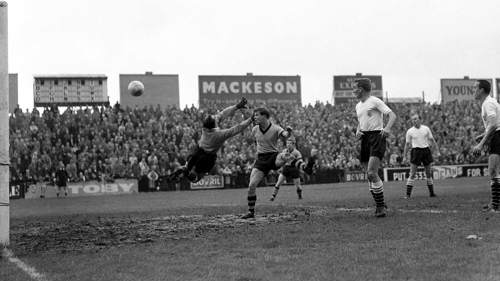 13 MATCHES UNBEATEN
First Division | 28th February to 25th April 1959
In the race for the 1958/59 First Division title, Cullis' Wolves were aiming to become back-to-back league champions as they competed against Manchester United at the top of the table.
After 28 matches, Wolves were sat in first place, one point ahead of United, and were due to travel to Old Trafford to face the Red Devils. On that day, United took the spoils over Wolves, with their 2-1 victory moving them above their opponents to the top of the league standings.
However, that loss spurred Wolves on to their second longest unbeaten runs in history, bouncing back with a 4-1 win over Man City, before going to the rest of the season without defeat, beating fellow title chasers Arsenal, as well as local rivals West Bromwich Albion and Birmingham City.
A run of ten wins and three draws would see Wolves comfortably secure their second league title in two seasons with a 5-0 defeat of Luton [pictured below], lifting the trophy following a 3-0 win over Leicester on the penultimate day of the season, in a game which would go on to be the last in gold and black for captain Billy Wright.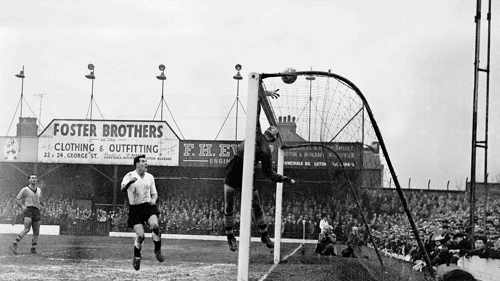 18 MATCHES UNBEATEN (across seasons)
First Division | 28th February to 5th September 1959
Following their double league title win, Wolves continued their positive form into the 1959/60 season by winning three of their first five games of the subsequent campaign, taking their unbeaten record over the two seasons to 18 matches.
Wolves, who were playing a Football League season without legendary captain Billy Wright for the first time in more than 20 years, began their hunt for a third successive league title at Birmingham City, with Bobby Mason's solitary goal being the difference between the teams.
A win and a draw against Sheffield Wednesday as well as a point at Arsenal and three against Manchester City took Wolves to 18 games unbeaten since February of the 1958/59 season, but that run eventually came to an end as Cullis [pictured below] and his side took on Fulham at Craven Cottage on 9th September, losing 3-1.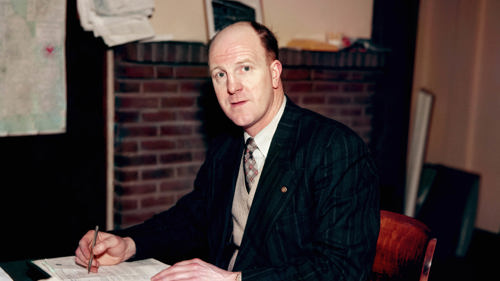 18 MATCHES UNBEATEN
First Division | 14th September to 21st December 1957
Wolves' greatest unbeaten streak in the top-flight of English football came as the club won their second ever league title in the 1957/58 season. After winning the trophy in 1953/54 and finishing as runners-up in 1954/55, Cullis' team were back where they belonged.
The successful championship season was boosted by an 18-game run without a defeat which stretched from the sixth game of that campaign to the 23rd, with Wolves claiming 14 wins in that period, beginning with six wins on the bounce.
A 3-1 win over Blackpool at Molineux, thanks to goals from Peter Broadbent and the two Jimmys – Mullen and Murray, set Wolves on their way to the best season in club history, as wins over Villa (x2), Leicester, Man United and Spurs followed.
The only low point – if you could call it that – of the incredible run was three draws in four matches, but Wolves were soon back to winning ways as they took down Man City, Burnley, Preston, Sheffield Wednesday and Everton on the bounce.
The run came to a halt on Boxing Day 1957 when Wolves travelled to London to take on Spurs, but a Bobby Smith goal in front of almost 60,000 supporters at White Hart Lane put an end to the 18-game streak.
That defeat didn't harm Wolves though and, following a 10-game unbeaten end to the season, Cullis' men lifted the league trophy on 64 points – five clear of second place Preston North End.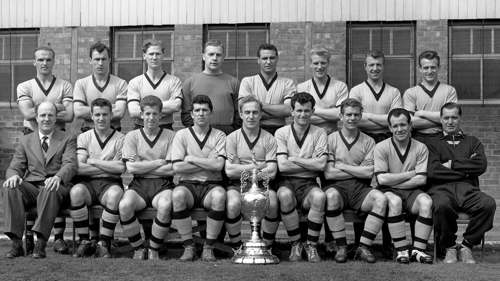 21 MATCHES UNBEATEN (across seasons)
Championship | 15th January to 13th August 2005
Just over a month after taking the reins at Wolves, former England boss Glenn Hoddle led the team on the club's longest ever league run without defeat.
Hoddle's side went from the 29th game of the 2004/05 season – a 4-2 win against West Ham at Molineux, in which captain Paul Ince scored against his former club [pictured below] – until the end of the campaign without losing, claiming eight wins in those 18 matches, with Kenny Miller and Carl Cort's goals being key for the team to earn the points.
But with ten draws in that time, to teams such as Gillingham, Queens Park Rangers, Watford and Derby, saw Wolves miss out on the Championship play-offs as they ended the season in ninth position.
The following season, Wolves began by going three games unbeaten, taking their undefeated run to 21 matches across the two campaigns, thanks to a goalless draw with Southampton, a 2-1 win over Crystal Palace and a 1-0 win against Hull.
Hoddle and Wolves finally tasted defeat away to Leeds United on 20th August 2005, setting the record for Wolves' longest unbeaten league run.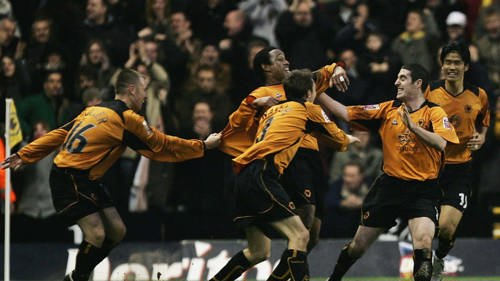 Old Gold