28th July 2021
Wolves have confirmed the process for season ticket seat relocations and pricing structure for new season ticket applicants.
Season ticket renewals have been open since Monday 5th July, and can be renewed online by visiting the Ticket Office website tickets.wolves.co.uk with a deadline for renewals of midnight on Friday 30th July.
There will be two windows for seat relocations for season ticket holders who have renewed for the 2021/22 season. The first window is only for those supporters who are required to relocate from the Family Area due to their group no longer meeting age requirements and will open at 10am on Monday 2nd August and end at midnight on Monday 2nd August.
The second will be for all other season ticket holders who wish to relocate and will open at 10am on Tuesday 3rd August and end at midnight on Tuesday 3rd August.
For the first time this process can be completed online via tickets.wolves.co.uk, where there will be a video guide to demonstrate the process.
As was communicated on 20th July, any unrenewed season tickets will be made available to supporters who are registered on the season ticket waiting list and who have purchased a membership for the 2021/22 season.
Position on the season ticket waiting list will determine priority and exclusive invites to purchase will be sent via email on Monday 2nd August. Those on the list have been emailed in recent weeks with an update on their individual position on the waiting list.
New season ticket applicants also have the option to split the price of renewals equally across six months from August to January by paying via Direct Debit*.
Prices for new season ticket applications are detailed in the table below. As in previous seasons, season ticket renewal prices represent a four-game discount on match by match ticket prices, and new applicant season ticket prices represent a two-game discount. Once supporters are season ticket holders they will qualify for the renewal rate in future seasons.
As part of the club's analysis of its own pricing and the pricing of other Premier League clubs, there will only be one price in the Billy Wright Upper Centre. Those who already have concession priced season tickets will be able to continue to renew at a concessionary price in future seasons.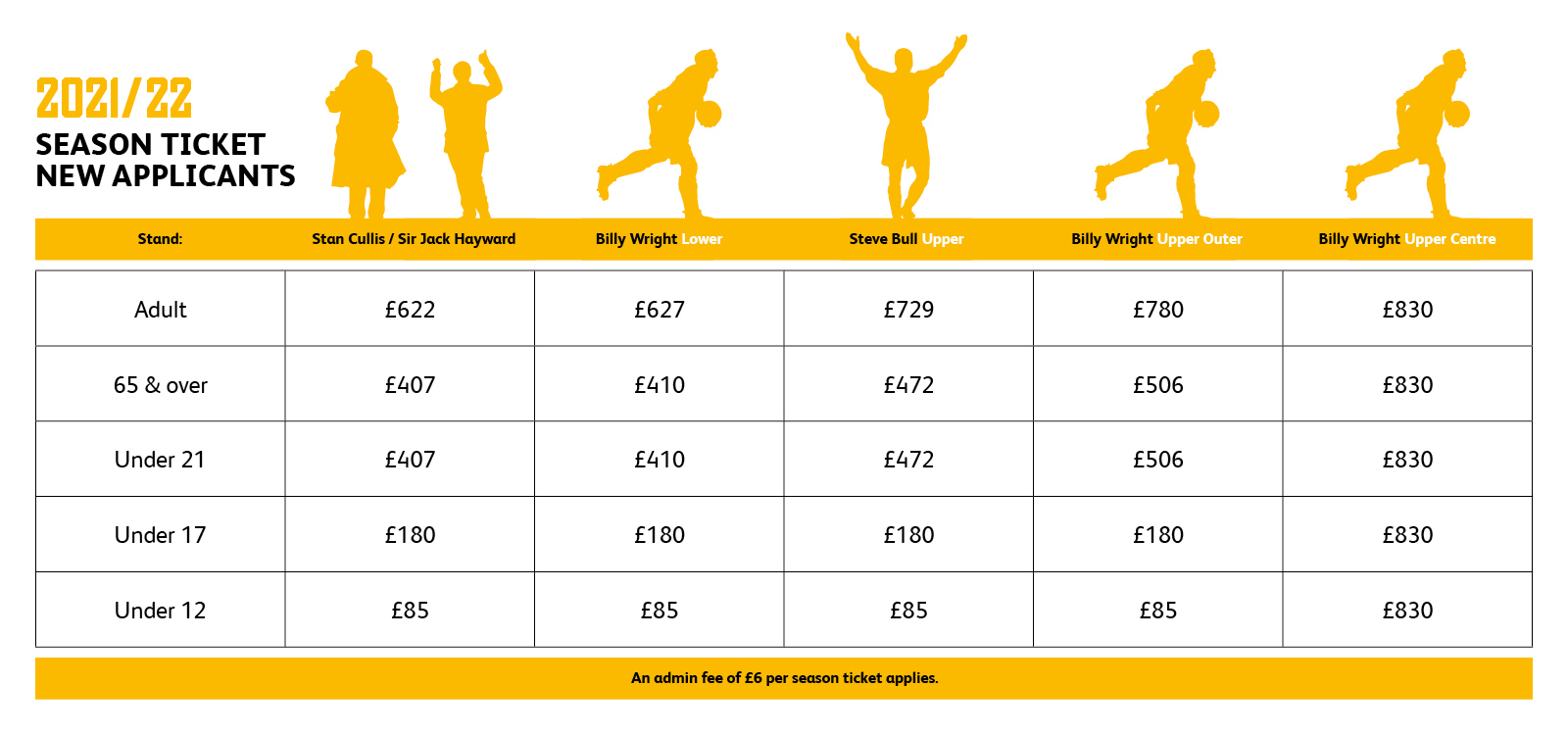 As discussed on episode two of Ask Wolves, published on 28th May this year, there has been a price increase in several seating categories, at varying levels, since season tickets last went on sale in April 2019. For more information on the pricing structure released earlier this month, please click here.
The 2021/22 season ticket comes with a host of other benefits, including priority on all away and cup matches, free entry to all home under-23 fixtures and the ability to resell your ticket online at tickets.wolves.co.uk, earning Wolves Cash if your ticket is resold.
As well as that, season ticket holders receive a 10% discount on food in Sir Jack's Restaurant, 25% off room hire at Molineux and discounts from other selected club partners.
All under-17 and under-12 season ticket holders will get automatic membership for the #WolfPack or Young Wolves respectively, which includes an exclusive gift pack that will be collectable from Molineux on matchdays.
To ask us a question, please email help@wolves.co.uk or call 0371 222 1877.
* Direct debit fee of £20 per season ticket applies.