5th July 2021
Wolves are delighted to confirm that season tickets for the 2021/22 Premier League season are now available for renewal.
Season tickets can be renewed online by visiting the Ticket Office website with a deadline for renewals of midnight on Friday 30th July.
Adult ticket prices start at £549 for supporters in the Sir Jack Hayward and Stan Cullis Stands, or £433.42 for supporters who did not take the opportunity of a refund for the four matches played without spectators at the end of the 2019/20 season.
The club's junior supporters aged under 12 can watch Premier League football at Molineux for less than £5 per game, while supporters aged under 17 for less than £9.50 per game.
A new pricing structure has been introduced in the Billy Wright Upper Tier, which has been split into Centre and Outer priced zones, with the Centre price category between seat numbers 76 and 199 inclusive, and Outer price categories for seat numbers below 76 and above 199.
All supporters once again have the option to split the price of renewals equally across six months from August to January by paying via Direct Debit*, and Wolves Cash balances can be redeemed against season ticket renewals
Wolves made the decision last summer not to sell season tickets for games where supporters might not be permitted to attend, but now feel positive that the 2021/22 season will begin with at least a partial capacity at Molineux.
If Molineux cannot be at full capacity for the opening games, or should games have to be played behind closed doors at any point during the season, all season ticket holders will be refunded on a pro rata game-by-game basis.
Wolves are also aware that some supporters may not feel completely comfortable with returning to Molineux at this stage and therefore will permit supporters aged 65 and over, or those with a registered disability, who feel this way to defer their season ticket for the 2021/22 season. Supporters who wish to defer should email the club using ticketrequests@wolves.co.uk and the club will respond detailing the deferral process.
As previously mentioned, supporters who did not take the opportunity of a refund on the four games in the 2019/20 season which took place behind closed doors will receive a discount of four times the pro-rata game price for their 2021/22 renewal.
Supporters who did opt to take a refund on the four games in the 2019/20 season that took place behind closed doors will not receive a discount and will need to renew at the full 2021/22 prices.
Price tables for both sets of supporters can be viewed below: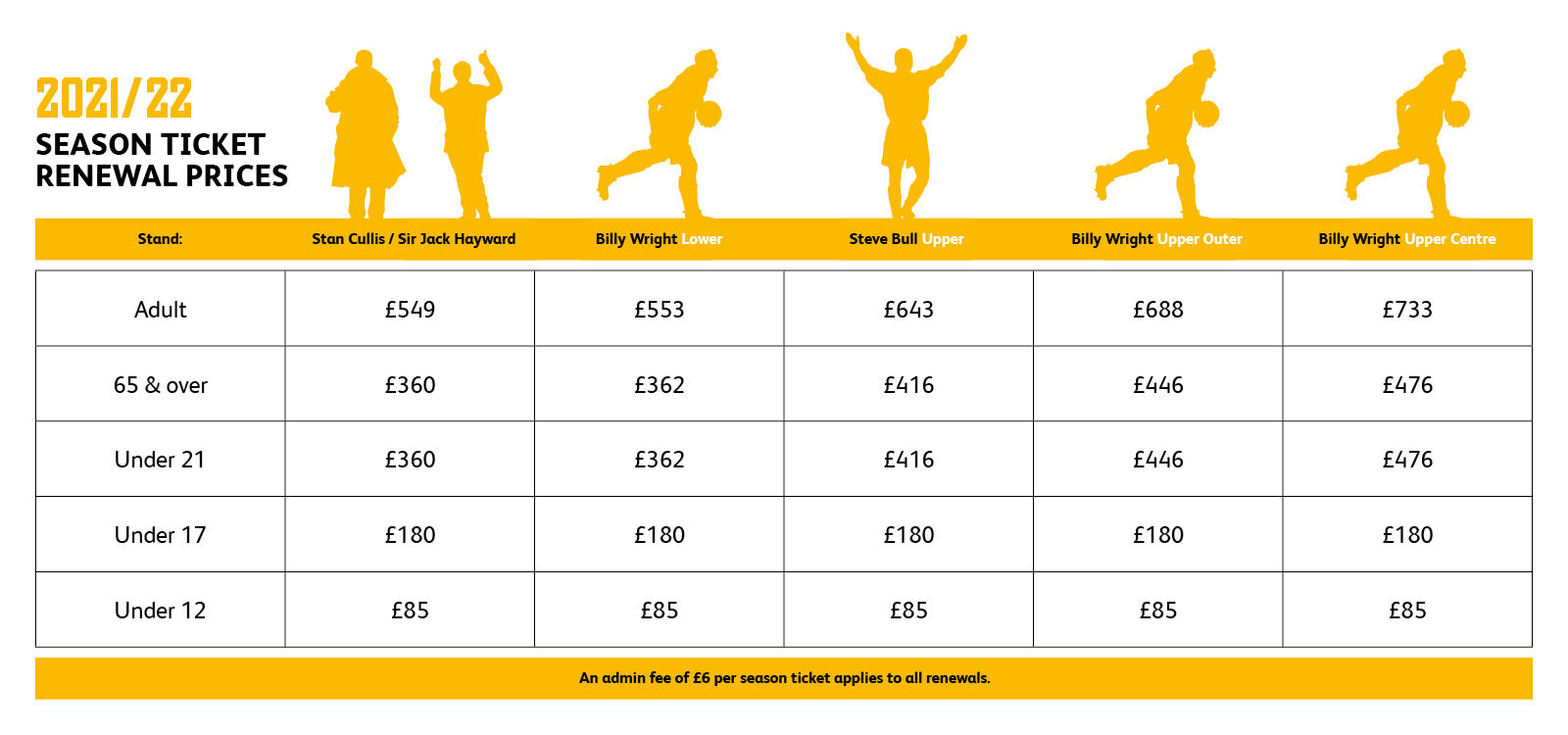 2021/22 Season Ticket renewal prices - click to view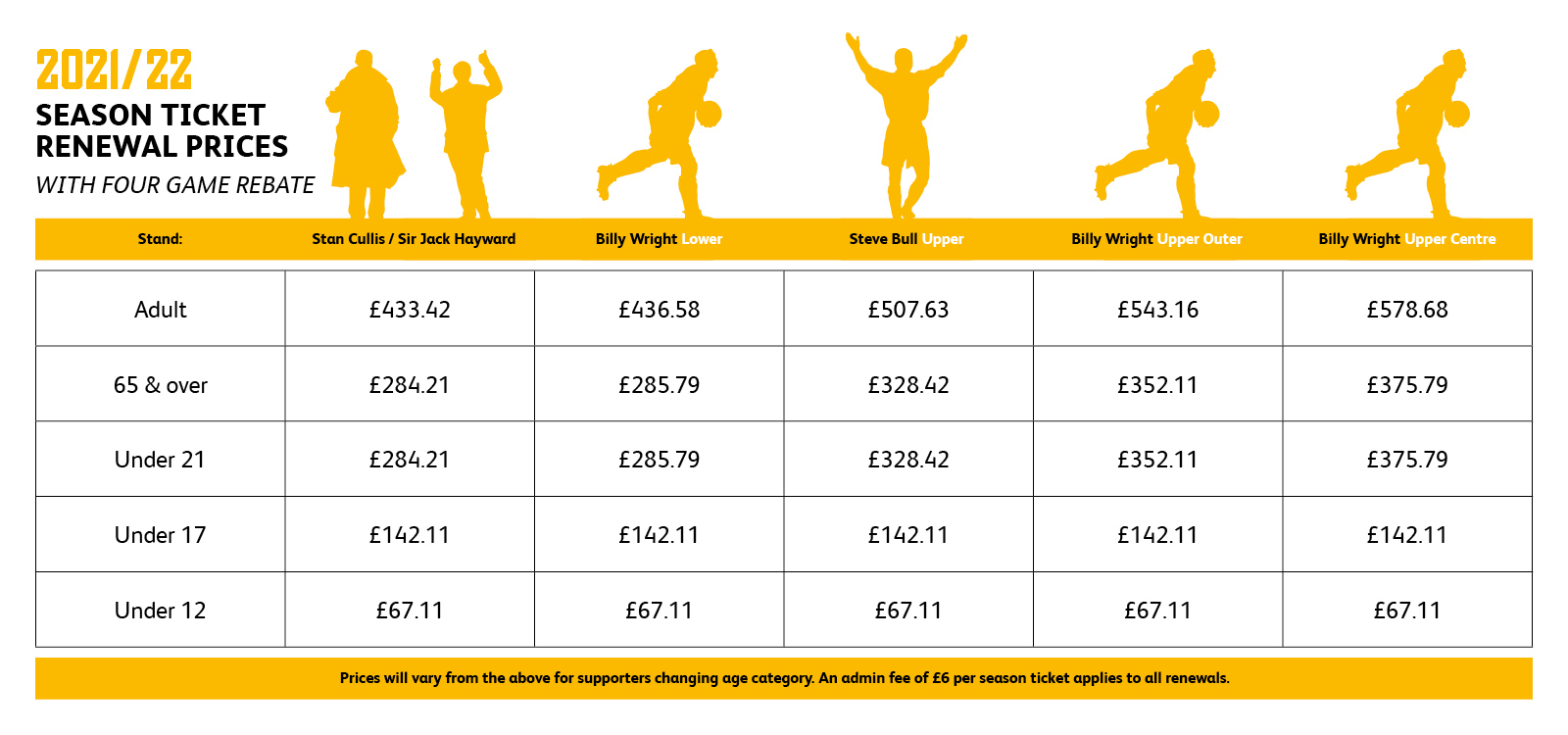 2021/22 Season Ticket renewal prices with four game rebate - click to view
As discussed on episode two of Ask Wolves, published on 28th May this year, there has been a price increase in several seating categories, at varying levels, since season tickets last went on sale in April 2019.
Wolves' general manager for commercial operations, Vinny Clark, said: "Our ticket pricing strategy for 2021/22 has been carefully considered following months of analysis of our own pricing in recent years as well as those of our Premier League competitors.
"Our data showed that our average prices across all categories were somewhat lower when compared to clubs in and around us in the Premier League table, and we have been clear that we would look to realign pricing for the coming season to reduce the commercial disadvantage this gives us.
"We have also given a commitment that any price increases would be fair and reasonable so that Wolves remain accessible to our core fanbase and future generations. I believe that this pricing structure achieves all of this.
"When people compare ticket prices across clubs, they very often look at the cheapest ticket at each, however there are several clubs who strategically price a very small number of seats at an eye-catchingly low price to favour well in these comparisons, and this is something that we refuse to do at Wolves. Benchmarking against our peers is also much more complex than comparing headline ticket prices.
"For example, when we looked at the prices of our 65+ category and viewed these prices as a percentage of the adult price, our prices came in at 55-57% of the adult price. This is significantly lower than the Premier League average of 70%, which is why we have increased the percentage to be around 65% for the 65+ category. This is a good example of the type of logic we have used to find anomalies in our pricing which we felt should be addressed.
"We have also made the decision to increase the pricing for season tickets in the central areas of the Billy Wright Upper, which we consider to be 'the best seats in the house'. Comparisons to similarly positioned tickets at other clubs demonstrated to us that our pricing in this area was lower than average.
"70% of season ticket holders have been offered a renewal price of less than £34 per game, which we feel is good value when measured against our progress on the field over the past four seasons.
"Finally, I'd like to thank all of our season ticket holders for their patience throughout what has been the most unusual 18 months. Many have had up to five games of credit with us, and the uncertainty of when fans can return to Molineux in numbers has been an ongoing source of frustration for us all.
"I hope we can now look forward together to a full Molineux, giving its unique and special backing to Bruno and the team."
Season ticket holders will receive details specific to their renewal over the coming days via email or direct mail.
At the point of renewal, season ticket holders will be invited to join Wolves' cup tie scheme, where payment details can be registered to enable tickets for home cup matches to be automatically sold to season ticket holders.
Season ticket holders that renew their seat before 30th July are eligible for a Wolves Cash bonus, with the amount determined by how many consecutive seasons a season ticket has been held for.
The 2021/22 season ticket comes with a host of other benefits, including priority on all away and cup matches, free entry to all home under-23 fixtures and the ability to resell your ticket online at tickets.wolves.co.uk, earning Wolves Cash if your ticket is resold.
As well as that, season ticket holders receive a 10% discount on food in Sir Jack's Restaurant, 25% off room hire at Molineux and discounts from other selected club partners.
All under-17 and under-12 season ticket holders will get automatic membership for the #WolfPack or Young Wolves respectively, which includes an exclusive gift pack that will be collectable from Molineux on matchdays.
Smartcards from the 2019/20 season will be reactivated upon renewal. Supporters are reminded that there are currently no counter sales at the Molineux Ticket Office.
Further news on seasonal hospitality packages, away season tickets and home match ticket sales will be made available when there is further clarity on the return of supporters.
To ask us a question, please email help@wolves.co.uk or call 0371 222 1877.
* Direct debit fee of £20 per season ticket applies.