14th October 2019
The trailblazing career of Cyrille Regis has received further recognition after the former Wolves striker was inducted into the National Football Museum's Hall of Fame.
The prestigious Hall of Fame award, supported by the Professional Footballers' Association, celebrate the achievements of those who have made an outstanding contribution to the game, either on or off the pitch.
Regis, who was awarded an MBE in 2008 for his services to charity and football, scored more than 200 goals in just under 750 appearances during a professional career spanning two decades. Renowned for his powerful displays and spectacular goals, he was capped five times by England before passing away suddenly in January 2018, aged 59.
The award was presented to Regis' widow Julia and his brother Dave by former England and Liverpool winger John Barnes during a ceremony at Aston Villa – one of the four local clubs the ex-England forward represented.
Tim Desmond, CEO of the National Football Museum, said: "Cyrille is the first inductee for our refreshed Hall of Fame which aims to recognise a wider diversity of those special football people who have made an outstanding contribution to the game of our lives. Cyrille was a pioneer and role model and it is fitting he is our first new inductee.
"We're delighted Julia and Dave accepted the Hall of Fame Award on Cyrille's behalf as members of the Regis family ensure Cyrille's memory, and the community work that was close to his heart, lives on through the Cyrille Regis Legacy Trust."
The presentation fittingly took place during a 'Strike A Change' event, the flagship mentoring programme of the Cyrille Regis Legacy Trust, in collaboration with the charitable foundations of the six West Midlands clubs, including Wolverhampton Wanderers Foundation, aimed at 14 to 15-year-olds who demonstrate a passion for football but are considered to be disengaged within their school or community.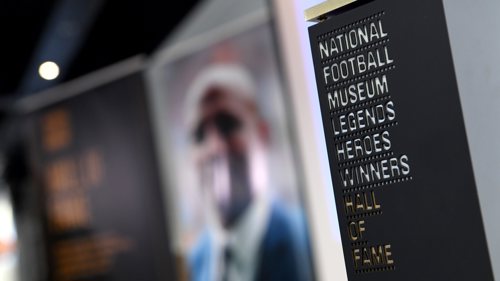 Regis' induction, which poignantly took place during the nationwide Black History Month celebration, kicks off a longer-term partnership between the National Football Museum and the trust.
John Barnes roomed with Regis as England under-21 team mates and was on the field when the French Guyana-born striker won his final senior cap as a sub against Turkey in 1987.
"It was an honour and a privilege to present this award to Julia and Dave in memory of such an iconic footballer who was an inspiration to so many black players," he said. "Cyrille was a superstar on so many levels but remained grounded and humble."
Julia Regis, chairman of Cyrille Regis Legacy Trust, said: "Cyrille being inducted into the Hall of Fame is a lovely gesture by the National Football Museum. As a family, we remain immensely proud of the impact he made on the game both on and off the field.
"Cyrille's legacy lives on and it was great that many of the young people he continues to inspire were present at the induction."
Dave Regis, trust ambassador and former Stoke City and Birmingham City forward, added: "Cyrille's induction into the Hall of a Fame is a great honour and well deserved for the person he was and how he inspired young black players who never thought they could break into professional football.
"My brother was a humble man. Even when players like John Barnes and Les Ferdinand told him he was their role model, he just took it in his stride.
"Cyrille always had time for people. The tributes over the past 18 months have been so overwhelming and just go to show how much people thought about him."