3rd May 2022
Wolves Women 4 (Hughes 5, Merrick 14, Gauntlett, 48, Hughes 62) Loughborough Lightning 0
Wolves finished the regular season in style as an Amber Hughes brace and goals from Maz Gauntlett and Beth Merrick saw the champions cruise past Loughborough on the final day of FAWNL action.
Wolves had started the better on the day, and a poor pass in the Loughborough midfield allowed Beth Merrick to sprint down the left-hand side and into good space, but unfortunately nothing came of the opportunity – an early warning sign to Loughborough.
It wasn't long before the deadlock was broken however, as Amber Hughes found herself in the perfect position on the edge of the box. She controlled the ball, carried it round the goalkeeper and calmly slotted it into the back of the net to give the girls an early lead
Wolves were also able to make it two as Tammi George was bought down in the box and the hosts were awarded a penalty. Merrick stepped up from the spot and confidently struck the ball to double the lead from 12 yards.
A chance then fell to Gauntlett, as Jade Cross worked the ball well down the left-hand side and found the attacker on the edge of the box, but she was unable to get her shot on target.
After a spell of pressure by the visitors, Hughes came so close to getting her second of the afternoon, as once again she got past the Loughborough defenders and powerfully struck the ball towards goal, but Kiya Webb was able to put herself in a good position to block the effort.
At the other end, Loughborough threatened on the attack and found themselves almost pulling a goal back before half-time, as their number 11 Sophia Bonser curled the ball towards goal, but much to her despair, watched it come bouncing off the post.
Half-time | Wolves 2-0 Loughborough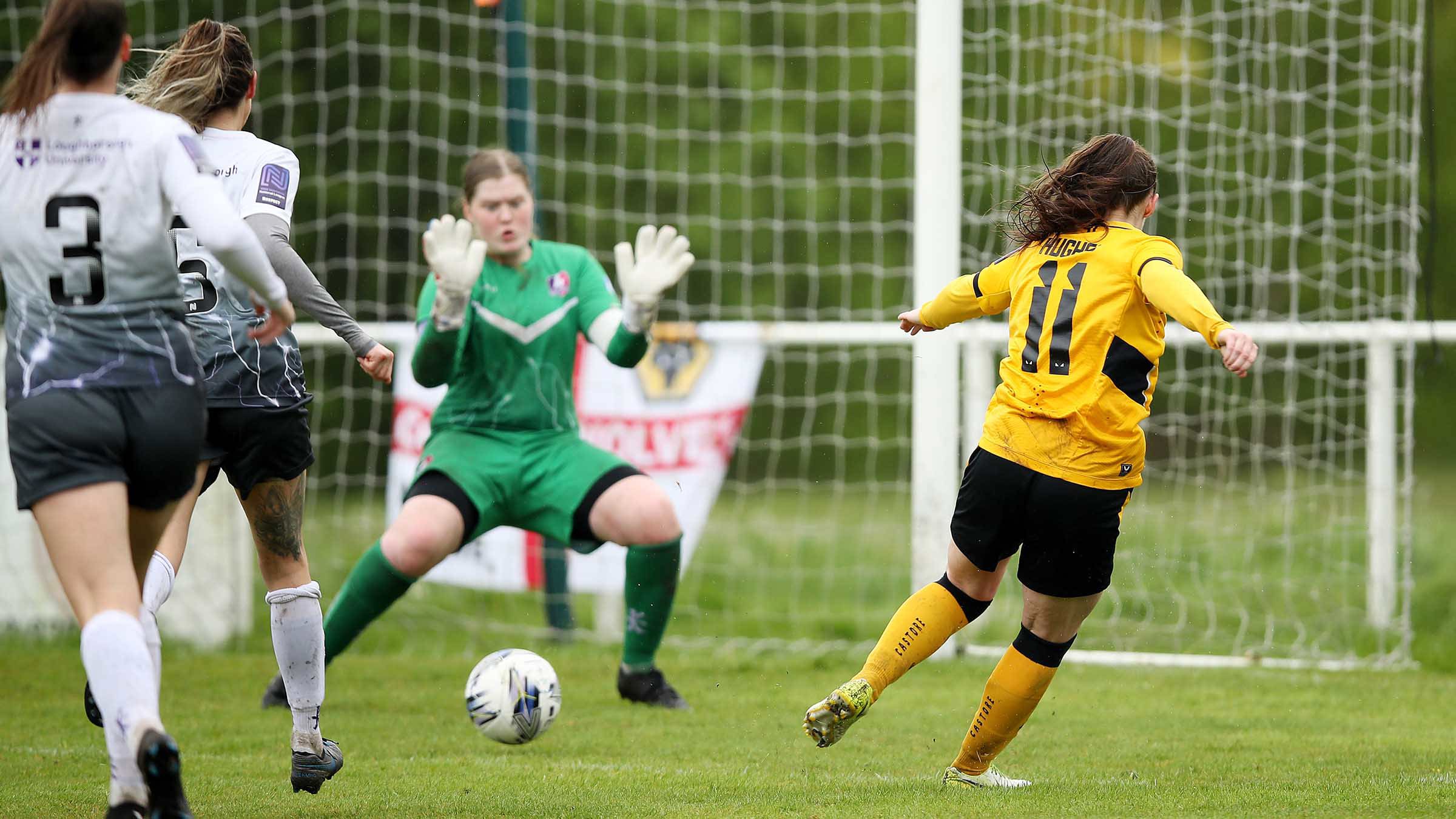 Wolves started the second period well and made it three early on as Jade Cross set up Gauntlett, who headed it confidently back into the net. The striker then almost found a second as she turned beautifully with the ball in the box but struck it straight at the visiting goalkeeper.
Hughes then grabbed herself a brace as George charged down the right-wing and put in a perfect cross that found the striker, and she controlled the ball into a tight angle and slotted the ball home to score Wolves' third of the afternoon.
Substitute Lowri Walker fancied a shot on goal too, as her curling effort from the right-hand side curled effortlessly towards goal, but unfortunately missed the target.
After some grit and determination from Jade Cross, her pass found Amy Dicken in the box, who turned and struck the ball with confidence, but Webb was able to react very well to her effort.
Jade Cross almost grabbed our fifth, as her shot from the edge of the box rolled inches past the post as she watched on in frustration.
A game that ended 4-0 to the old gold, as the league champions rounded off what's been an incredibly memorable ten months of football in the FAWNL Northern Premier division and look ahead to a black country derby county cup final and a crucial Championship play-off final against Southampton.
Full-time | Wolves 4-0 Loughborough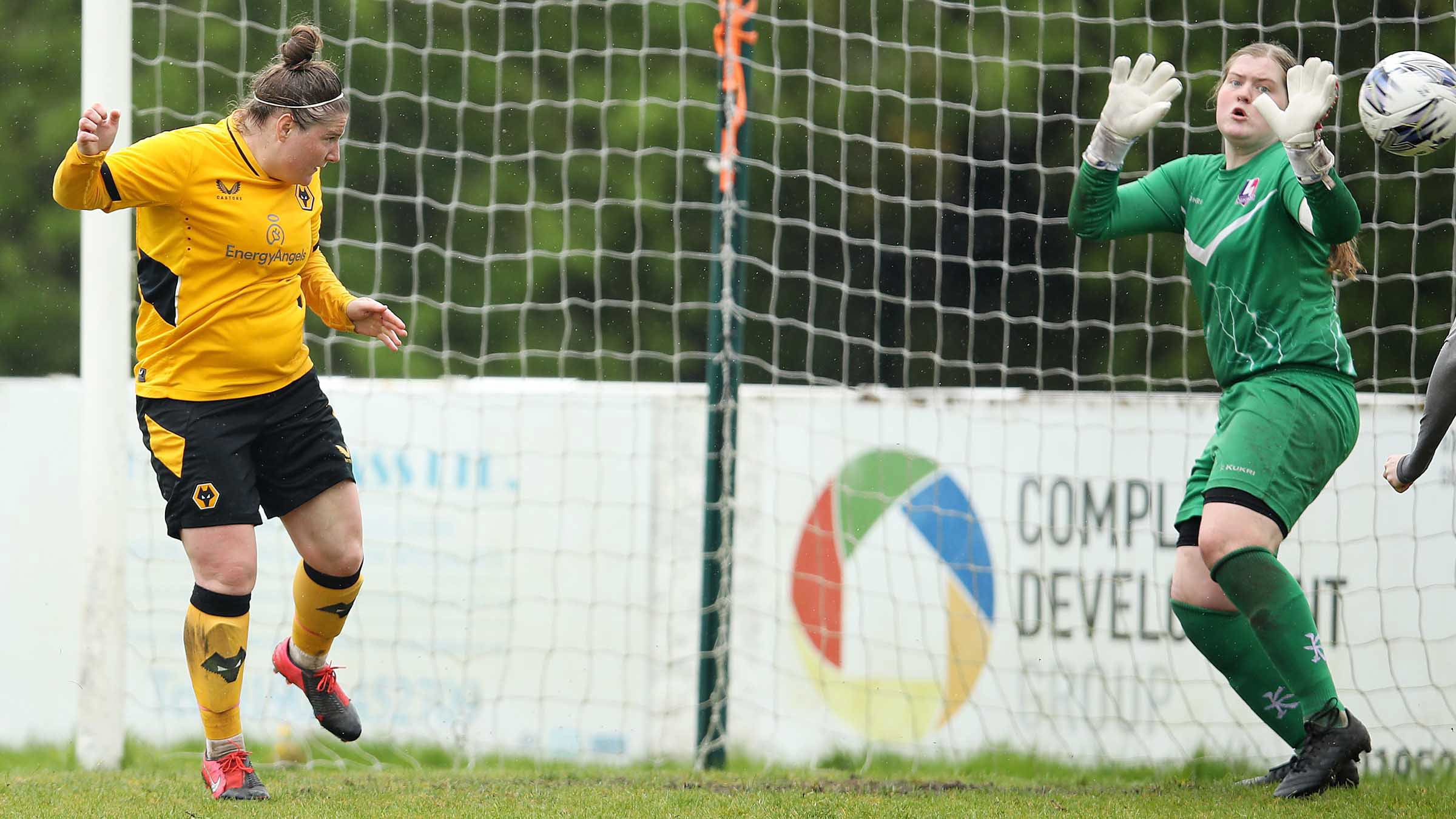 REACTION
Caretaker manager Karl Milgate was more than pleased with the girls' final league performance, and said: "It was important to gain momentum back after two draws in a row against a tough Brighouse opposition and it was a good overall performance.
"Early goals are important, but we have the patience and trust in each other that if they don't come early, we will certainly be victorious anyway. Amber started positively, obviously a few offsides early on, but we knew they couldn't keep playing that high line and Amber does not get through, so it was a successful start.
"We asked the girls to take control of the game from the start in and out of possession, which they certainly did for the first 15/20, leading up to 30 minutes," said Milgate. "It did then drop-off and that's what we spoke to them about at half-time, in terms of they've got to drive this intensity and control of the game.
"The game had gone a little bit flat, and we can't allow that to happen in the next few weeks," highlighted Milgate.
On Gauntlett's impact since her injury…
"We had to manage a lot of people today in terms of game time, minutes and getting players up to speed as well as protecting some," said Milgate. "Maz needed to keep ticking over and obviously it worked with a goal, she only received a minor knock when she came off, so she just came off to make sure she's ready for these next few weeks."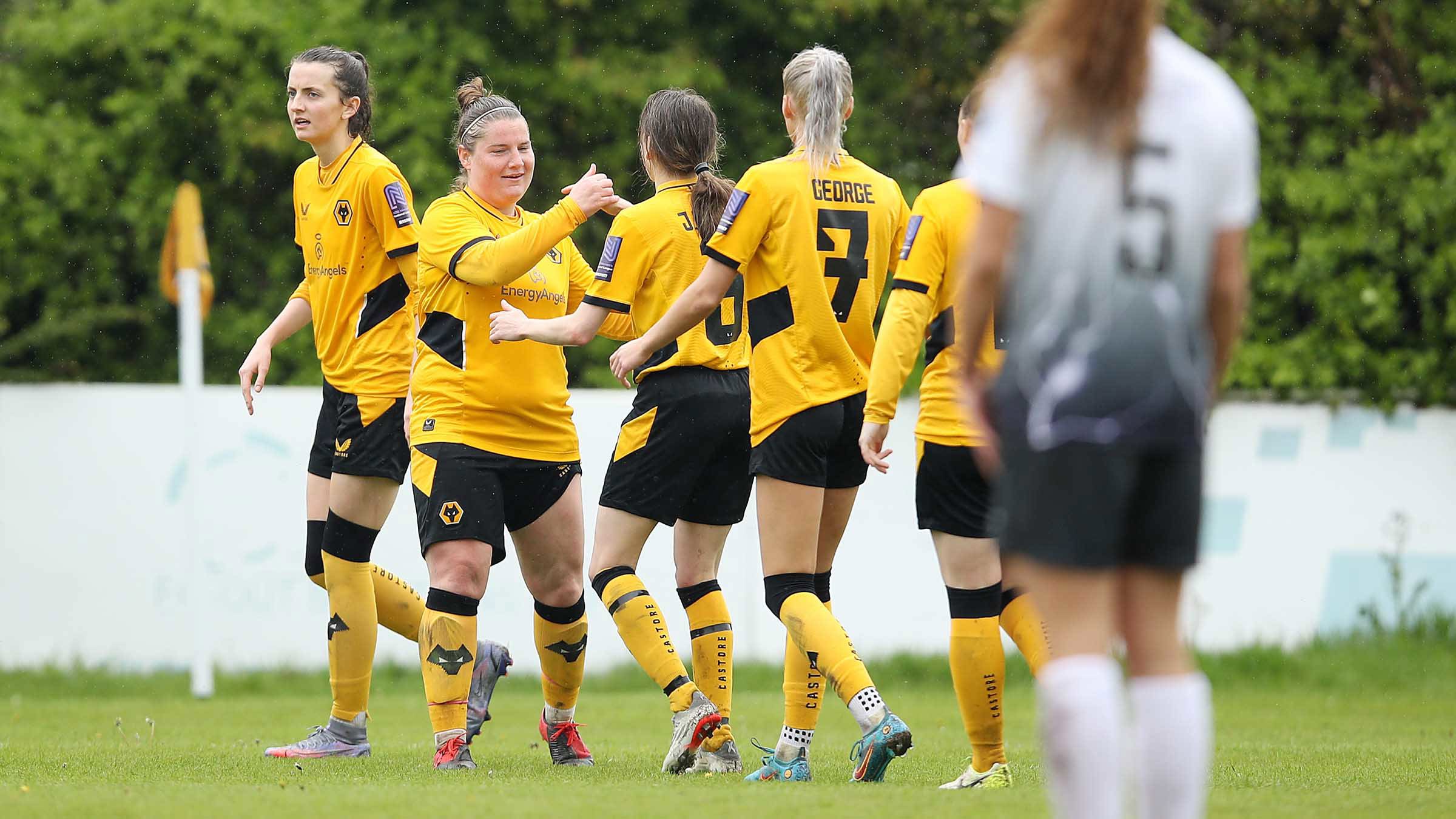 COMING UP
The season is far from over for this group of players and all staff involved, with Walsall hosting a Black Country derby County Cup final and Stockport County welcoming Wolves to Edgeley Park for the Championship play-off final against Southampton.
Milgate said: "We can't concern ourselves with these games. Our job today was to finish the league off in a positive manner. Preparations are fine in terms of where we are. We know what we're doing and what we've got to do.
"First up is the county cup which we can't take our eyes off that significant game. It's going to be a big game for the club with it being against West Brom.
"There are also other important things to think about as the season finishes. Natalie Widdal today played her last league game for the club which is hugely important to recognise. To be at a club since the age of 10 and being from the city meant a hell of a lot to her so it was right to give her game time today.
"Anna Price has been sharp in training for the past few weeks getting back to fitness, so it was good to give her some minutes too."
NEXT TWO
11/05 West Bromwich Albion (Birmingham FA County Cup final)
21/05 Southampton (Championship play-off final)
TEAMS
Wolves: Turner, Cooper (Widdal 56), E.Cross, Gauntlett (Burridge 53), George (Price 71), J.Cross, Hughes (Walker 65), Darby, Johnson, Elsmore, Merrick (Dicken, 62).
Loughborough: Webb, Hateley, Sharpe, Lowe, Morrison, Turton-Burrell (Steele 60), R. Taylor, N. Taylor,Middleton (Taft 60), Bonser, Gunn (Richardson 52).