14th April 2022
Wolves Women 2 (own goal 2, Gauntlett 30) 2 Brighouse Town 2 (Embley 85, Williams 90+3)
More than 2,000 supporters turned out at Molineux to watch Wolves Women lift the FAWNL Northern Premier Division trophy, following a 2-2 draw with Brighouse Town.
In Wolves Women's first competitive match at Molineux in 20 years, Dan McNamara's side we able to celebrate a historic season with supporters but were denied victory on the night by a late comeback from Brighouse in the final five minutes.
Wolves had enjoyed the perfect start, amidst a whirlwind beginning at Molineux. Amber Hughes was afforded plenty of space to charge towards the Brighouse box, and as she crossed for Maz Gauntlett, who was waiting on the left, her centre took a massive deflection off a visiting defender and ended up in the back of the net, putting Wolves in front after two minutes.
Not deterred, Brighouse continued to put plenty of crosses into the box, with Drew Greene and Danielle Witham looking lively, and they came close to equalising when Danielle Witham had a shot from close range, but her effort was saved by Shan Turner, and Witham shot over from range.
Despite the constant pressure from Brighouse, especially down the right-hand side, excellent attacking play from the old gold saw them double their lead on the 30-minute mark. Hughes did well to control the ball in the box and could've had a shot on goal herself, but instead cut back to Gauntlet who confidently struck into the back of the net.
Recent signing Leah Burridge fancied her chances not long after as she curled the ball into the box from the right, but it proved a comfortable save for Brighouse's Becky Flaherty.
Hughes then found herself charging towards goal at the end of the half, but the Brighouse defenders eventually caught up to her and were able to deny her a shot on goal. The striker has been prolific in front of goal this season, with more than 20 league goals to her name.
It looked like a third was on the cards for Wolves on the brink of half-time as Hughes worked the ball down the left and cut into the box. She put in a perfect cross across the mouth of goal, but Jade Cross was unable to capitalise from close range.
Half-time | Wolves 2-0 Brighouse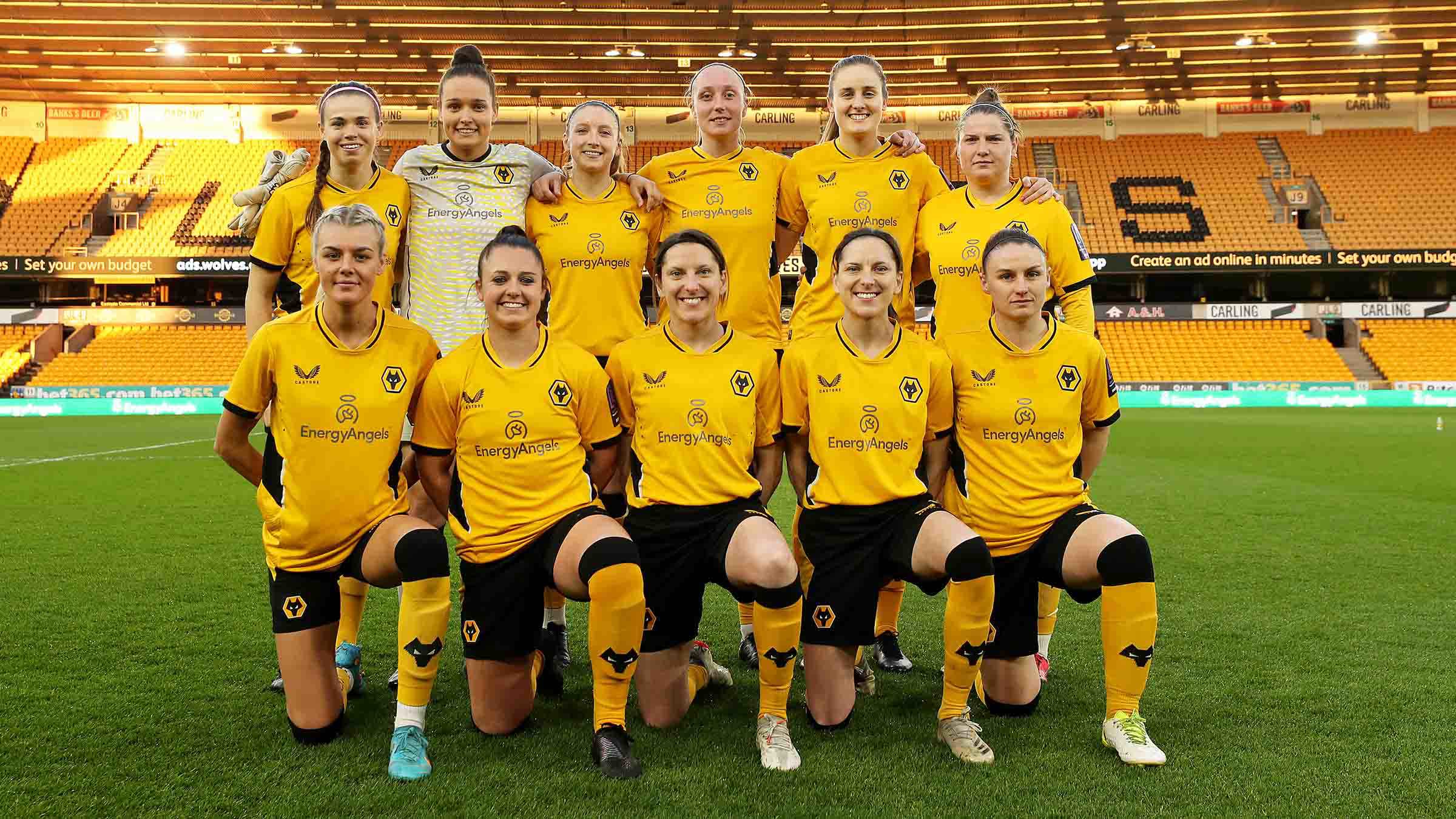 After the break, Cross had another chance, but her effort produced a comfortable save for Flaherty who was called into action plenty of times during the 90 minutes.
Laura Cooper almost got herself on the scoresheet when she powerfully struck from distance, but Brighouse's stopper reacted well again and was able to make a great save to deny her adding another spectacular strike to her goal collection
As the game wore on, Brighouse began to pile on the pressure, finding their way into the box numerous times, but the defensive work from Wolves was solid and Turner between the sticks made some excellent saves, including a fine stop from Witham, to keep the 2-0 lead as the half continued.
Hughes came within inches of scoring Wolves' third of the night. She found herself with plenty of space and struck the ball powerfully, only for it to ricochet off the bar as the 2,447 travelling supporters watched on nervously.
However, the visitors were able to get a goal back five minutes before time as Leah Embley struck a low ball into the bottom left-hand corner and they grabbed an equaliser in added time as substitute Imogen Williams made sure the visitors left Molineux with a point.
Despite the late frustration for the old gold, the occasion itself was one to remember for all involved in the club, as well as the fans that turned out in their numbers to witness the girls play their first competitive game at the Molineux in 20 years.
Full-time | Wolves 2-2 Brighouse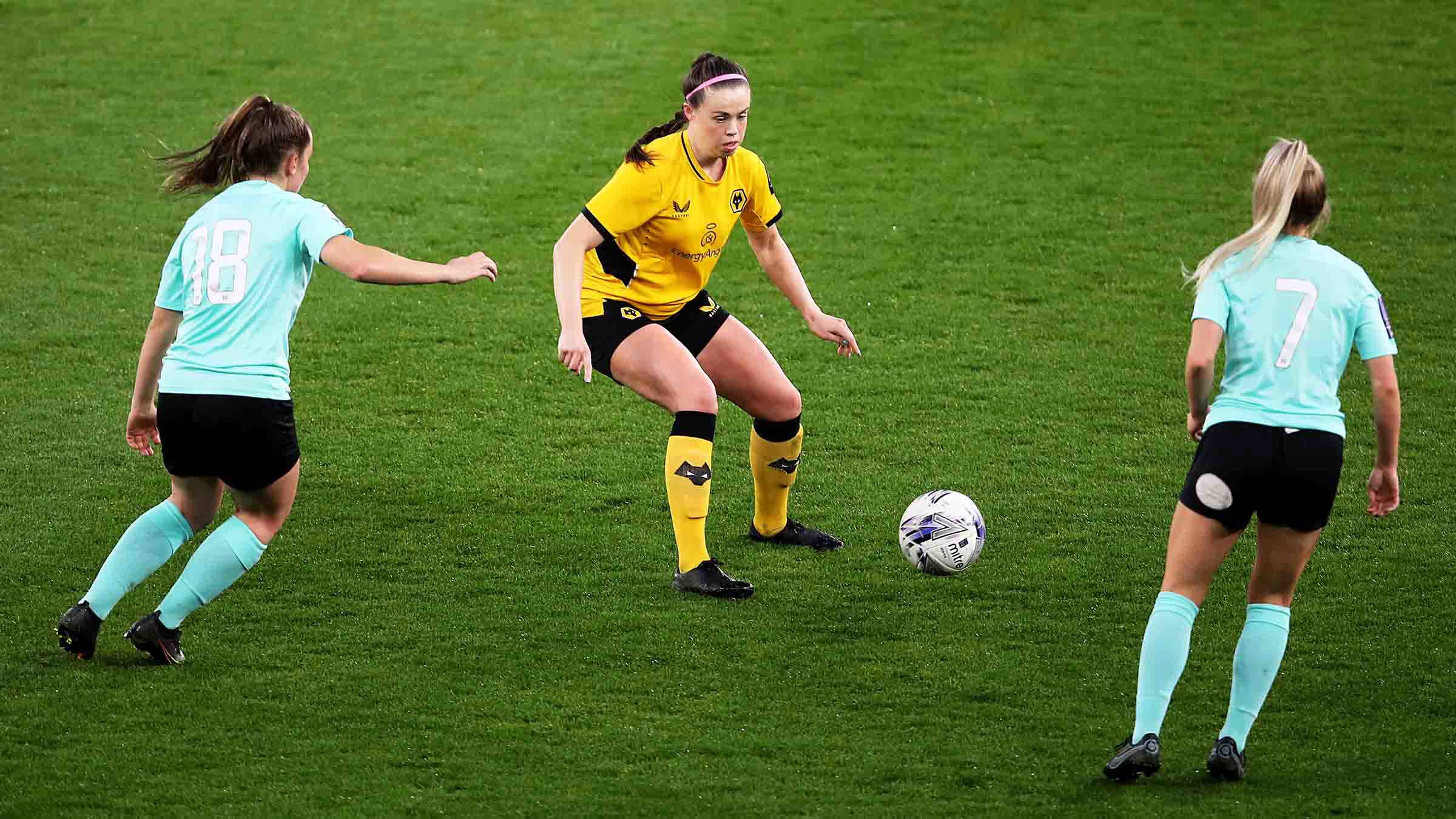 REACTION
It's been a hectic week for the club, winning the league on Sunday and playing at Molineux on Wednesday, but Wolves boss Dan McNamara wouldn't have had it any other way.
"It's been amazing," he said. "Thank you to the club and to everyone that has done everything for us. Even the little touches for tonight have been fantastic.
"It was a fantastic turnout. The crowd were amazing, but it was just a step too far for us to try and get over the line, but I said to the girls we won it long before this night, I'm just delighted, and I hope they enjoyed it.
"To come here on a Wednesday evening, it was fantastic, really enjoyable, they made it a good atmosphere and got a couple of goals to celebrate as well. Thank you to everyone who came out. We hope we've enticed a few more to get themselves down to Castlecroft over the coming seasons.
"I say week in, week out, I'm proud to call them players and friends. They've been an amazing group. They constantly find a way and tonight was all about not getting beat. They were probably tired, leggy, and still emotional after the last few days, but they're a privilege to work with.
"I'm delighted to be the manager of such a fantastic football club and to have some fantastic players in and around me, so onwards and upwards and we look to go again."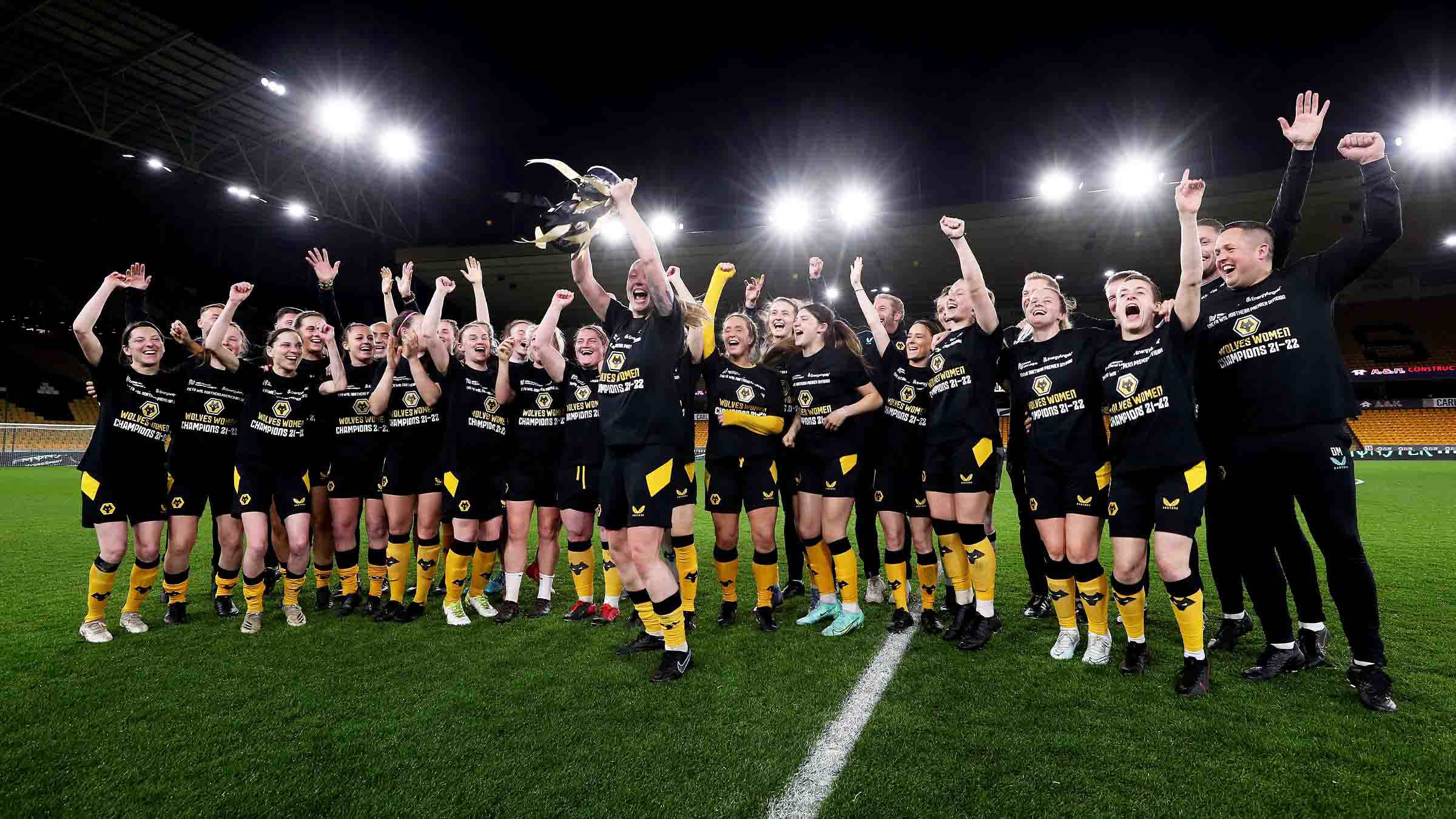 COMING UP
Wolves' next game is away at Brighouse a week on Sunday, so both teams will know what to expect going into this fixture, with a home fixture against Loughborough ending their impressive 2021/22 campaign.
Wolves' season won't be over, as a Black Country derby in the Birmingham FA County Cup final and a play-off await next month.
On the upcoming fixtures, striker Gauntlett said: "We just focus game by game. People have started asking how we're preparing for the play-off final, and we don't, we're not even thinking about that just yet.
"The next big game is Brighouse away. They came to the Molineux and performed really well, so we're going to have to get in at training and work on where we let ourselves down and where we can utilise the areas, they leave open for us."
NEXT FOUR
24/04 Brighouse (A)
01/05 Loughborough (H)
11/05 West Bromwich Albion (Birmingham County Cup final)
21/05 Championship play-off
TEAMS
Wolves: Turner, Cooper, E.Cross, Gauntlett (Walker 70), George (Dicken 86), J.Cross (Butler 87), Hughes, Darby, Morphet, Merrick (Elsmore 82), Burridge (Dermody 60).
Brighouse: Flaherty, Bamforth (Watkins 74), Legge, Cass (Williams 66), Dean, Drew Greene, Fields (Sowerby 45), Witham (White 80), Darcie Greene (Hartley 88), Embley, John.
By Megan Garbutt