21st March 2022
Middlesbrough 0-4 Wolves (Hughes 5, Gauntlett 10 & 20, Morphet 41)
A Maz-terpiece from Gauntlett helped Wolves claim another three points against a tough Middlesbrough side to keep them top of the FAWNL Northern Premier Division.
Wolves started off brightly as they looked to put the pressure on the home side early on, and the efforts from the Wolves frontline paid off as Maz Gauntlett headed it on to Amber Hughes from a Middlesbrough goal kick which led to Hughes slotting the ball in at the near post to give Wolves an early lead.
Gauntlett was then able to add herself to the score sheet after the Boro keeper fired the ball off Hughes and the ball fell kindly to Gauntlett who was able to calmly finish into an open goal with no opposition.
Things got even better for the old gold, as a beautiful diagonal ball from Beth Merrick found Jade Cross, who was able to beat a defender and square it across to Gauntlett who squeezed home at the near post to give the visitors a 3-0 lead.
Hughes then made her way into the box and won a penalty after shifting past the Boro defender who then had to chop the forward down to stop a goal. Anna Morphet stepped up to take the penalty and fired the ball down the centre of the goal, which the keeper was able to save.
A handball from a Middlesbrough player gave Morphet an opportunity for redemption and the defender took it with open arms, finding the bottom corner with ease to extend our lead.
Half-time | Middlesbrough 0-4 Wolves
The home side came out in the second-half much more energetic and they got an early chance on goal after a quick counter-attack. Middlesbrough kept on pushing as they almost grabbed their first goal directly from a corner as the ball crashed into the far post.
It continued to be a difficult second-half for Wolves as Middlesbrough continued to pile on the pressure to try and find their way into the game after a troubling first-half performance. The away side seemed to change their approach as they played more on the break, trying to catch Middlesbrough high up the pitch when they would press.
Wolves started to grow back into the game late on in the half, with a solo run from Cross causing real trouble for the Middlesbrough players but her shot went narrowly over the crossbar.  
A bright, but cold afternoon ended in victory and another three points for Wolves, keeping them at the top of the FAWNL Northern Premier Division by six points.
Full-Time | Middlesbrough 0-4 Wolves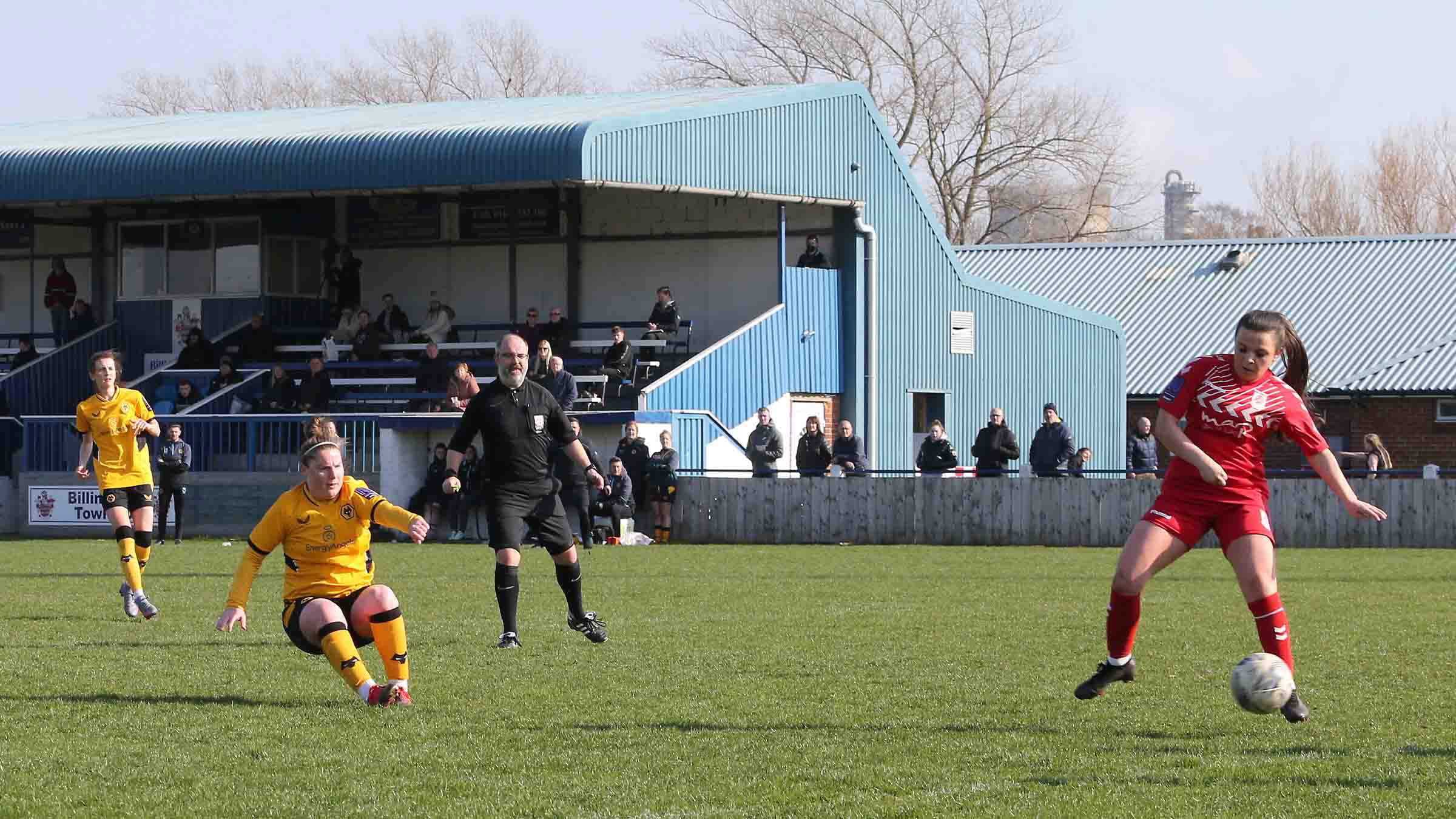 REACTION
Dan McNamara described the girls' performance as "outstanding" after the game, saying: "I say it week in week out these they just don't stop, they don't know they don't know when to stop. They're an amazing bunch of people and that's beyond the girls that's the staff.
"We knew this weekend would be difficult, they've had two wins and you can see they're effective in what they do, I thought they nullified what we had and they created some opportunities, so good luck to them going forward.
"We travelled up last night, we knew it would be a difficult fixture and the girls are loving it. The whole group is striving in a brilliant direction, and I couldn't be prouder of them, another three points and I heard a couple of results could have gone our way.
"We spoke about breaking them down, we knew they were going to play a low block and on the counter-attack, they've got Armani up front and she's really effective in what she does. We needed them to come out of that low block and scoring early was the perfect remedy for us to start being able to get into the game. When chances like that drop to Amber Hughes we know what we are going to get."
On Maz Gauntlett…
"We felt like if the chances were going to come, maybe a little half-chance, then there's no one better than Maz Gauntlett to finish off those half-chances and I'm delighted for her. She's worked tirelessly for months to get back on the pitch, and that's another two goals in her bag, she was fantastic.
"I think the conditions, the pitch is difficult for both teams and I think the wind really played a part in the second-half. We spoke at half-time and it was about keeping another clean sheet for Shan. We spoke about not letting them back in, don't give them a little nibble and the girls did that fantastically well. It was a shame we didn't add to it in the second-half, but 4-0 away from home is a terrific result.
"They're not a bad side, I thought they gave a really good account of themselves, especially in the second-half, they have an excellent goalkeeper, I thought Longcake was fantastic out wide. Don't underestimate it, that's a huge result for us and it caps off a perfect weekend."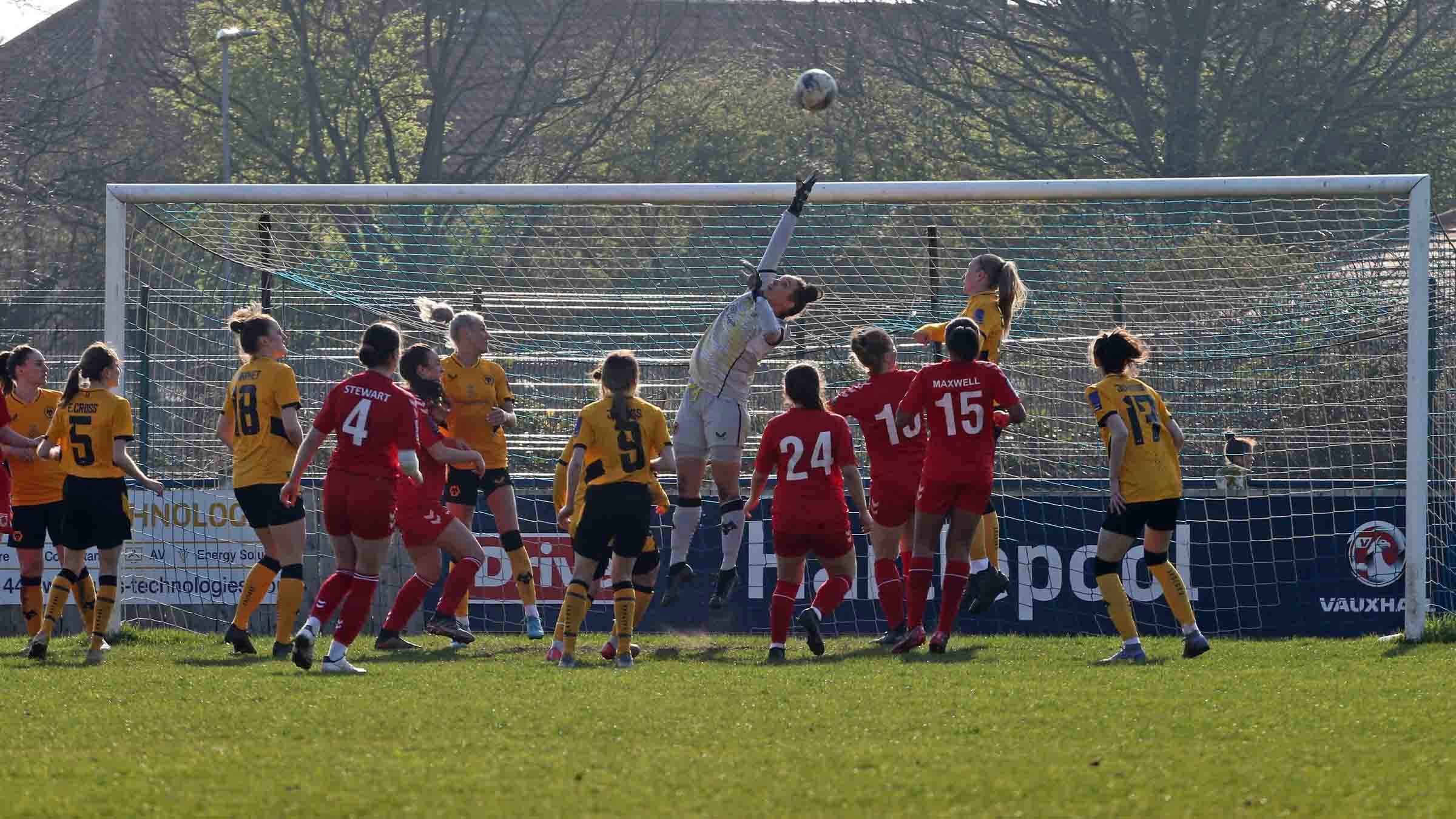 COMING UP
Wolves' next game is away at relegation-battlers Sheffield FC in a game that could define both teams' season. Sheffield are currently sat 12th in the FAWNL Northern Premier Division and are looking to break a long winless run.
McNamara said "all teams deserve our respect," when asked about the difficulty of the fixture, saying: "We'll prepare this week, Tuesday, Thursday and Sheffield will be a difficult place to go so we're all looking forward to it, hopefully we can add some more points to the board."
NEXT FIVE
27/03 Sheffield FC (A)
03/04 Huddersfield (H)
10/04 Sheffield FC (H)
17/04 Brighouse Town (A)
24/04 Brighouse Town (H)
TEAMS
Middlesbrough | Todd, Newton (Dale 58), Serginson, Robson, Stewart, Whittaker (Curle 78), Boyle, Dobson, Marshall (Jones 78), Longcake, Maxwell (Giles 78).
Wolves | Turner, Cooper, E. Cross (Edwards 86), George (Elsmore 86), Gauntlett (Walker 73), Hughes, J. Cross (Butler 81), Darby, Johnson, Morphet, Merrick (Dicken 81).