18th December 2021
Fit again striker Jade Cross is aiming to bag her first goals of the season as Wolves visit Bedworth United in the Birmingham County Cup on Sunday.
Prolific scorer Cross, who has hit 147 goals in 178 appearances for her home town club, was sidelined for three months with a knee injury before returning to first team action in the 4-0 FA Cup loss to Nottingham Forest a fortnight ago.
That was Wolves' first defeat of the campaign in either League or Cup, so bouncing back in emphatic fashion is imperative says Cross.
Spurred on by the memory of scoring four goals in an 8-0 win on the last occasion she faced Bedworth, the striker is doubly determined to help her team put the Forest result behind them with a convincing victory.
"We've got to show the Forest game was just a one-off poor performance," insists Cross. "We never really got going as a team, and that's just not like us.
"The only positive thing for me personally was that my knee held up well through a tough 90 minutes. I went into the game a little bit nervous, but once I'd come out of a couple of heavy challenges okay I was fine. Now I want to start scoring again and the County Cup should be a good opportunity."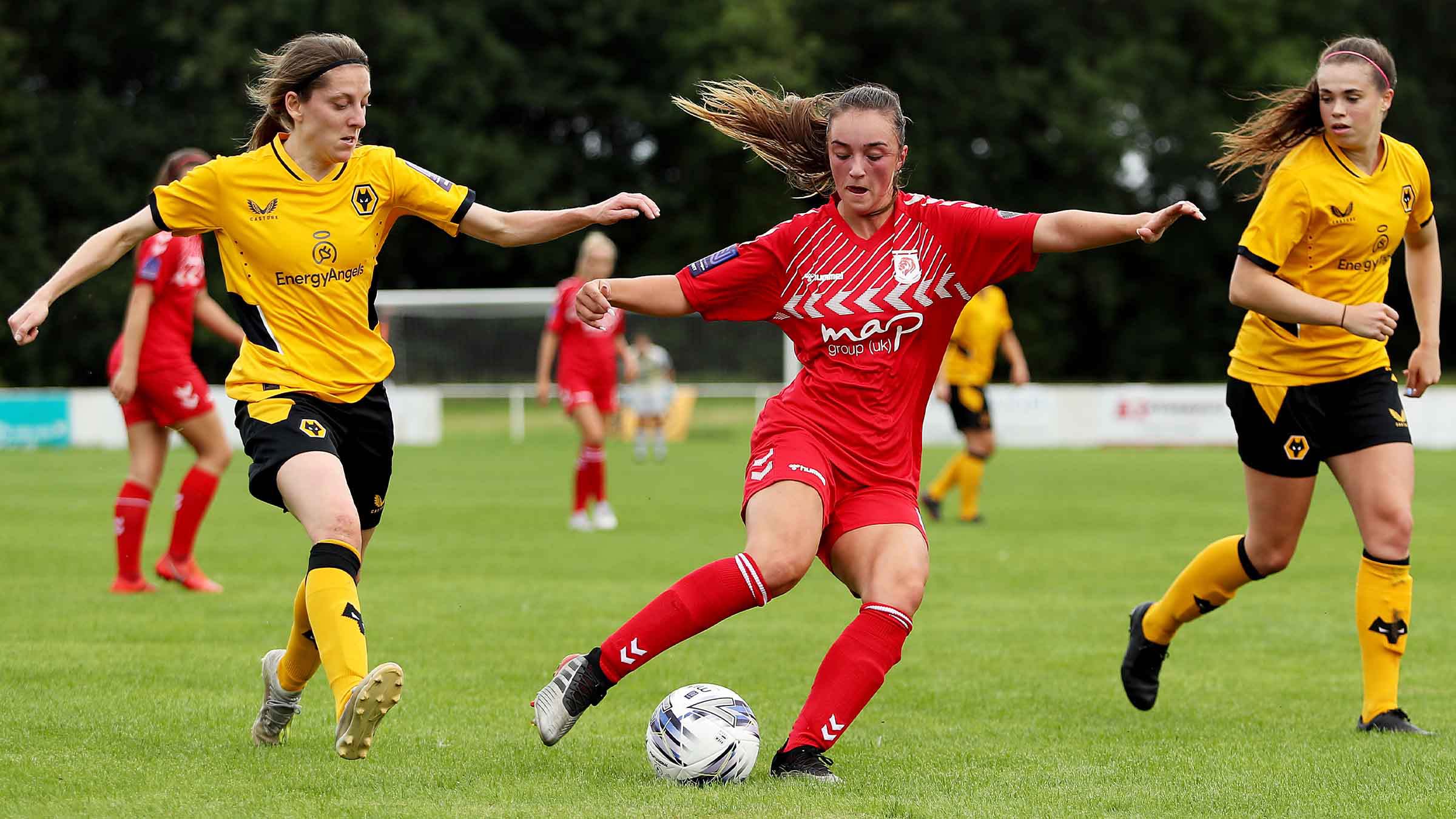 With Wolves sitting third in the National League Northern Premier Division and – a tier below – Bedworth languishing at the foot of Division 1 Midlands, the visitors will be hot favourites to move into the quarter-finals.
If they do so it will be a step on the way towards potentially reaching the final of the County Cup for a second successive season – and hopefully this time playing the final after last term's became a victim of the coronavirus pandemic.
Frustratingly the final, which would have been against West Bromwich Albion, was never re-scheduled – unlike the 2020/21 FA Cup final, which was not played until two weeks ago with Chelsea beating Arsenal at Wembley.
Cross says: "I can't see why the County Cup final couldn't have been re-arranged. It would have been a good occasion. It could maybe have been played in pre-season, or even have it fitted into the regular season like the FA Cup final was.
"All we can do now is try to get to the final again this season. We'll certainly be expected to get past Bedworth, but we have to go into the game fully focused – and if we do that then we should be good enough to get back to winning ways."