8th May 2020
Wolves Women star Shannie Jennings has answered the call of duty during the global pandemic, bravely representing the NHS in a variety of roles required to help beat Covid-19.
A midfielder while in old gold, but for the past seven weeks, Jennings' attention has been fully on Birmingham Community Healthcare Trust, where she has stepped up to, initially, distribute PPE and, as of this week, operationally manage the swabbing team.
Usually a project manager for the NHS, Jennings has stepped forward and done her bit to protect staff and patients in hospitals, care homes and hospices across Birmingham, and has been touched by how the whole health service have come together in times of trouble. 
"It's been eye opening," she admits. "It's good in a sense, seeing a lot of people pulling together to get past this, with the amount of staff that are involved, helping out. There's been a lot of support and a lot of staff that have really chipped in.
"Being community-based, some of our services were prioritised by being critical for life to continue. So, there are services we provide which aren't necessarily required at the moment.
"A lot of the services aren't operating, so their staff have been redeployed to wards and supporting patients – they've really chipped in with other care that needs to happen."
The NHS have been the focus of much interest during the pandemic, but from inside the camp, Jennings insists the situation has always remained in hand and the support from elsewhere has provided a boost.
"We're probably recognised a little bit more, because it's been overwhelming in terms of how busy it is and what we need to do. Everyone's been really supportive with the fund raising and clapping.
"Wolves as a club have helped towards Wolverhampton. There are so many NHS trusts, it's not a singular NHS, we're all kind of in our own little isolation. Wolves have played a massive part and you feel that with the response from staff and all the comments."
Once Jennings returns from work at 7pm of an evening, her attention then turns to the Compton to Compton charity challenge, riding 10 miles towards the 5,331 total, raising money for Compton Care, and the contact she's kept with Wolves has been a relief, while football remains off the table.
"I've had some lovely messages off the girls at Wolves, you feel appreciated that you're doing a good job and it is recognised by a lot of people. It's been nice to keep in touch with everyone, so it's not just gone without football. The girls have been great, and the staff, in helping. We're having virtual meetings, work outs and socials on a Friday.
"It's hard not playing, though. I also coach football, so coaching and playing is the majority of what I do, as well as work, so it's a big loss. It's like I've lost my right arm because it's a big chunk of my life.
"I've tried to play football in the house, my dad's telling me it's not allowed, but it's got to the point where I'll have to overrule him. You can only do so many keep ups in the garden, it's not quite the same as having a kick around with your friends or slide tackling somebody."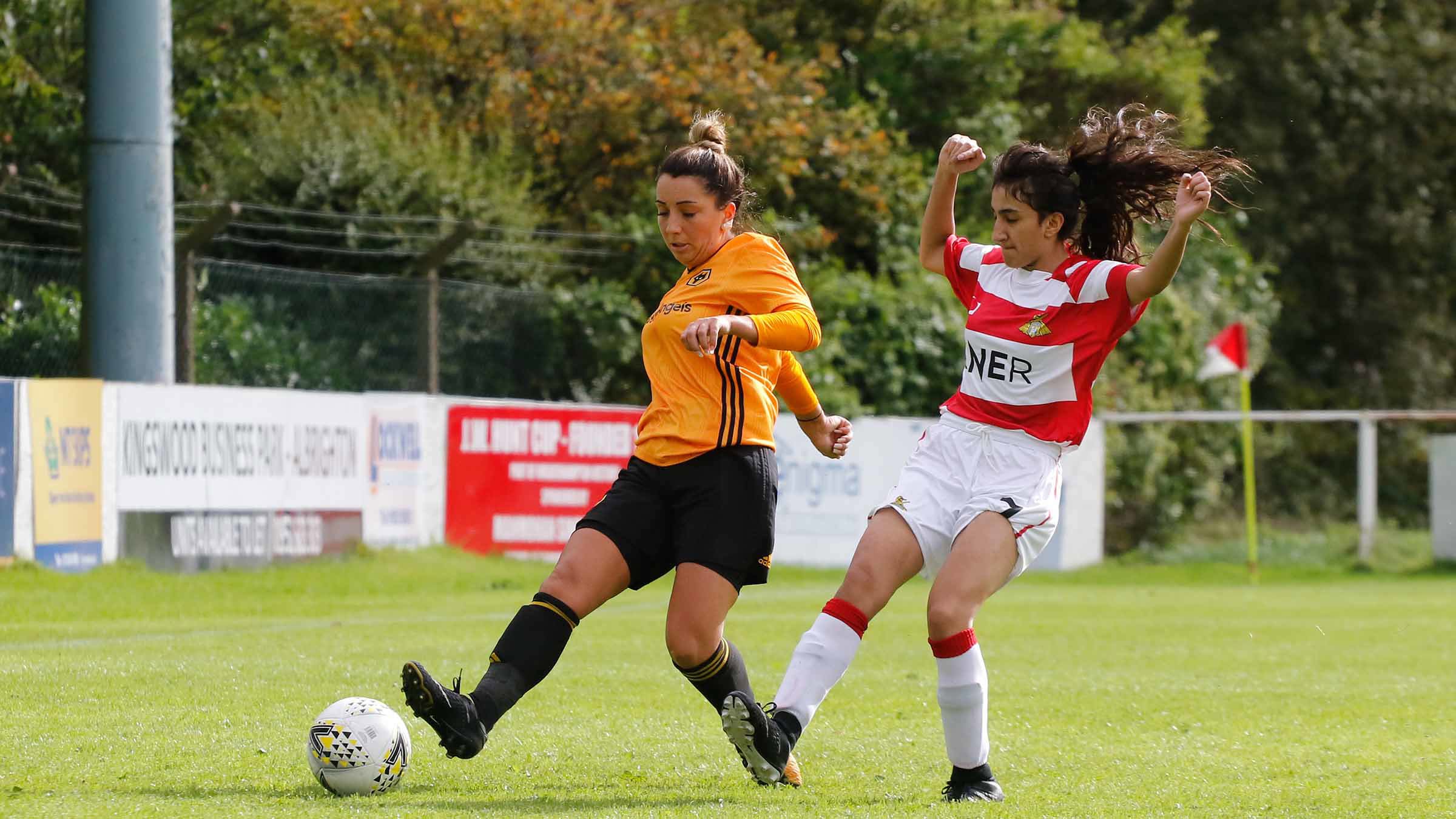 Jennings, alongside her teammates, had given everything to the Wolves Women cause this season, and looked set for the rich reward of promotion, before the pandemic ensured the season would be void, much to the disappointment of all involved.
"It was really disheartening. We'd done so well to get in the position we were in and it felt a bit unfair. They should have just left it to run until the point where they're making the decision about the Premier League – I know it's not the same, but all football should be cancelled, or no football.
"They could have left the decision a bit longer, but for us, it gives us motivation that we can go on and do it again. We're more than capable of that, we've got the right squad and staff behind us, on and off the pitch they're second to none.
"We're a bit gutted, but it's something for us to bounce back from and prove we should have been promoted. I do think we've got the right squad around us to do that. The girls have reacted well and we're still together as a group."
In terms of the virus, the end is slowly entering sight for Jennings, and a dose of normality would be more than welcome once the nation is over the worst of it.
"I'm a bit jealous of everyone getting their sun tans in the garden while I've been in work. Going back not being the most tanned is going to be annoying, but I'm looking forward to getting back, past this.
"Hopefully we're past the peak and it's more controlled. I think it has given people more realisation of how much a pandemic can spread, understanding the constraints of people are going through. I'm looking forward to seeing the other side of it, getting back to football, but also getting a nice holiday."