8th June 2019
As Wolves Women hold trials for both senior and junior teams, former England international Emily Westwood – a successful triallist more than 20 years ago – relives her introduction to the club and how a subsequent decade as a Wolves player led her into a highly successful career.
With the Lionesses set to kick off their Women's World Cup bid in France on Sunday and a fully professional league here in England, the women's game is enjoying its highest ever profile, writes Tony Leighton.
That's in stark contrast to not so long ago, as ex-Wolves star Emily Westwood can testify, when she looks back to receiving her invitation to trial with the club.
"I didn't know women's football teams existed," recalls 'Woody,' who in 1995 was just 11-years-old when she was spotted playing in games with boys.
"My schoolteacher's husband was Mark Williams, who was the Wolves Women's under-14 coach, and when she mentioned me to him I was invited for a trial.
"I'd only just turned 11 so was too young even for the under-12 team, but I went along to their training sessions and started playing for them the next season."
The rest – as they say – is history. Westwood made her first team debut at 16, played for England at the 2002 U19 World Cup and became a senior international three years later, shortly before she left Wolves to join Everton and go on to win 32 caps while with the Toffees and then Birmingham City.
"I loved my time at Wolves and it was such a good grounding for me," the Dudley-born lifelong Wanderers fan added, who retired from playing last year and now runs her personal and group training business Solid Soul Fitness.
"We used to train at St Edmund's School that was on the site which is now the club's training ground in Compton. The pitch we trained on was redgra – like a running track – so it was very hard going, but enjoyable all the same.
"I got to work with and know so many good people at the club, people I'm still in contact with on Facebook and other social media.
"When I made my England debut, against Italy at Milton Keynes in (February) 2005, a load of people came down from the club to support me. Then when I was named in the squad for Euro 2005 I was the only player outside the top flight to get selected.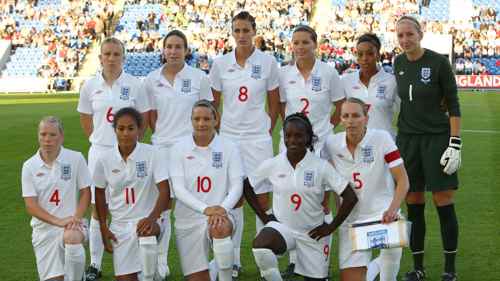 "I would have loved to have played for Wolves in the top-flight and might have done if we'd won the Northern Division that 2004/05 season.
"But we were pipped by Sunderland for the title and promotion, and that summer I signed for Everton – where they already had two ex-Wolves players, Jody Handley and Rachel Unitt, both also England internationals."
Westwood went on to win the FA Cup with both the Toffees and the Blues, while she hit the pinnacle of her international career with an appearance in the Euro 2009 final against Germany – though a chastening 6-2 defeat was the outcome.
Throughout her career, however, she has stayed in touch with Wolves, even working for the Community Trust – now Wolverhampton Wanderers Foundation – for a couple of years.
Westwood is now delighted to see the women's team is becoming more aligned within the club as central support is stepped up for the coming season.
"I saw that the women's and girl's teams don't have to pay subscriptions anymore," she added. "That is an amazing gesture.
"RTC (Regional Talent Club) players have to pay subs even at Super League clubs like Birmingham, so I think that to take that element away from playing for Wolves is a great move and should be a big pull for attracting players.
"Hopefully that sort of support will be built on and it can help drive the women's team up the leagues towards the top-flight – I'd love to see Wolves up there."
#WolvesWomen